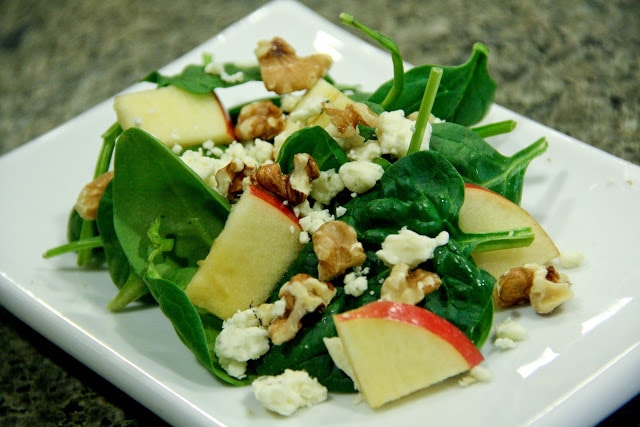 Here is yet another one of my favorite spinach salad combinations – apples , Gorgonzola cheese, and walnuts. For a sweeter taste, you can candy the walnuts!
Enjoy!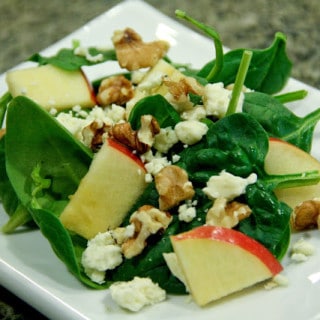 Apple, Gorganzola Cheese, & Walnut Salad (gluten-free, contains dairy)

Ingredients
spinach leaves or fresh spring mix, washed
walnut halves
gorganzola cheese crumbled
apples quartered and sliced
optional white granulated sugar, 1/3rd the amount of walnuts (for candied walnuts)
For the Dressing (for about 3 Individual Salad Bowls)
1 1/2 tbsp extra-virgin olive oil
1 tbsp balsamic vinegar
1 teasp white granulated sugar adjust the amount of sugar according to your taste if needed
Instructions
(optional) To Make Candied Walnuts. Place walnuts and sugar in a skillet over medium heat. Stir continuously until the sugar dissolves into a light brown liquid and coats the walnuts. Remove the walnuts and spread over foil. Once they are cool, break apart in pieces. This recipe only needs 1/2 cup candied walnuts, so you can store the other 1/2 for use later on.
To Make the Salad:
Divide the spinach leaves into the salad bowls/plates.Toss with apples.

Sprinkle with walnuts and Gorgonzola cheese.

Mix the olive oil, balsamic vinegar, and white sugar in a small bowl (the measurements given are for about 3 bowls of salad, so adjust amounts accordingly). Drizzle each plate with some of the dressing and serve.
Recipe Notes

The amount of ingredients will depends on how many people you have and how much salad you tend on serving them. The important thing for me is that this is a good combination of flavors. I only toss all these ingredients into one large salad bowl if I'm serving more than 4-6 people. If I'm serving less, I like to compose each salad bowl individually.
[subscribe_box]