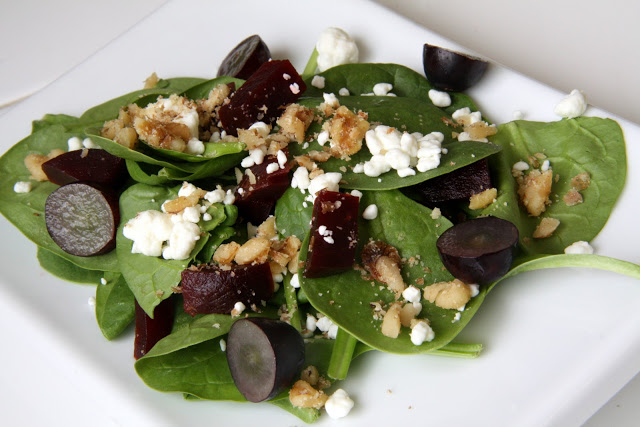 My favorite part about salads is that they can be healthy, filling, and composed of fresh flavors all into one dish. Salty, sweet, nutty, fruity, and savory. The past few months I've been trying out many simple combination based on what I've eaten at restaurants and what I have in my fridge. I've had most of them for lunch with a side of toasted Spelt Bread with butter, or as a side salad with dinner. We also tend to use only baby spinach to get the additional iron, but feel free to mix it up with any fresh spring mix.
As far as salad dressings go, recently I've been using a simple mix composed of olive oil, balsamic vinegar, and sugar. Simple, healthy, yet tastes perfect with many different salads! You can add any other dressing if you wish, but this by far is my favorite all-time salad dressing to use.
Check out some of my other simple salad combinations!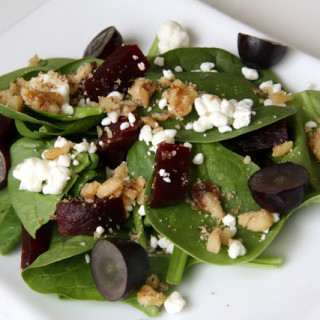 Beets, Goat Cheese, & Walnut Salad (gluten-free, contains dairy)
Ingredients
baby spinach leaves

or fresh spring mix, washed

medium beets

ready to eat, and cubed (from Trader Joe's)

red seedless grapes

cut in half

goat cheese

crumbled

walnuts

chopped

avocado

peeled, pitted, and cubed (optional)
For the dressing (makes enough for about 3 individual salad bowls)
1 1/2

tbsp

extra-virgin olive oil

1

tbsp

balsamic vinegar

1

teasp. white granulated sugar

adjust the amount of sugar according to your taste if needed
Instructions
Divide the spinach leaves into the salad bowls/plates. Toss with beets.

Sprinkle with walnuts, avocado, and goat cheese.

Arrange the grape halves around each of the salad plates or bowls.

Mix the olive oil, balsamic vinegar, and white sugar in a small bowl (the measurements given are for about 3 bowls of salad, so adjust amounts accordingly). Drizzle each plate with some of the dressing and serve.

Ground fresh black pepper on top if desired.
Recipe Notes
The amount of ingredients will depends on how many people you have and how much salad you tend on serving them. The important thing for me is that this is a good combination of flavors. I only toss all these ingredients into one large salad bowl if I'm serving more than 4-6 people. If I'm serving less, I like to compose each salad bowl individually.
[subscribe_box]