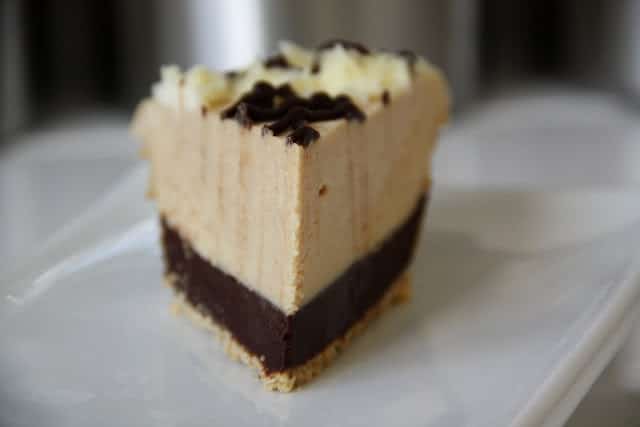 Being a HUGE fan of peanut butter, my husband has always loved the Peanut Butter Mousse Pie at our local JIMBO's Bakery. I'm not as big a fan, but even I think this pie is heavenly! For his birthday this year, I decided to try and recreate a version at home.
I searched online and this recipe from Epicurious caught my eye because of it's methodology. I adapted the recipe and decided to use a combination of peanut butter and powdered sugar instead of the peanut butter chips to make it more peanut flavored.
I made 2 pies and invited some friends over to celebrate. The resulting pie was perfect! I really enjoyed the taste of the peanut butter mousse and chocolate layer. I don't think we'll be going to JIMBO's again for some peanut butter mousse pie!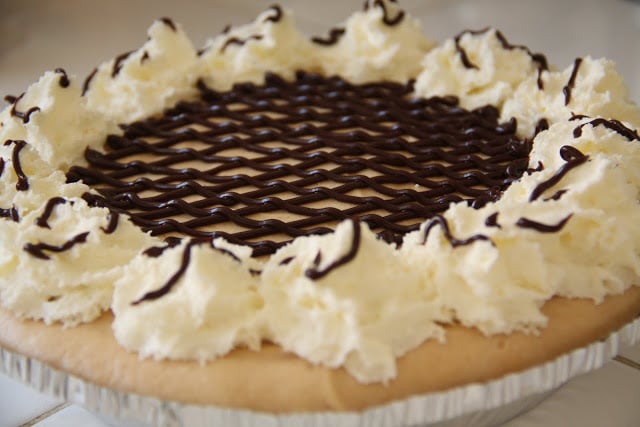 BLACK-BOTTOM PEANUT BUTTER MOUSSE PIE:(gluten-free option, contains dairy)
Ingredients:
(8-10 servings) 
(crust ingredients)
7 whole graham crackers, coarsely broken (gluten-free option: gluten-free graham crackers)
1/4 cup unsalted butter, melted
2 T sugar
OR
1 Graham Cracker pie crust (pre-made)
(pie ingredients)
1 1/3 cup dark or semi-sweet chocolate chips (8 ounces)
2/3 cup + 1 3/4 cup chilled heavy whipping cream, divided
2 T light corn syrup
2 teasp vanilla extract, divided
1 cup + 2 T creamy peanut butter (Skippy or Jiffy)
1/2 cup powdered sugar
Directions:
To Prepare Crust. Preheat oven to 350 F. Spray a 9″ dia. glass pie dish with nonstick spray. Blend graham crackers, melted butter, and 2 T sugar in processor.
Press the crust mixture over the bottom and sides of the pie dish.
Bake the crust until lightly browned (about 15min).
To Prepare Chocolate Layer. Combine the chocolate chips, 2/3 cup cream, corn syrup, and 1 teasp. vanilla extract in a microwave save bowl.
Microwave until the chocolate softens (about 2-3 minutes). Whisk or mix with spoon until the mixture is melted and smooth. Pour the chocolate mixture over the bottom of the crust. Freeze for 10 minutes. (optional – leave a small amount of the chocolate mixture to decorate the top of the pie)
To Prepare Peanut Butter Mousse. Combine the peanut butter, powdered sugar, and 3/4 cup cream in a large microwave safe bowl for 15-sec intervals until the peanut butter softens and the mixture becomes smooth. Stir often. Mix in 1 teasp. vanilla extract. Cool to lukewarm.
Beat 1 cup cream + 2 T sugar in a medium bown until very thick but not yet holding peaks.
Fold into the peanut butter mixture in 3 additions.
Spoon the mousse over the chocolate layer. Chill for a minimum of 1 hour.
To Decorate (optional). Get as creative as you want with this step. I topped the pie with some whipped cream around the edges. I filled a pipping bag with the rest of the chocolate sauce and pipped chocolate lines across the pie. You can also sprinkle chopped peanuts on top.
~ Anjali
[subscribe_box]