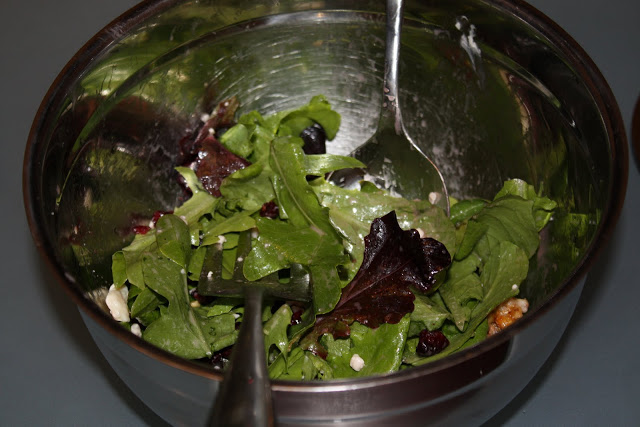 This salad is absolutely delicious. The combination of sweet candied walnuts, salty Gorgonzola cheese, and raspberry vinaigrette makes for a perfect taste. The best part is that I finally learned how to make candied walnuts. You'll never have to buy candied walnuts again when you find out how easy they are to make!
Note on the candied walnuts: if you find the candied walnuts too sweet, you can add less sugar.
CANDIED WALNUT GORGONZOLA SALAD: (contains diary, gluten-free)
(4 servings)
Ingredients:
1 cup walnut halves
1/4 – 1/3 cup sugar
3 cups mixed greens
1/2 cup dried cranberries
1/2 cup Gorgonzola cheese, crumbled
1 T raspberry vinaigrette
1 T white vinegar
1 T olive oil
Directions:
To Make Candied Walnuts. Place walnuts and sugar in a skillet over medium heat. Stir continuously until the sugar dissolves into a light brown liquid and coats the walnuts.
Remove the walnuts and spread over foil. Once they are cool, break apart in pieces. This recipe only needs 1/2 cup candied walnuts, so you can store the other 1/2 for use later on.
To Make Salad. In a large bowl, mix the greens, cheese, vinaigrette, cranberries, olive oil, vinegar, and 1/2 cup candied walnuts. Toss and serve.
~ Anjali