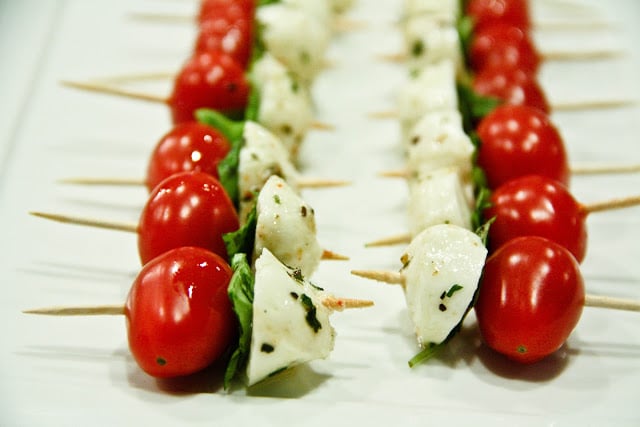 These caprese salad sticks are amazing! A little bit of many divine flavors in ONE bite. When I made these for our holiday party, they were gone in 5 minutes…I myself ate about 4-5 of them as they were being made. I initially thought to drizzle some olive oil, balsamic vinegar, and pepper on top, but then decided to reduce some balsamic vinegar instead. By putting the balsamic vinegar through a reduction process, it makes it slightly sweeter for a great sauce to drizzle on many dishes, including this one. I also decided to cut the mozzarella balls in half to reduce the amount of cheese in one bite, but kept the entire tomato to counter the balsamic reduction sauce. Feel free to experiment with portions as you wish.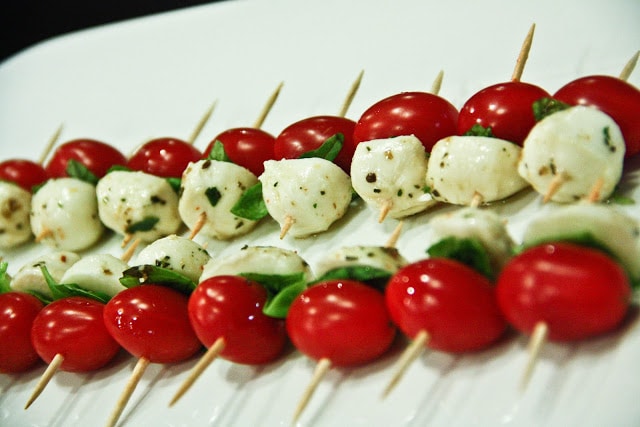 CAPRESE SALAD STICKS w/BALSAMIC REDUCTION DRIZZLE: (gluten-free, contains dairy)
Ingredients:
grape tomatoes (or cherry tomatoes), washed and dried
basil leaves, washed and dried
fresh mozzarella balls, cut in half
balsamic vinegar
toothpicks
Directions:
To Make Balsamic Reduction. Remember that at the end of this process, the balsamic vinegar will reduce in half, so be sure to start off with 2x the amount you need.
Pour the balsamic vinegar into a saucepan and bring to a boil over medium heat.
Turn the heat to low and simmer until the liquid has reduced from 1 cup to about 1/2 cup. The vinegar will thicken as it cools. Be sure to whisk occasionally while simmering so that the vinegar does not burn. In the end, the balsamic vinegar should take on a syrup-like quality.
To Make the Caprese Salad Sticks. Using toothpicks, skewer 1 tomato, 1 basil leaf (folded or torn in half if you prefer depending on the size of the leaf), and half a mozzarella ball. Repeat this process until you have skewered as many sticks as you need.
Drizzle with some reduced balsamic vinegar and serve on a platter. Enjoy!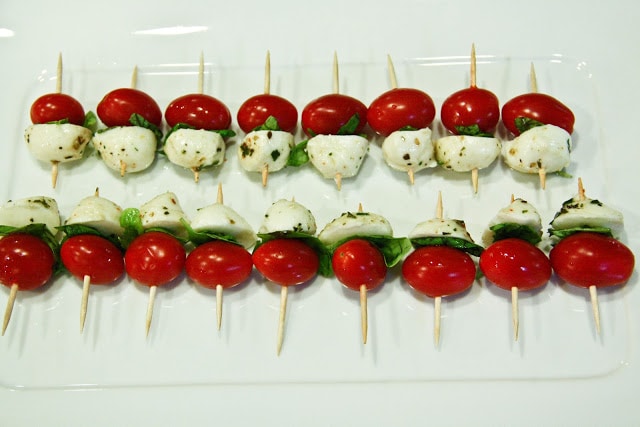 [subscribe_box]