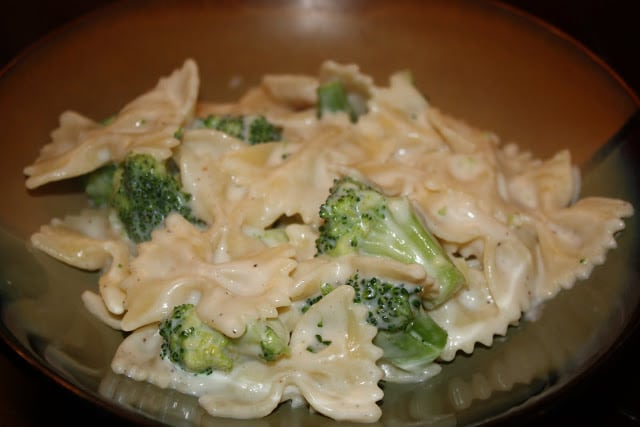 Broccoli is one of my favorite vegetables to add in any many dishes because it absorbs any sauce or flavor. This pasta is made up of a simple white sauce made mostly with milk and flour (bechamel sauce), combined with the delicious flavor of nutmeg and the subtle flavors of onion, parsley, and bay leaf. It makes for a simple yet tasty pasta dish.
FARFALLE W/CREAMY BROCCOLI SAUCE: (contains dairy)
(makes ~3-4 servings)
Ingredients:
1/2 lb. farfalle pasta, uncooked
2 T butter
2 T flour
1 1/4 cup milk (preferably 2%)
1 bay leaf
4-5 branches of parsley, keep whole
slice of onion
8 oz. broccoli, cut in small pieces and washed
4 T heavy cream
nutmeg
salt/pepper
parmesan cheese, grated (optional)
Directions:
Boil the pasta al dente.
In the meantime, melt the butter in a medium sauce pan and stir in the flour. Mix the flour with the butter and let it cook for ~1min mixing continuously.
Slowly add the milk and mix until the sauce thickens.
Add the bay leaf, parsley branches, and onion slice. Let the sauce cook a little to absorb flavors. Mix often so that the sauce does not settle or thicken excessively.
Chop the broccoli and cook for 3-4 min. in boiling water. Drain.
Remove the bay leaf, parsley branches, and onion from the sauce. Squeeze out the white sauce as you remove the ingredients if possible. Discard the bay leaf, parsley, and onion.
Put the cooked pasta in the sauce pan and add broccoli. Stir in with the cream sauce.
Mix in the heavy cream.
Let the pasta and broccoli cook in the sauce for a small amount of time.
Season with nutmeg, salt, and pepper. Add all 3 to taste.
Serve hot and top with grated parmesan cheese (optional).
~ Anjali
[subscribe_box]