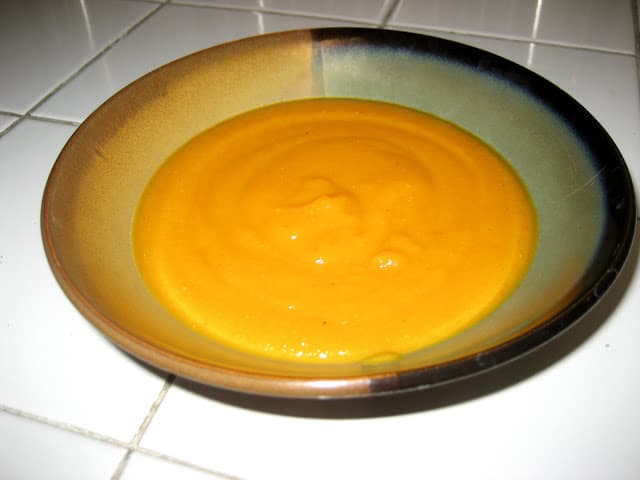 Opo Squash is a member of the squash family and is considered to be native to Africa. I normally don't think much of opo squash and keep it simple by sauteing it with a small amount of oil and light spices. However, for dinner one night, I felt like having soup and saw the opo squash in the fridge, so I thought why not combine it with a couple of other vegetables I had in hopes to come up with a savory thick soup.
The result – Tasty, Healthy, Creamy, and best of all, Simple!! The carrots gave the soup just the perfect amount of sweetness. The only seasoning i used was salt, pepper, and a small amount of garlic (which by the way, is optional). In addition, feel free to experiment by adding any other vegetables or herbs you may have (such as onions, celery, etc). If you add onions, you should probably sautee it ahead of time with the garlic before blending it together with the vegetables.
OPO SQUASH SOUP (vegan, gluten-free)
(serves 3-4)
Ingredients:
2 carrots, medium
1 opo squash, medium
3 tomatoes, medium
1 red potato, medium
salt/pepper
water
garlic (optional)
Directions:
Prepare all the vegetables. Lightly scrape the skin off the outside of the carrot and cut into large pieces. Peel the thick green skin off the opo squash and cut into large pieces (discard the skin). Cut tomatoes and red potato in half.
Steam all the vegetables in a pressure cooker (or boil till soft).
Chop and saute the garlic in a pot with a small amount of vegetable oil (optional).
Add the steamed vegetables to the pot + some water remaining from the pressure cooker. Blend all the vegetables together using a hand blender. Add more water as needed for desired consistence (Note: I like my soup slightly thick so I only added about 1 cup water).
Add salt & pepper to taste. Serve hot.
[subscribe_box]