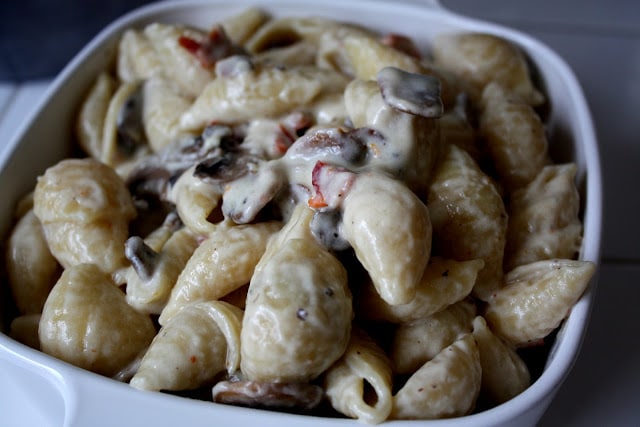 The first time I heard of Gorgonzola sauce was at a local Italian restaurant in San Diego. Not sure if it would be overwhelming and strong due to the Gorgonzola, I decided to give it a try. Since then, I've been back at least 4 times craving that sauce! The taste was perfect – not too overwhelming, but just enough to give it that bite from it's blue veining.
I decided to re-create this Italian dish at home by simply using Gorgonzola cheese and milk as a base.  The result was very tasty and close to the dish I always get at the restaurant. The addition of mushrooms and sun-dried tomatoes really enhanced the overall flavor of the dish.
Next time I plan on adding some grilled asparagus and using Orecchiette Pasta.
For the gluten-free option, use any type of gluten-free pasta.
ORECCHIETTE w/GORGONZOLA SAUCE: (gluten-free option, contains dairy)
Ingredients:
8 oz. orecchiette pasta or shells (2 cups)
1/2 cup milk
4 oz. Gorgonzola cheese, crumbled
1/2 tsp cracked black pepper
8 oz. white button mushrooms, sliced
2.5 oz. sun dried tomatoes, oil drained, cut in 3rds
salt (optional)
Directions:
Cook the pasta in a pot of salted water until al dente.
In the meantime, slice and saute the mushrooms on medium-high heat until they are cooked and the water released from the mushrooms is boiled off.
Heat the milk and Gorgonzola in a skillet over medium heat for 3-4 minutes, or until the cheese has melted and slightly thickened.
Stir in the pasta, mushrooms, and sun dried tomatoes to coat with the sauce.
Top with pepper and serve.
[subscribe_box]