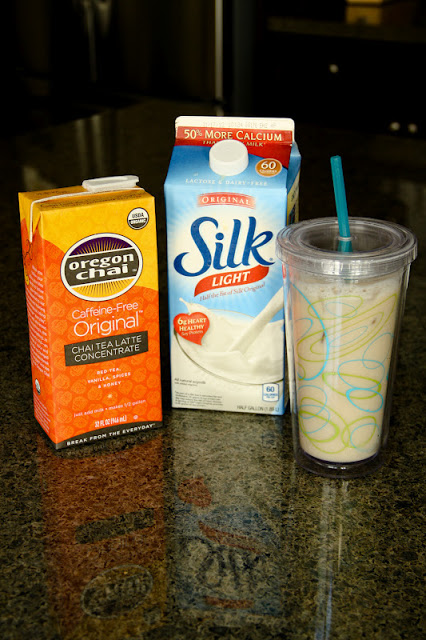 I'm not quite sure if I would call this a recipe, or even something I would normally post about, but I HAD to document how addicted I am to this Oregan Chai Latte Concentrate. And what's even more amazing is how little of it I need to add with soy milk to get the perfect cold drink. Not only does this satisfy my morning or afternoon craving for that "something", but it also gets me to drink 3 cups of soy milk everyday. This may be silly, but I also love having this drink in my new tumbler I recently purchased for this HOT summer we've been having.
We recently went on a mini-family vacation and rented a condo near the ocean. Knowing I would want my iced chai latte, I planned on taking a carton of the concentrate along with us. But I had forgotten. My husband said we could go get some from the nearby grocery store, but I thought it was silly and of course I could live without it for a few days. 5 days later, i was CRAVING this drink, so when I came back home I knew it deserved a post.
My favorite brand of soy milk is SILK. It's extremely smooth and does not taste chalky as some of the other brands taste. I keep it quite simple and just add a small amount of the concentrate with Silk Light Soy Milk over ice. But you can always make it sweeter with some vanilla soy milk or almond milk. The chai concentrate I usually use has honey in it, but they also sell a vegan chai concentrate which is equally as good. I also usually get the non-caffeinated concentrate, but you can opt to get the one with caffeine if you prefer.
Oregon Chai Tea Latte, Original – BUY NOW

Oregon Chai Tea Latte, Caffeine Free – BUY NOW
OREGAN CHAI LATTE w/SOY MILK: (vegan option, gluten-free)
(makes one 20-oz. drink)
Ingredients:
~1/3 cup Oregon Chai Concentrate, Caffeine Free
or Oregon Chai The Original Chai
(vegan option: use Vegan Original Chai Tea Latte Concentrate)
~1 cup Light Silk Soy Milk (or your favorite milk/soy milk brand and type)
ice cubes
Directions: (although i wouldn't quite call these directions =)
Fill 1/2 of the Tumbler with ice cubes (do NOT use crushed ice).
Add the 1/3 cup Oregan Chai Latte. Feel free to add more or less depending on how sweet you like your drink.
Fill the remainder of the Tumbler with Light Silk Soy Milk.
Mix with a straw and enjoy cold!
~ Anjali
Disclosure: There are affiliate links in this post.