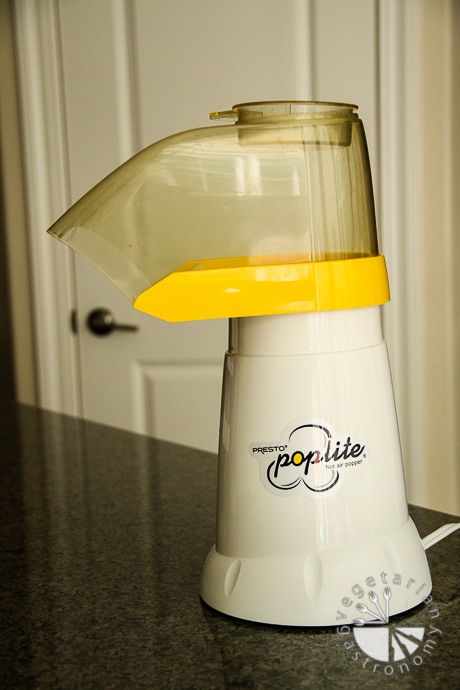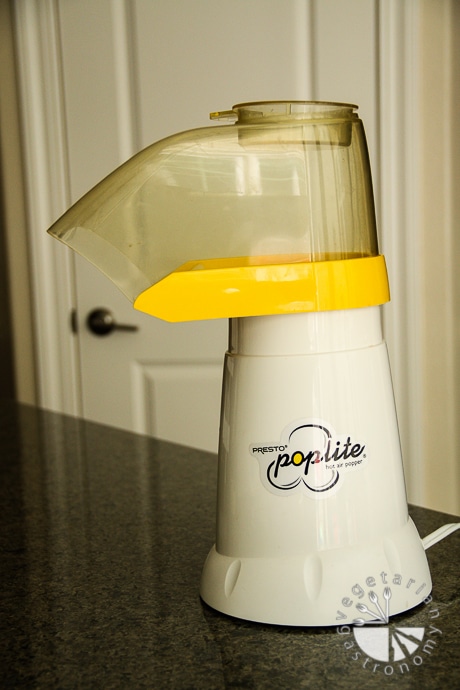 This Presto PopLite Hot Air Popper
has been the reason for my after-dinner cravings. We bought it about 4 years ago and have already used it so much! Not only does it work perfectly, it pops the popcorn to perfection, it's easy to clean, easy to use, and uses only hot-air…no need for any oil or butter. This popcorn has changed the way I think of popcorn. I can't go back and have microwave popcorn anymore and even went as far as to take my own home-made popcorn to the movies several times because I can't stand the movie popcorn anymore.
The best part is that you can add anything you want to the popcorn after it's popped! Our all-time favorite is some salted butte and a LOT of freshly ground black pepper! SO good! There was a long period of time where we had this every night after dinner, and I'm still not sick of it =)
You can get as creative as you want when it comes to coating the popcorn. I personally have not because I'm still addicted to the butter + black pepper combo, but here are a few other suggestions:
Olive oil spray + Parmesan Cheese for some cheesy popcorn.
A lot of people like sriracha sauce. I've tried this myself and it's good, but I can only have a small amount.
Butter, salt, & jalapenos.
Drizzle dark and white chocolate or some melted caramel.
Butter, salt, and freshly grounded black pepper (my favorite).
The options are endless…so if you're a popcorn fan you need to get a Presto PopLite Hot Air Popper
…and if you're not, you definitely will be after you try popcorn from this machine!