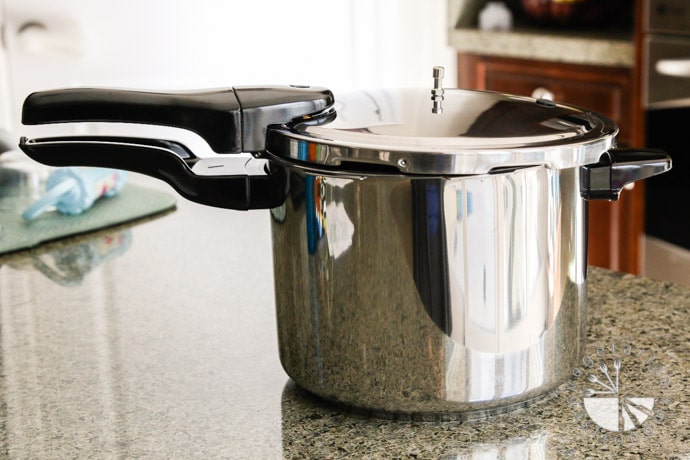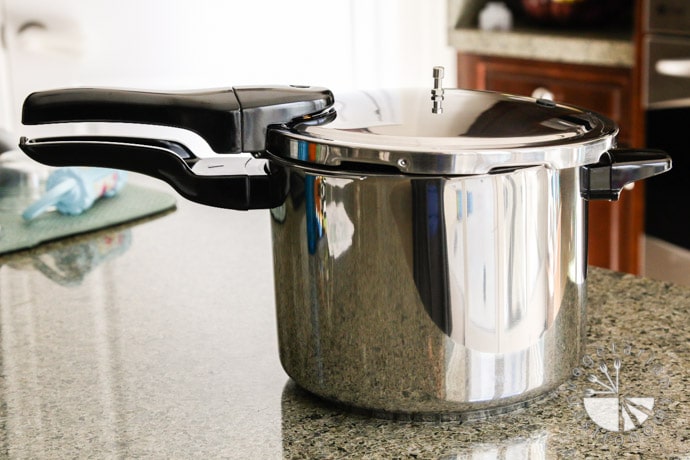 How many of you grew up in a household where you heard the loud noise of a screeching pressure cooker going off every other day with the occasional explosion that sent food up all over the kitchen ceiling?!
My mom used a pressure cooker almost every day so you can say I was quite accustomed to pressure cooker cooking. I still have childhood memories of being warned to stay away from the pressure cooker in the kitchen when it was doing its magic. I actually own (and still occasionally use) one of these old pressure cookers that was passed down to me by my mom. But modern-day pressure cookers now take that risk out of pressure cooking. I was pleasantly surprised after recently purchasing this 6-Quart Presto Stainless Steel Pressure Cooker that not only does it not emit a high-pitched screeching, hissing sound, but that it has a safety feature that prevents excess pressure from building up and locking lid handles that will not open up until the pressure is released and it is safe.
I use my pressure cooker at least once or twice a week and absolutely love it! I use it to make just about anything…steamed vegetables, soups of all kinds, curried vegetable dishes, curries, sauces, cooked beans-legumes, risotto, and many other dishes (most of which have yet to make an appearance on this blog). I've also used it to make baby food purees (fruits & vegetables) for both my kids. There are several advantages to using a pressure cooker to cook food vs. other methods.
Saves time when preparing meals. It's just so darn fast when it comes to cooking food! Food cooks up to 70% faster when using a pressure cooker. I've made several vegetable curries by just adding everything into the pressure cooker for a short time, making it sort of a one-pot meal. I love that it only takes me about 15 minutes to prepare a delicious hearty, healthy vegetable soup for my kids using my pressure cooker.
Foods retain most of their nutrients and are tastier. The longer foods are cooked, the more nutrients are destroyed. When you use a pressure cooker, food cooks much faster and uses a lot less liquid, leaving the food with most of its color, nutrients, and flavor, as well as minerals and vitamins. Traditional cookware takes much longer and uses much more liquid to cook the same type of food, thereby loosing these nutrients. I love how vegetables retain their color and texture, and taste better after being cooked in a pressure cooker!
Efficiency. Pressure cooking is more efficient. Not only does a pressure cooker cook food faster, but it also saves you the hassle of using several pots on a stove. I've been able to make my entire meal in a pressure cooker many times…sort of a one-pot meal! This also lends itself to less cleaning after cooking, which is always a high priority for me.
If I still haven't convinced you how awesome pressure cooker cooking is, get one and try it out for yourself! If it's your first time using a pressure cooker, be sure to read the manual to know how to operate it safely. There are many brands of pressure cookers out there. I just purchased a new 6-Quart Presto Pressure Cooker a year ago from Amazon and love it, but I've also heard great things about Fagor Brand Pressure Cookers. As far as size goes, I own both the 4-quart and 6-quart. But I've found that even though the 4-quart is often convenient in size and is perfect to make small amounts, I need the 6-quart size on a regular basis to cook enough food for my family of four.
And if you still need convincing, check out some of these delicious recipes I've made using my pressure cooker (along with many other posts still to come):
Disclosure: There are affiliate links in this post.
[subscribe_box]