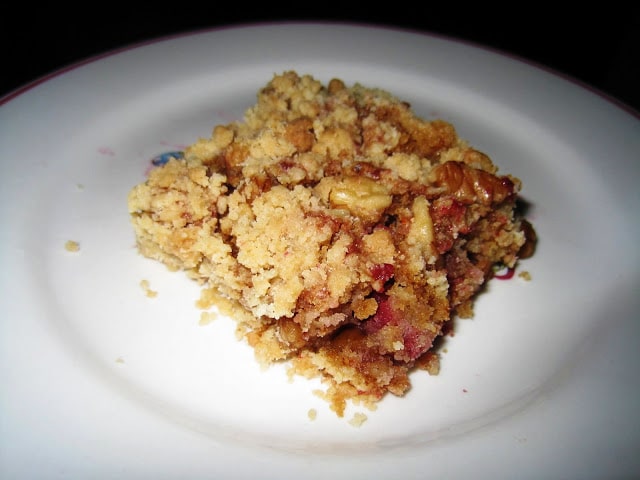 Fruit topped with a crumbly cake mixture and baked…one of my favorite ways to enjoy fruit baked into a dessert! This recipe was inspired by a co-worker who had brought in something similar and wanted to recreate it at home. Although this recipe isn't entirely made from scratch, it's very good and extremely easy to prepare. It tastes great warm or cold, and with or without vanilla ice cream. It's a great dessert to take to any dinner party or have at home.
RASPBERRY CRUMBLE: (contains dairy)
Ingredients:
1/2 cup unsalted butter (1 stick), melted or soft
1 12 oz. bag frozen raspberries
1 package yellow cake mix (i usually get the Betty Crocker Super Moist, Yellow Cake Mix)
1 cup chopped walnuts
Directions:
1. Preheat oven to 350 degree.s
2. Melt the butter in a bowl.
3. In a separate larger mixing bowl, combine the yellow cake mix and chopped walnuts.
3. Gently mix in the butter spoons at a time. Using your hands mix the butter and cake mix as you add the butter. The end product should be crumbly (not doughy).
4. In a 9×13″ glass pan, evenly spread the bag of frozen fruit.
5. Crumble the batter on top evenly so that the raspberry layer is completely covered.
6. Bake for 30 minutes until the top is slightly golden brown.
7. Serve hot or cold.
This dessert goes well with vanilla ice cream.
(note: for best results, take the frozen fruit out of the freezer right before use)
[subscribe_box)