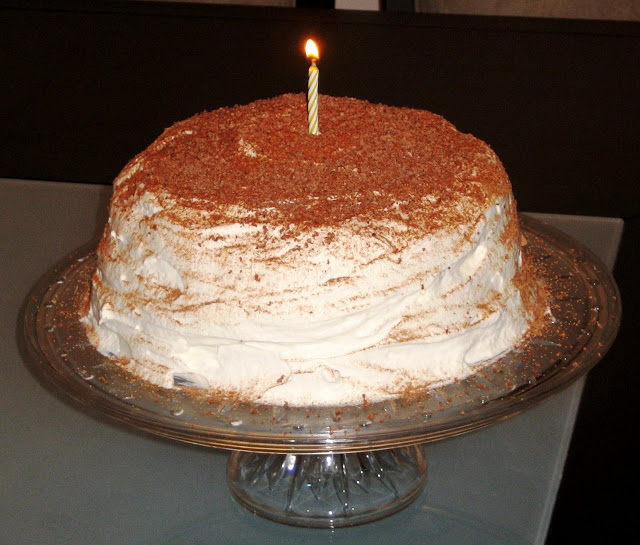 For people who love this Italian delicacy, this recipe is  great! Ever since I stopped eating eggs, I've searched places for eggless tiramisu with no luck. Traditional tiramisu cake contains ladyfingers, which can be store bought or home-made. I have yet to find an eggless ladyfingers recipe which works well since eggs are a key ingredient.
A few years back, my husband was on a mission to make me some eggless tiramisu. He tried using a few substitutions for ladyfingers including eggless shortbread cookies, but they all altered the traditional taste of tiramisu. He finally decided to follow a traditional recipe for tiramisu but substitute layers of moist white cake in place of the ladyfingers. Although this recipe is not made from scratch and uses boxed cake mixes, it's special to me because it was the first cake he's ever made entirely by himself. He made it for my birthday and it was heavenly! The perfect tiramisu! Since then, he's made this cake for people many times and has received nothing but compliments! At some point, I will develop an eggless white cake recipe to substitute for the boxed cake mixes, but until then, enjoy this version!
For a gluten-free version, use gluten-free yellow cake mix instead of package white cake mix from any whole foods, jimbos, or other food specialty grocery store. My husband has made it for my brother before using gluten-free cake mix + some extra oil instead of the eggs and it turned out amazing!
TIRAMISU CAKE: (contains dairy, gluten-free option)
Makes 12 servings of cake
Ingredients:
Cake:
1 (18.25 oz.) package moist white cake mix (Betty Crocker Super Moist works well)
1 T vegetable oil (use instead of eggs to make the cake mix)
1 t instant coffee powder
1/4 cup coffee
1 T coffee flavored liqueur
Filling:
1 (8 oz.) container mascarpone cheese
1/2 cup confectioners' sugar
2 T coffee flavored liqueur
Frosting:
2 cups heavy cream
1/4 cup confectioners' sugar
2 T coffee flavored liqueur
Garnish:
2 T unsweetened cocoa powder
1 (1 oz.) square semi-sweet chocolate
Directions:
Pre-heat oven to 350 degrees. Prepare 3 (9″) pans. Cut wax paper into a circle and layer the bottom of each pan. Lightly oil the wax paper. This is so that the cake does not stick in the pan and comes out clean.
Prepare the cake mix according to package directions (note: add an extra tablespoon of oil instead of the eggs). Divide two thirds of batter between 2 pans. Stir instant coffee into remaining batter; pour into remaining pan.
Bake in the preheated oven for 20-25 minutes (or until toothpick inswerted into the center of the cake comes out clean). Let cool in pan for 10 minutes, then turn it upside down onto a wire rack and cool completely. Peel wax paper off the bottom of the cake.
In a measuring cup, combine brewed coffee and 1 tablespoon coffee liqueur; set aside.
To make the filling: In a small bowl, using an electric mixer set on low speed, combine mascarpone, 1/2 cup confectioners' sugar and 2 tablespoon coffee liqueur; beat just until smooth. Cover with plastic wrap and refrigerate.
To make the frosting: In a medium bowl, using an electric mixer set on medium-high speed, beat the cream, 1/4 cup confectioners' sugar and 2 tablespoons coffee liqueur until stiff. Fold 1/2 cup of cream mixture into filling mixture.
Cake Assembly:
Place one plain cake layer on a serving plate. Using a thin skewer, poke holes in cake, about 1 inch apart. Pour one third of reserved coffee mixture over cake, then spread with half of the filling mixture.
Top with coffee-flavored cake layer; poke holes in cake. Pour another third of the coffee mixture over the second layer and spread with the remaining filling.
Top with remaining cake layer; poke holes in cake. Pour remaining coffee mixture on top.
Spread sides and top of cake with frosting. Place cocoa in a sieve and lightly dust top of cake.
Garnish with chocolate curls or chocolate chips. Refrigerate at least 30 minutes before serving.
(note: To make the chocolate curls: Use a vegetable peeler and run it down the edge of the chocolate bar.)
[subscribe_box]