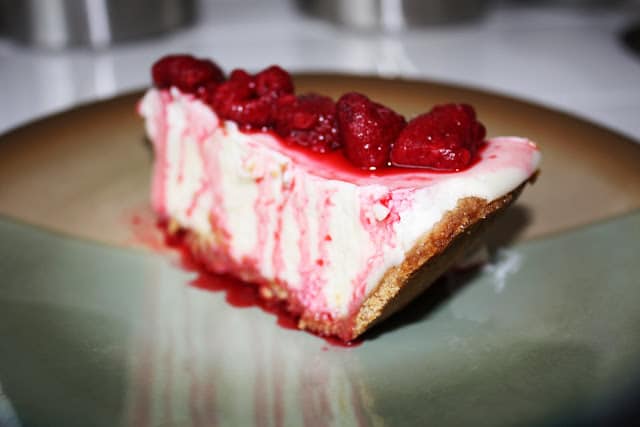 Sometimes all you need is a slice of traditional cheesecake. Nothing fancy, just great tasting. This baked cheesecake recipe is perfect. In the past I've made several cheesecakes which consist of cream cheese and other ingredients mixed together and frozen to solidify the mixture, but they all lacked the fluffy consistency of traditional cheesecake. So I went ahead and tried to come up with an eggless version that consisted of baking the mixture. So here it is, I present to you my staple cheesecake recipe.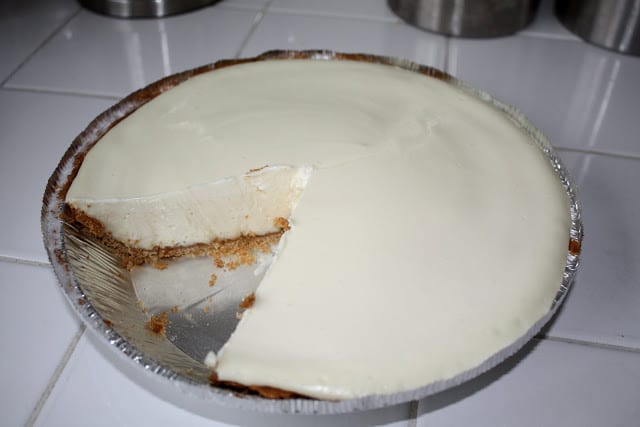 For best results, make this cheesecake 1 day in advance and store in the fridge. I always enjoy this cheesecake with frozen raspberries or a mixture of fresh berries.
TRADITIONAL CHEESECAKE w/FRUIT : (contains diary, gluten-free option)
(makes 1 cheesecake)
Ingredients:
1 Graham Crust (either store bought, or made with some butter & graham cracker crumbs)
3 (8 oz.) packages cream cheese, softened
1 1/2 cup sugar
1 T corn starch
1 T vanilla extract
1 t vanilla extract
1 pt. sour cream
frozen berries or fresh fruit (optional)
Directions:
Preheat the oven to 350 degrees.
Mix cream cheese, 1 cup sugar, cornstarch, and 1 T vanilla extract with an electric hand mixer.
Pour mixture into the pie crust shell and bake for 40 min. Cool for 5 min.
Increase oven heat to 400 degrees.
Mix 1/2 cup sugar, sour cream, and 1 teasp. vanilla extract.
Pour over baked cheese mixture and bake for 10 minutes. The pie crust will be pretty full, so be careful not to overflow.
Cool completely and store in the fridge.
Defrost the frozen berries or cut fresh fruit. Add on top of the cheesecake prior to serving or prior to storing in the fridge.
Note: for gluten-free version, use store bought gluten-free pie crust or make the pie crust out of freshly ground walnuts, almonds, a small amount of sugar, and a little butter pressed into a pie pan or shell.
Note: my favorite is to eat the cheesecake with raspberries.
[subscribe_box]