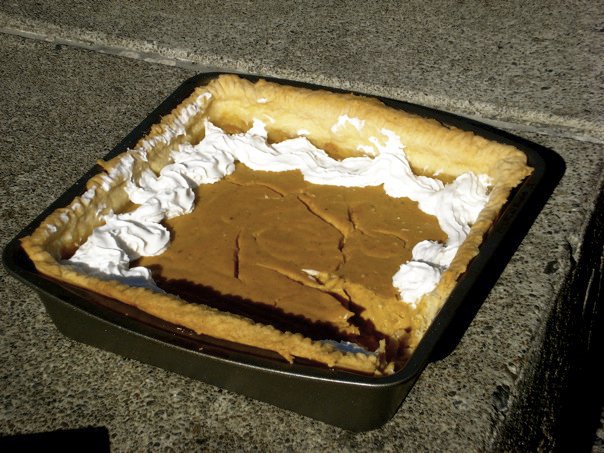 Come fall, come dead leaves, school, earthy produce, crisp apples and pears, come thanksgiving, come the quintessential pumpkin pie. Sweet, spiced, and homely – more comforting than a snuggie, this cruelty-free alternative is every bit as delicious and nostalgic as its worshiped brother. Or at least, I think. I've never had real pumpkin pie, but as far as I'm concerned, this pumpkin pie is every bit as real and infinitesimally more loving than regular pumpkin pie. This one comes sans animal.
Like coconut cream pie, the key to this pumpkin pie is the tofu. Use mori-nu vacuum sealed tofu (not always in the refrigerated section) for more of that concentrated pumpkin taste and less of that tofu-y flavor.
VEGAN PUMPKIN PIE: (vegan, gluten-free)
Ingredients:
Filling:
12 oz Mori Nu Silken firm tofu
16 oz canned pumpkin puree
2 tsp cinnamon
1 tsp ginger (powdered dry or grated fresh)
1 tsp nutmeg
1/2 tsp salt
1/3 cup vegetable oil
2 tsp vanilla
1 cup packed brown sugar
Crust:
3 cups flour (or whole wheat pastry flour)
3/4 cup earth balance/margarine/shortening
1 tsp salt
5 – 6 tbsp cold water
Directions:
Preheat oven to 350 degrees
To prepare filling: blend all ingredients in a food processor or blender until completely smooth. Add sugar/spices to taste if needed.
To prepare crust: whisk together flour and salt.
Cut in earth balance, margarine, or shortening and begin to mix using mixer or by hand.
Sprinkle in cold water a table spoon at a time and mix after every few tablespoons.
Kneed dough into a ball (add extra liquid/earth balance as needed)
Roll into large sheet 1/8" thick and lay on 8 – 10" pie tin/baking dish
Pour in prepared filling
Cut off excess dough and fold in or crimp sides as you wish
Bake in oven for 1 hour until filling has cracked and set. Remove from oven and let cool and then refrigerate for at least 2 hours before serving. Serve with vegan whipped cream if desired.