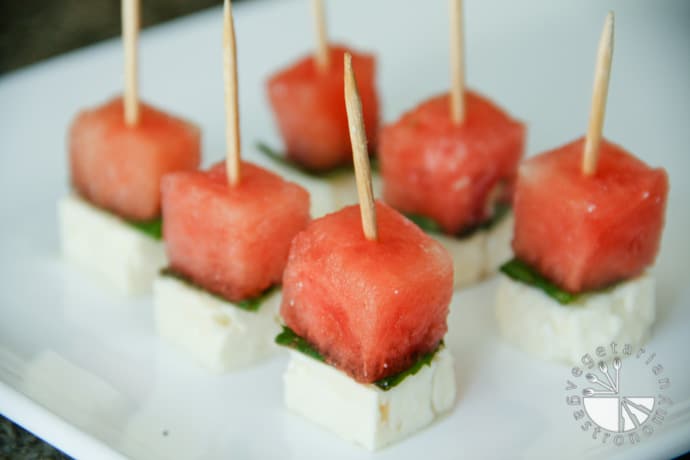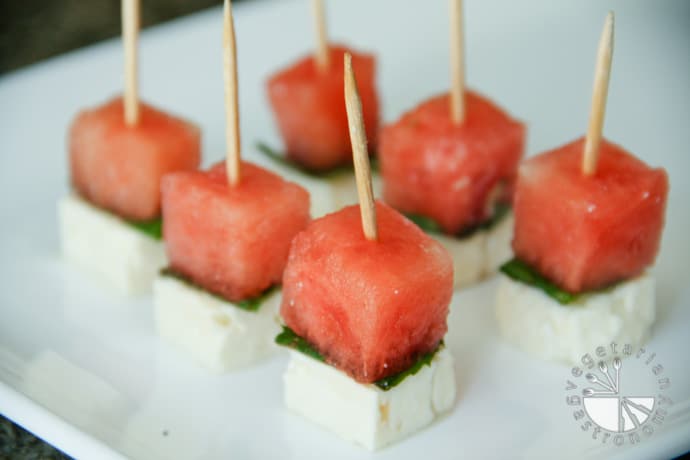 Fresh skewer appetizers are fun to bring to a summer potluck or serve as an appetizer for a dinner party! If you recall, awhile back I posted a recipe for Caprese Salad Sticks. I had first served them at our annual Christmas Party last year. There's something delightful about one complete bite on a stick so I'm always looking for more of these combinations.
Watermelon has been abundant in our fridge this summer because my family loves it, especially my 1 year old daughter. So I started to think of other creative ways to use the fruit. My son and I made a watermelon, mint, and basil smoothie in our Vitamix which was delicious! Next I wanted to try and incorporate it into a salad. For those of you who follow my salad recipes, you may know that most of them are composted of some greens, a nut, cheese, and fruit. I've heard that feta cheese pairs well with watermelon so decided to try making some simple skewers with watermelon, feta cheese, and mint (mainly because I had an abundance of mint growing in my yard, and we really enjoyed the watermelon mint smoothie). My son even helped me put them together and we took them to a friends potluck BBQ. People seemed to enjoy the flavor combination of watermelon, feta cheese, and mint! This time around I kept them simple and did not add any additional flavor to the skewers, but next time, I may try drizzling some balsamic vinegar and olive oil, and sprinkling some salt and pepper. The one thing I advise when making these skewers is to be sure the watermelon you are using is sweet to cut the flavor of the feta cheese.
These skewers are fresh, fun, and a great trio of flavor combinations! What is your favorite salad skewer combination?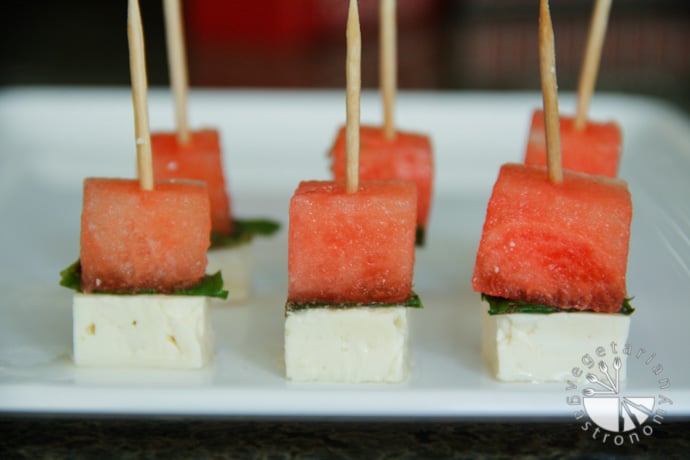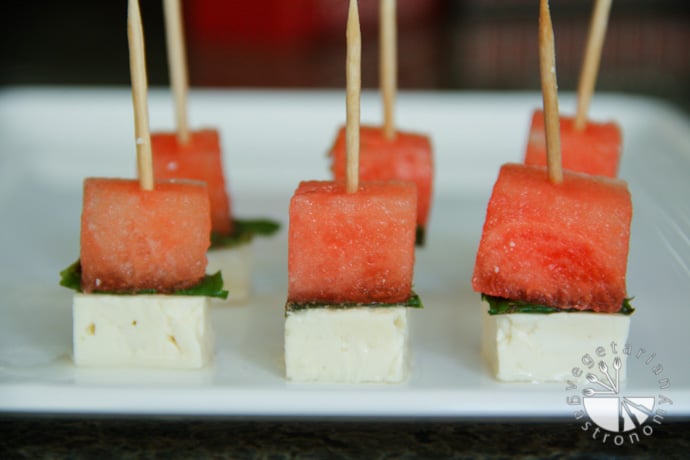 Watermelon, Mint, and Feta Cheese Skewers (gluten-free, contains dairy)
---
Ingredients:
watermelon, cut into small cubes
feta cheese, cut into small cubes
mint leaves (if the leaves are large, tear them in half)
toothpicks
Directions:
Using a toothpick, skewer one watermelon cube, one mint leaf, and one cube of feta cheese.
Repeat until you have the amount of skewers desired.
Refrigerate them in a sealed container until time to serve.
7.8.1.2
273
https://vegetariangastronomy.com/watermelon-mint-and-feta-cheese-skewers-gluten-free-contains-dairy/
www.VegetarianGastronomy.com
[subscribe_box]