Simple spices, tomatoes, fresh onion and garlic, herbs, and beans. This one-pot quick vegan Black Eyed Peas recipe will soon become a family favorite! Add some spinach for the perfect healthy curry and weeknight family meal!
After much hesitation, I finally caved and am now the proud owner of an 8-quart Instant Pot!
I never disliked the Instant Pot, nor did I have any negative things to say about it. I just grew up using pressure cookers and have two at home that I regularly use. So when I did my research and found that the Instant Pot basically functions as an automated version of a pressure cooker, I told myself that I don't need yet another large appliance in my kitchen.
However, this past Christmas, my my mom found an 8-quart instant pot at a super discounted price and bought it for me as a gift.
And who am I kidding…what food blogger can say no to another fun kitchen appliance. Especially when it's so unbelievably popular! Plus, I was in need of replacing my large pressure cooker anyway, so the timing was impeccable.
Now before I dive into this unbelievable easy vegan black eyed peas recipe and my first experiences cooking with the instant pot, let's talk a little about pressure cooker cooking and why I love that method.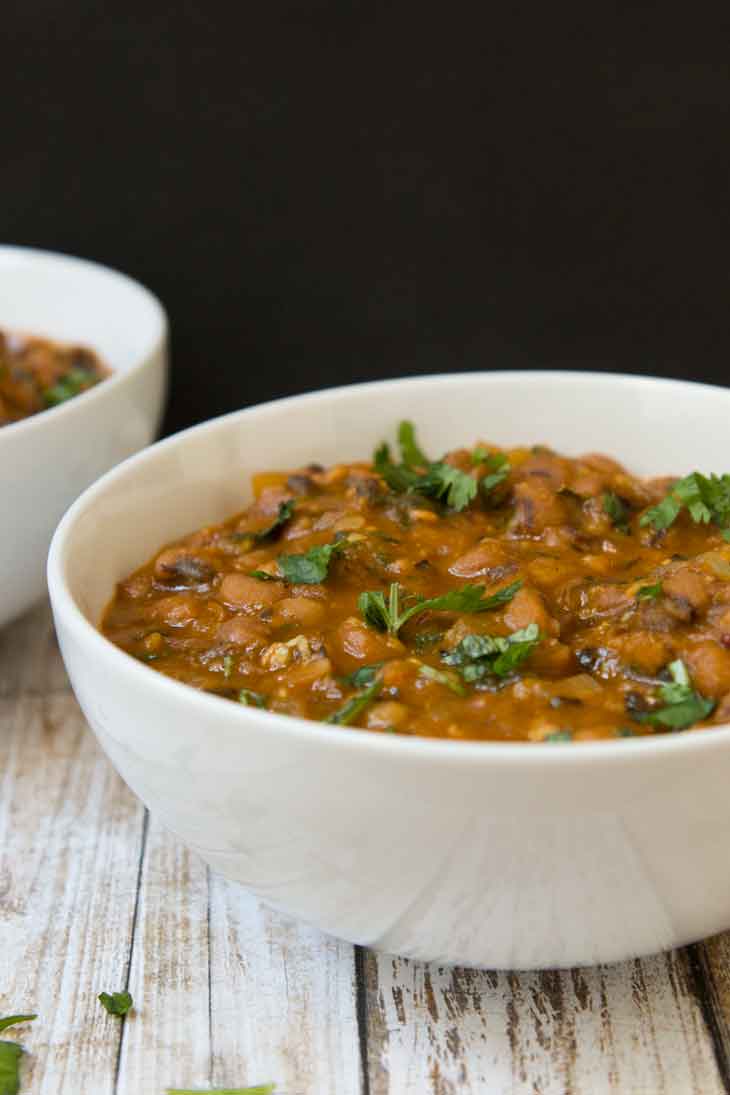 Pressure Cooker Cooking
How many of you grew up in a household where you heard the loud noise of a screeching pressure cooker going off every other day with the occasional explosion that sent food up all over the kitchen ceiling?!
I'm assuming most of you nodding your head grew up in an Indian household where pressure cooker cooking was a common method for preparing meals. It made cooking legumes and veggies fast and easy.
My mom used a pressure cooker almost every other day, so I was quite accustomed to that method of cooking. I still have childhood memories of being warned to stay away from it in the kitchen when it was doing its magic.
Lucky for us, modern-day pressure cookers now take that risk out of pressure cooking. They now have a safety feature that prevents excess pressure from building up and locking lid handles that will not open up until the pressure is released and it is safe.
As I mentioned above, I use my pressure cooker at least once or twice a week and absolutely love it! I use it to make just about anything…steamed vegetables, soups of all kinds, vegetable dishes, curries, sauces, cooked beans-legumes, and baby food purees (fruits & vegetables) when my kids were younger.
There are several advantages to this method of cooking vs. others:
Saves time when preparing meals. It's just so darn fast when it comes to cooking food! Food cooks up to 70% faster when using a pressure cooker. I've made several vegetable curries and hearty healthy soups by simply adding everything into the pressure cooker, making it a one-pot meal.
Foods retain most of their nutrients and are tastier. The longer foods are cooked, the more nutrients are destroyed. When you use a pressure cooker, food cooks much faster and uses a lot less liquid, leaving the food with most of its color, texture, nutrients, and flavor, as well as minerals and vitamins. Traditional cookware takes much longer and uses much more liquid to cook the same type of food, thereby loosing these nutrients.
Efficiency. Pressure cooking is more efficient. Not only does a pressure cooker cook food faster, but it also saves you the hassle of using several pots on a stove, and therefore, less cleaning.
If I still haven't convinced you how awesome this method of cooking is, get a pressure cooker or instant pot and try it out for yourself!
So let's move on to the Instant Pot.
Instant Pot
I'm no guru when it comes to the Instant Pot. I just got mine this past Christmas and am still experimenting with it. But so far, it's great!
It operates pretty similarly to my pressure cooker when it comes to the outcome, but it's automated! So you no longer have to guess when to turn off the pressure cooker, hoping your food will be not be over or under-cooked. You can simply set a temperature level and timer and walk away.
It's fast and easy, making it perfect for people who are away from home all day but still want to come back to a delicious healthy home-cooked meal and not spend an entire hour cooking. Either set it in the morning or once you get home since it cooks so fast!
Legumes (lentils and beans) are a huge staple in our house and are a great source of fiber and protein, especially for a vegan diet. Having some type of pressure cooking appliance makes it easy to cook and season them in a short amount of time instead of constantly having to rely on canned pre-cooked products.
Since I was already used to using my pressure cooker, I found it quite easy to transition over to the Instant Pot.
The Instant Pot also has other functionalities. Temperature controls, timing adjustments, and even a saute function that I need and love. There are additional pre-set cooking functions that takes the guess work out as far as time and temperature (such as Rice, Steam, Soup, Bean, etc.) and a setting to make yogurt (which I typically always made stove-top or in the microwave so I'm curious to try it out).
So to sum it all up, yes…so far I like the Instant Pot and it's functionality. If you already own a good pressure cooker and are used to using it, I'd say you're not missing out on much unless you hate the guess-work for cooking times or hate the fact that you can't leave while it's cooking. But if you're new to pressure cooker cooking then I highly recommend investing in an Instant Pot! They always go on sale, so just keep an eye out. It'll change the way you cook and prepare meals.
Indian Vegan Black Eyed Peas Recipe
Many people forget about black eyed peas, but their health benefits are pretty amazing. Here are 5 reasons why they are one of my favorite legumes:
Contains magnesium, potassium, calcium, iron, and other essential nutrients
High in fiber and good for digestion
Good source of protein
Perfect in texture and flavor (not very bean-y when cooked)
Great for stews, curries, or even sauteed dry once cooked
This vegan black eyed peas recipe has been a huge hit over the years, but needed a major make-over.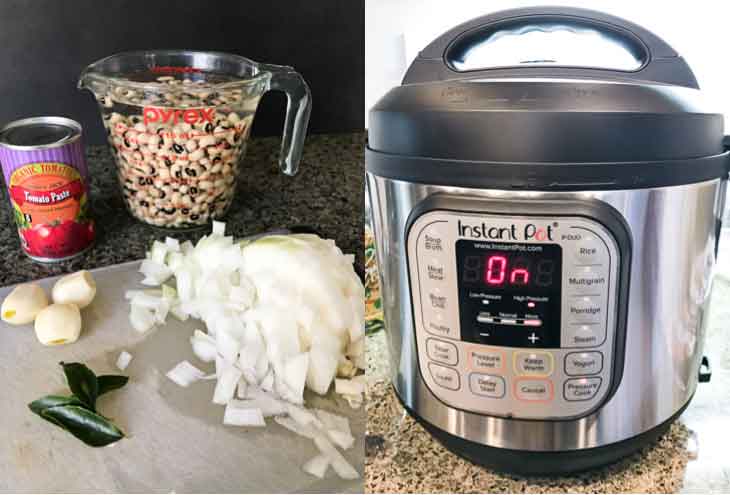 I've not only improved the recipe and updated the photographs, but also included instructions on how to make it using an Instant Pot! Of course, if you don't own an Instant Pot or pressure cooker, there are stove-top instructions included as well.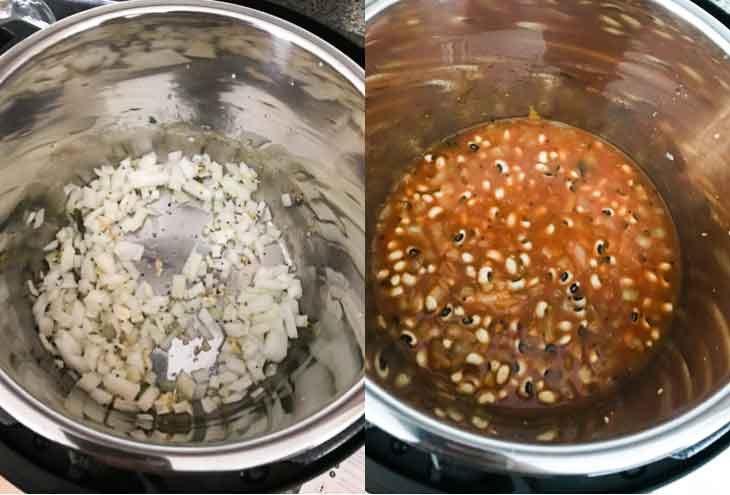 This Indian black eyed peas recipe was passed down to me from my mom. She'd make it growing up, and since then I've added a few ingredients to make it my own. You can serve it with some cooked rice or quinoa, alongside some curried vegetables, or with fresh tortilla.
This vegan black eyed peas recipe is easy to make, healthy, and the entire family loves it! To turn it into a complete meal, add some fresh spinach into the mix. If your toddler has trouble eating the large peas, you can always quickly pulse this curry dish in a blender or use a hand blender to make it smoother and easy for your little one to eat.
So if you've never had black eyed peas before, need another awesome vegan Instant Pot recipe to add into your meal rotation, or are looking for a one-pot delicious Indian recipe, grab a bag of them at the store and give this recipe a try!
Let me know what you think of this recipe by leaving a rating below, and comment whether or not you want to see more Instant Pot recipes on the blog. I have a bunch of pressure cooker recipes already on the blog that I plan on updating to include Instant Pot directions. And as always, don't forget to tag me on Instagram @vegetariangastronomy with all your re-makes!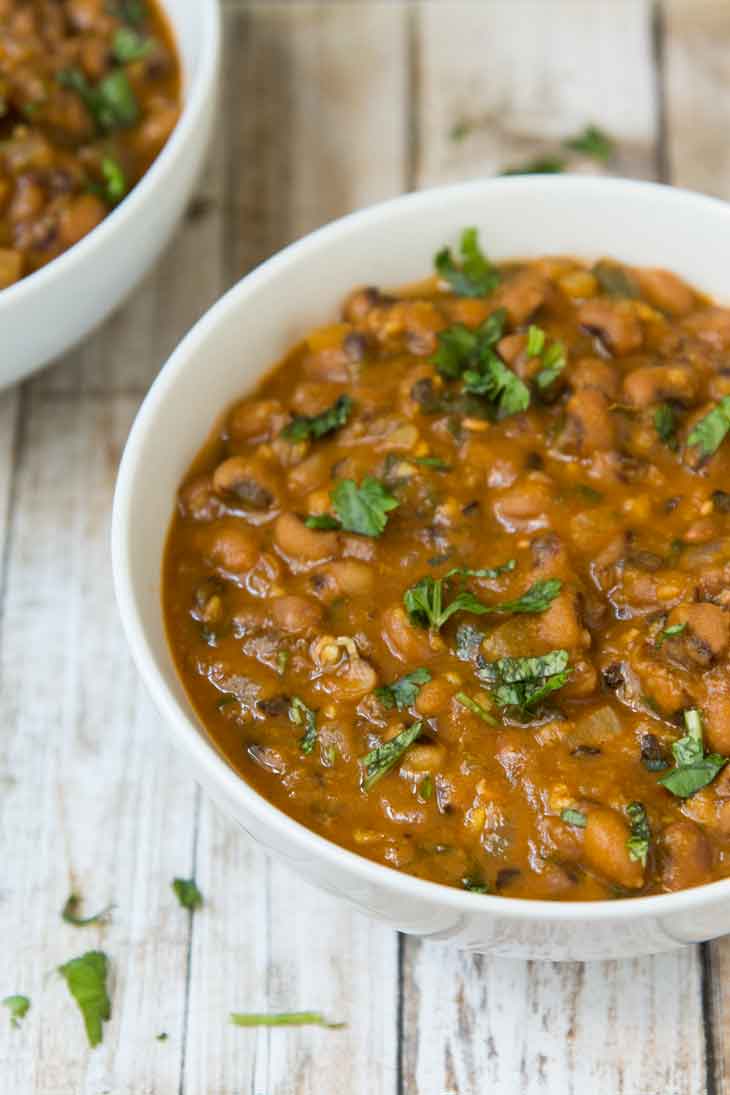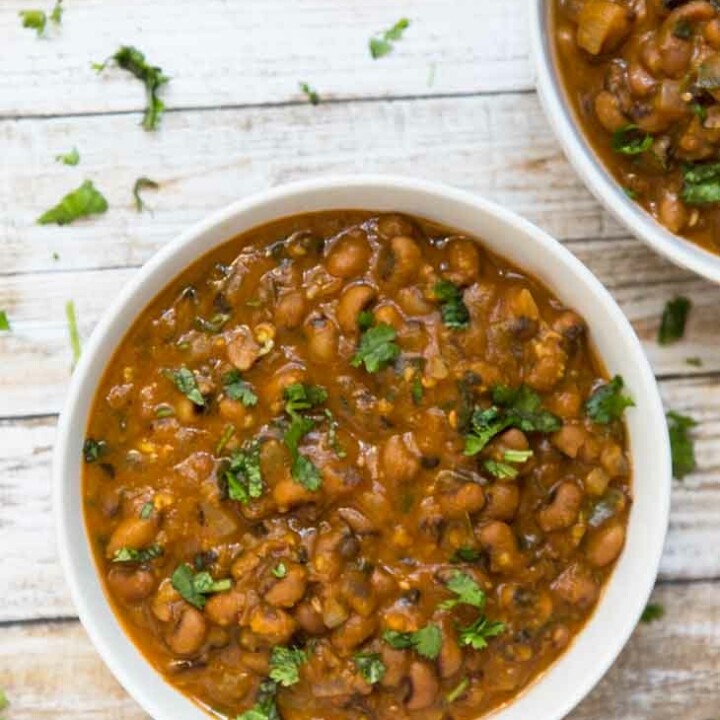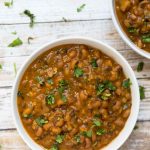 Print
Vegan Black Eyed Peas Curry (Instant Pot)
Simple spices, tomatoes, fresh onion and garlic, herbs, and beans. This one-pot quick Black Eyed Peas curry will soon become a family favorite! Add some spinach for the perfect healthy weeknight family meal!
INSTRUCTIONS
Select the Saute button (normal) on the Instant Pot and add

2 teasp

cooking oil.

Once the oil is hot, add the mustard seeds and curry leaves. Fry for a few seconds until fragrant.

Add the onions and garlic. Saute until fragrant and the onions start to become translucent. Be sure not to burn either. If you see this happening add more oil or turn down the saute heat.

Quickly add the tomato paste, ground cumin, and ground coriander. Combine and cook for a minute mixing frequently.

Drain the soaked black eyed peas and add them into the Instant Pot.

Mix in the water, turmeric, chili powder (if using), jaggery, fresh lemon juice, and

1 teasp

salt.

Add in the fresh chopped spinach, if using (see notes below).

Close the Instant Pot lid, select the Pressure Cook button to cook on high. Set the timer for about 13-15 minutes (be sure to turn the 'keep warm' button off unless enjoying immediately).

When the time is up, allow the pressure to release naturally.

Once the pressure has been released, remove the lid, and press the Saute (normal-low) button again on the Instant Pot. The black eyed peas should be fully cooked.

Simmer for a few more minutes until the curry becomes thick.

Add salt to taste. Also feel free to adjust the amount of lemon juice and jaggery as needed.

Turn the Instant Pot off. Add freshly chopped cilantro and serve hot as is, over cooked rice, or alongside some Naan or fresh roti!
NOTES
Stove-top Method - Follow steps 1-6 above using 3 cups of water. Bring the curry to a low simmer, partially cover, and allow it to cook for 30-45 minutes or until the black eyed peas become tender and the curry is at the desired thickness. Then continue to follow again at Step 10 above.
Black Eyed Peas - If you are using pre-cooked black eyed peas, add 2.5 cups cooked. Follow steps 1-6 above using only 1.5 cups water. Simmer for about 20 minutes, and then continue to follow again at Step 10 above.
Spices - Indian stores have both ground cumin and ground coriander combined into one spice packet. If this is the case, add 2 teasp of the combined mix.
Jaggery - Jaggery is a traditional unrefined whole cane sugar. It is a concentrated product of cane juice or date juice without separation of the molasses and crystals, and can vary from golden brown to dark brown in color. You can find this at most Indian grocery stores, but in the case you do not have any, you can substitute with some brown sugar or any sugar of choice.

Spinach - I love adding fresh spinach to this recipe for veggies and greens. You can also sub for any other veggies, such as shredded carrots and/or zucchini.
NUTRITION
Calories:
135
kcal
|
Carbohydrates:
25
g
|
Protein:
9
g
|
Fat:
1
g
|
Saturated Fat:
1
g
|
Sodium:
84
mg
|
Potassium:
552
mg
|
Fiber:
4
g
|
Sugar:
4
g
|
Vitamin A:
1287
IU
|
Vitamin C:
20
mg
|
Calcium:
67
mg
|
Iron:
4
mg