There's nothing like the smell of freshly baked lasagna in the oven to make the holiday come alive. So indulge in this easy, delicious, protein-packed, vegan mushroom spinach lasagna and make it a part of your family tradition!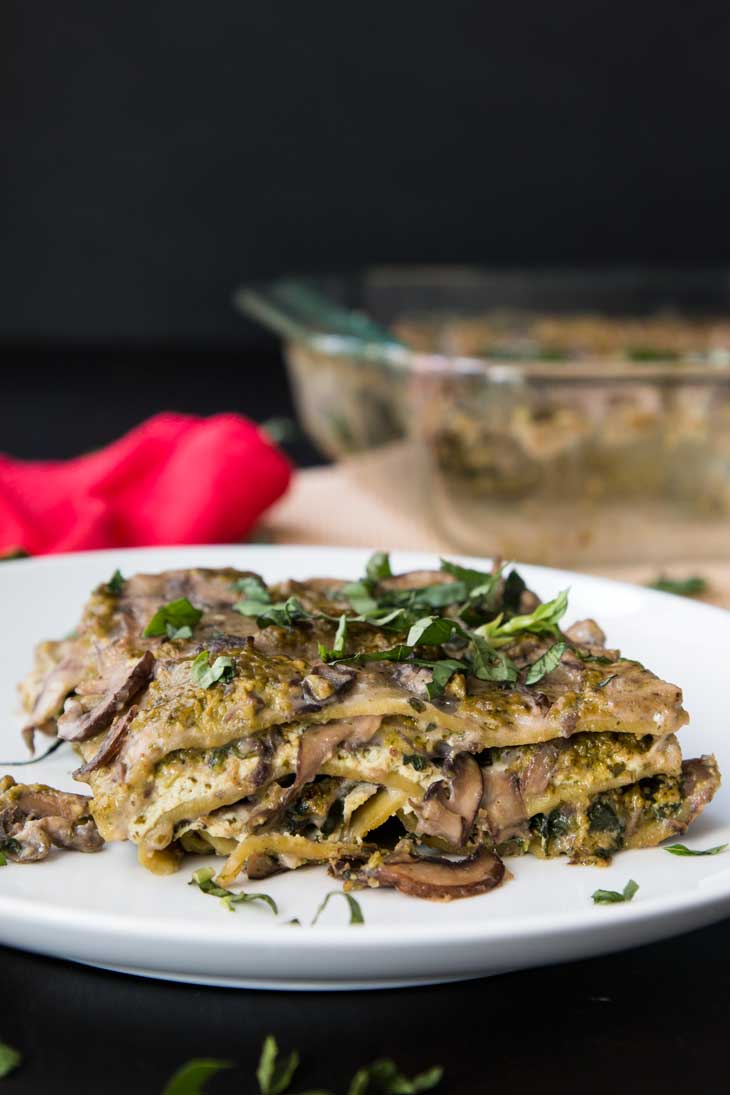 This post was sponsored by Explore Cuisine, but the opinions and text are fully my own.
The winter holidays are already here. And now more than ever, with everything else going on in the world, I'm ready to embrace the warm and cozy holiday feeling to maintain that sense of self and renew those family bonds. Holiday parades are in full swing, decorations are up, people are shopping, outdoor ice skating rinks coming up around us, tree-lighting festivities, holiday movies on TV, and it's a time for family traditions.
And let's not forget…it's also that time of year to break out all your most decadent recipes!
I've been working away in the kitchen the past few weeks to bring you the most perfect recipe to serve over the holidays! This is my latest creation, Spinach Pesto Lasagna with Creamy Mushroom Sauce!
It isn't just any ordinary mushroom spinach lasagna recipe. This spinach mushroom lasagna is pure indulgence, the ultimate comfort food, healthy, protein-packed like no other, complete with veggies, and easy to make ahead of time! It's bound to become a new family tradition, although this will become more like a monthly tradition once you dive in with a fork.
I've partnered up with one of my favorite brands, Explore Cuisine, to bring you this delicious healthy lasagna recipe!
Why I Love Explore Cuisine
If you haven't figured it out by now from all my posts on social media, I'm a HUGE fan of Explore Cuisine products. Their pulse pastas have been a staple in my pantry and a first-choice when it comes to Italian.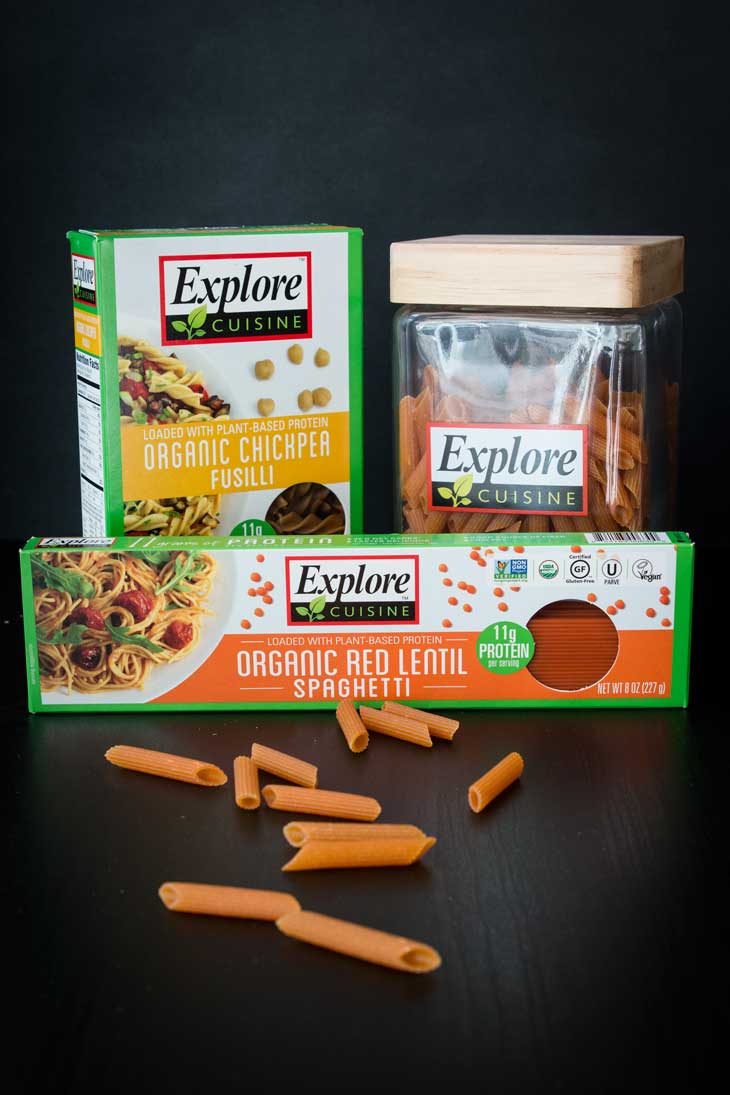 First, I want to take a moment to talk about lentil based pastas.
I've tried most large brands out there that make lentil or bean-based pastas in search of the perfect one. My idea of perfect is packed with protein, good quality ingredients, and the right taste and texture. Unfortunately, most lentil or bean-based pastas don't taste that great or leave you with this dry, chalky texture.
Some of the quinoa-based pastas taste good, but are actually not high in protein and ultimately have very little quinoa and more of something else like corn or rice flour. This is totally fine if you're simply looking for a gluten-free pasta, but I'm looking for something healthier with more protein that I can use on a regular basis to make a complete well balanced meal. And, I'm definitely not willing to sacrifice taste or texture.
Enter Explore Cuisine.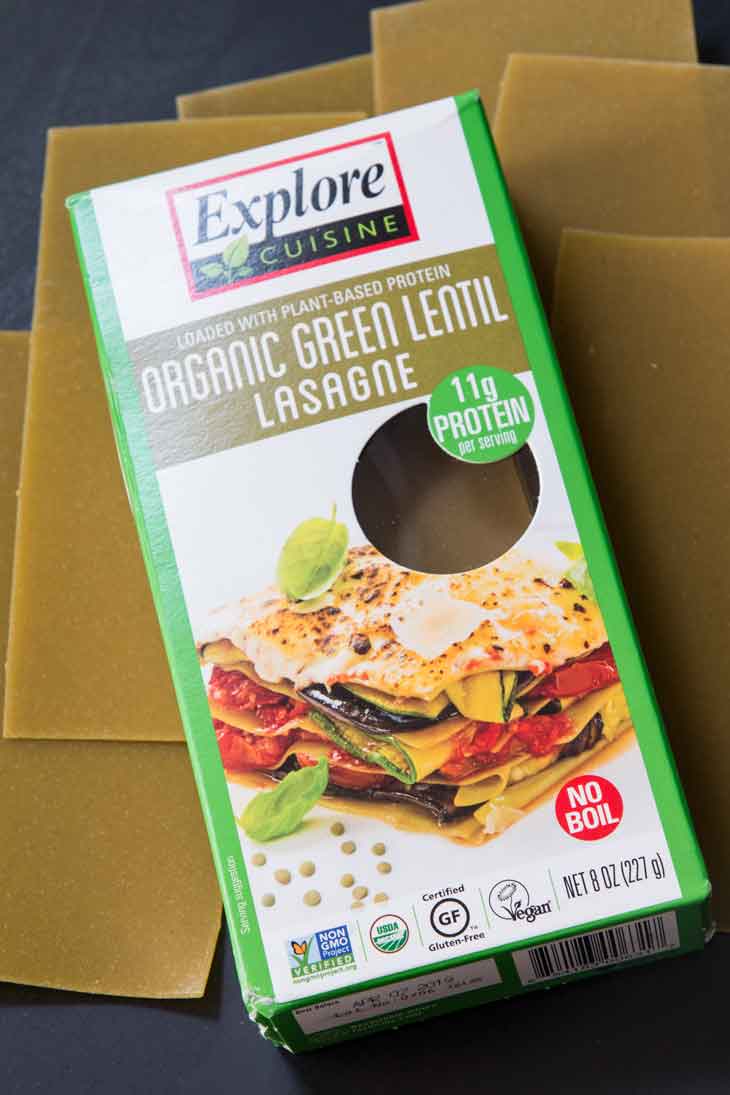 I'm going to be honest here and say that I've only ever tried their edamame spaghetti, chickpea penne, red lentil pasta, and green lentil pasta, green lentil lasagna sheets, and their red rice pad thai noodles. All are delicious! The edamame definitely has a different bean-y texture to them and work well with something more saucy.
Explore Cuisine pulse-based pastas are ah-mazing and a staple in our house ever since they first came out. My entire family loves them and you can't tell much of a difference when comparing to regular pasta! They've managed to figure out that perfect combination of lentil and brown rice flour. The outcome is great tasting pasta and ideal texture, while still keeping them mostly lentil-based and therefore high in protein.
Few Facts About Explore Cuisine products:
Gluten-Free & Vegan
Non-GMO
Made with 100% Organic Ingredients
High in protein, Iron, and Fiber
Main ingredient is the lentil flour for their pulse pastas
They even list the percentage of lentil flour to other ingredients for each of their packages!
When choosing which of their products to work with for this recipe, I went with their no-boil green lentil protein lasagna sheets. I've been dying to create yet another delicious vegan lasagna recipe, and had a few different sauce ideas in mind. Plus, what better time than the holidays to share the ultimate comfort food.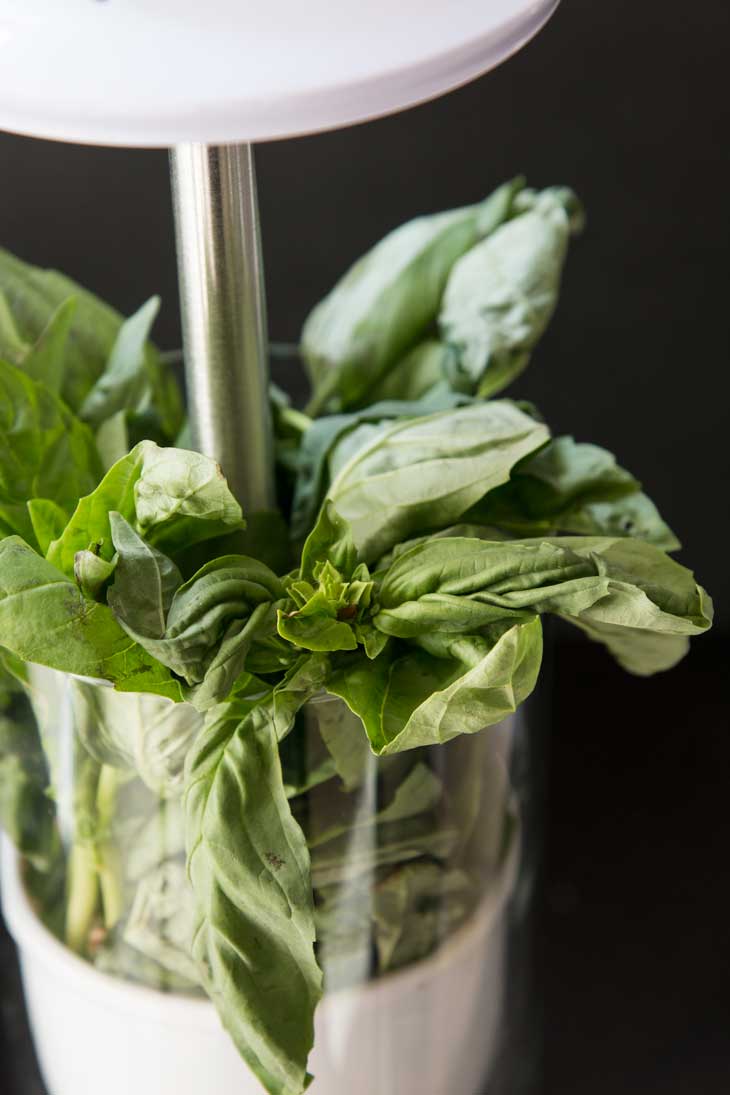 Family Traditions
This vegan lasagna recipe was inspired by my childhood and memories of times with my Dad. Every winter, for as long as I can remember, my Dad would take my brother and me for several day-ski trips up to Big Bear Mountain. My brother, although the youngest, quickly surpassed us on the slopes, leaving my Dad and me to partner up as ski-buddies.
Skiing with my Dad became a tradition. He'd always say that one day I'd also get bored skiing with him, but that day never came. And here I am many years later, wishing I could have just ONE moment of any of those days back where it was just him and me, up on the mountain, skies clear, skiing together.
If you're a skier, or have been up on the mountains, you know how important and exciting that mid-day lunch break becomes. Taking off those skies, unlocking the buckles off your boots, taking off your coat and gloves, relaxing and enjoying that perfect warm meal before heading back out.
That perfect warm comfort meal for my Dad and I was a delicious slice of lasagna. It was always the same kind every time, white and stuffed with spinach and veggies, and only offered at the lodge at the very top of the ski lifts.
This family tradition was my inspiration when developing this mushroom spinach lasagna.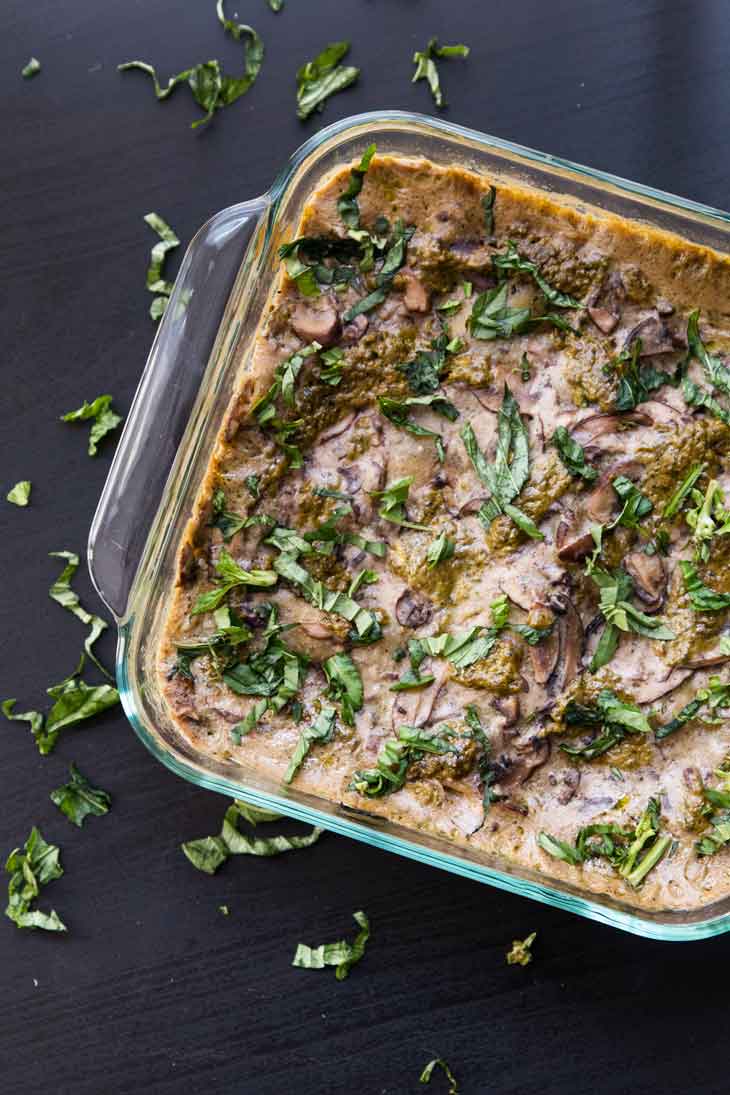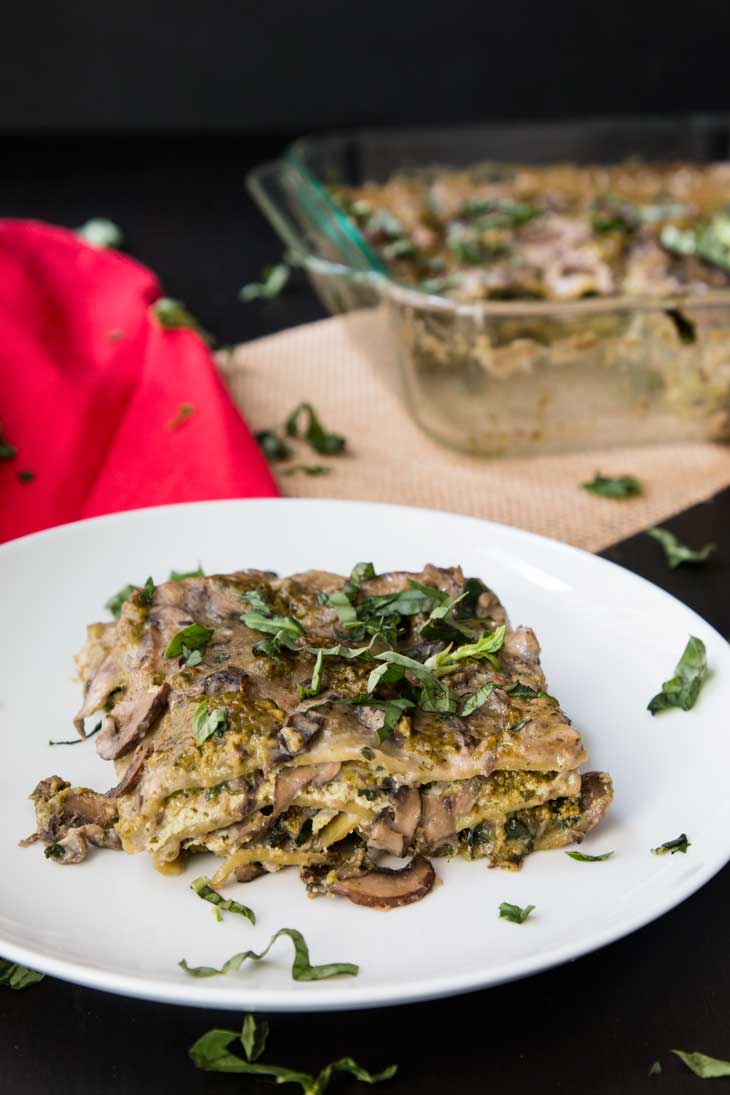 Vegan Mushroom Spinach Lasagna
The creative side of me took control, and I turned a simple idea into this decadent Spinach Pesto Lasagna with Creamy Mushroom Sauce!
The creamy mushroom sauce is the star of the recipe, offering so much additional flavor than any other cream sauce. The base of the sauce is a classic bechamel that I veganized and enhanced with garlic, onions, loads of sliced mushrooms, and herbs. The sauce itself was so delicious that I wanted to stop and drink an entire bowl-full (hint…spin-off soup recipe coming soon).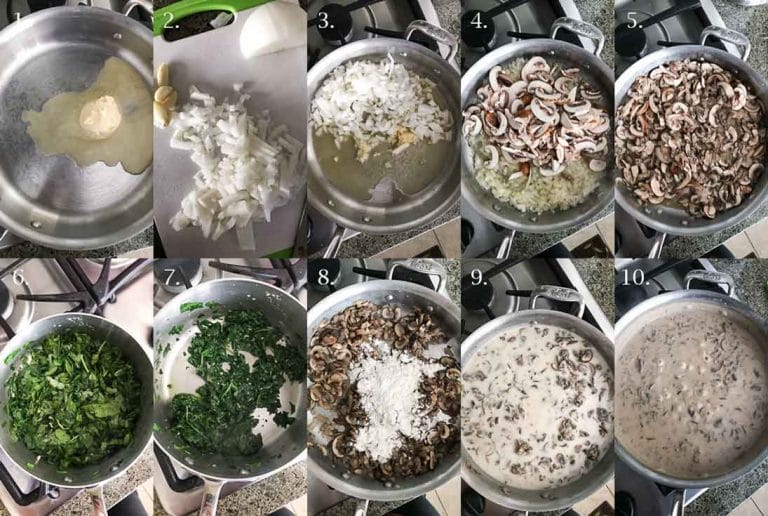 Although the layers seem quite simple, the entire combination is to-die-for and each bite will leave you asking for more!
Sauteed garlic spinach
Creamy Mushroom Sauce
Creamy Pesto Sauce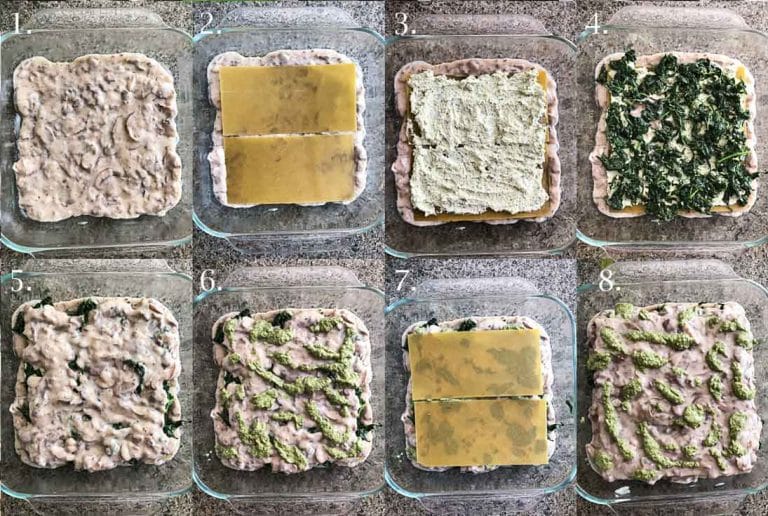 Follow these steps and end with one more layer of lasagna sheets, the creamy mushroom sauce, and pesto for 3 decadent layers!
I added in a few drizzles of my quick homemade creamy pesto (which, if you know me, I always have on-hand in the freezer), a simple yet delicious sauteed garlic spinach layer, and of course throw in my favorite 10-minute Garlic Basil Tofu Ricotta.
All of these delicious ingredients come together with the use of Green Lentil no-boil Lasagna Sheets. These sheets are protein packed, containing only 3 ingredients…organic green lentil flour (50%), organic green pea flour, and organic brown rice flour. That's it!
The no-boil lasagna sheets are key when it comes to cutting down prep time. They bake up perfectly and taste just like any other non-lentil based lasagna sheet, if not better! My family didn't even notice the difference, especially my husband would never compromise pasta texture and taste.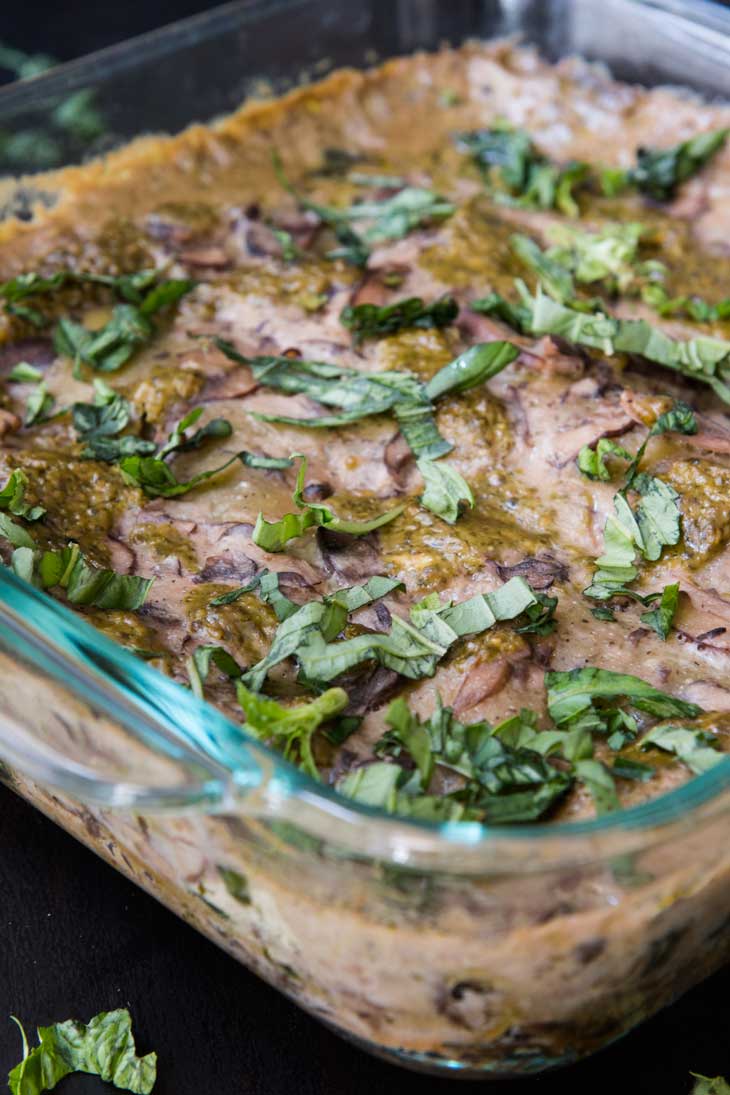 There are several variations to this mushroom spinach lasagna recipe, including some prep-ahead tips, so be sure to check out the notes below. If you're not a mushroom fan, believe it or not I have you covered as well! You can omit the creamy mushroom sauce all-together and end up with a vegan Spinach Lasagna with Creamy Pesto Sauce. I've tried both versions and they're delicious! Otherwise, trust me when I say you don't want to skip out on that creamy mushroom sauce…it's SO SO good!!
There's nothing like the smell of freshly baked lasagna in the oven to make the holiday come alive. So get your hands on some Explore Cuisine green lentil lasagna sheets and make this healthy vegan mushroom spinach lasagna a part of your family tradition!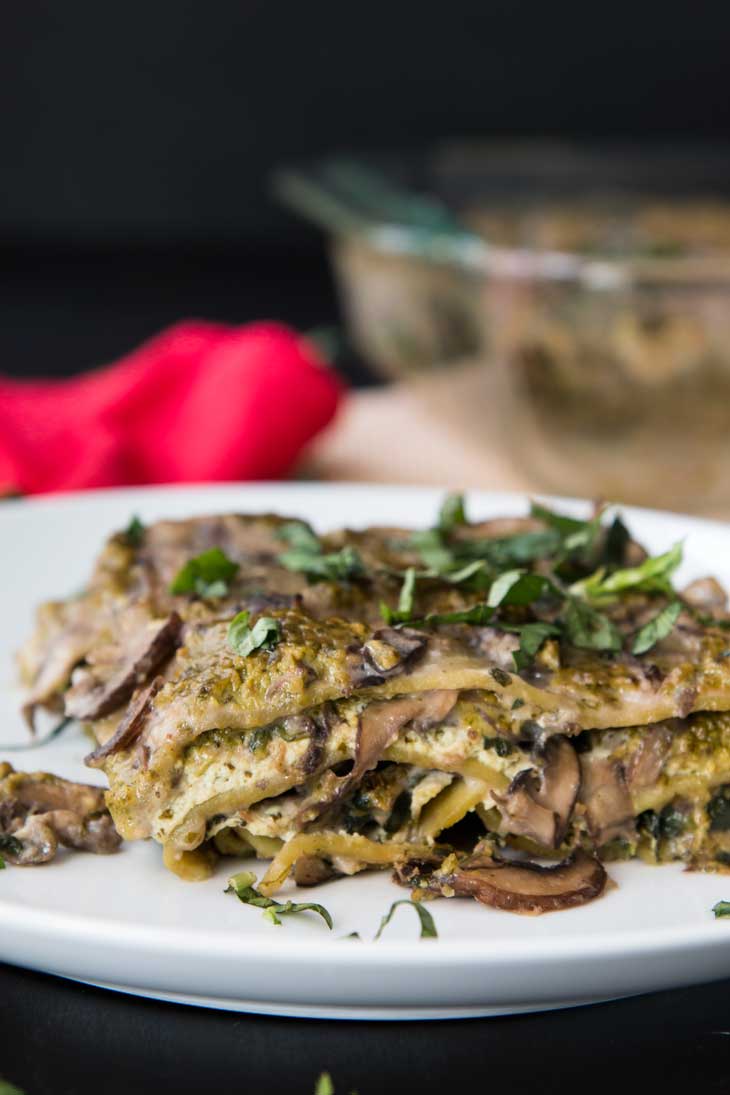 To get your hands on some Explore Cuisine Pasta, you can purchase their products through their website, on amazon, or from a few grocery stores, including Sprouts.
You can also find Explore Cuisine on social media: Facebook, Twitter, Pinterest, Instagram, @explorecuisine #exploreyourtraditions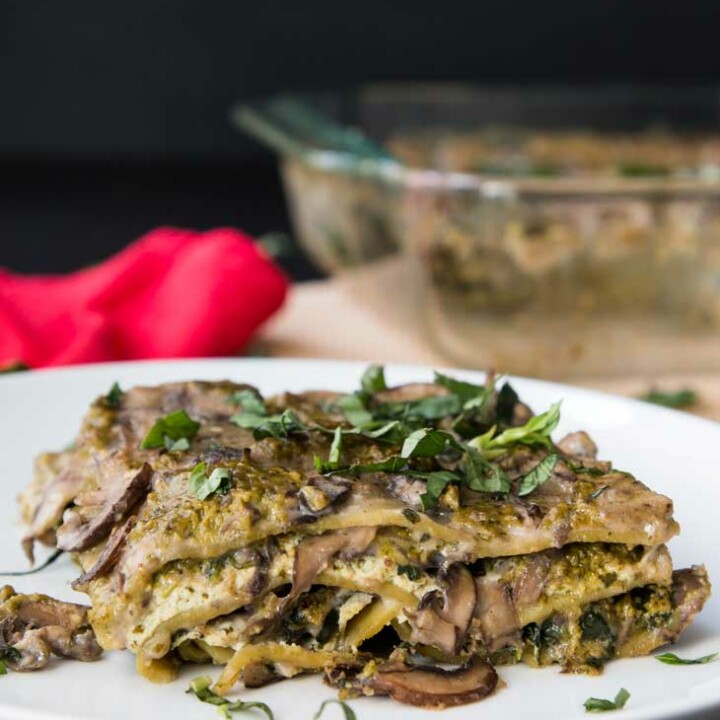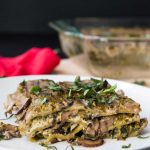 Print
Spinach Pesto Lasagna with Creamy Mushroom Sauce (Vegan)
There's nothing like the smell of freshly baked lasagna in the oven to make the holiday come alive. So indulge in this easy, delicious, protein-packed, vegan mushroom spinach lasagna.
INGREDIENTS
For the Creamy Mushroom Sauce:
5

cloves

garlic

, minced

1/4

cup

vegan butter

1

medium

white onion

, finely diced

16

oz.

cremini mushrooms

, stems removed & thinly sliced

1/4

cup

all-purpose flour

, or rice flour for gluten-free version

3

cups

unsweetened cashew milk

, room temperature – see notes below

1/8

teasp

salt

1/8

teasp

dried oregano

1/8

teasp

dried basil

1/8

teasp

ground nutmeg
For the Spinach Layer:
2

tbsp

extra virgin olive oil

3

cloves

garlic

, minced

7

cups

fresh baby spinach leaves

, roughly chopped
For Cashew Cream:
1.5

cups

raw cashews

, soaked 3-4 hours (see notes below)

1

cup

water
For Creamy Pesto:
1/2

cup

vegan pesto

1/4

cup

cashew cream (prepared from above)
INSTRUCTIONS
To Prepare Creamy Mushroom Sauce (see step-by-step photographs in post above):
Heat a large non-stick pan on medium heat.

Add the vegan butter and allow it to melt.

Add the minced garlic and diced onions. Saute until the onions start to become translucent.

Add the thinly sliced mushrooms. Saute on medium-high heat until the mushrooms cook completely, and the water released from the mushrooms is mostly evaporated.

Turn the heat to low-medium.

Add the flour. Mix thoroughly with the onion/garlic/mushroom mixture.

Allow the mixture to cook for a few minutes, mixing frequently so that the flour mixture doesn't stick to the pan.

Add only

1 cup

of the room temperature unsweetened cashew milk to the pan and mix thoroughly with the flour/mushroom mixture. I like to use a whisk for this step so that the mixture breaks up and blends easily into the non-dairy milk.

Turn the heat up to medium. Add the salt and remaining non-dairy milk and mix in.

Adjust the heat so that the creamy mushroom sauce maintains a gentle simmer.

Simmer for about 20-30 minutes until the mushroom sauce reduces by 1/3-1/2 in volume and becomes nice and thick. Mix frequently in between to make ensure that the sauce and mushrooms aren't sticking to the bottom of the pan. Continue on to cook the spinach, prepare the creamy pesto sauce, and make the tofu ricotta while you are waiting for the sauce to thicken.

Once the sauce has thickened (it should still be pour-able), add in the nutmeg, dried basil, and dried oregano. Season to taste with additional salt and freshly ground black pepper.

Turn the heat off and set aside. The sauce will thicken even more once cooled to room temperature. If you feel like the sauce is too thick while assembling the lasagna, feel free to add a little more non-dairy milk as needed.
To Prepare the Spinach:
In a large non-stick pot, heat the olive oil on medium heat.

Add the minced garlic and fry for about 30 seconds.

Add the roughly chopped fresh baby spinach leaves. Mix and allow the spinach to cook until it is all completely reduced and the water released has mostly evaporated. You may think this is a lot of spinach, but it will considerably reduce in volume once cooked.
To Prepare the Creamy Pesto:
Make the Cashew Cream – Drain and add the soaked cashews to a high speed blender (see notes below), along with

1 cup

water. Blend until you get a completely smooth cashew cream with no pieces left.

Make the Creamy Pesto – Combine the prepared pesto with 1/4 cup prepared cashew cream. Thin out with a tiny amount of water and season with salt if needed. Store the remaining cashew cream in an air-tight container in the fridge.
To Assemble & Cook the Lasagna (see step-by-step photographs in post above):
Once the creamy mushroom sauce is done, you are ready to assemble the lasagna.

Turn the oven to 400 degrees (according to uncooked lasagna sheets package).

Lightly grease an 8×8 square glass baking tray with a little olive oil.

Add a generous layer of the creamy mushroom sauce to cover the bottom of the glass tray.

Place 2 uncooked green lentil lasagna sheets on top of the sauce, side by side, in a single layer.

Spread 1/2 of the cooked spinach on top of the vegan ricotta layer.

Add a layer of the prepared creamy mushroom sauce on top of the spinach so that it is completely covered.

Drizzle on some prepared creamy pesto sauce.

Repeat with another layer of the uncooked lasagna sheets, vegan ricotta, the remainder of the cooked spinach, a layer of the creamy mushroom sauce, a drizzle of the creamy pesto, followed by a final layer of uncooked lasagna sheets. (3 layers of uncooked lasagna sheets total)

Top it off with the remainder of the creamy mushroom sauce and a final drizzle of the creamy pesto. You should have used all the creamy mushroom sauce, but will still have a small amount of the prepared pesto left over.

Cover and seal completely with a sheet of foil.

Bake in the oven (once at temperature) for about 40 minutes.

After the lasagna is done cooking (mine finished in exactly 40 minutes, but you can check by taking a small bite from the side with a spoon to make sure the lasagna sheets are cooked), remove from the oven and take off the foil.

Allow the lasagna to cool for about 10-15 minutes at room temperature (it will continue to cook and all come together during this time).

Garnish with freshly chopped basil, red crushed peppers, and some freshly ground black pepper (optional). Cut and serve hot with a side salad or garlic bread!
NOTES
Minimize Prep and Cook Times – If you are making this lasagna all in one day, I've given tips on how to multi-task to minimize prep and cook times. As indicated in the instructions above, start with the creamy mushroom sauce and prep the spinach, creamy pesto, and tofu ricotta while the sauce is thickening to save time. You can also prepare the different layers the day before to save time.
Make Ahead Tips – Prepare all the layers of the lasagna ahead of time, and simply assemble prior to baking. Or assemble the lasagna ahead of time and bake when ready to enjoy.
I've made the tofu ricotta, creamy mushroom sauce, creamy pesto, and spinach the day before to save time.
Prepare a large batch of pesto and freeze it for use when needed. Or you can use store-bought pesto if you find one that is vegan.
Spinach: You can use frozen spinach instead of fresh spinach, but be sure to defrost it completely and squeeze out any excess liquid prior to using.
Lasagna Sheets – I used Explore Cuisine Green Lentil no-boil lasagna sheets for this recipe. If you are using cooked lasagna sheets or another type, you may need to adjust the oven temperature and bake time.
Cashews – If you do not have a high-speed blender, be sure to soak the cashews for 3-4 hours in water before blending.
Non-Dairy Milk – I personally prefer to use SILK brand unsweetened cashew milk for this recipe because of the flavor. I've used unsweetened almond milk in this recipe and it tastes great as well.
Alternate Versions –
Omit the Creamy Mushroom Sauce: If you are not a mushroom fan or simply don't have the time to make the creamy mushroom sauce (although I highly recommend it), you can make a Creamy Pesto Spinach Lasagna instead. To do this, prepare more creamy pesto (thinned out with a little water so that it's thick but pour-able) and use this as the main lasagna sauce in between all the layers (including the bottom layer). I also added a sauteed mushroom layer along with the spinach.
Omit the Creamy Pesto drizzle
You can also include other veggies along with the cooked spinach if you prefer. I personally love the combination of mushrooms and spinach only in this lasagna.
NUTRITION
Calories:
253
kcal
|
Carbohydrates:
25
g
|
Protein:
9
g
|
Fat:
14
g
|
Saturated Fat:
2
g
|
Cholesterol:
1
mg
|
Sodium:
287
mg
|
Potassium:
438
mg
|
Fiber:
1
g
|
Sugar:
2
g
|
Vitamin A:
2705
IU
|
Vitamin C:
8.3
mg
|
Calcium:
69
mg
|
Iron:
1.5
mg