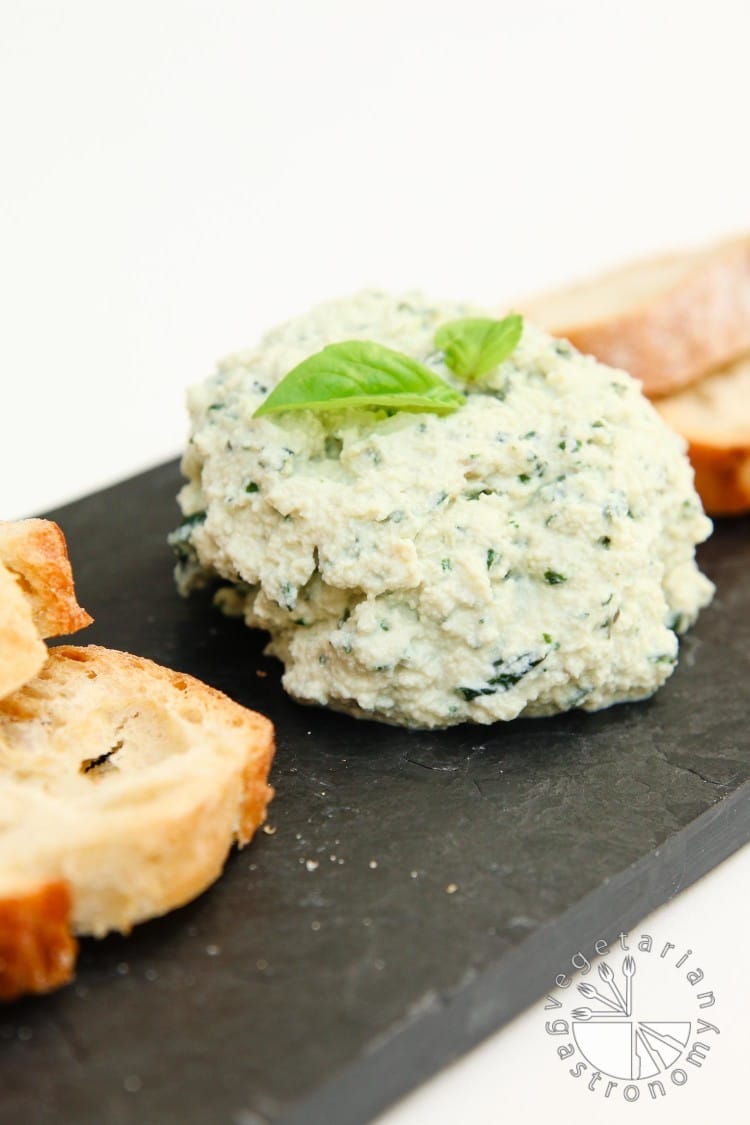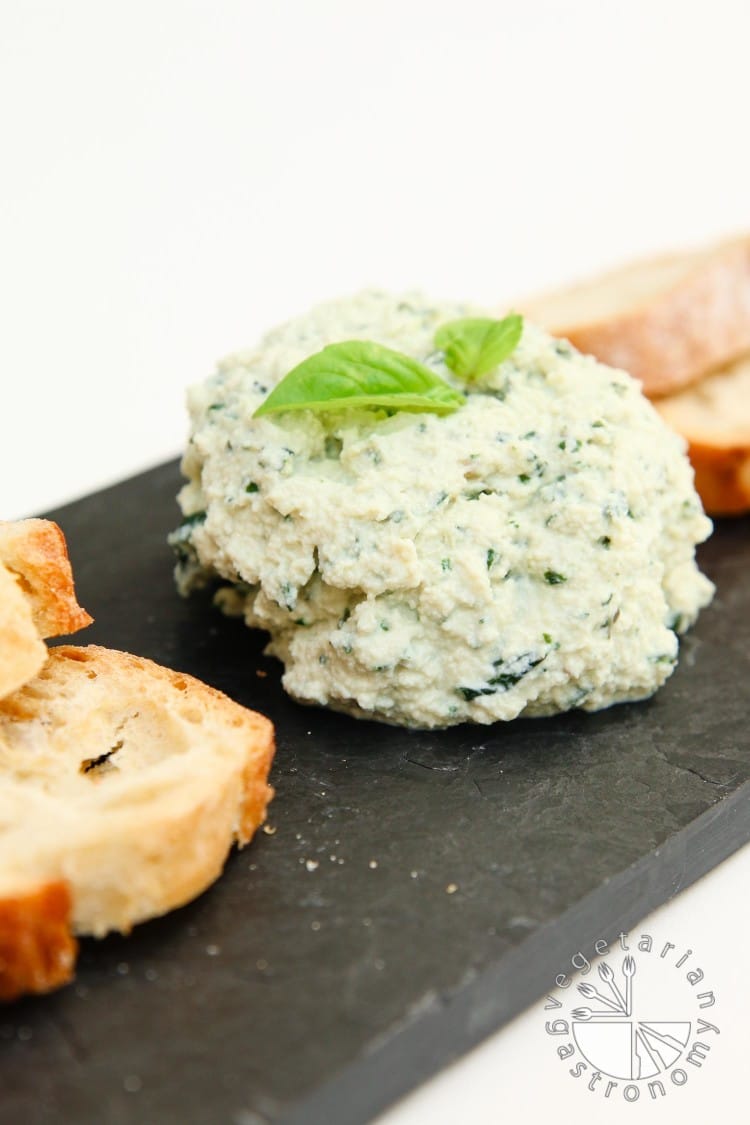 Think Rich and Creamy…
Full of fresh Herbs…
and Garlic…
Spreadable on everything and anything…
like a Ricotta cheese, but VEGAN…
AND It's Delicious, Easy to make, and Healthy.
It's my Garlic Basil Vegan Ricotta "Cheese" Spread! And it's here to stay… literally… I have many new recipes coming your way using this awesome spread!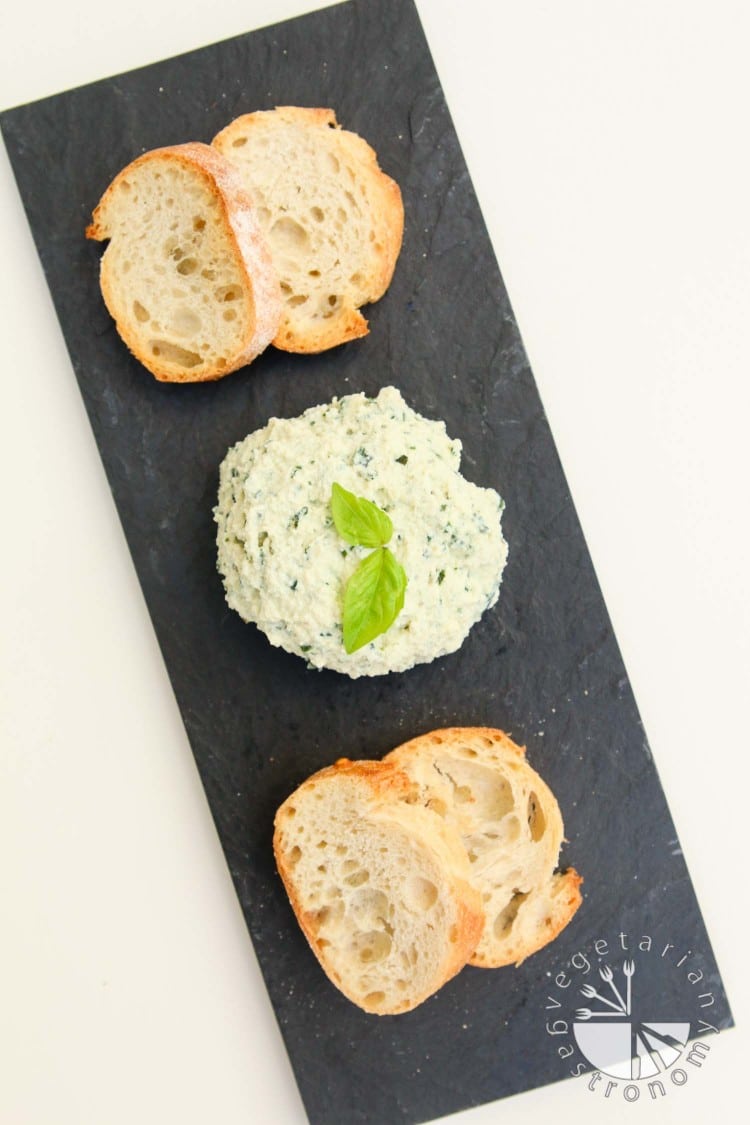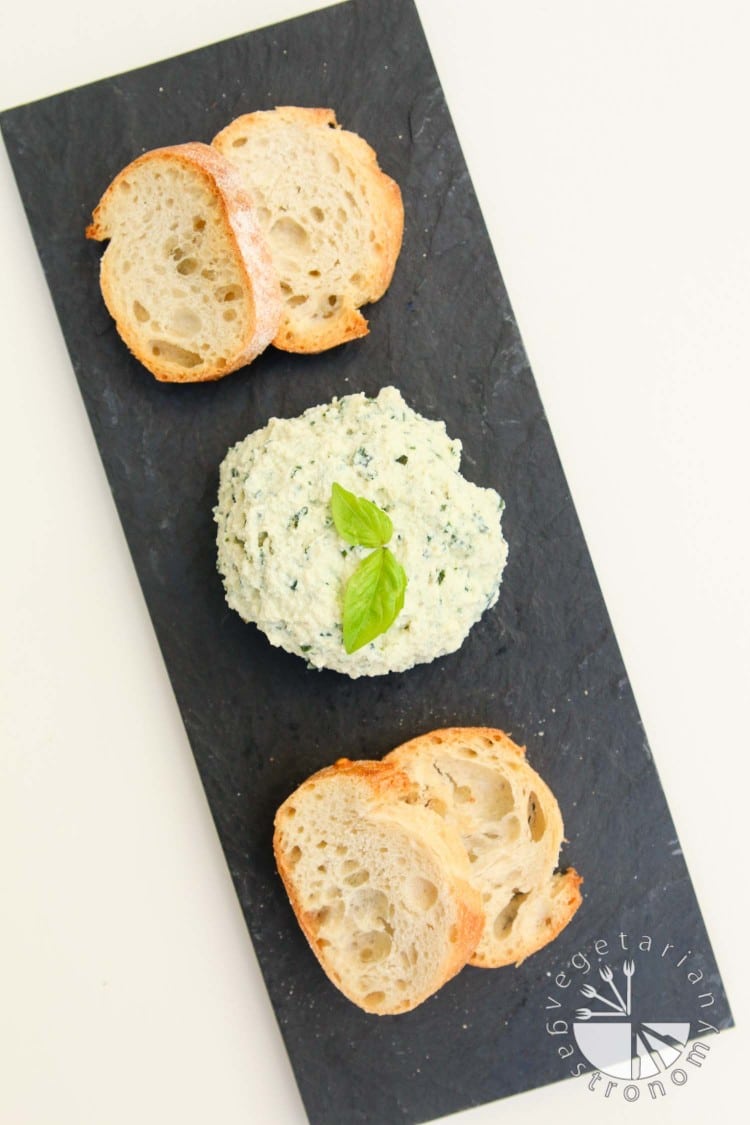 This recipe was inspired by a family friend, who went out of her way to make a quick vegan version of a feta-cheese spread at a baby shower I attended. Not only am I a sucker for toasted french bread and anything spreadable that goes with it, but the ingredients were simple and healthy. The main ingredient she used was sprouted tofu, so I started with the same. I instantly knew her sprouted tofu base would taste great with some added fresh herbs and spices. I also wanted to perfect the texture so that it felt like more of a spreadable "cheese" rather than actual tofu. After a few trials, I came to this PERFECT blend of ingredients!
This was my very first attempt at making a vegan cheese spread at home, so I was pretty excited. It's also nut-free (for those of you with nut allergies) Don't get me wrong…I love using nuts to make cheese sauces and as a creamy substitute, but coming up with something other than nuts as the base was a nice change since they are already a staple in our diet.
I've made several batches of this cheese spread already. It's great to keep in the fridge for a few days to use on anything and everything. Spread it on toasted french bread, use it in a sandwich, make a pasta dish with it, dip a veggie in it, or simply devour it with a spoon or cracker. The options are endless! I paired this cheese spread with a medley of mushrooms and served it crostini style at our holiday party this past December for 35 non-vegans and they all LOVED it (recipe coming soon). This recipe is also very kid-friendly and a great way to introduce tofu to your kids diet. My kids love it, and it makes for the perfect spread on sandwiches for school lunch.  So grab some sprouted tofu and try this recipe out. I'd love to hear what you think and how you use it. I guarantee you'll fall in love with it, and just wait until you see all the mouthwatering recipes I've already developed using this "cheese" spread!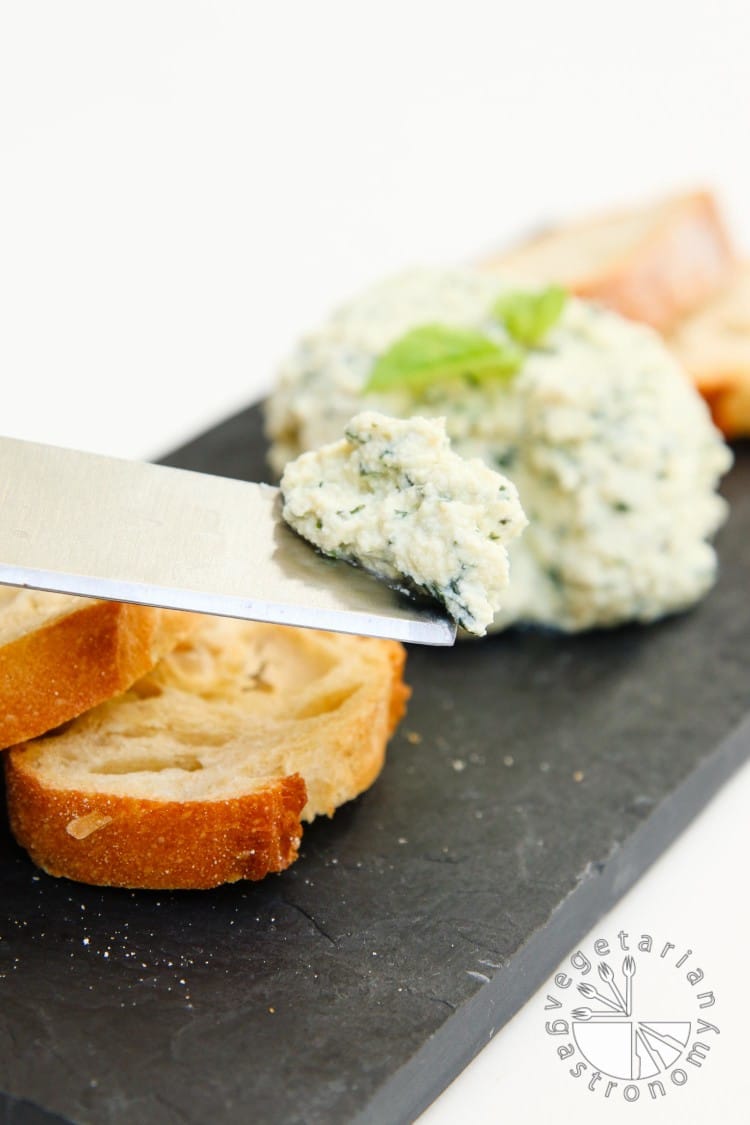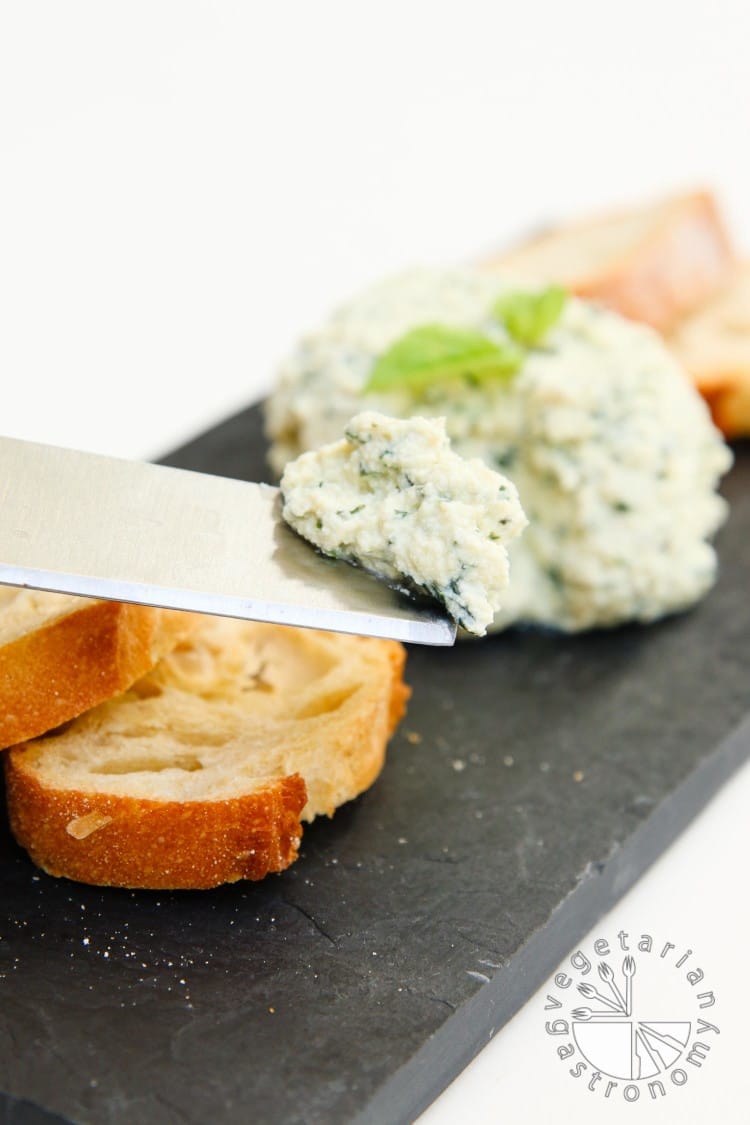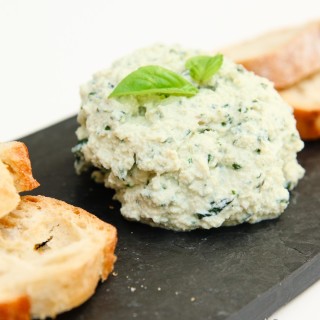 Garlic Basil Vegan Ricotta "Cheese" Spread
This 10-minute vegan cheese is perfect for sandwiches, Italian dishes, and to enjoy with crackers! It requires no cooking, is protein-packed, and really easy to make!
Course:
Appetizers, Condiment, Party Food, Sandwich, Spread
Recipe Type:
Gluten-Free, Italian, Vegan
Ingredients
15.5

oz.

Sprouted Tofu

, extra firm or regular extra firm tofu

1/2

cup

fresh basil leaves

, packed

3

tbsp

fresh lemon juice

1

teasp

garlic powder

1

tbsp

olive oil

1-2

tbsp

water

more or less depending on consistency

1

teasp

salt

freshly ground black pepper

(optional)
Instructions
Cut the sprouted tofu in half. Soak as much water out from each sprouted tofu half as possible. I use paper towels to squeeze out the water, especially since you don't need to worry about keeping the tofu in tact. Depending on how much water remains in the tofu after squeezing it out, you may or may not need to add additional water into the mix while blending.

Add the tofu, along with all the other ingredients, except for the additional water, into a food processor.

Pulse a few times until you come to a thick, yet somewhat smooth consistency. The basil leaves should not be completely blended in and the tofu should not become a puree (in other words, the final mixture should still be white in color from the tofu with the basil very finely chopped and mixed in).

Feel free to add 1-2 tbsp water if needed for consistency or to aid with the blending process. The final consistency should be a very thick, spreadable mixture and NOT pour-able (if it is, then your mixture contains too much water and/or you blended for too long).

Season with additional salt/fresh lemon juice if needed, and add freshly ground black pepper if you prefer.

Store in an air-tight container in the fridge and enjoy! Spread it on toasted french bread or crackers, dip your favorite veggies into it, use it in your favorite pasta or lasagna dish, or use it as a sandwich spread!
Recipe Notes
Tofu - use either extra firm sprouted tofu or extra firm regular tofu. The sprouted tofu is slightly different in texture than regular extra-firm tofu, but either will work great. 
Nutrition Facts
Garlic Basil Vegan Ricotta "Cheese" Spread
Amount Per Serving
Calories 209
Calories from Fat 117
% Daily Value*
Total Fat 13g 20%
Sodium 1243mg 52%
Potassium 485mg 14%
Total Carbohydrates 8g 3%
Protein 15g 30%
* Percent Daily Values are based on a 2000 calorie diet.