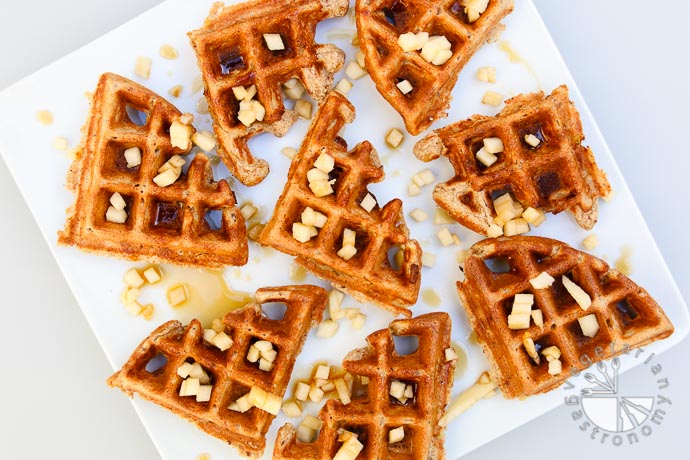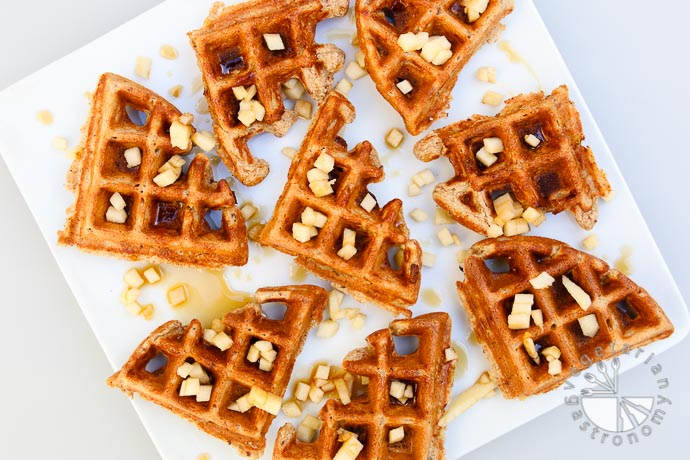 This is a recipe LONG overdue. I've been meaning to develop my own waffle batter for years now. Since we first met, my husband has always loved making pancakes and waffles for breakfast on weekends. No trip with family or friends goes by without my husband making pancakes and waffles. Everyone loves them as much as he loves making them. There's just one problem (at least for me)… he uses Bisquick to make his batter, which is, as you know, not the healthiest baking mix. Don't get me wrong, I have enjoyed these breakfasts many times in the past, but over the past few years, I've opted for some healthier alternatives. I'm okay with the occasional unhealthier breakfasts, including bagels and donuts, but when it becomes a routine, as it has for the past year, it's time to come up with a healthy delicious batter recipe, hoping it's one that even my husband will love. I've tried a few store-bought healthier mix alternatives to bisquick, but they don't seem to taste quite right, and I'm not a huge fan of their texture. So I'm excited to finally have a great waffle recipe to make on a regular basis.
Although I love both pancakes and waffles, if I had to pick one, it would be waffles. They are crispy on the outside, fluffy on the inside. I think the choice runs in my family, because my parents always opted for the crispy version of most foods. If you don't have own a waffle iron, I highly suggest you get one. I've owned a few different versions before, but my absolute favorite is the the Waring Pro Belgian Waffle Maker. The rotating function is key for even baking. It also makes two waffles at the same time, which is ideal for feeding a family. This waffle batter is very easy and simple to make. It's vegan and contains fresh fruit. The finishing touch to these delicious waffles is adding finely-diced pieces of fresh apples into the batter. It makes for a great tasty surprise in almost every bite! My kids love these waffles with a little vegan butter, and we enjoy them topped with fresh pieces of apple and maple syrup. With these waffles, my breakfast cookies, overnight oats (recipe to come), and my almond butter/banana/hemp seed toast, I'm becoming more of a breakfast person!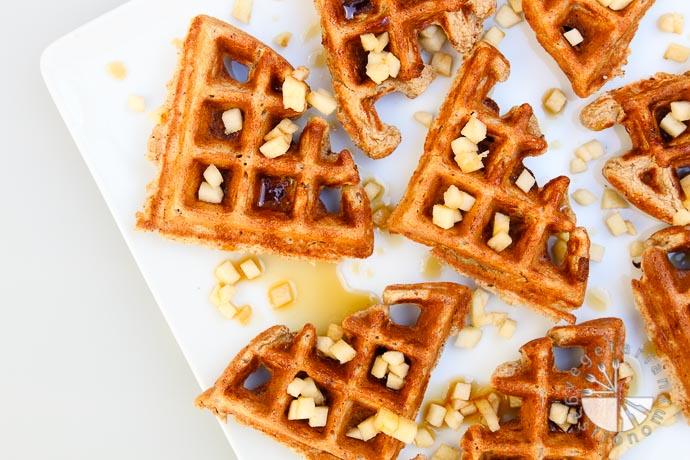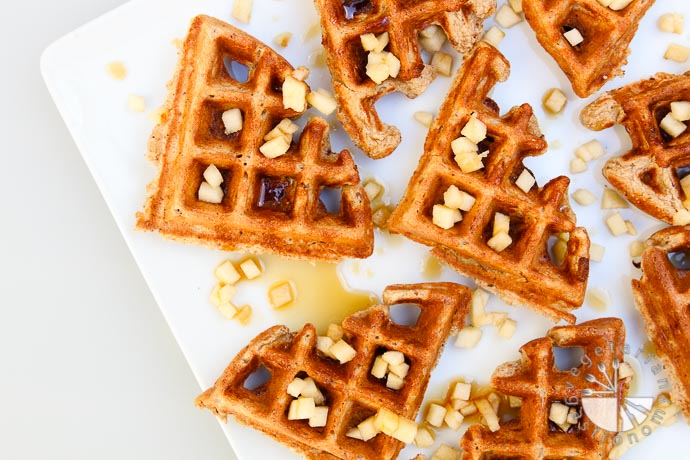 If you've been following me this entire month, thanks for joining me in honoring Vegan Month of Food 2014! What was your favorite vegan dish this month?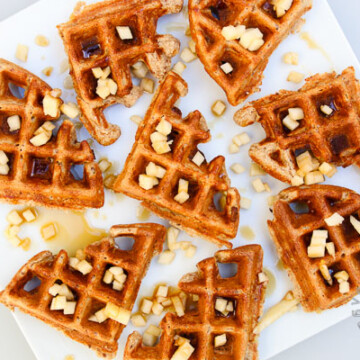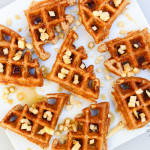 Print
Apple Cinnamon Waffles
These are crispy on the outside, soft on the inside, and spiced with flavors of apple and cinnamon! They're the perfect family-friendly healthy waffles!
Servings:
5
large waffles
INGREDIENTS
3/4

cup

fresh apples

, peeled and finely diced + extra for garnish
INSTRUCTIONS
In a medium mixing bowl, whisk together all the dry ingredients.

In another larger mixing bowl, whisk together all the wet ingredients (leave the fresh apples out until the end).

In small batches, add the dry ingredients to the wet ingredients, and mix until fully combined, being careful not to over-mix.

Carefully fold in the finely-chopped apple.

Let the batter sit for 5 minutes as you heat your

waffle iron

to the desired setting (if you like your waffles crispy, set it to the darker setting).

Once the

waffle iron

is preheated, spray it with non-stick cooking spray on both sides (use coconut oil spray).

Pour in the correct amount of batter, as indicated by your waffle iron, to the center and close/flip, allowing the batter to spread.

If you are not planning on eating the waffles right away, be sure to cool them on a cooking rack so that the moisture does not get to them and they stay crispy.

Top with some vegan butter, maple syrup, and/or any extra chopped apples.
NOTES
Freeze leftover made waffles in a zip-lock bag and simply toast in the toaster oven to re-heat.
NUTRITION
Calories:
252
kcal
|
Carbohydrates:
41
g
|
Protein:
6
g
|
Fat:
8
g
|
Saturated Fat:
5
g
|
Sodium:
201
mg
|
Potassium:
423
mg
|
Fiber:
6
g
|
Sugar:
7
g
|
Vitamin A:
10
IU
|
Vitamin C:
2.1
mg
|
Calcium:
175
mg
|
Iron:
1.8
mg
[subscribe_box]