An easy one-minute dark cinnamon infused spicy chocolate sauce is all it takes to transform your basic lattes into a mouthwatering drink! It's made with a quick 2-ingredient dark chocolaty base that requires no cooking, and paired with the perfect hint of spice. This vegan Aztec Iced Mocha recipe is quick to make, rich, cool, and refreshing!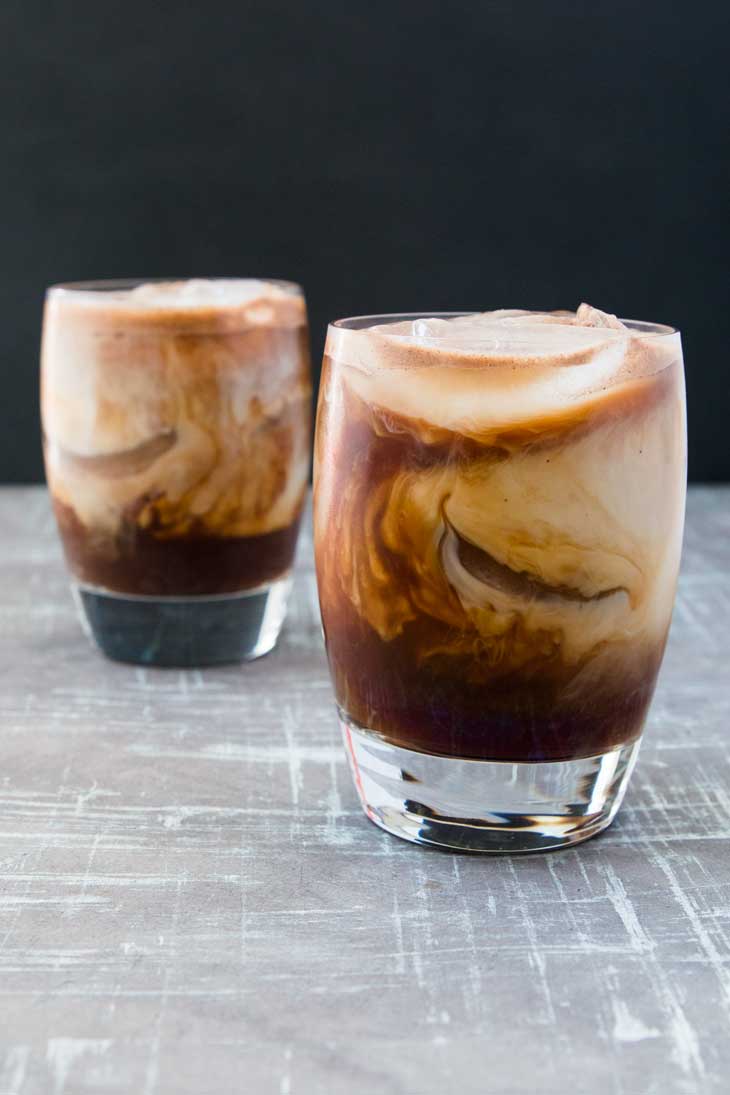 One latte a day! Not only for the caffeine, but also for that coffee flavor which I've always loved. That's been my standard for years now.
About 3 years ago, I caved and bought one of my favorite kitchen gadgets…this Barista Express Espresso Machine. My brother had one, and I was tempted to get one myself. Of course, it's not the cheapest of gadgets, so I had to convince my husband and myself that I would indeed use it everyday instead of heading to the closest coffee shop.
Well it's 3 years later, and I stayed true to my word. I LOVE everything about this Espresso Machine…it's easy to use, cleans easily, and I've had zero problems with it so far (and no I don't work for their brand nor is this a sponsored post). I actually now understand the different coffee bean flavor profiles, and have more than made up for the cost of the machine. In fact, I prefer to take my own home-made latte to a coffee shop because I'm in love with the beans from a local coffee roaster, Ryan Bros. Coffee (yes…I think I've become an espresso snob).
Ultimately, the main reason I bought the Espresso Machine was because I was tired of feeling the need to stop at a coffee shop everyday an espresso drink.
Things were going well, until sometime last year when this awesome new ice cream shop opened up near the beach in Encinitas, California: Handel's Ice Cream. They have a few great vegan ice cream flavors that are made in house and the kids love it. Of course soon after, I also discovered Lofty, a coffee shop a few doors down that I had been wanting to check out. And that's where it started…
…my love for their Aztec Mocha with homemade almond milk or coconut milk. So Good 🙂
As much as I love ice cream, I couldn't resist the spicy rich mocha (that happened to be vegan) with their homemade non-dairy milks. Of course I've had drinks like this before since many places offer a spicy mocha, but their particular combination was divine. To be quite honest, when served hot, it was a bit too rich for me, but when served over ice, it was to-die-for!!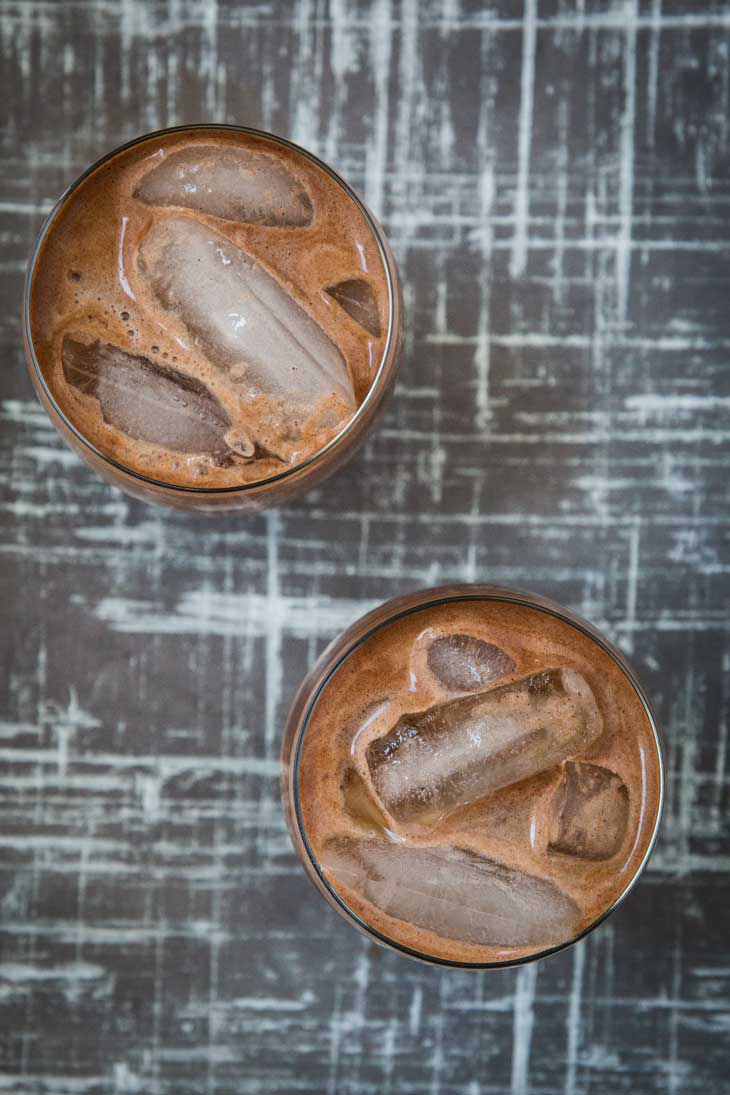 So therein lays my desire to frequent that particular coffee shop. But because it's out of my way most days, I don't get to go as often as I would like. Of course when the heat came in, so did that craving for a cool spicy iced mocha, and there's really no reason I can't re-create something similar at home.
This Aztec Iced Mocha recipe is so so easy! I wanted something quick and fast, yet rich and flavorful, and that's exactly what I created. I stayed with the name Aztec because of the dark chocolate flavored with cinnamon and red pepper, two spices commonly paired with chocolate in Aztec culture.
The key to this recipe is the dark cinnamon infused Aztec chocolate sauce I created. Here's why it's the PERFECT sauce:
2-ingredient base (maple syrup and cocoa powder)
stable at room temperature
requires no heating or cooking
takes only 1 minute to make (yes…ONLY 1 MINUTE!)
By using cocoa powder, you get that dark chocolate flavor and avoid having to melt any chocolate. Once you have the chocolate sauce, the rest is easy!
Aztec Iced Mocha Recipe in 3 easy steps:
Mix the hot espresso shot and chocolate sauce
Add in the ice cubes
Pour over your favorite non-dairy milk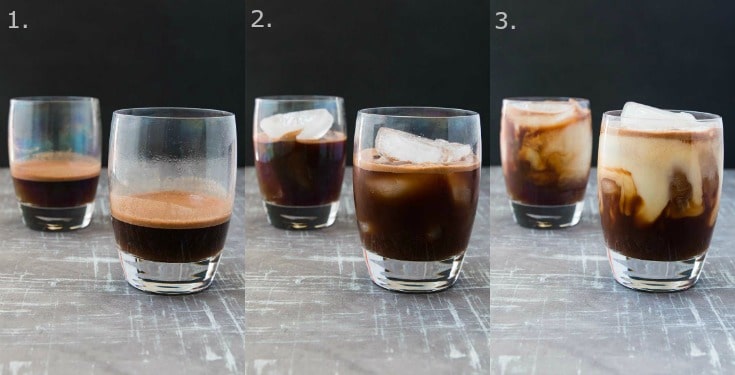 That's it! You have yourself a deliciously refreshing cool spicy iced mocha in minutes! This drink saved me over the summer, especially after those long days at the beach or pool. I love iced lattes in general, so it's nice to spice it up every now and then with this easy combination.
Not a coffee fan? Make an iced chocolate milk drink instead! Not a spicy chocolate fan? Simply leave out the spices! With a 1-minute room temperature chocolate sauce, you really can't go wrong.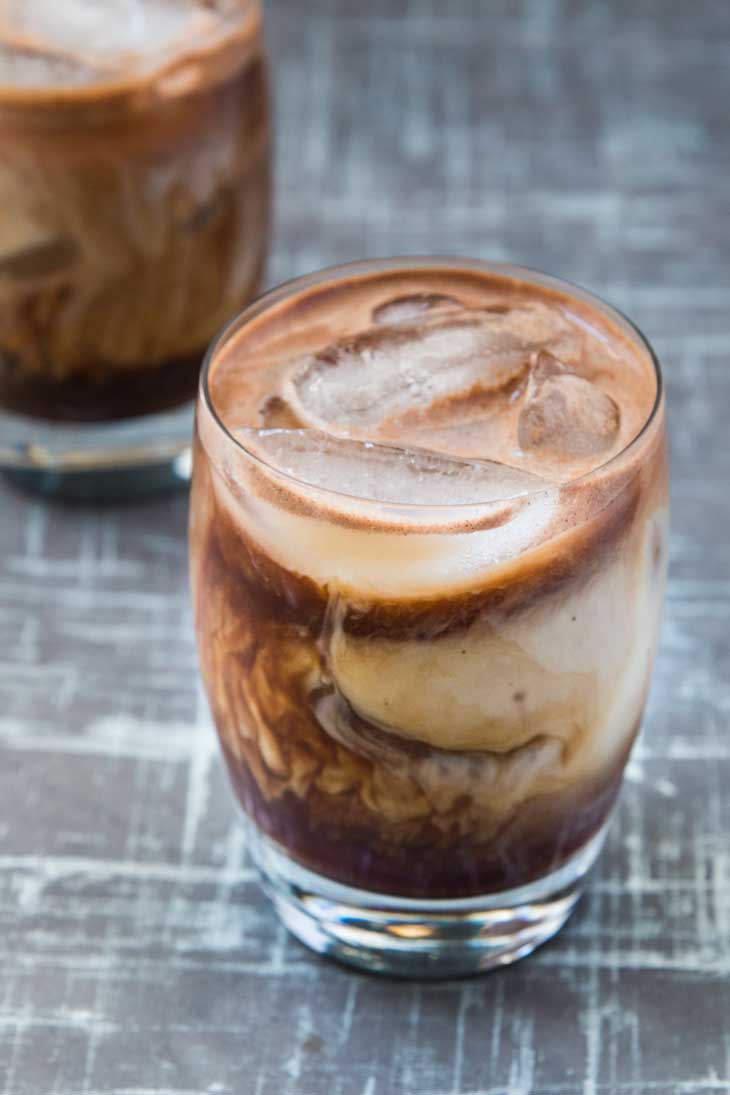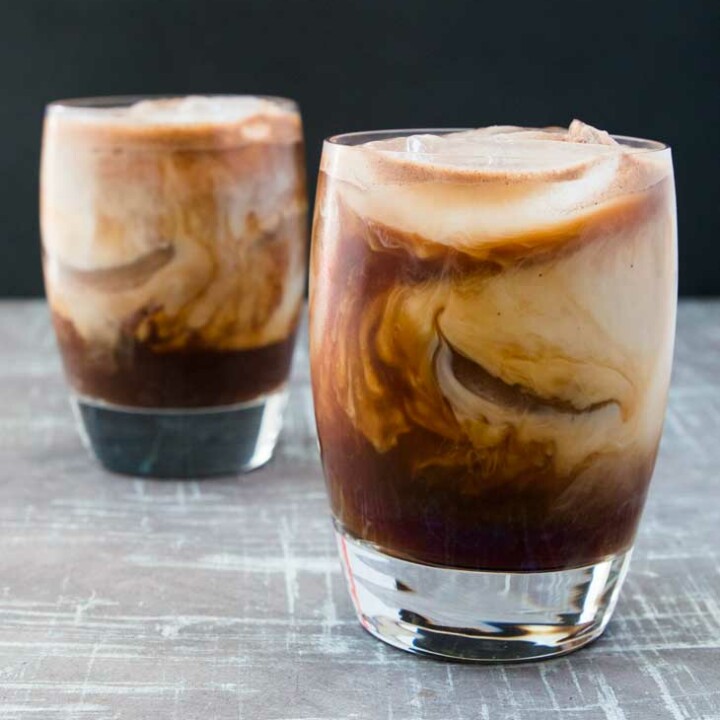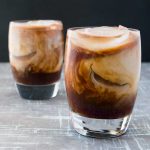 Print
Aztec Iced Mocha Recipe
This easy Aztec Iced Mocha recipe is made with a quick one-minute no cook dark cinnamon infused spicy chocolate sauce. It's rich, cool, and refreshing with the perfect spicy kick!

INGREDIENTS
2

shots

espresso

, see notes below

1-2

cups

soy milk

, or any non-dairy milk (coconut or almond)
INSTRUCTIONS
To Make Chocolate Sauce:
Combine all ingredients for the chocolate sauce in a small bowl.

Mix well with a spoon until all of the cocoa powder is fully incorporated into the maple syrup (you may have to mix for awhile, but it will happen).
To Prepare Iced Mocha:
Add 2 shots of hot espresso into the chocolate sauce and mix well.

Divide the chocolate/espresso mixture equally into two glasses filled half way with ice.

Pour your favorite non-dairy milk on top and enjoy!
NOTES
If you do not have espresso available, you can also add this chocolate sauce to your cup of coffee.
Depending on the type of non-dairy milk you use, you may need to adjust the amount of chocolate sauce necessary. You may also not end up using the entire 2 cups of milk depending on how you like your mocha.
Feel free to adjust the amount of sweetness by adding more maple syrup.
If you're not a fan of spice, simply omit the cayenne pepper and cinnamon.
For the chocolate sauce, be sure to keep mixing until all the cocoa powder is thoroughly mixed into the maple syrup. It may take a little more mixing, but it will easily go in without any heating required.
The espresso shot should be hot so that the chocolate sauce melts in before pouring over ice.
NUTRITION
Calories:
131
kcal
|
Carbohydrates:
24
g
|
Protein:
3
g
|
Fat:
2
g
|
Sodium:
62
mg
|
Potassium:
217
mg
|
Sugar:
20
g
|
Vitamin A:
250
IU
|
Calcium:
183
mg
|
Iron:
0.5
mg
Nutrition Facts
Aztec Iced Mocha Recipe
Amount Per Serving
Calories 131
Calories from Fat 18
% Daily Value*
Fat 2g3%
Sodium 62mg3%
Potassium 217mg6%
Carbohydrates 24g8%
Protein 3g6%
Vitamin A 250IU5%
Calcium 183mg18%
Iron 0.5mg3%
* Percent Daily Values are based on a 2000 calorie diet.