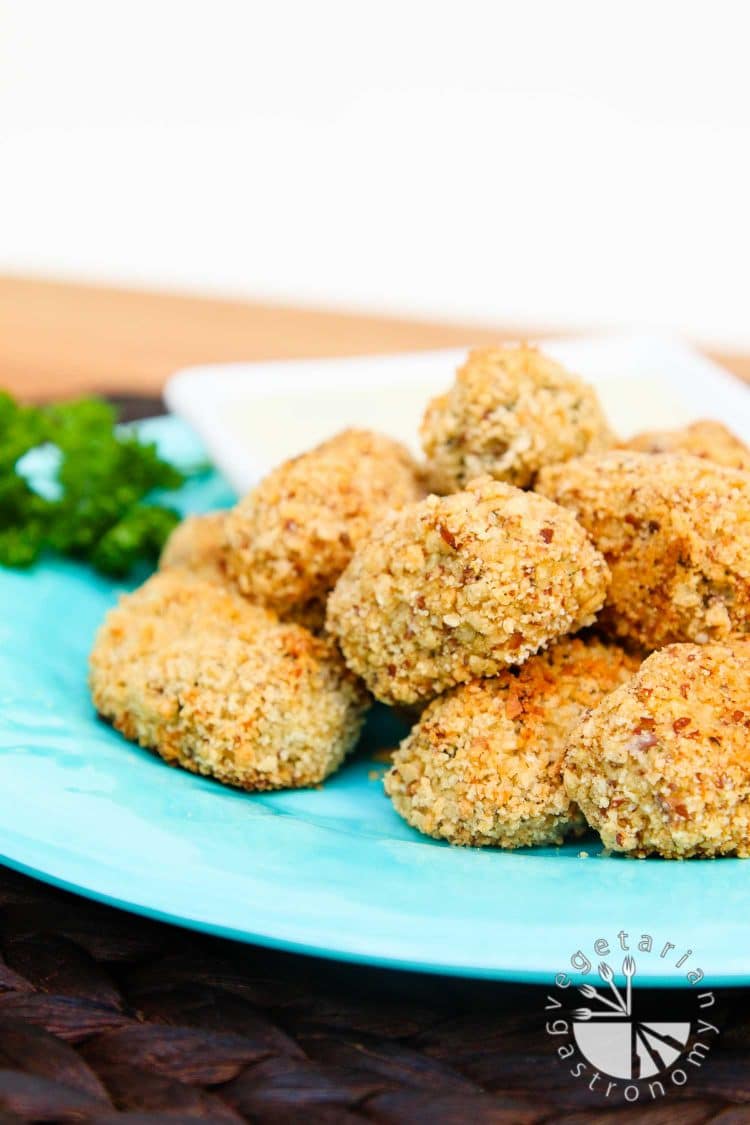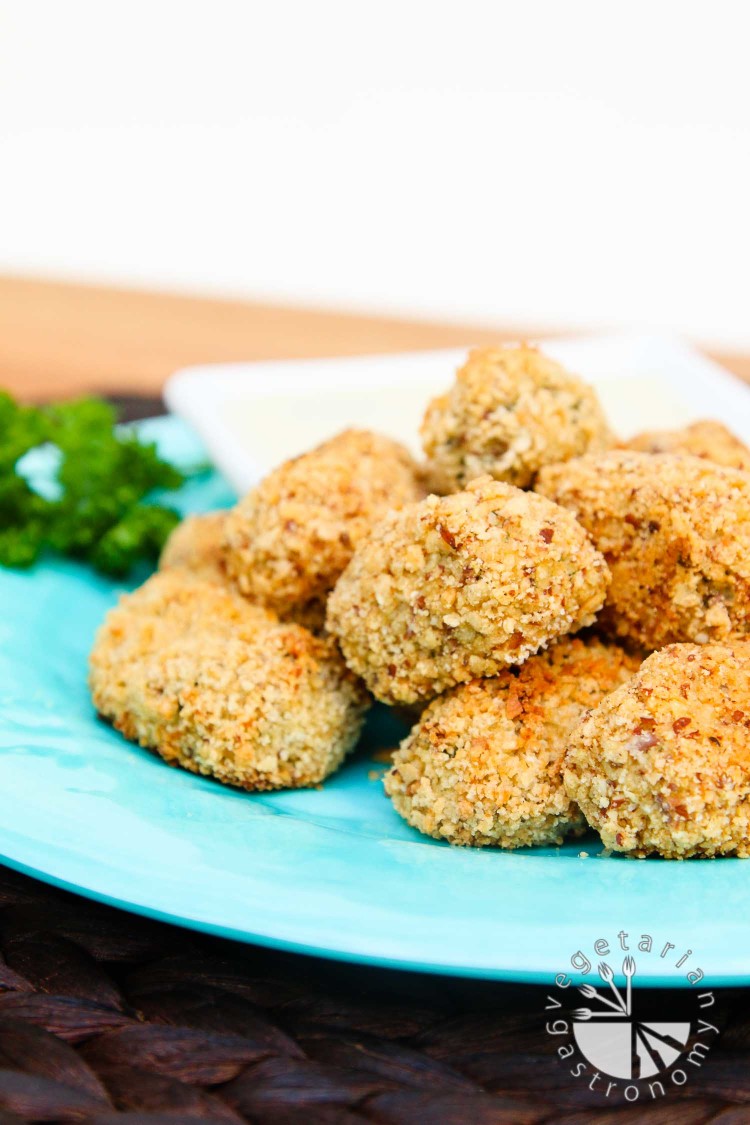 Who doesn't love tator tots? Deep-fried grated potatoes…crispy, bite-sized and fun to eat. The concept of these Baked Crispy Cauliflower "Rice" Bites was inspired by tator tots, but they taste completely different. Instead of deep-fried potatoes you now have baked bites made out of a cauliflower-based mixture, dipped into a creamy Cucumber Ranch Dressing, making them a great, clean, healthy, delicious snack or side for the entire family.
When I first developed my Stir-Fry Cauliflower "Rice" recipe awhile back, I knew it wouldn't be the last time I'd be using cauliflower "rice" in one of my recipes. Not my original idea, but I love using it in many of my dishes instead of rice. I'd been entertaining the idea of using cauliflower "rice" to make little bites for some time. So when Way Better Snacks contacted me to be a part of their holiday campaign, I couldn't resist using their awesome baked tortilla chips in this recipe.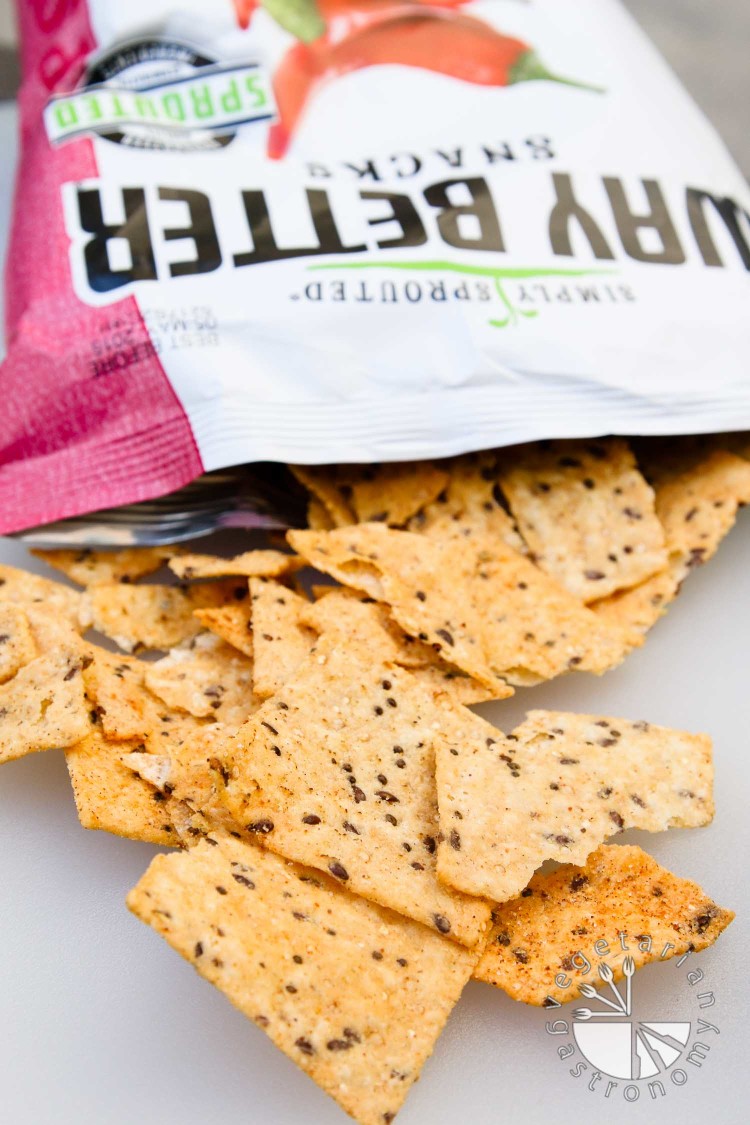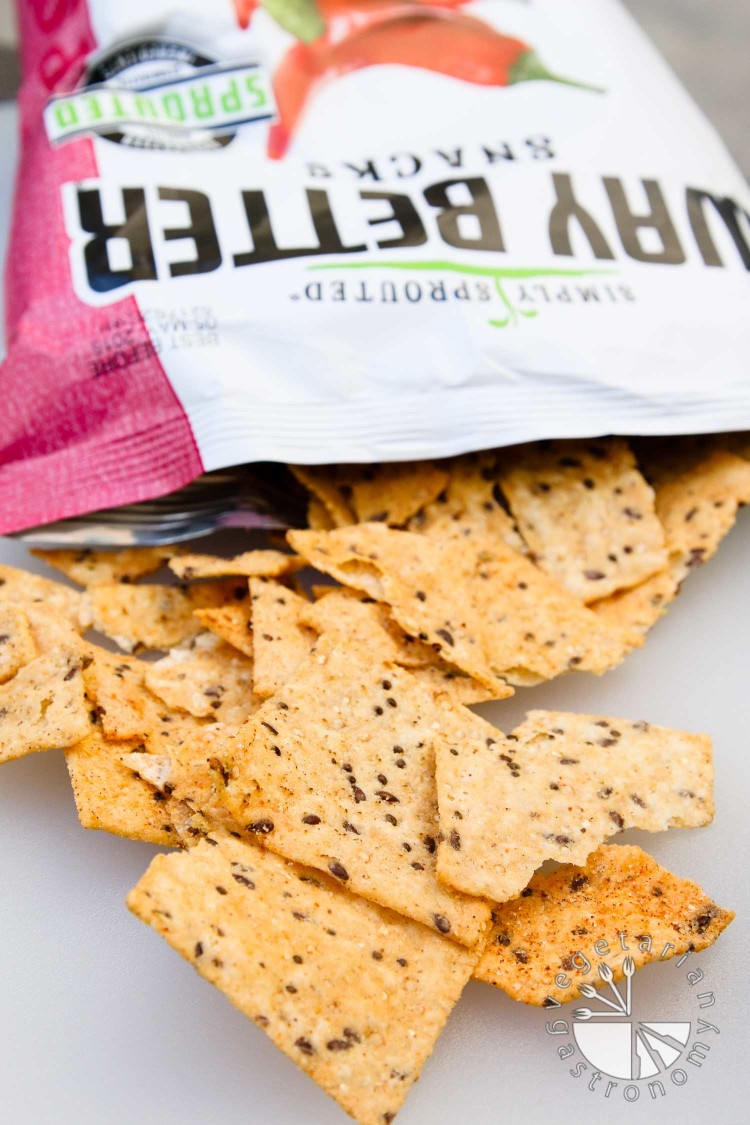 Simply said… I love these Way Better Snacks tortilla chips! So much, that I have a constant supply of their chips, in several flavors, opened in my pantry. It all started with my constant search for healthier options for tortilla chips and better snacks. Well…needless-to-say, I was hooked the first time I popped open a bag. They are allergen friendly, certified gluten-free, sprouted, non-GMO, and contain no chemicals. They are made with whole ingredients, are super light and tasty, and are loaded with flavor. Each bag includes sprouted grains, seeds, and beans and they incorporate chia, flax, quinoa, daikon radish and broccoli seeds. I've used them in all kinds of dips, wraps, and even crumbled them over salads such as in my Ultimate Taco Salad. Just realize that once you pop open a bag and start eating them, it'll be really hard to quit, and even though these chips are healthier, I don't recommend going through an entire bag of them in one sitting =)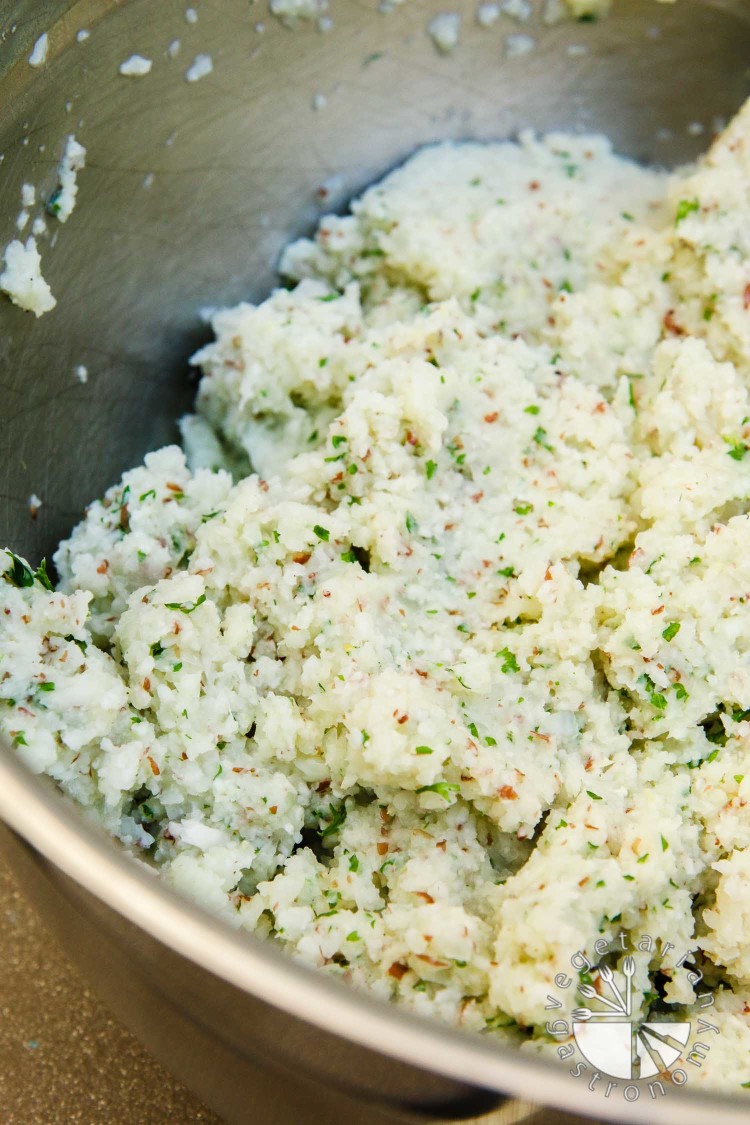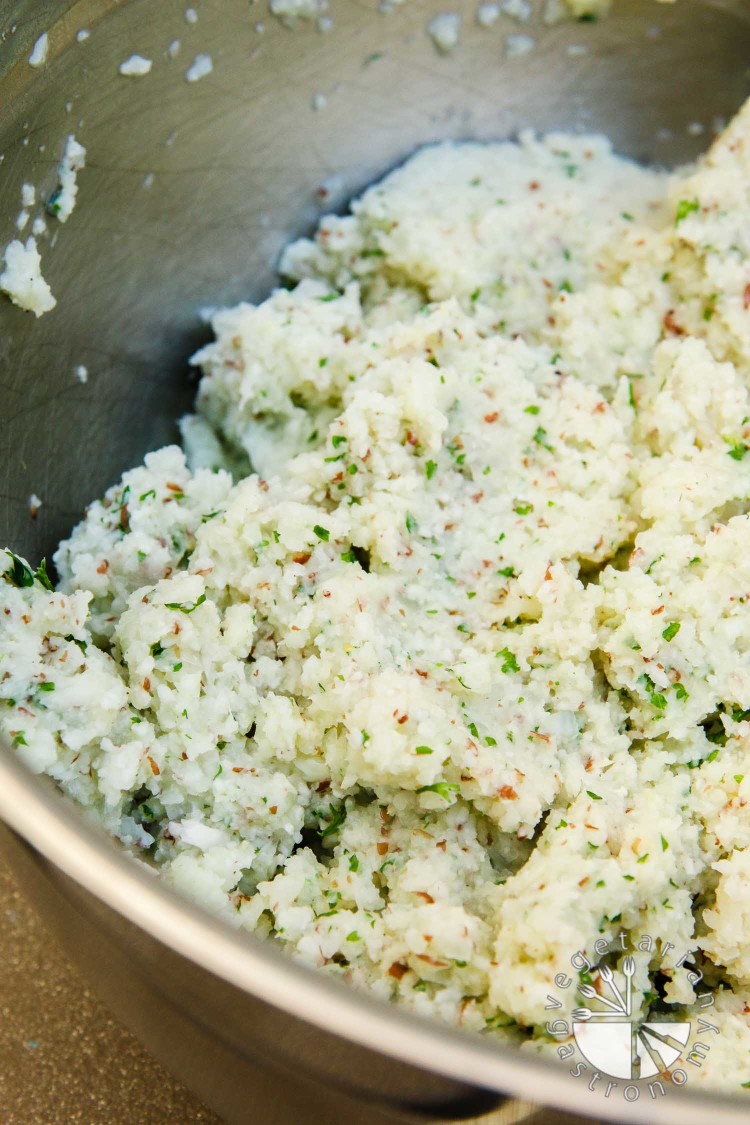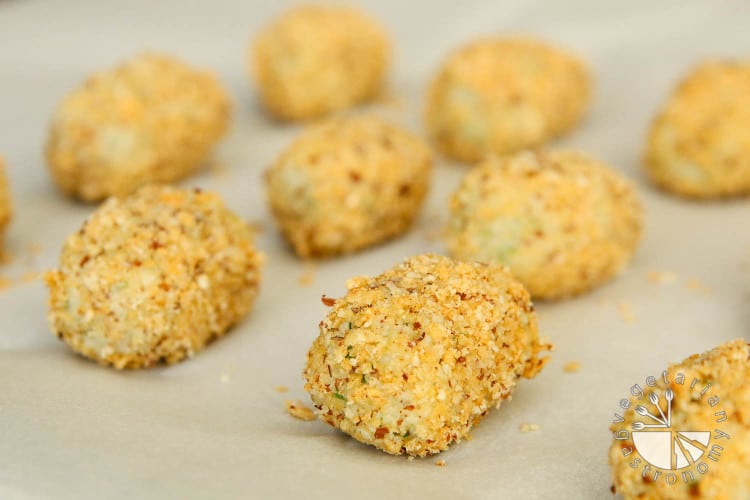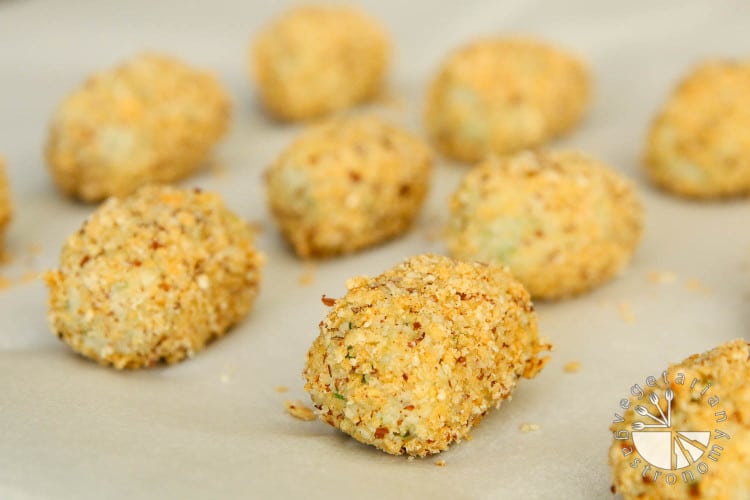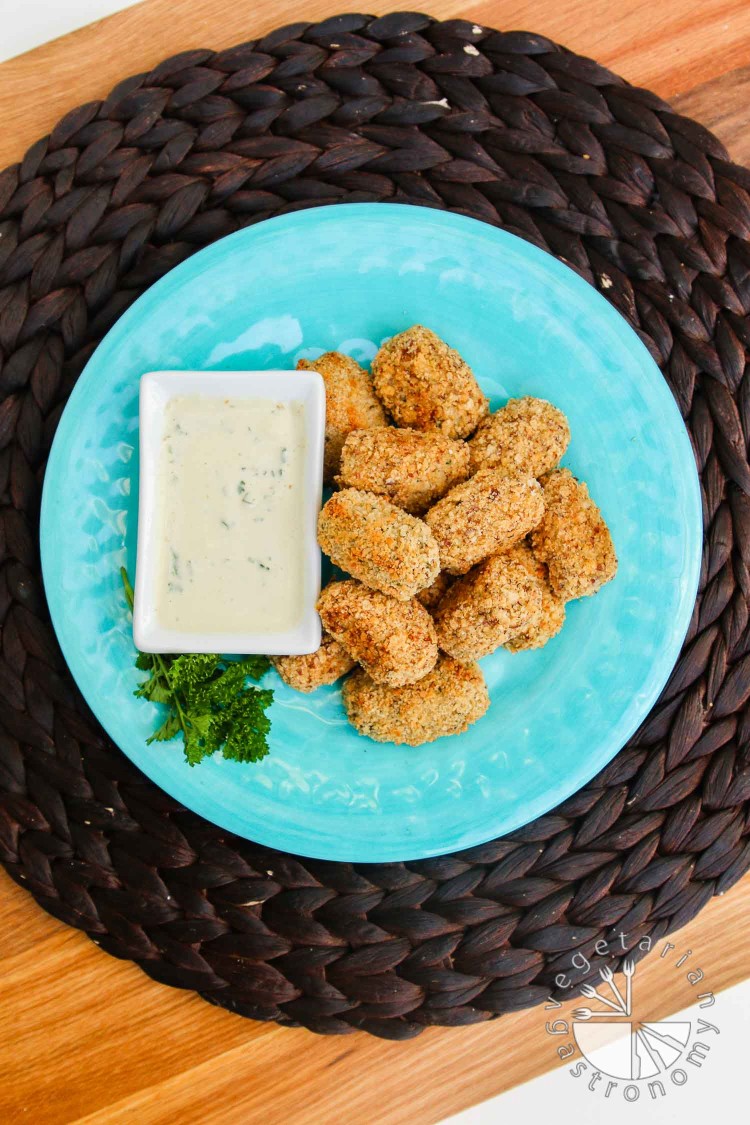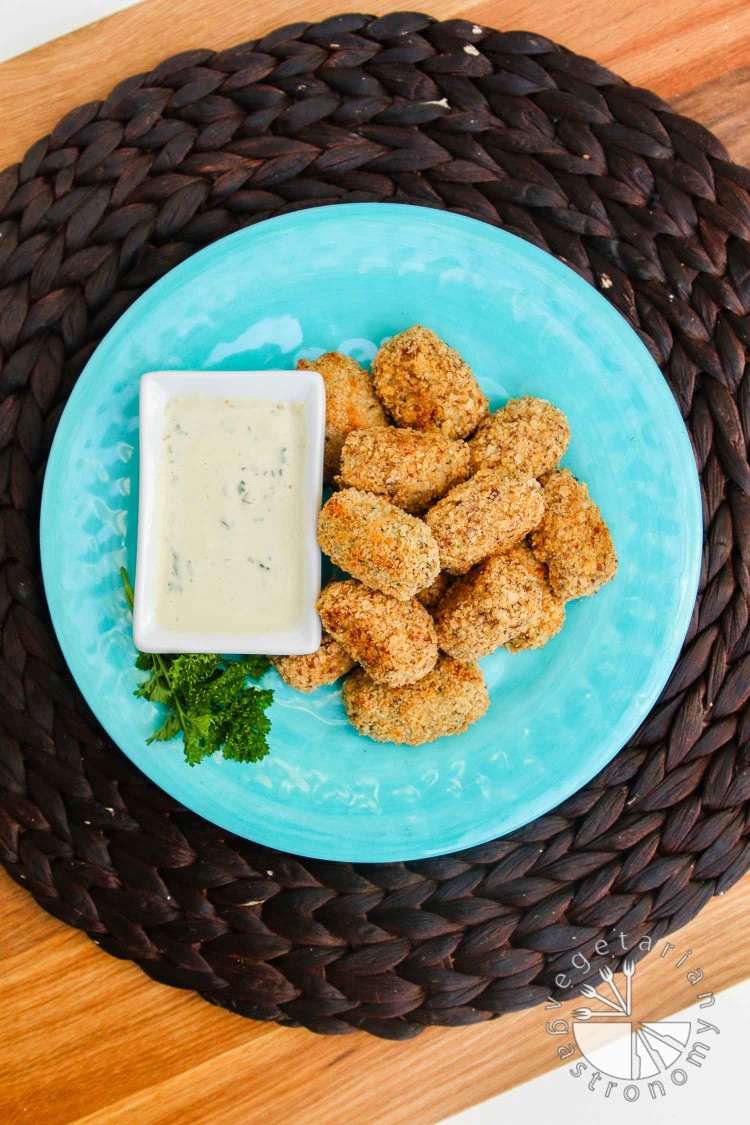 Out of the flavors of chips I've tried, my favorites are Sweet Potato, Sriracha, Sweet Chili, and Black Bean. My kids really love the Sweet Potato ones. So instead of coating these bites with some type of breadcrumb or flour mixture, I decided to coat them in crumbled Way Better Chips prior to baking them in the oven. The flavor of the chips (especially the Sriracha or Sweet Chili) goes perfectly with the cauliflower mixture! I used the Sriracha flavor to make some for my husband and me, and the Sweet Potato flavor for the kids. Dipped them in my NEW healthy Cucumber Ranch Sauce I posted last week and we had ourselves a delicious, healthy snack and side! I even made a few ahead of time and re-baked them in the oven prior to serving…they lost some of their crispy exterior, but they were still delicious. And since they are bite-sized and perfect for little fingers to handle, I even packed some in my kids school lunch with a side of the Ranch. It's a great way to get in those veggies if you have picky eaters on your hands.
Give this recipe a try! You can easily whip up the Cucumber Ranch Dressing while the bites are baking in the oven. Let me know what you think in the comments below!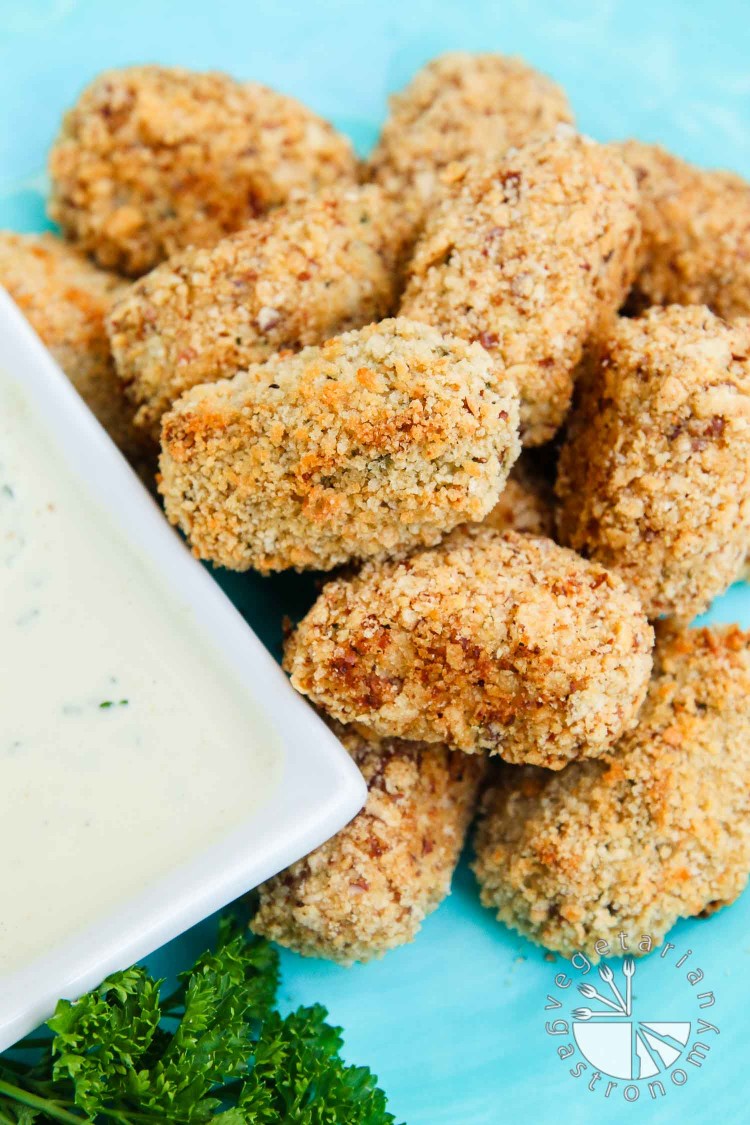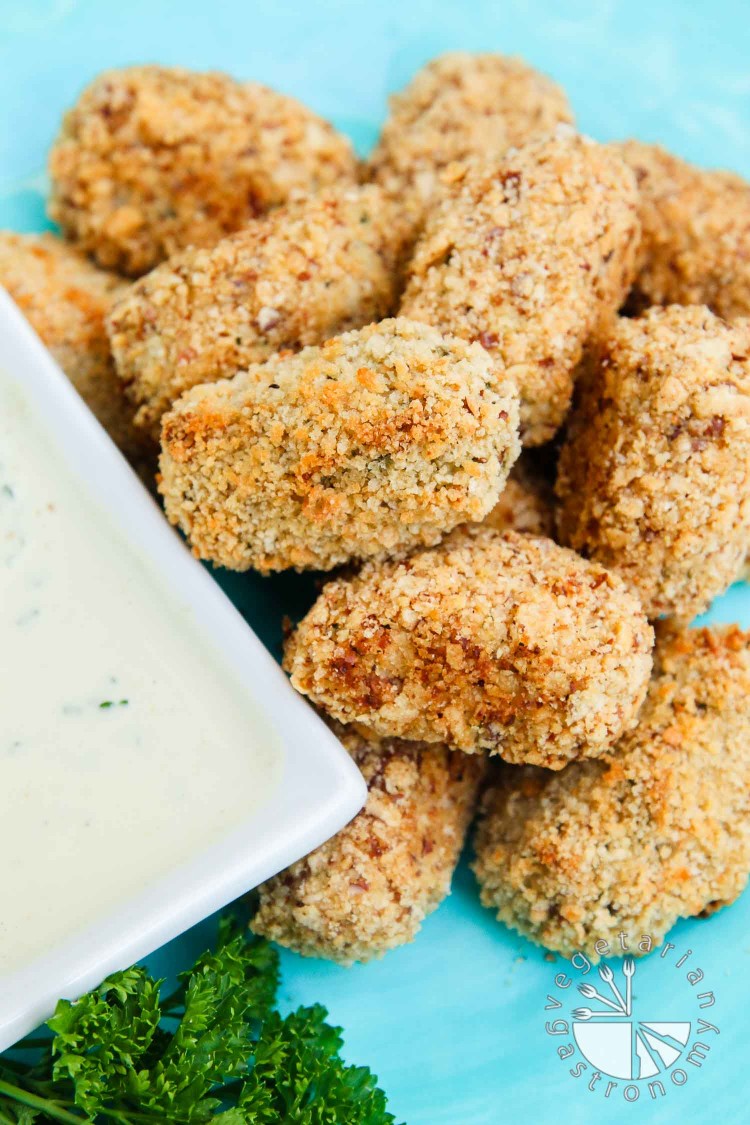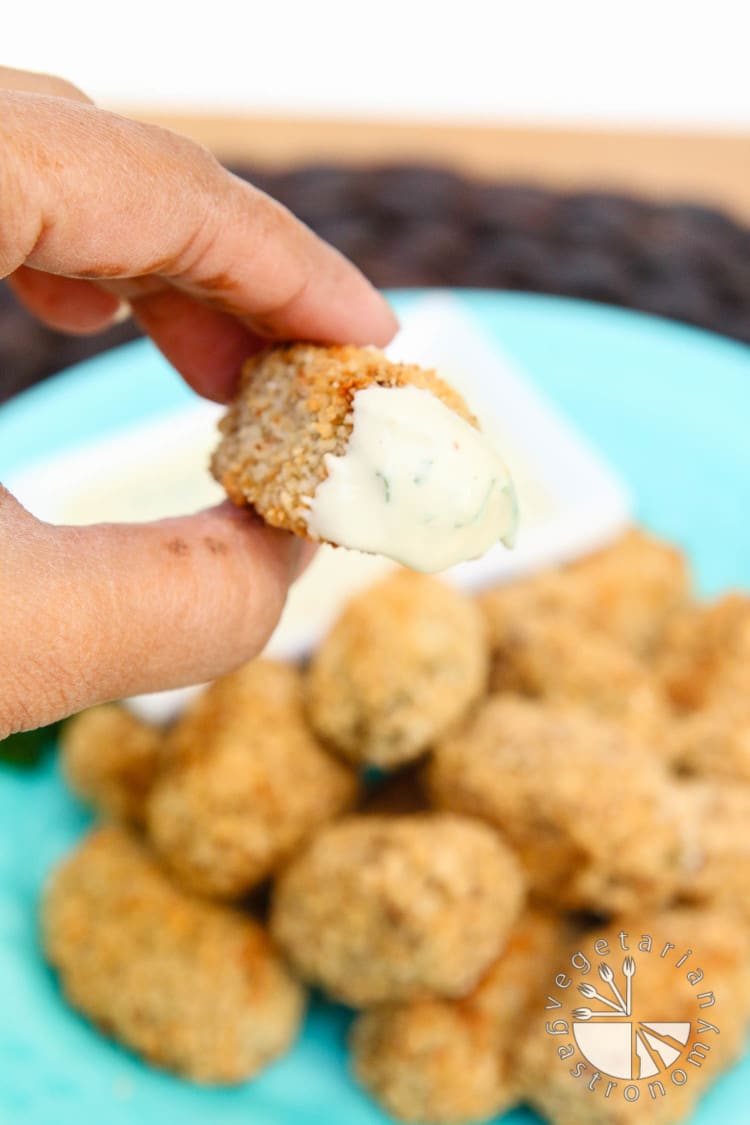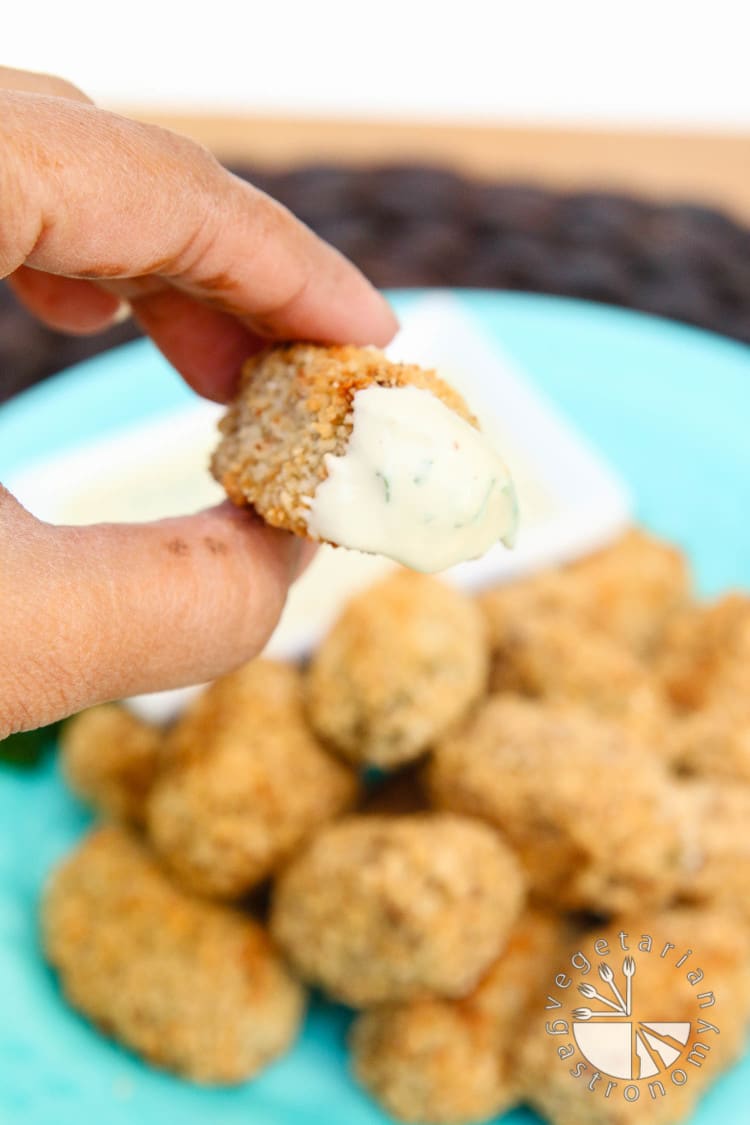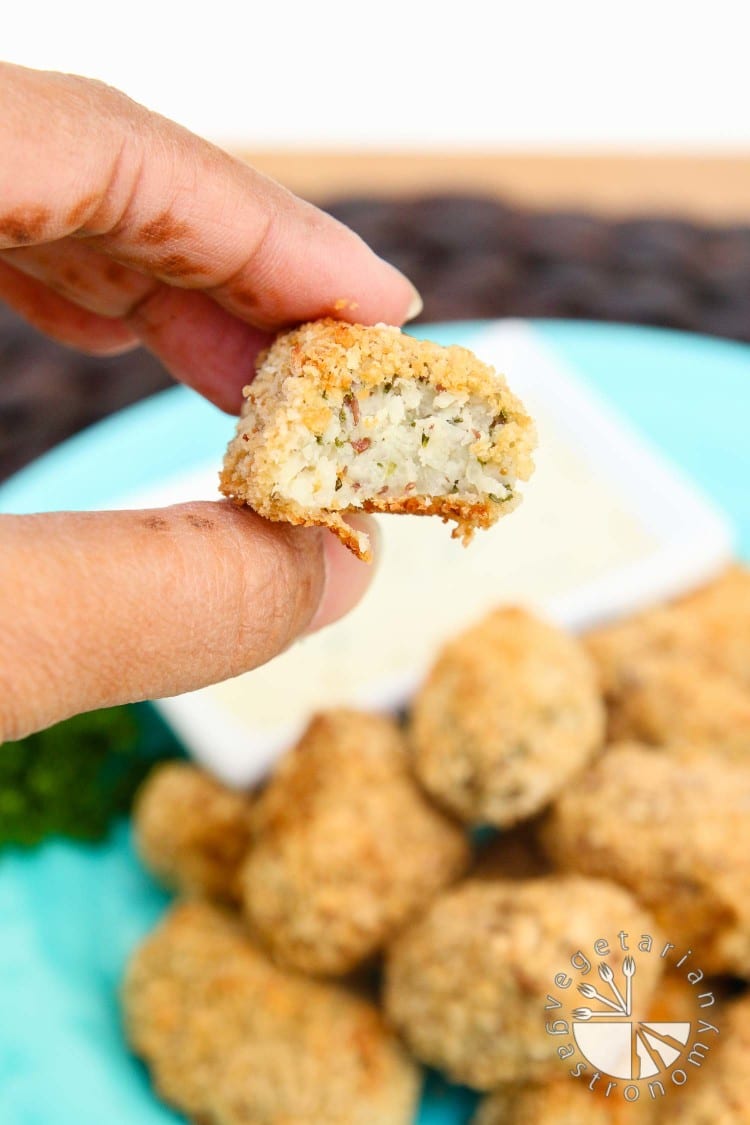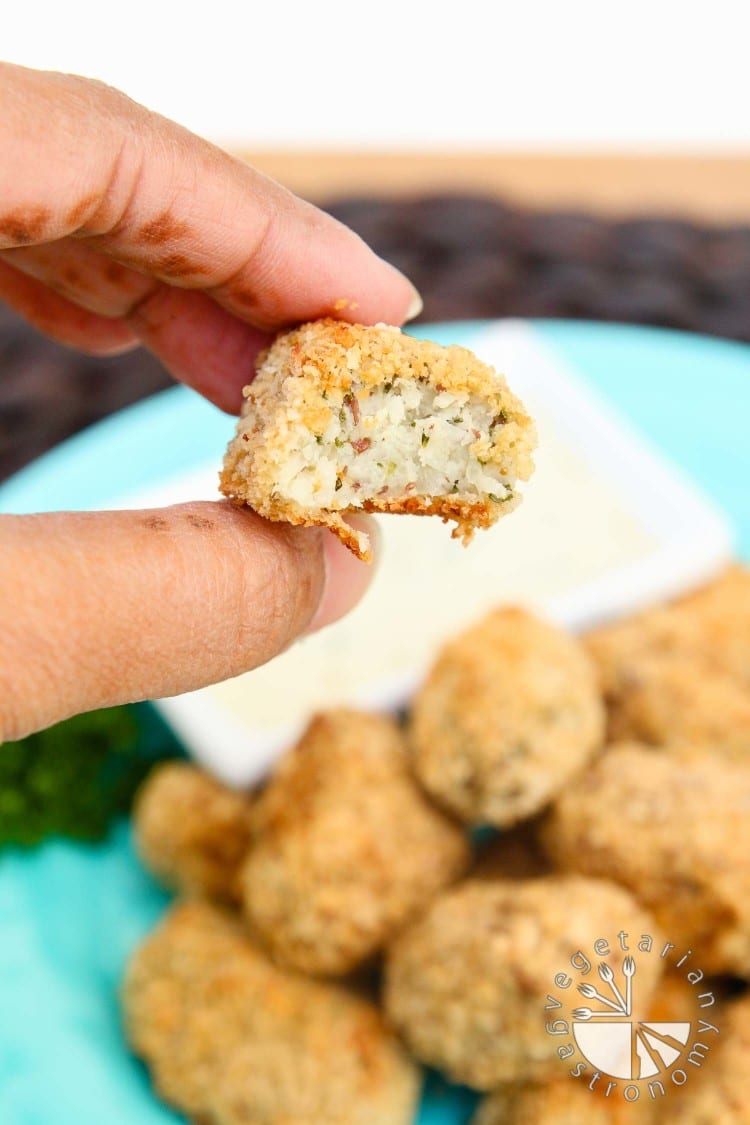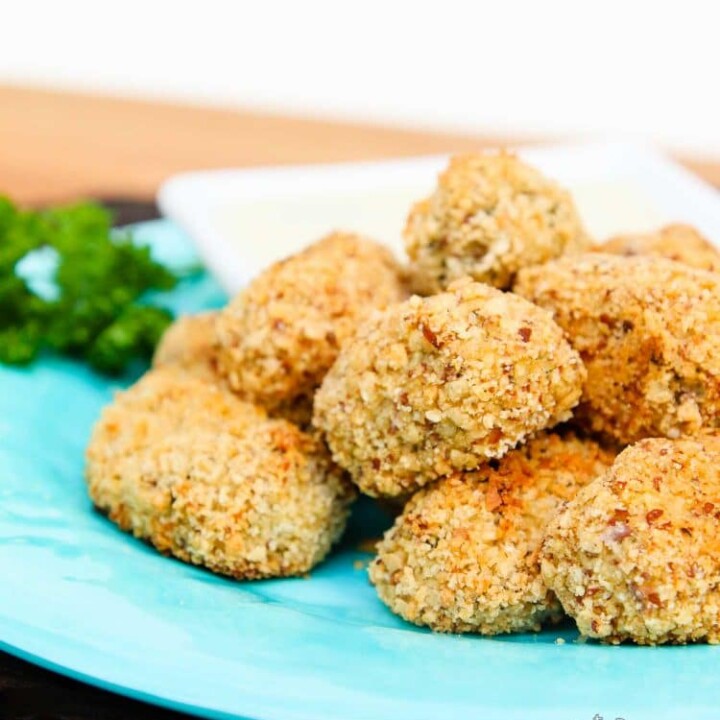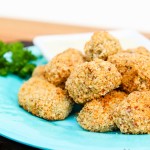 Print
Baked Crispy Cauliflower "Rice" Bites with Cucumber Ranch Dressing
These cauliflower bites are the perfect finger food and snack to get those extra veggies in!
INGREDIENTS
1

medium

cauliflower

, should yield about 4 cups cauliflower rice

5

cloves

garlic

, minced

1/3

cup

fresh parsley

1.5

tbsp

ground flaxseeds

4

tbsp

water

your favorite chips

, Way Better Snacks Chips , see notes below

2

tbsp

olive oil

1/2

teasp

salt

, plus more to taste
INSTRUCTIONS
NOTES
Tortilla Chips - Use some flavored/salted chips for this recipe such as Way Better Snacks Sweet Potato, Sriracha, or So Sweet Chili flavors. This recipe will also work using salted planko breadcrumbs instead of the crumbled chips if you prefer.
Gluten-free - Use gluten-free planko breadcrumbs.
Note that the recipe is developed for 4 cups of prepared cauliflower "rice". Please adjust the amount of ingredients as needed. You can place the leftovers in the fridge and simply re-heat in the oven (or toaster oven) by baking them at 375 degrees. The bites may loose some of it's crispiness, but they will still taste great.
NUTRITION
Calories:
23
kcal
|
Carbohydrates:
1
g
|
Fat:
1
g
|
Sodium:
58
mg
|
Potassium:
85
mg
|
Vitamin A:
70
IU
|
Vitamin C:
13.1
mg
|
Calcium:
10
mg
|
Iron:
0.2
mg