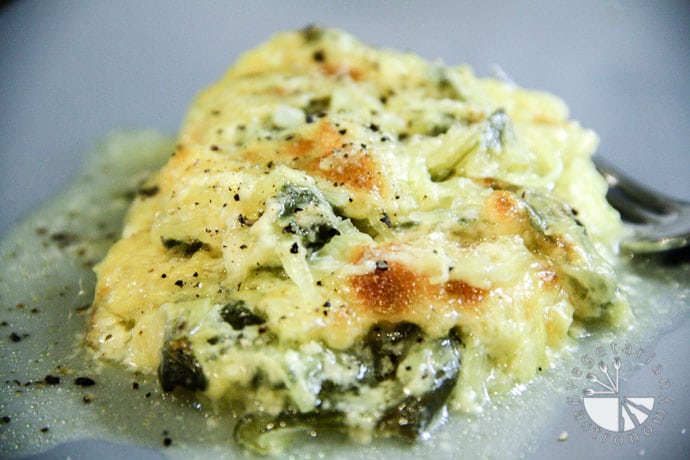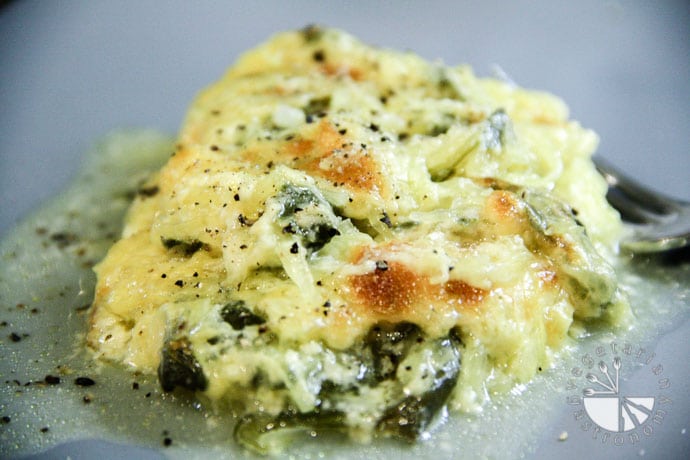 Spaghetti Squash! One vegetable I've always been wanting to try but never have. And all I can say is that I've been missing out for the past 30 years! It's fun to prepare, easy to cook, very healthy, and tastes great in many dishes! And for those of you looking for a non-carb or gluten-free pasta alternative, it's perfect!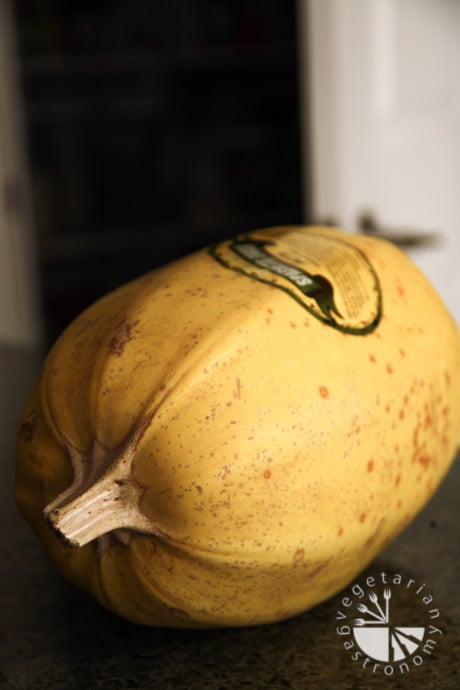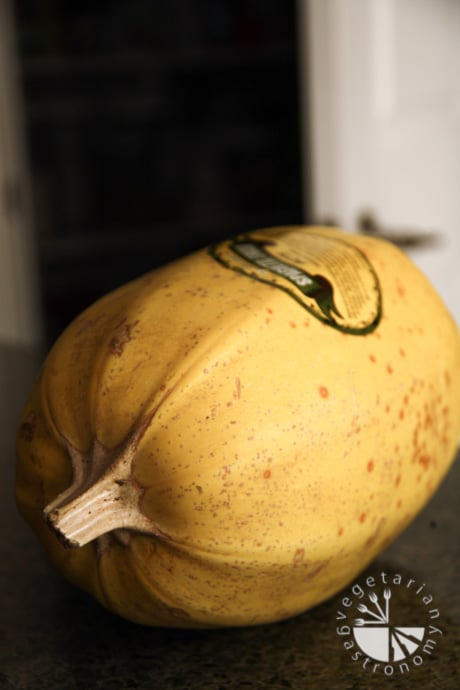 You may be asking why I've waited so long to give it a try…mainly because I never saw it around much and had only tried it once at a restaurant a few months back. I also thought that you needed to have a special peeler to create the spaghetti-like squash strands, which seemed labor intensive. You can imagine how surprised I was when I walked into Trader Joe's and they were sampling some cooked spaghetti squash. They were serving it with some meat-based marinara and Parmesan cheese. Excited to try it out, I asked to have a sample with just Parmesan Cheese. The lady preparing the samples said all she did was cook it in the microwave for a few minutes, cut it in half, removed the seeds, and scooped out the spaghetti squash with a spoon! The selling point was that she was doing it right in front of me! That day I found myself walking out of Trader Joe's with a spaghetti squash in hand. If the cooked spaghetti squash tasted great with just some Parmesan Cheese, I could only imagine what other dishes I could make with it at home!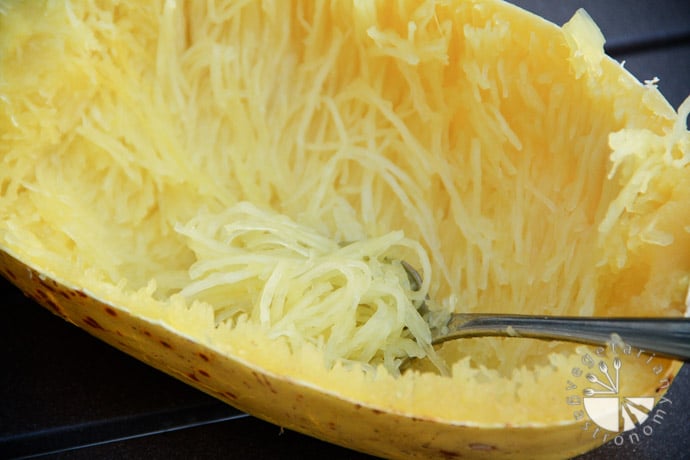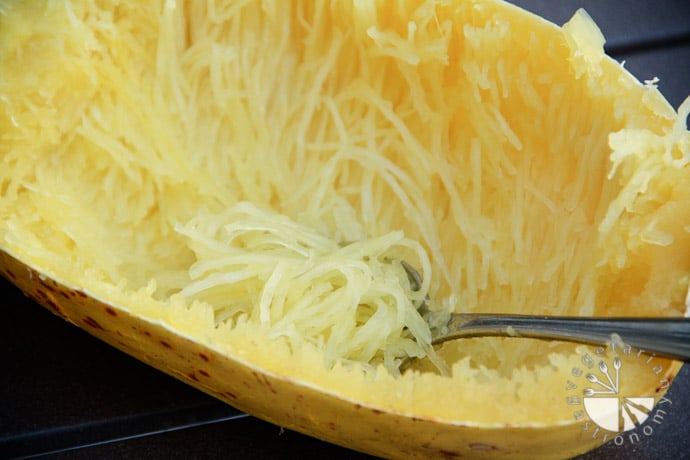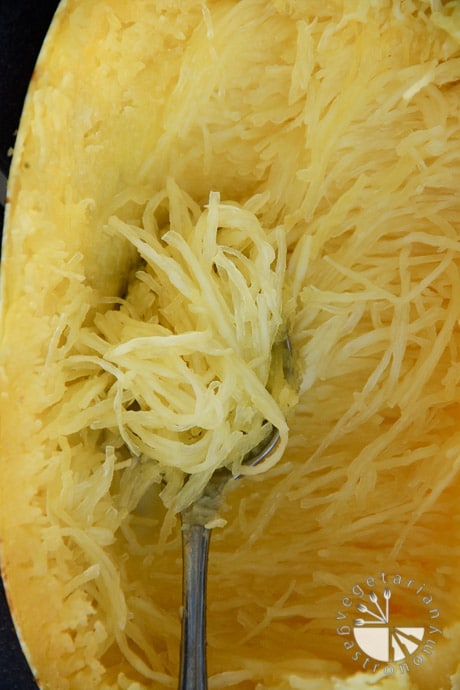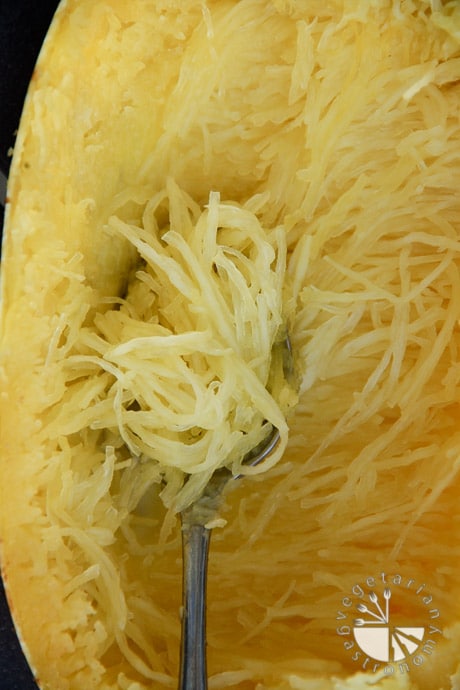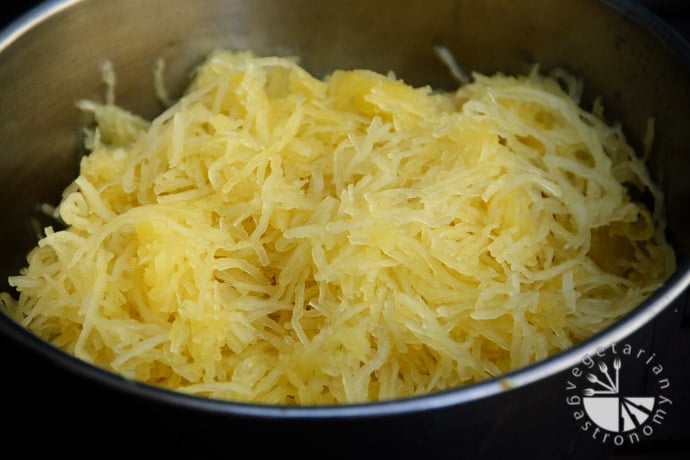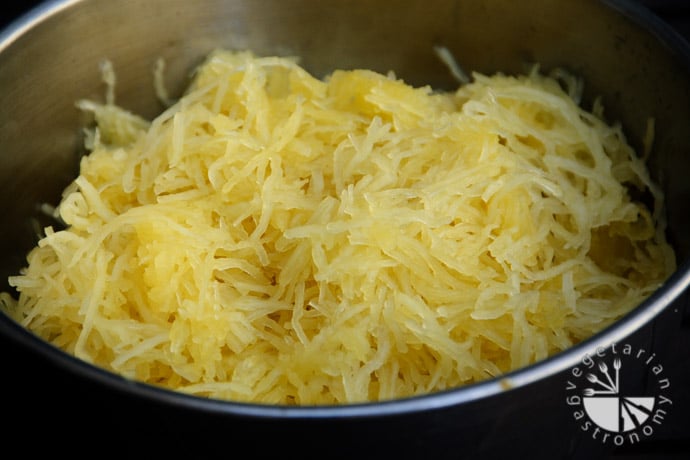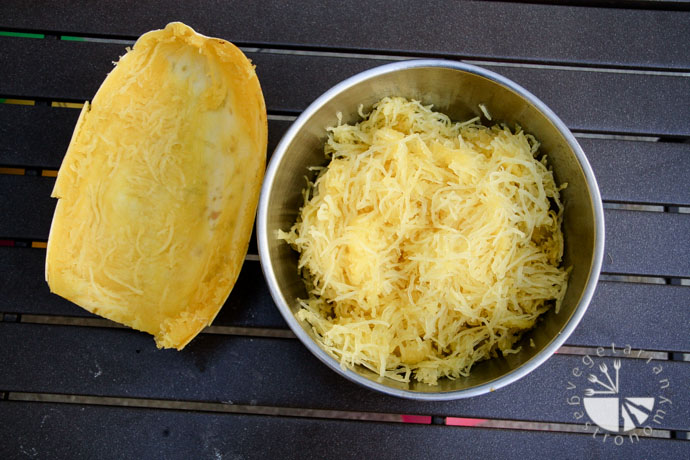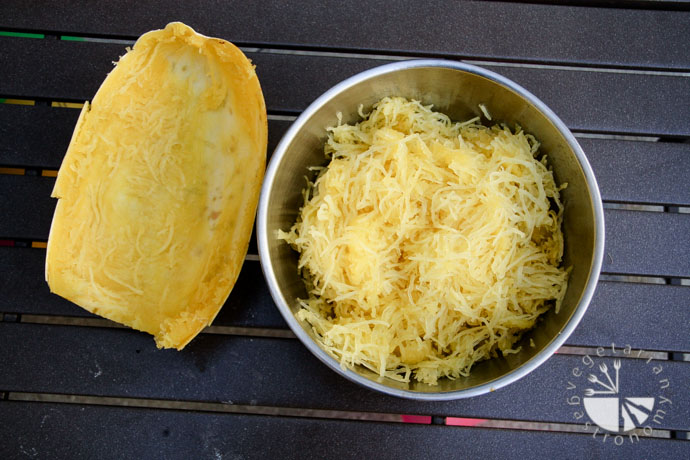 This recipe was adapted from Skinny Taste. When I saw the recipe, mac n cheese came to mind since I've made similar recipes before. Since my husband loves mac n cheese, this was a perfect dish to make, substituting the pasta for the spaghetti squash of course. I made a few changes to the original recipe. I added minced garlic, used sharp cheddar cheese, reduced the overall amount of cheese used, eliminated the vegetable broth, and increased the amount of milk. I found that by doing this, the right consistency and thickness of the sauce prior to baking is easier to achieve. Since there is a lot of spinach in the dish, a lot of water gets released while baking it in the oven. So I would also recommend creating a thick white sauce and baking it for a longer time so that most of the water boils off. For a gluten-free version, I've never been a huge fan of using corn starch instead of white flour to make a bechamel white sauce, so I used rice flour instead and couldn't even tell the difference.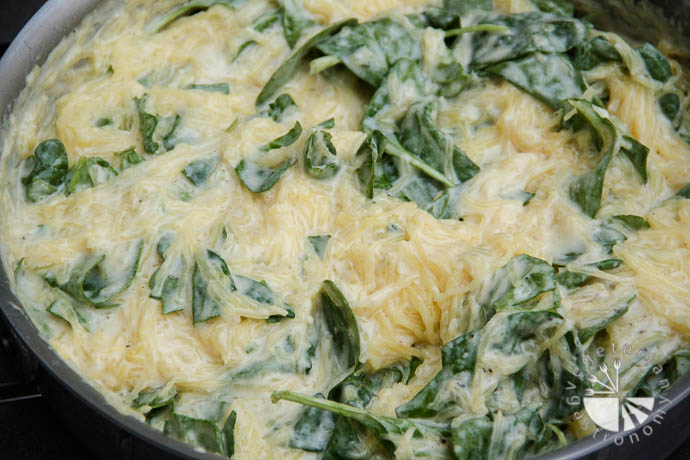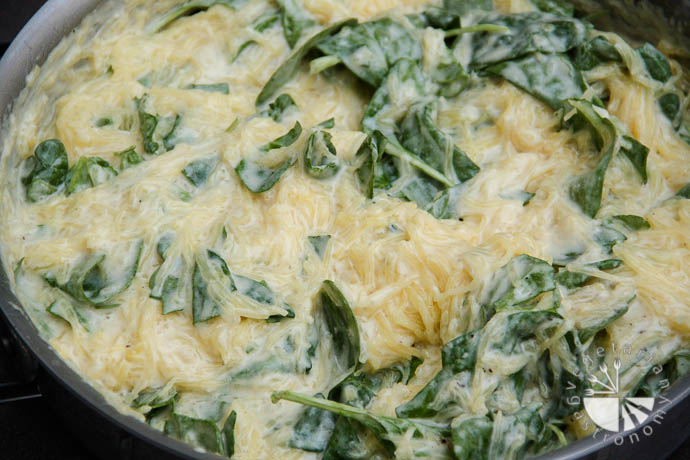 Even if there is some liquid remaining, the dish tastes amazing! I was skeptical about adding so much spinach, but it tastes great and adds a perfect green element to the dish. The sweetness of the spaghetti squash combined with the cheesy white sauce and leafy spinach created a flawless flavor that was completely finished by the end of the night. My 3 1/2 year old son loved it and my carb-loving husband was hoping I was not planning on having any leftovers, because he was planning on finishing the entire baked dish (which by the way, he did)!
You can bet that I will be cooking spaghetti squash in my house at least twice a month! I used to microwave my spaghetti squash to cook it, but have changed to roasting spaghetti squash in the oven. The flavor and texture from cooking the squash in the oven comes out much better than the microwave version. I'm excited to try making my favorite pasta recipes substituting spaghetti squash for the pasta. In fact, the next day for lunch, I had some leftover cooked spaghetti squash and decided to make some one of my favorites – spaghetti squash cacio e pepe (picture below)! My taste buds were in paradise!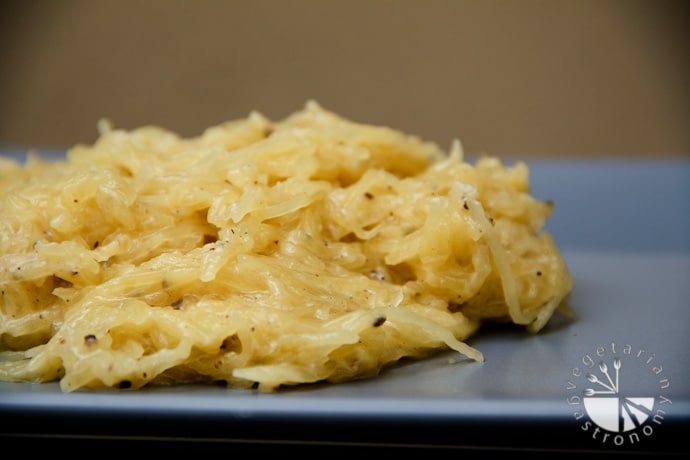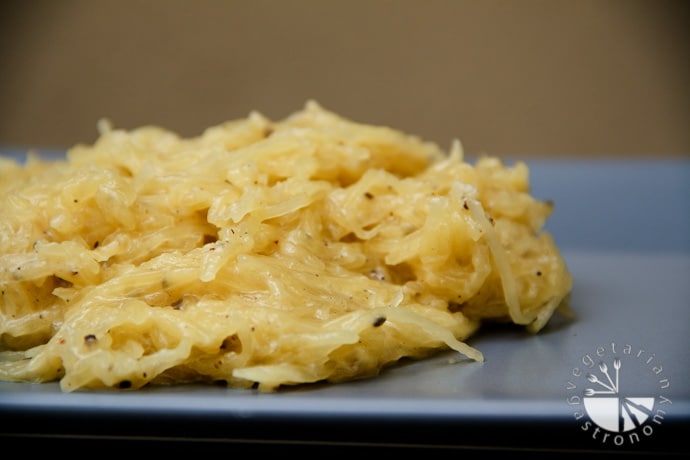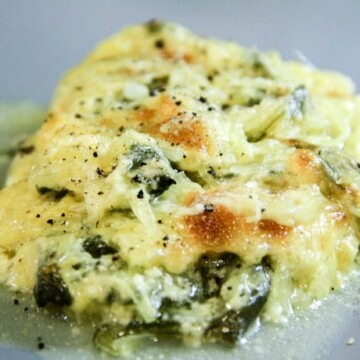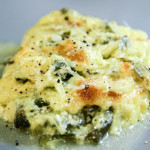 Print
Cheesy Baked Spaghetti Squash with Spinach
This baked casserole dish is creamy, flavorful, indulgent, and veggie filled!
Servings:
8
servings (9x13 glass tray total)
INGREDIENTS
5 1/2

cups

cooked spaghetti squash

, from 1 large or 2 small spaghetti squash, recipe below indicates method to cook spaghetti sqash

1

tbsp

vegan butter

, such as earth balance brand

1/2

tbsp

olive oil

3

cloves

garlic

, minced

1/4

cup

white onion

, minced

1/4

cup

flour

, gluten-free option: rice flour

2 1/2

cups

non-dairy milk

, such as cashew milk

6

oz.

vegan shredded cheese

, ~1.5 cups, cheddar or mozzarella

4

cups

baby spinach

1/4

cup

vegan parmesan cheese

salt

pepper
INSTRUCTIONS
To Prepare 1 Large Spaghetti Squash:
Preheat the oven to 400 degrees. Cut the squash in half, remove the seeds (with a spoon or ice cream scooper), and bake on a baking sheet for about 25-45 minutes until tender (you should be able to pierce through the flesh easily). Note that baking times may vary based on the size and thickness of your squash. If you over-bake, the strands of spaghetti squash will become mushy (potato-like) when you scrape them out, so be sure not to over-bake them.

Using a spoon, start to scoop out and separate the flesh of the spaghetti squash until all that remains is the outer shell. You'll notice that the flesh of the squash comes out in strands similar to spaghetti (hence the name "spaghetti squash").
To Prepare the Baked Spaghetti Squash Dish:
Preheat the oven to 375 degrees.

In a large sauce pan, heat the butter and olive oil on medium heat.

Add the onions and garlic and cook for a few minutes until fragrant.

Add the flour and whisk to combine. Reduce the heat to medium-low and cook for a few minutes, stirring the flour/butter mixture occasionally.

Slowly add the milk and whisk continuously on medium heat until the mixture becomes smooth and starts to simmer. Continue to simmer, stirring frequently, until the sauce thickens in consistency. Make sure the sauce is thicker than a standard bechamel sauce. As a guide, the sauce is thick enough right when the sauce just starts to clump (just prior to this moment). In other words, the sauce should not pour out in a uniform stream.

(see notes below)

Remove from heat and stir in the shredded vegan cheese (mozzarella or cheddar). Combine until smooth (i.e. the cheese should melt into the sauce).

Season with salt and pepper.

Add

5 1/2 cups

cooked spaghetti squash and spinach leaves and combine.

Transfer everything to a baking dish (such as a 9x13 glass tray) and sprinkle the top with grated vegan parmesan cheese.

Bake for 40-45 minutes until the dish is bubbly and the top is golden. Note that if you do not bake for long enough, the dish may be slightly runny because the water released from the spinach did not have enough time to boil off.

Remove from the oven and let it sit for 5-10 minutes to allow the dish to finish cooking. Sprinkle some fresh ground black pepper (optional) and serve immediately. Enjoy!
NOTES
Because of the addition of fresh spinach, this dish could come out quite watery If the white sauce is not thick enough prior to adding the squash and spinach. The water gets released from the spinach and will start to evaporate as the dish bakes in the oven. So by making the white sauce thicker in nature, you are lowering the total amount of liquid that needs to evaporate from the dish while baking.
Vegan Cheese:
parmesan - I use Violife or Follow Your Heart brand
cheddar or mozzarella - use Miyako cheddar block, or Daiya cutting board collection
Microwave Method To Cook Spaghetti Squash:

Wash the spaghetti squash. Poke holes (using a knife or sharp skewer) all around and place on top of a kitchen towel in the microwave. Microwave for 7 minutes. Rotate the squash 180 degrees so it cooks evenly. Microwave again for another 6 minutes. Adjust microwave times as needed (The exact times may vary depending on how large the squash is and how powerful your microwave is. To check whether the spaghetti squash is cooked through, you should be able to pierce through to the middle fairly easily.). Let the squash cool down. Cut in half lengthwise, remove and discard the seeds, and scoop out and separate the flesh of the spaghetti squash with a spoon until all that remains is the outer shell. You'll notice that the flesh of the squash comes out in strands similar to spaghetti (hence the name "spaghetti squash"). Note that the flesh should scoop out easily with a spoon. If not, then the squash may not be cooked all the way through.
NUTRITION
Calories:
145
kcal
|
Carbohydrates:
14
g
|
Protein:
3
g
|
Fat:
9
g
|
Saturated Fat:
2
g
|
Polyunsaturated Fat:
1
g
|
Monounsaturated Fat:
2
g
|
Trans Fat:
1
g
|
Sodium:
381
mg
|
Potassium:
153
mg
|
Fiber:
2
g
|
Sugar:
2
g
|
Vitamin A:
1533
IU
|
Vitamin C:
6
mg
|
Calcium:
141
mg
|
Iron:
1
mg
Nutritional Information Per Serving (see disclosure below): 274.4 Calories, 15.0g Fat (8.8g Saturated), 328.5mg Sodium, 21.1g Total Carbs, 2.6g Fiber, 9.0g Sugars, 13.4g Protein
Nutritional Information Disclosure: I am not a nutritionist or a dietary specialist. I manually calculate approximate nutritional information (by the request of followers) through a free service provided by this website: http://recipes.sparkpeople.com/recipe-calculator.asp where I enter in ingredients and serving size. I am unable to verify every ingredient, it's source, and it's nutritional information in their database, and therefore I DO NOT guarantee 100% accuracy of the nutritional information provided above.