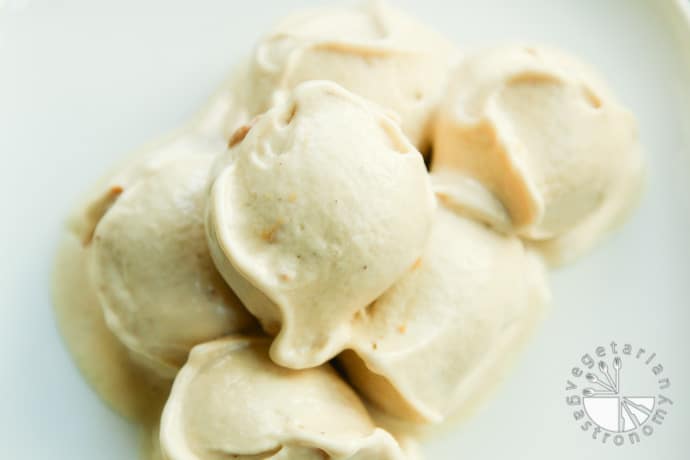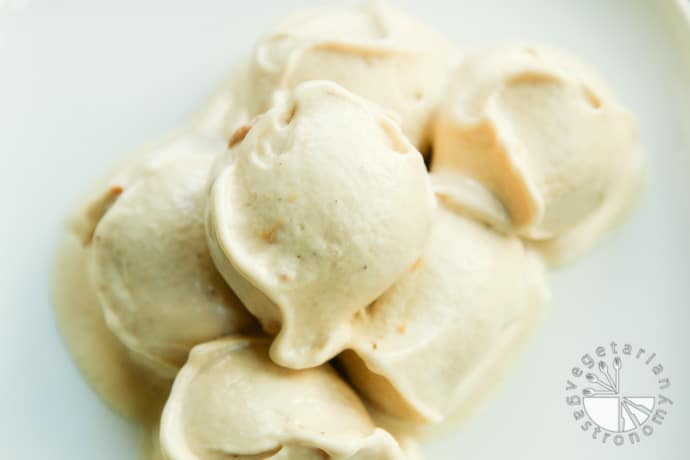 Bananas….Peanut Butter…
And that's it. Yes, that's all you need to make this delicious, healthy Banana Peanut Butter Ice Cream. No ice cream maker, no heavy cream, and no added sugar. This recipe is not only gluten-free, but also vegan. Have I convinced you to try it out yet?
This recipe was the result of my regular experimentation with smoothies. Over the past year I've been making Green Smoothies with my Vitamix every other day. My kids and I absolutely love them! To make it easier, I pre-wash and freeze fresh fruit so it's readily available for our smoothies. I've typically stuck to the same ratio of ingredients, but have been trying different greens/fruit combinations. One of my favorite fruits to add are frozen bananas. They are naturally sweet and also add a "creaminess" to our smoothies.
My 4 yr. old son loves helping me make smoothies. One afternoon, we accidentally left out our liquid base and ended up trying to blend spinach with frozen bananas. By the time I realized what happened, we ended up with a delightful treat… blended frozen bananas! The next day, I decided to use frozen bananas as a base and added a few tablespoons of peanut butter into my Vitamix, mainly because my entire family loves peanut butter. I used the frozen desserts setting and tamper to press the contents down into the blades. Within a few minutes, we were devouring delicious home-made 2-ingredient ice cream! It had a wonderful soft-serve consistency right out of the Vitamix. For a more solid consistency, store the contents in Freezable Deli Food Containers and place them your freezer for a few hours. This delicious ice cream has a perfect melt-in-your mouth texture!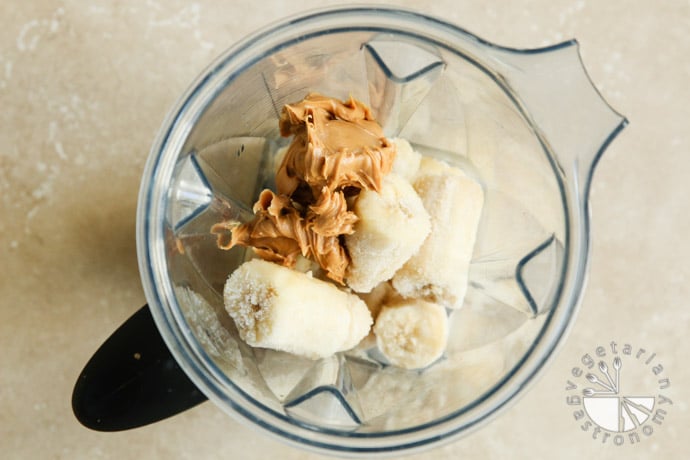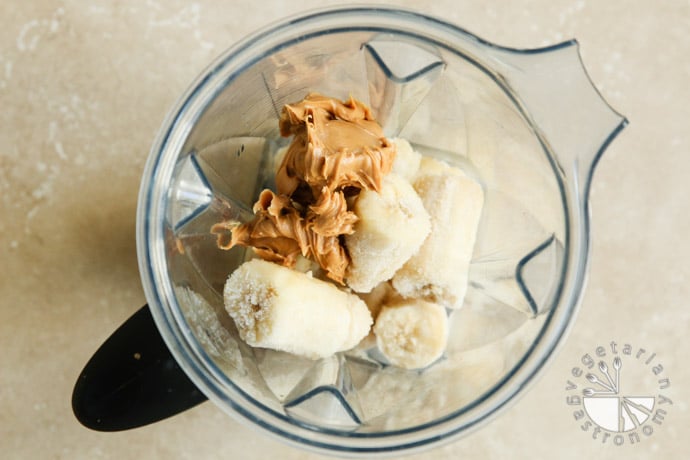 If you don't have a powerful blender like the Vitamix, you can easily make this in any other blender. However, you may need to slightly thaw the frozen bananas prior to blending. You may also need to freeze the ice cream first before you can enjoy it, depending on the thickness and consistency.
Ice cream has never tasted so great, especially when it's guilt-free!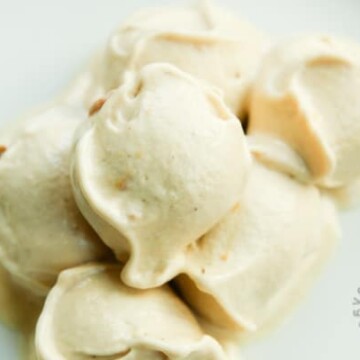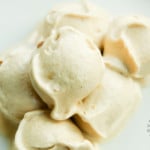 Print
Banana Peanut Butter Ice Cream
This quick and easy 2-ingredient peanut butter banana ice cream is the cool and creamy perfect summer treat!
INGREDIENTS
3

large

bananas

, halved and frozen (semi-ripe)

3-4

tbsp

natural peanut butter
INSTRUCTIONS
Remove the bananas from the freezer and let them sit for 5 minutes at room temperature to allow them to thaw slightly (if you are not using a powerful blender such as a VItamix, thaw at room temperature for a few additional minutes).

Add the frozen bananas to a blender along with the peanut butter and follow one of the steps below depending on what type of blender you are using.

If you are using a powerful blender such as a Vitamix:

Use a frozen dessert setting or blend on high, while pushing the contents of the blender down into the blades with a temper.

If you are using a regular blender: Make sure the bananas are allowed to thaw for a few additional minutes prior to blending. Blend on high, pushing/mixing the contents if possible in between blending. If you find that the contents are getting stuck, add a small amount of liquid such as your favorite non-dairy milk.

Once blended, the consistency of the ice cream should be similar to soft serve. Serve immediately or place in

Freezable containers

for a few hours to thicken to more of an ice cream-like consistency.
NUTRITION
Calories:
322
kcal
|
Carbohydrates:
51
g
|
Protein:
8
g
|
Fat:
12
g
|
Saturated Fat:
2
g
|
Sodium:
112
mg
|
Potassium:
886
mg
|
Fiber:
6
g
|
Sugar:
27
g
|
Vitamin A:
130
IU
|
Vitamin C:
17.7
mg
|
Calcium:
20
mg
|
Iron:
1
mg
[subscribe_box]