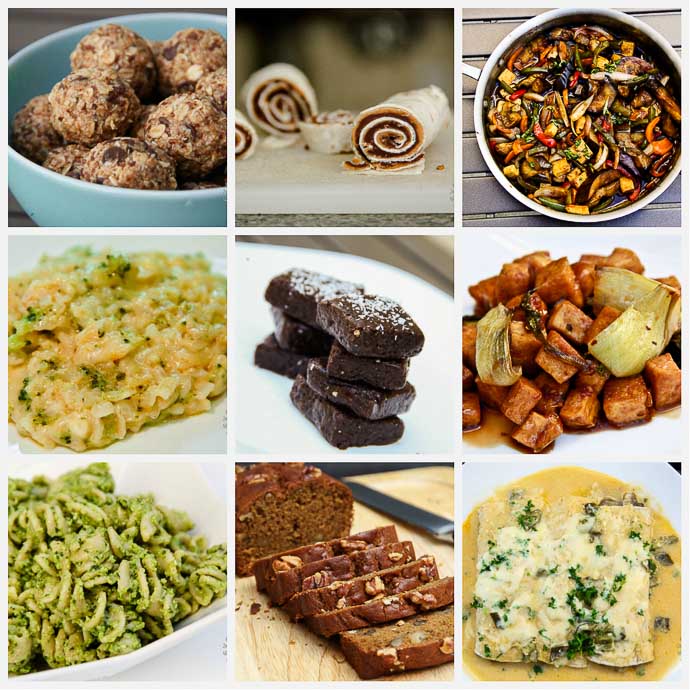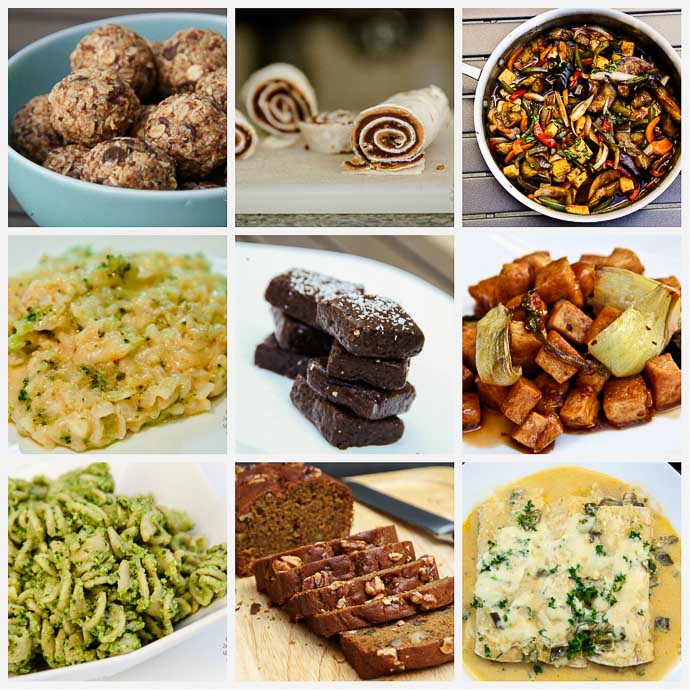 Here it is…The Best of 2013!
The top 10 most visited recipe posts on Vegetarian Gastronomy (via Google Analytics)!
In the spirit of the New Year, it's a great time to reflect on 2013!
I've had many memorable milestones and things I'm thankful for. I thought I'd share a few of them with you today.
The Launch and Massive Re-design of Vegetarian Gastronomy this past April! This was a major milestone for me personally and for this site. Taking the suggestions of many friends, I finally felt like it was time to take my original blog to the next level in hopes that I could share my culinary experiences with all of you through a more user-friendly, organized, and easily navigable site. I also started dabbling a bit more in food photography and was itching to create a more appealing site to go along with my photographs. I still have many exciting features and ideas to implement on my site this coming year, but I'm proud I was able to push through the design and finally launch this site and I hope that it's met your expectations so far!
Being in the kitchen, cooking fresh meals for myself and for my family with fresh ingredients makes me happy! If I can pass along any of that happiness, I've done my job!
After launching this new site, my goals for where VG would be by the end of 2013 were fairly simple. Being a stay-at-home mom of two, many of you know how very little free time we have! I wanted to be able to reach out to food bloggers, vegetarians, vegans, people with special diets, recipe seekers, home cooks, and people who simply want the confidence to be able to successfully cook a tasty meal in their own kitchen! Since April, I now have close to 400 followers on Facebook, 100 Subscribers via email, and many link-backs with very little (if any) marketing and advertising (as you can see by the lack of ads and banners on this site)! I'm hoping that this coming year Vegetarian Gastronomy will gain even more grounds as I start to expand on this existing site!
Family & Health. I'm thankful this past year for my family and our health!
On a bit of a sad note, most of you may not know, but my family has had to battle a few health conditions this past year! My husband has had to battle Ulcerative Colitis the past few years, and I'm hoping this past year will be the last of his battles (if not, then I'm mentally prepared)! We made the decision to remove his colon right before our first child was born a few years ago and it's been the best medical decision we've made! Since then he's been feeling MUCH better, but he unfortunately has had a few bad episodes as a by-product of his surgery that have put him back in the hospital. After another minor surgery this past year, we're hoping it's one of his last hospital visits for awhile! My father has also been battling Lymphoma for the past 2 years. But thankfully, he has been cancer-free since Jan/Feb 2013, so let's hope for another cancer-free year this coming 2014!
On the brighter side, my daughter turned one this past July! The theme was "You Are My Sunshine"! You will probably see a post of the decorations and cake from her birthday sometime this upcoming year! Since she may very well be our last child, I'm realizing I really need to cherish every moment with both my kids at this exciting young age!
To All of You. I am extremely thankful for all of you! Every time I receive an email notification for a new comment on one of my recipes, it seriously brightens up my face! I love hearing all of your comments and enjoy the feedback! For this upcoming 2014 year, what new recipes would you like to see added to this site? What food or cooking related information do you want to hear about? Is there any feature you would like added to the site? I'd love to hear your suggestions – please don't hesitate to contact me at any time!
2014 – I'm super excited for what I have in the workings for this coming year!
First off, if you follow me on Facebook, you may have noticed my recent posts on Green Smoothies! I can probably officially say I've jumped on the Green Smoothie Bandwagon! For the past few weeks, almost every other day after their afternoon naps, instead of warming up some milk for my 3 yr. old and 16 month old, we've whipped up a fresh Green Smoothie in our Vitamix! When I hear my daughter say "Mmooooo" after having some, I know it's been a success! I'll be posting recipes soon, but in the meantime, if you want daily updates on recipes for the Green Smoothies I make, join me on Facebook.
I plan on experimenting a lot more with vegan and gluten-free cooking and baking! For one, I bought some Cup For Cup gluten-free flour and I'm excited to start baking with it! For those of you who know me, you may have heard me say I'm going to try eating vegan 2-3 days out of the week…well, this hasn't happened yet. So I've also decided to announce to all of you that 2014 is going to be the year where I start eating vegan food 2-3 days a week (now you can hold me to it! =)! For now, I'm not sure if I can give up the dairy completely (especially since my husband is in love with dairy and cheese!), but I'm excited to create some new yummy vegan dishes! I also want try and keep you up-to-date on any noteworthy food or cooking-related news in the world.
One of my other goals sometime towards the beginning of this year is to start a monthly newsletter to be sent out to those of you that SUBSCRIBE to this blog via email! I'm excited to present all kinds of extra cooking tips, recipes, and more fun stuff you will not always see on my website or Facebook Page! So if you haven't done so already…
SUBSCRIBE – it's FREE!
And as always, I'm excited to share many more great tasting vegetarian, eggless recipes with all of you, including one of my favorites…melt-in-your-mouth panther cookies!! New ingredients, new flavors, and new cuisines! If you haven't done so already, you can follow me on Facebook, Twitter, or SUBSCRIBE via email to get post updates.
And finally, here it is…
The Top 10 Recipes viewed on Vegetarian Gastronomy in 2013 (via Google Analytics):
1. Thai Basil Eggplant. I had no doubt when checking Google Analytics that this recipe would be #1! I've seen it featured on many other sites! If you haven't tried this recipe yet, put it at the top of your list for 2014!
2. Oatmeal No-Bake Bites. These bites were surprisingly delicious for how quick and healthy they are to make – I'm assuming that's why most of you liked this recipe! It's hard to have just one isn't it?
3. Date-Nut Chocolate "Fudge". When my son thought these were pieces of "chocolate", I knew they were a hit! I'm fortunate to have a freezer full of fresh frozen dates from my in-laws backyard! You can bet I'll be making a batch of these ever few months in 2014!
4. Pumpkin Walnut Bread. For those of you who have followed my blog from the beginning, you know that Banana Bread is a staple in my kitchen and my go-to baked-good! Well after discovering this pumpkin bread recipe, I think the banana bread may have to take a step back in 2014!
5. Broccoli Pesto. This recipe seems like treasure to me! What a great way to introduce more veggies into a meal huh!
6. Cheesy Pull-Apart Bread. It was a hit at our holiday party in 2012, and a hit again at our holiday party in 2013. This is a fun appetizer to make and serve!
7. Broccoli Brown Rice Cheese Casserole. Ah…one of my families favorites! This dish has replaced any cravings my husband had for fresh mac n cheese at home! And yet another dish which my entire family enjoys!
8. My Top-5 Favorite Tofu Dishes. I was hoping this post would make it on this Top 10 List! Mainly because if you have not read this post yet, READ IT!! Some of my FAVORITE recipes are in here…especially the Sweet Chili Lime Tofu! YUM!
9. Peanut Butter Nutella Pinwheels. Yet another fun to make, fun to look at, and fun to eat appetizer or dessert. I'll never forget this recipe because I served it at my daughters 1st Birthday!
10. Poblano Cream Sauce Enchiladas. I'm excited this dish made it as #10! Mainly because I can finally say I did it…I found a Poblano Cream Sauce for enchiladas that I love after a lot of trial and error!! And more then that, this dish revealed how easy and tasty it was to roast Poblano Peppers! I'm sure you'll be seeing more roasted Poblano dishes in 2014!
~ Here's to a great 2014! Happy New Year and Best wishes for the upcoming year! ~
~ Anjali