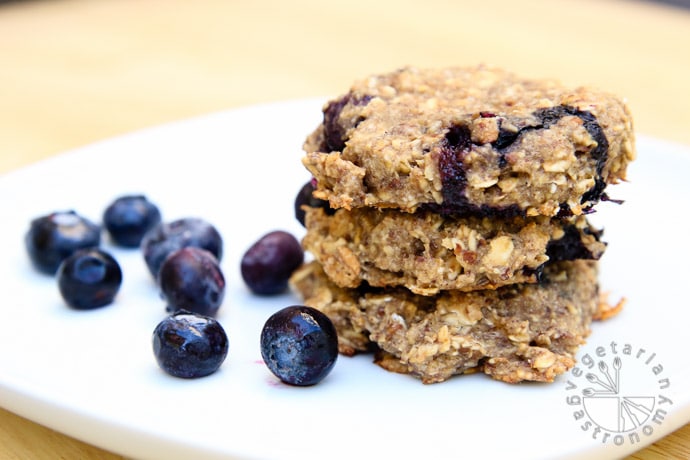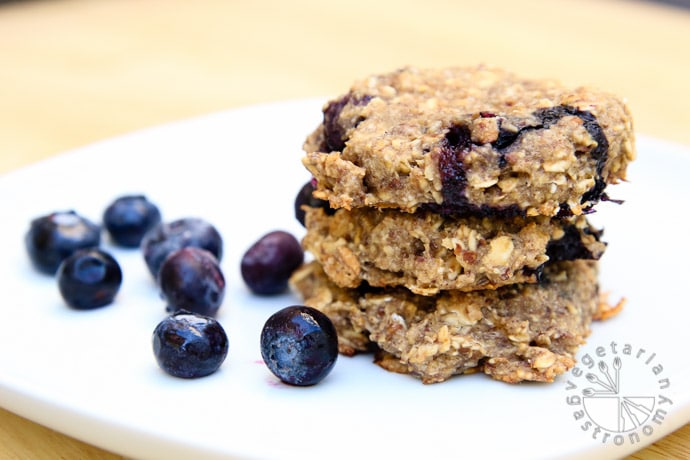 I never thought I would consider giving my kids cookies for breakfast! That is however, before I developed my version of the perfect breakfast cookie, which is nutritious, filling and delicious. It's great for mornings when you just don't have the time.
There are many days when I am rushing through the morning with my kids, wondering if I'll ever make it out the door on time. I typically eat a few almonds before my workout every morning, with the intention of having a proper breakfast when I get back. However, with all the morning tasks, the ONE thing I often don't get around to (although arguably one of the most important) is my own breakfast. I am usually starving soon after I get out of the house, especially after a tough workout.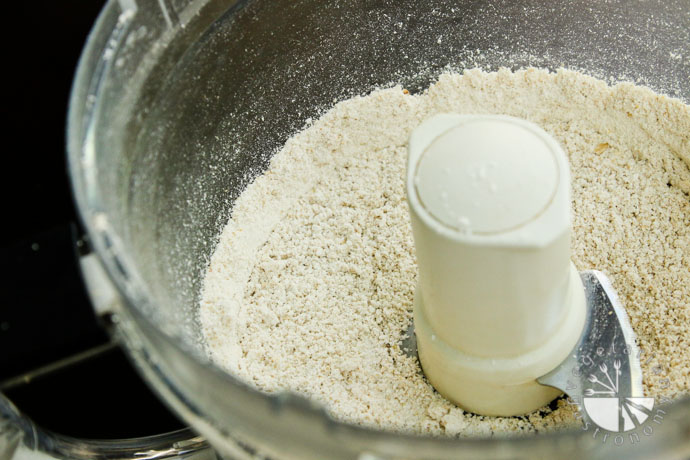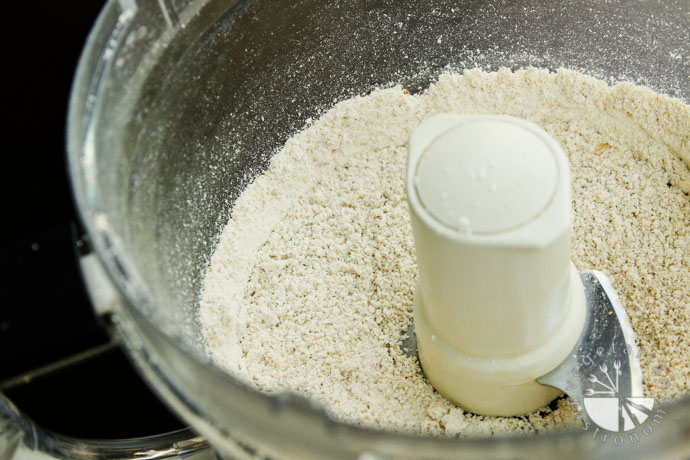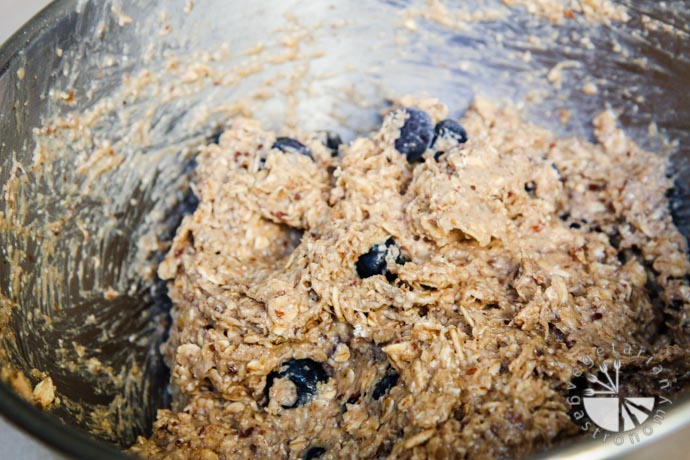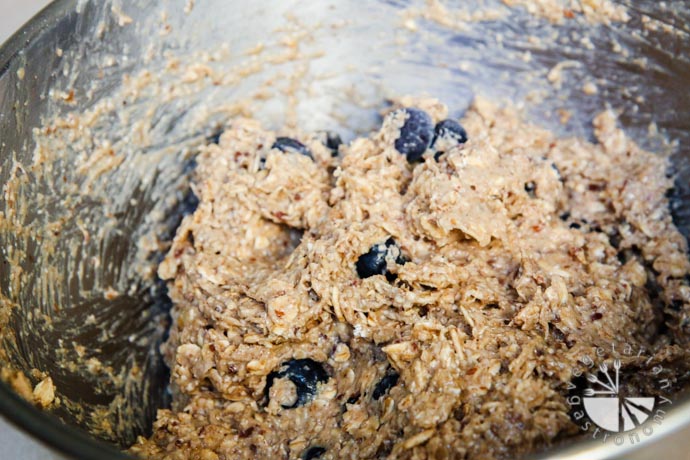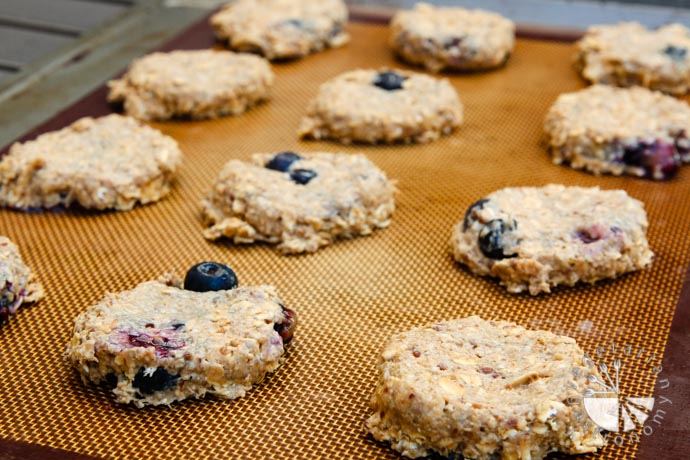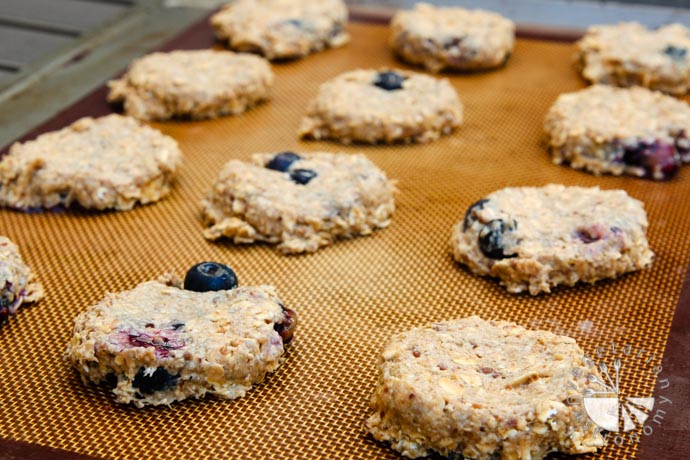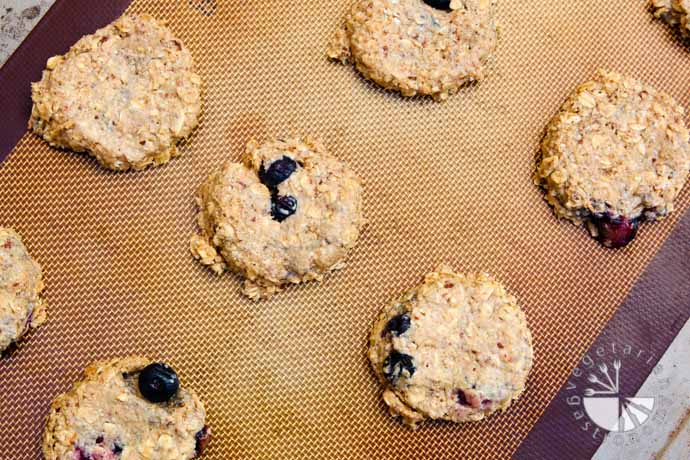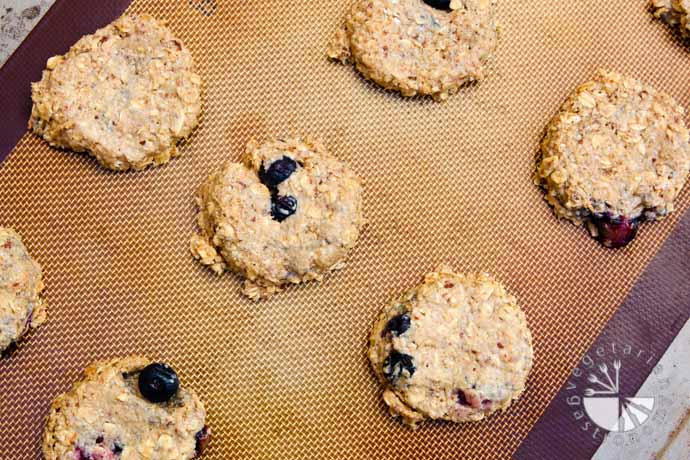 These breakfast cookies are a life-saver! I initially developed the recipe with the intention of giving them to my kids if we we are ever late in the morning, or on travel, but I found them to be much more useful. I never skip breakfast when I have them on hand. I just pop them in the microwave for a few seconds and take them with me. It's like eating dessert for breakfast, without the guilt! My kids and I love them so much that I can easily use them as a typical cookie (which is secretly very nutritious). Even my sugar-loving husband enjoyed a few of them!
When developing this recipe, I tried to keep the flavors and ingredients similar to our morning oatmal, which I usually make with fruit and cinnamon. Although I've only tried this recipe with blueberries, you can easily replace them with other fruit such as strawberries.
Serve these healthy cookies for breakfast, as a snack, dessert, or an addition to your toddler's lunch. They are delicious and have helped fuel my body in the morning for the rest of the day.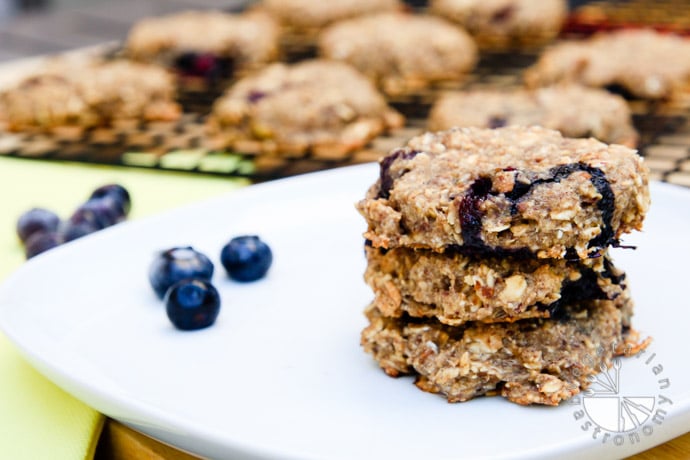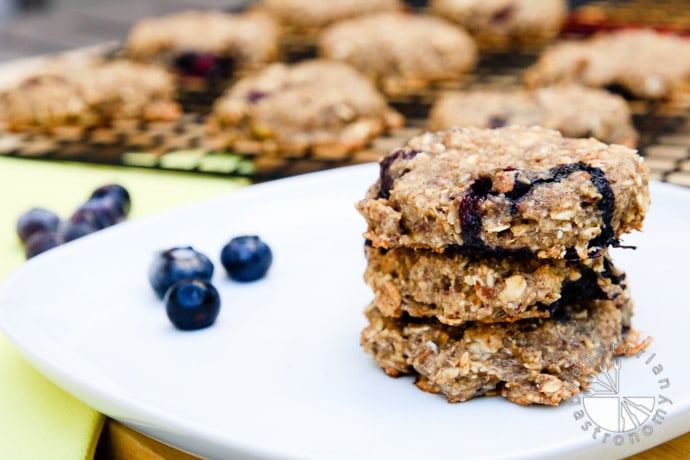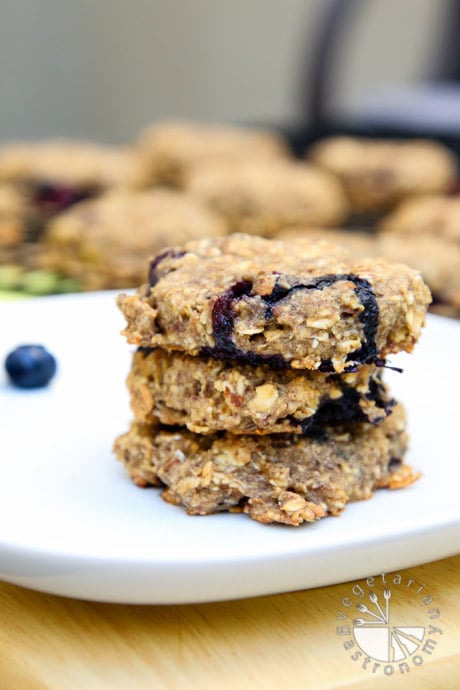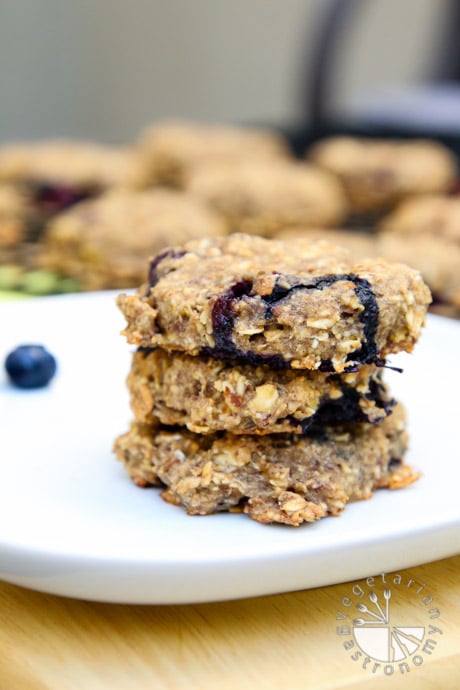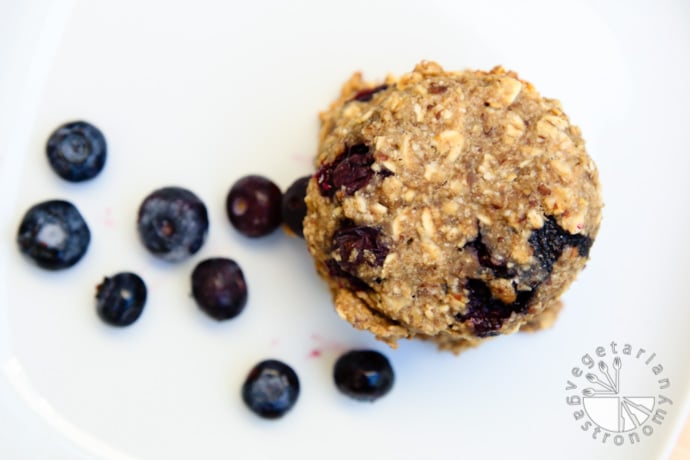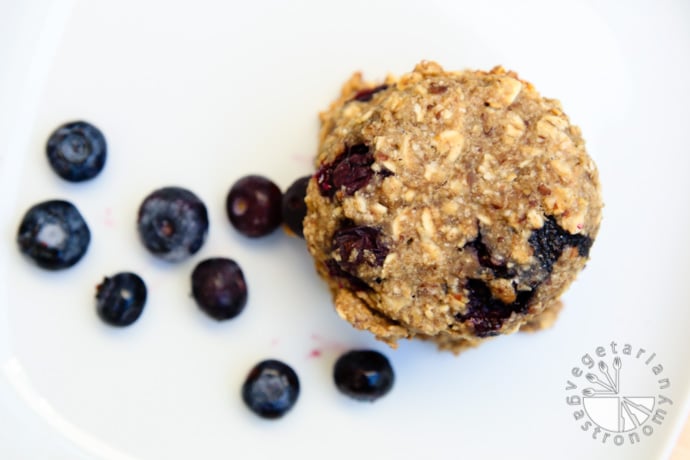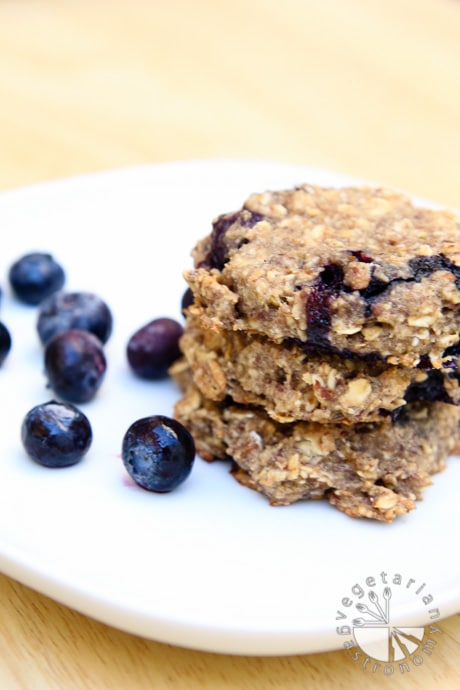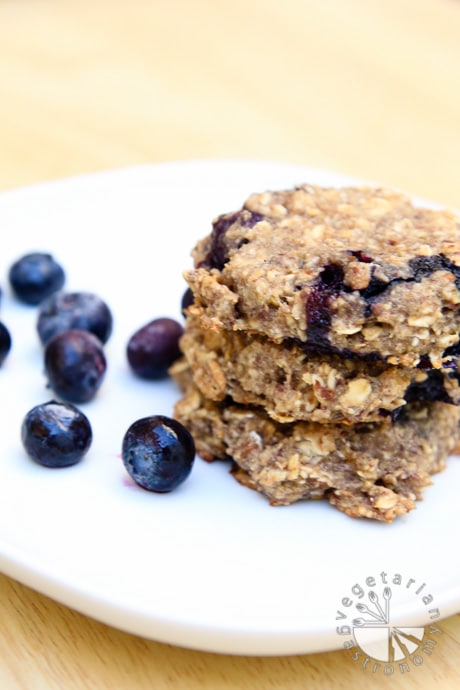 Two years ago: Apple, Gorgonzola Cheese, and Walnut Spinach Salad (gluten-free, contains dairy)
Three years ago: Baked Shell Pasta with Cherry Tomatoes (gluten-free option, contains dairy)
Five years ago: Green Curry with Corn (vegan, gluten-free)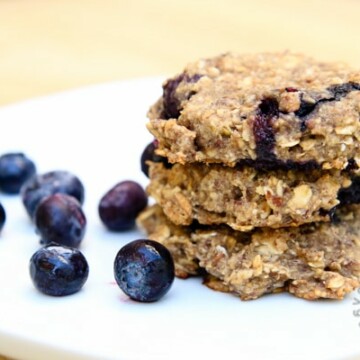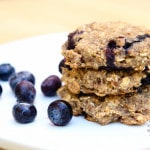 Print
Blueberry Banana Breakfast Cookies
Need a grab-and-go breakfast, school lunch idea, or healthy snack/dessert? These gluten-free vegan blueberry banana breakfast cookies are perfect to have on hand!
INSTRUCTIONS
Preheat oven to 350 degrees. Line a baking sheet with a silpat or parchment paper.

To make oat flour: add

1 1/3 cup

rolled oats to a food processor and process for 3-4 minutes until very fine.

In a large bow, combine and mix the oat flour, rolled oats, baking soda, salt, flaxseed, and cinnamon.

Add applesauce, mashed bananas, coconut oil, maple syrup, and vanilla extract. Mix until just combined.

Carefully fold in the frozen blueberries and let the batter sit for about 10 minutes (see notes below).

Bake for about 13 minutes, or until the cookies are golden brown around the edges and bottom, and the top is set.

Cool completely on a cooking rack. Store then in an airtight container and refrigerate for up to 4-5 days. These cookies taste great at room temperature or warmed in the microwave for a few seconds.
NOTES
Oats - You can use rolled oats and pulse them into oat flour. Or use store-bought oat flour in this recipe. The ratio should still be 1:1.
Fruit - For best results, use pre-frozen fruit when making these cookies so that the fruit does not break up and the juices do not fold into the batter.
If you are using frozen fruit, don't thaw it out before you mix it into the batter.
If you are using fresh blueberries, be sure to gently fold them into the batter to avoid them from breaking up as much as possible.
Gluten-Free - make sure the oats are certified gluten-free oats)
NUTRITION
Calories:
96
kcal
|
Carbohydrates:
15
g
|
Protein:
1
g
|
Fat:
3
g
|
Saturated Fat:
2
g
|
Sodium:
64
mg
|
Potassium:
112
mg
|
Fiber:
1
g
|
Sugar:
5
g
|
Vitamin A:
10
IU
|
Vitamin C:
1.7
mg
|
Calcium:
14
mg
|
Iron:
0.6
mg
[subscribe_box]