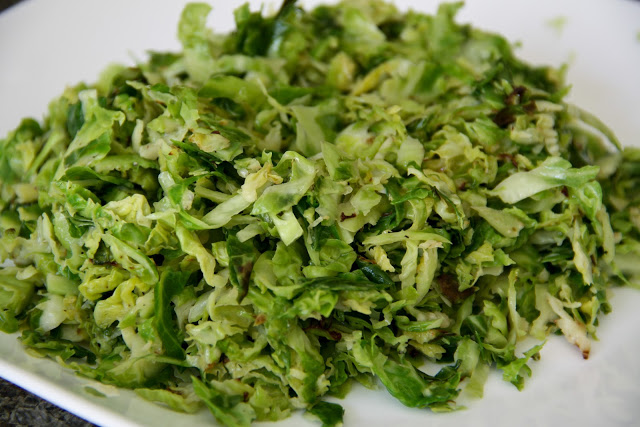 Butter, garlic, salt, and pepper…the perfect combination of spices and seasoning to add on any sauteed vegetable, including brussel sprouts! This quick and easy side dish is tasty, fresh, and easy to make! I usually always use this combination of spices and seasoning with broccoli or squash, but two friends made an amazing dinner for us one night and used brussel sprouts. So I decided to give it a try today for lunch and it turned out delicious…my husband and I polished off the entire side dish in one sitting. Enjoy!
BRUSSELS SPROUTS w/GARLIC & BUTTER:(vegan option, gluten-free)
Ingredients:
(serves 3-4)
1 lb. Brussels Sprouts, washed
2 garlic cloves, finely minced
1/2 T butter, salted (vegan option: vegan butter)
salt/pepper
olive oil
Directions:
Finely shred the brussel sprouts and discard the stems.
Heat some olive oil in a skillet or non-stick pan on medium heat. Add the shredded brussel sprouts and saute until cooked (about 15min or until the some of the pieces just start to brown from cooking). Be sure not to burn the brussel sprouts. If needed, add more olive oil to keep the brussel sprouts from sticking to the bottom of the pan.
Turn the heat off. While the brussel sprouts are still hot, mix in the butter and minced garlic. Toss with salt and pepper to taste.
Serve hot or cold. Enjoy!
~ Anjali