Buffalo Cauliflower Bites dipped into my Vegan Cucumber Ranch Dressing. Crispy, chewy, and breaded with tartness and spiciness. Pair that with a creamy cool vegan cucumber ranch and I guarantee you won't be able to stop until the entire plate is gone.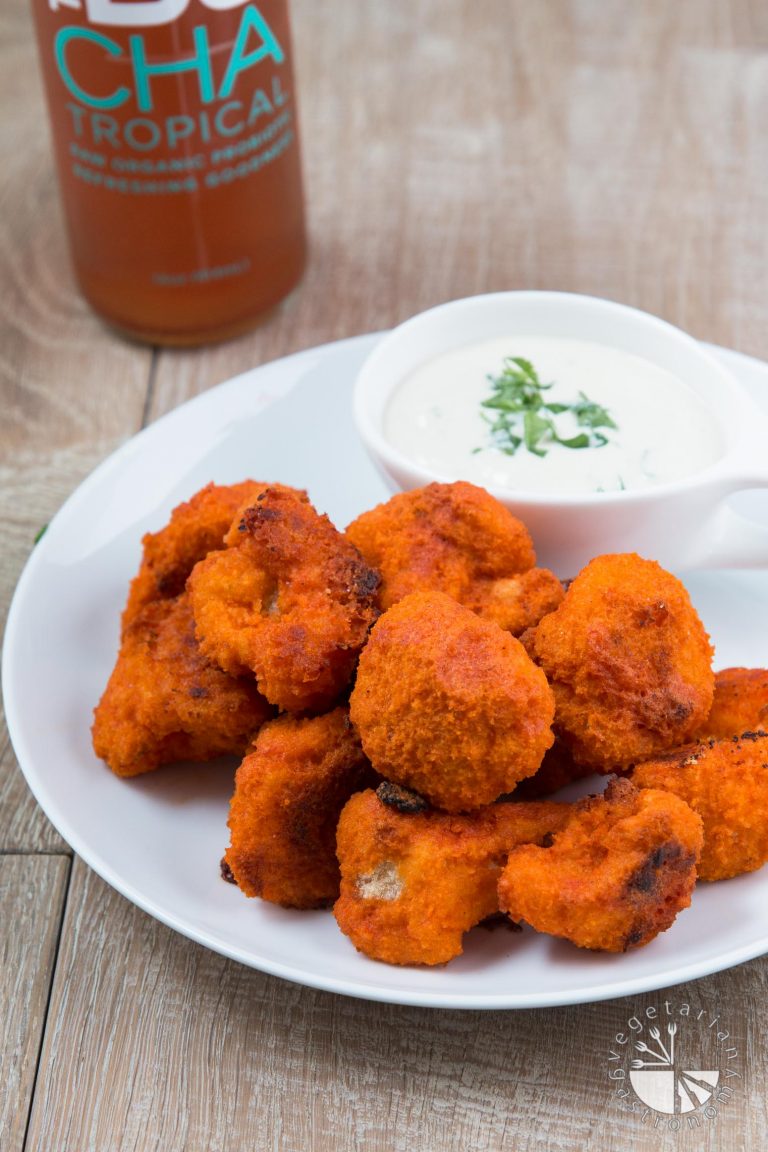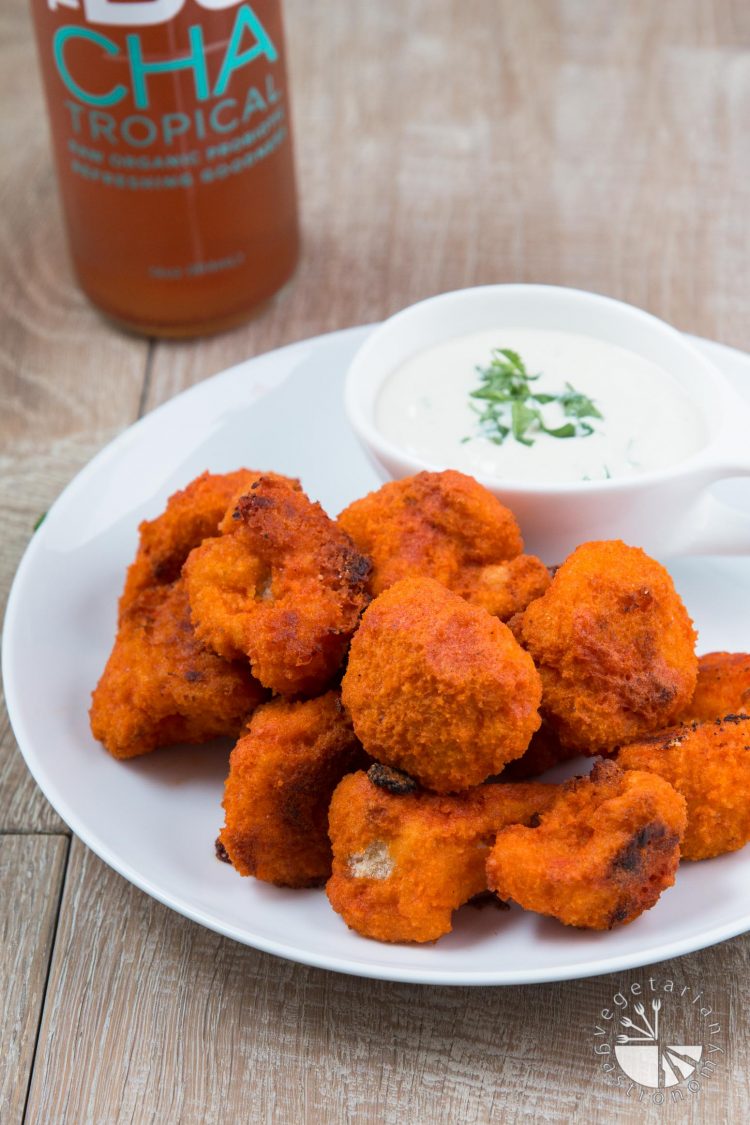 It all started with my Roasted Cauliflower with Lemon Tahini Sauce dish. It was the first time I found myself craving and eating a large amounts of cauliflower in one sitting. It was an addiction… and then this combination came along.
This buffalo cauliflower recipe was first created back in December for our annual holiday party. These bites were actually suppose to be one of the main ingredients for another recipe (coming soon). I wanted them to be freshly baked, so I waited until all our guests arrived. When the cauliflower bites were done, I pulled them out of the oven, left them on the counter, and went to check on something else. Only to turn back around and realize that in the span of 5 minutes, more than half of my tray was gone and devoured by my friends before I could even assemble all of the dish I was supposed to serve that night! ha!
The look on my friends faces when they saw me…"wait…were we NOT suppose to eat these? but they're so good!" said it all. That's when I knew that these Buffalo Cauliflower Bites needed a post all to themselves.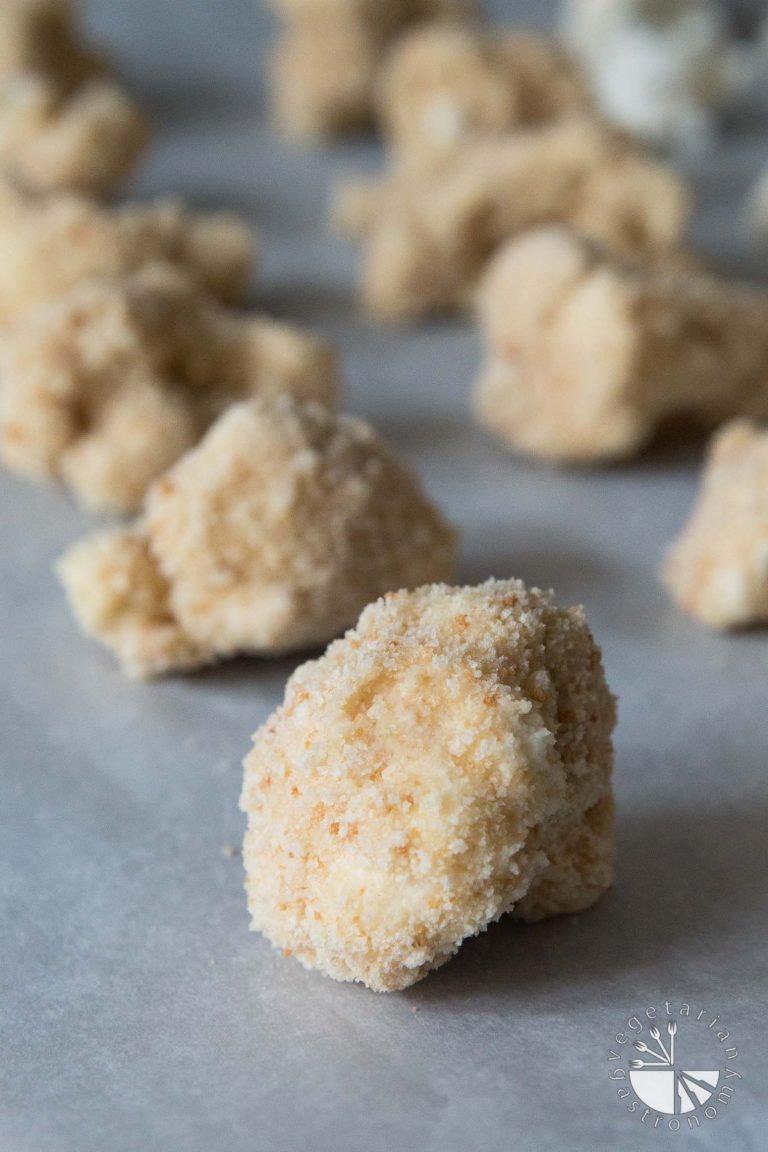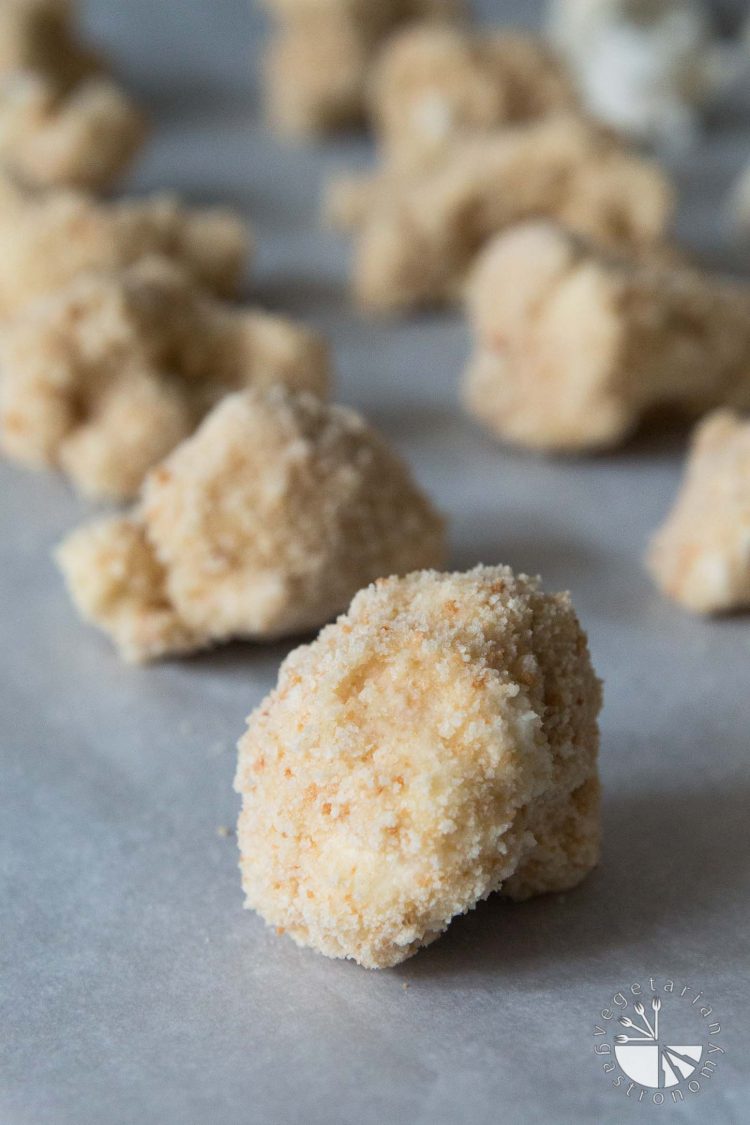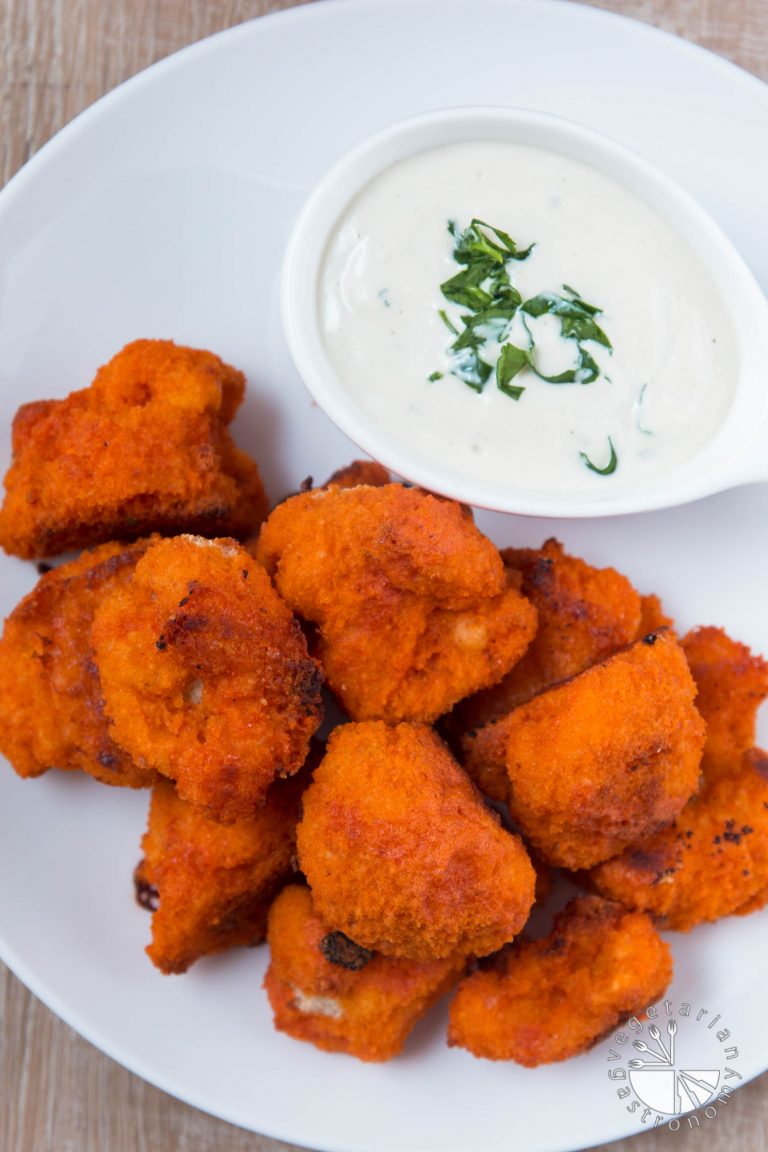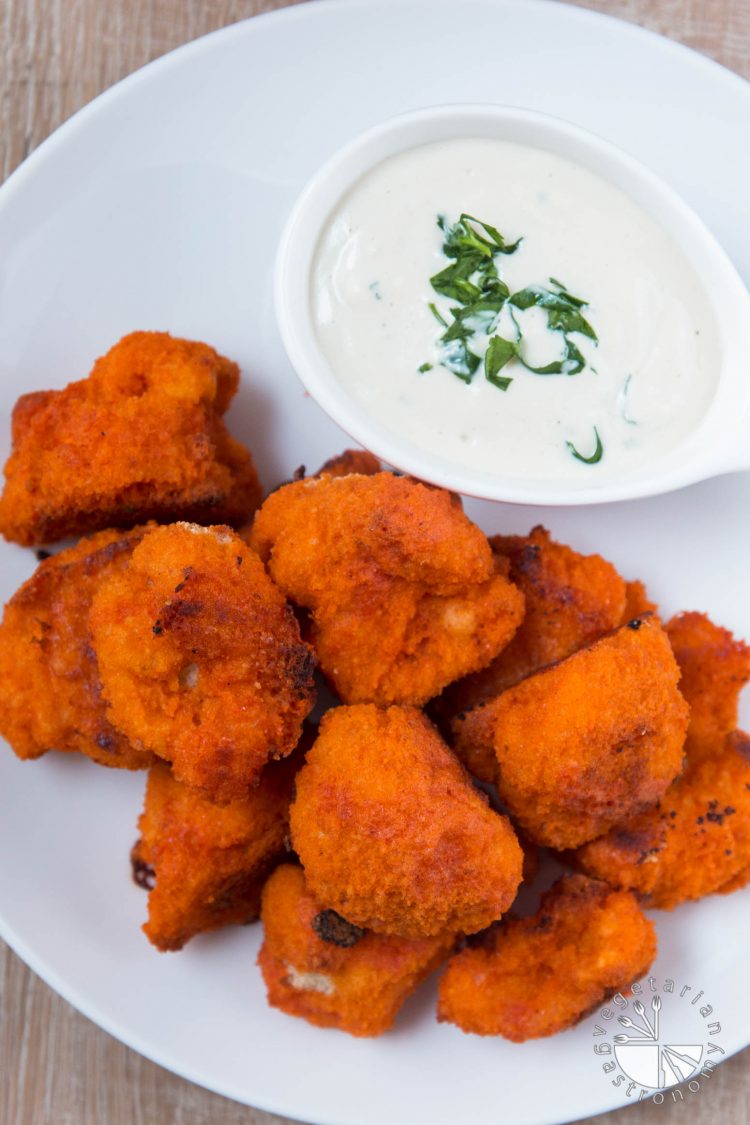 These cauliflower bites are so delicious and easy to make. They're baked (not fried), and the sauce is made from a few basic pantry-ready ingredients. No need for any fancy store-bought buffalo sauce, unless you already happen to have some laying around. You can easily prep these bites ahead of time by cutting the cauliflower pieces, coating, and breading them. Then when you're ready to serve, simply bake and toss with sauce!
If you're looking at these photographs and thinking I did a lot of editing to get that gorgeous color on these bites, think again! They are really as mouthwatering as they look!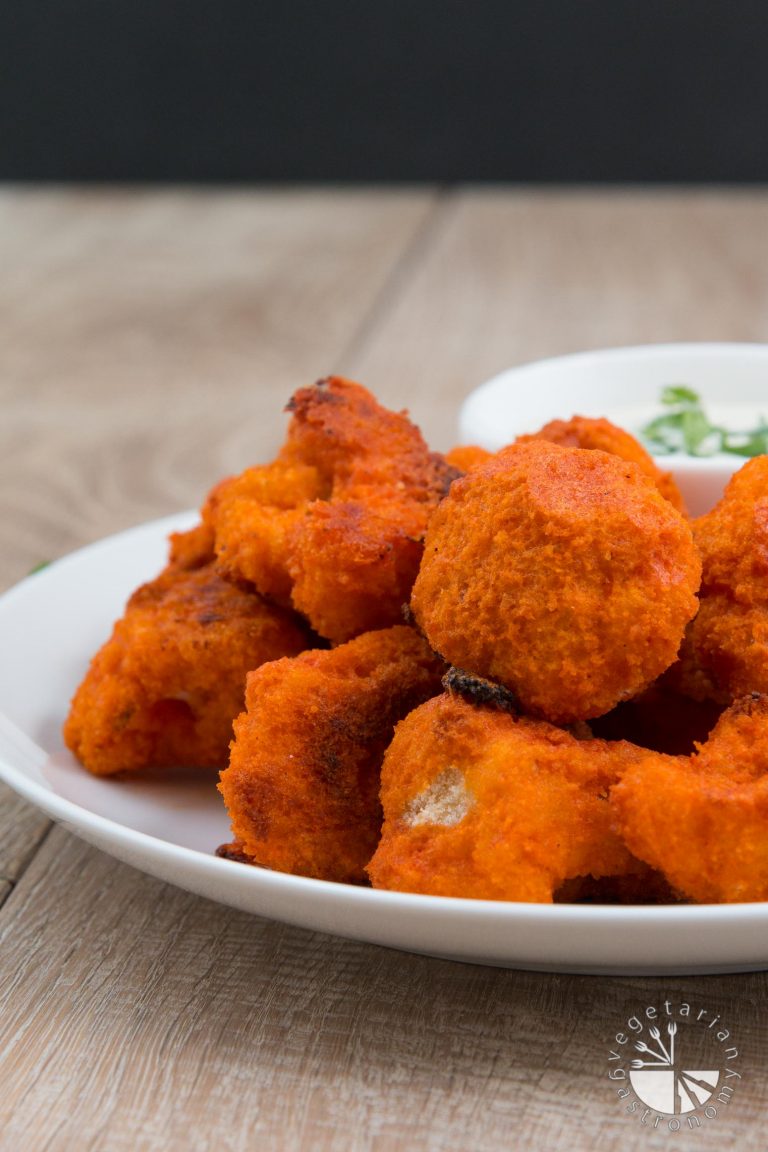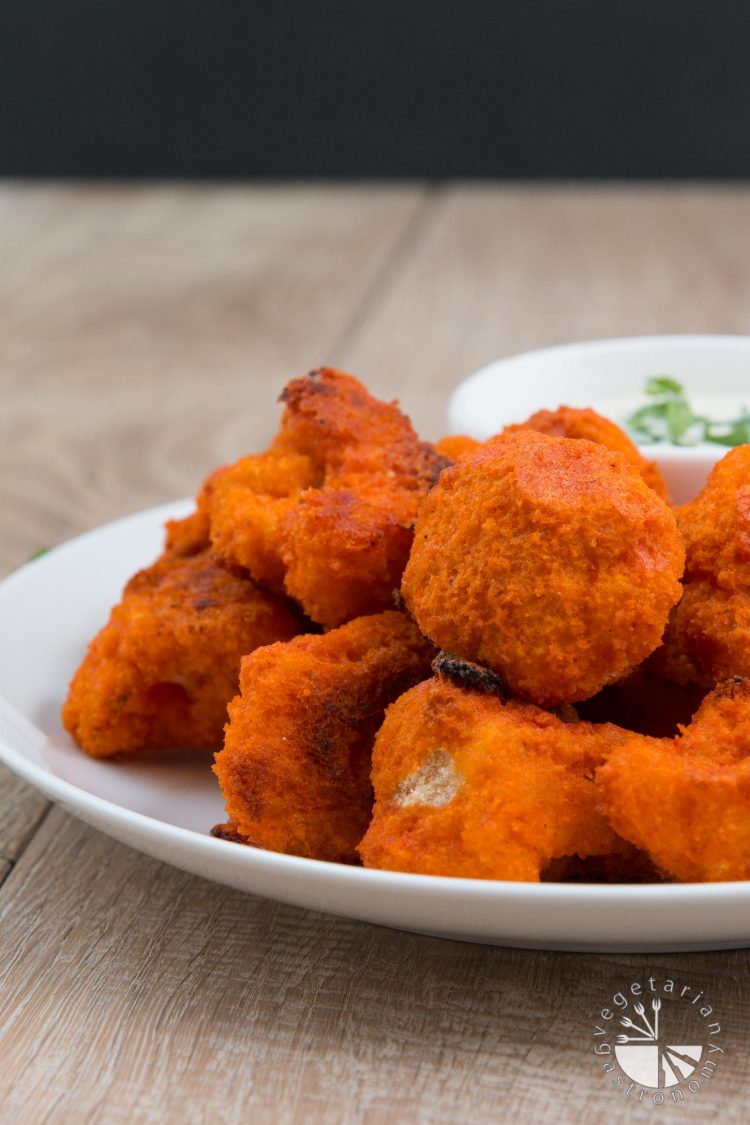 I like to make large batches of these bites at a time. You can store leftovers in the fridge, and even though they may loose some of their crispiness, they still taste great reheated in the oven the following day. Serve them as a side or appetizer, or enjoy them for an afternoon snack. They make for a great party finger food!
I don't know about you, but I'm definitely serving up a batch of these vegan Buffalo Cauliflower Bites with a side of my Vegan Cucumber Ranch during the super bowl this coming weekend! Join me and try out the recipe for yourself! It'll make you a cauliflower lover in no time. If you do, be sure to tag me on Facebook or Instagram, @vegetariangastronomy #vegetariangastronomy, I love seeing all your re-makes! And keep an eye out for a few more vegan "buffalo" recipes coming to the blog soon!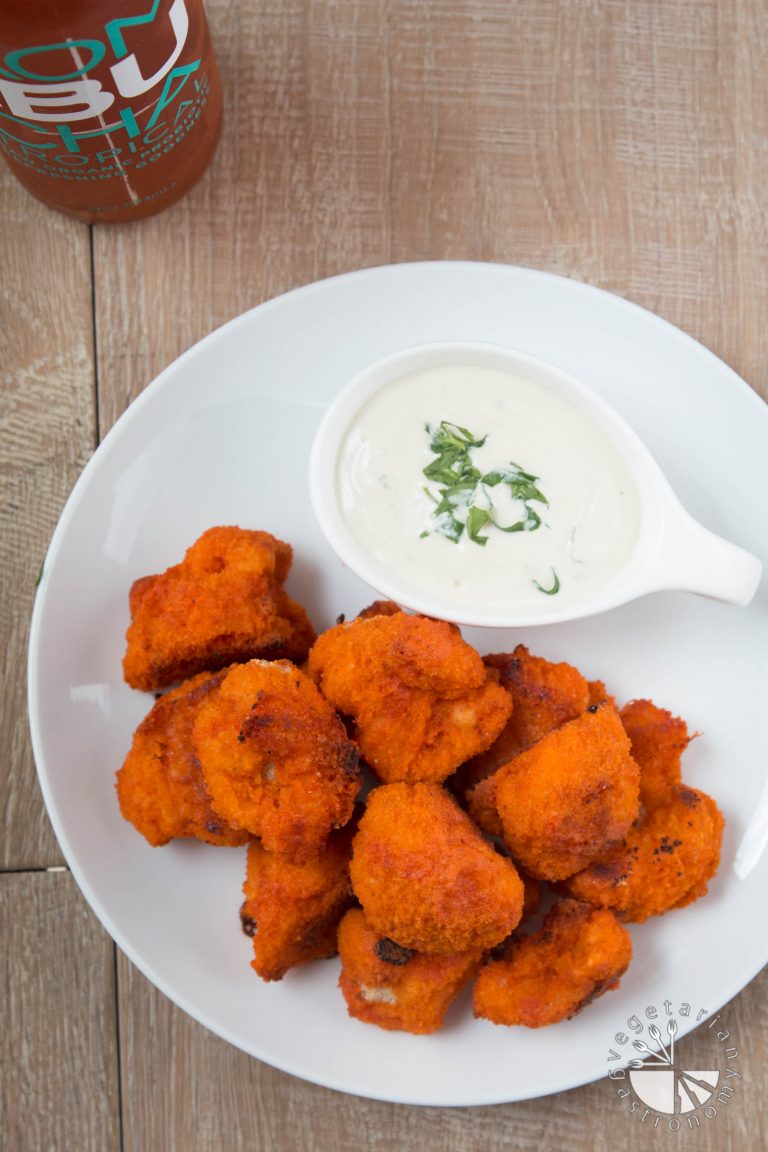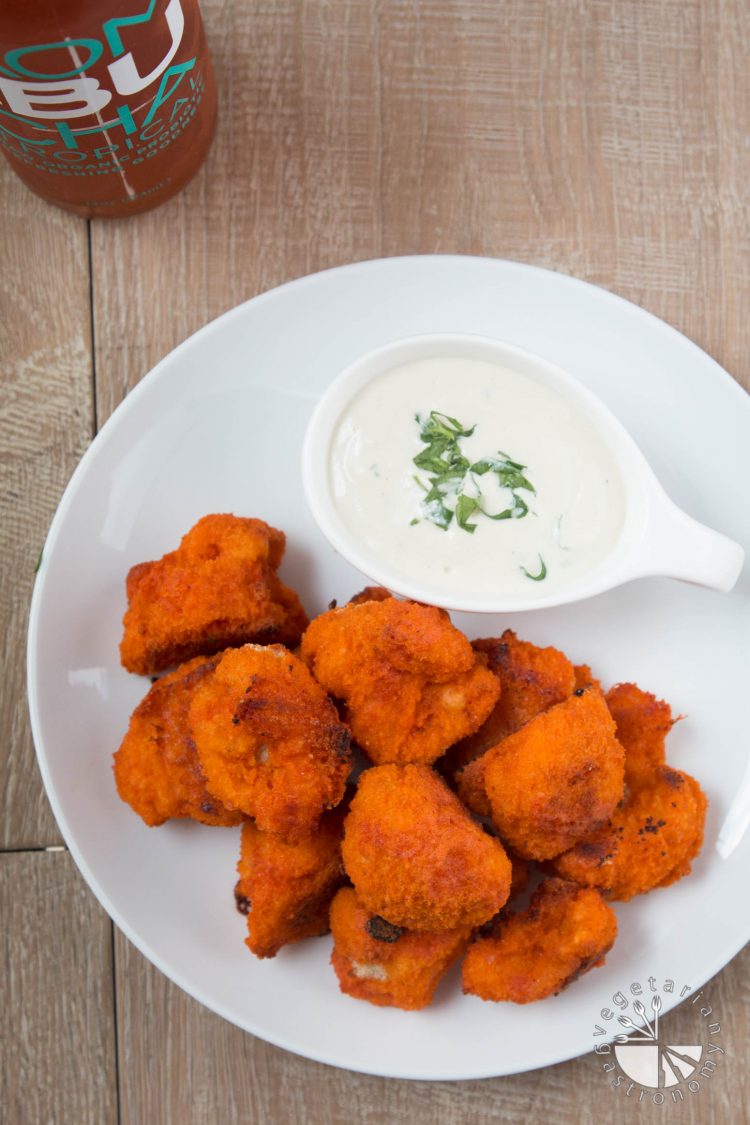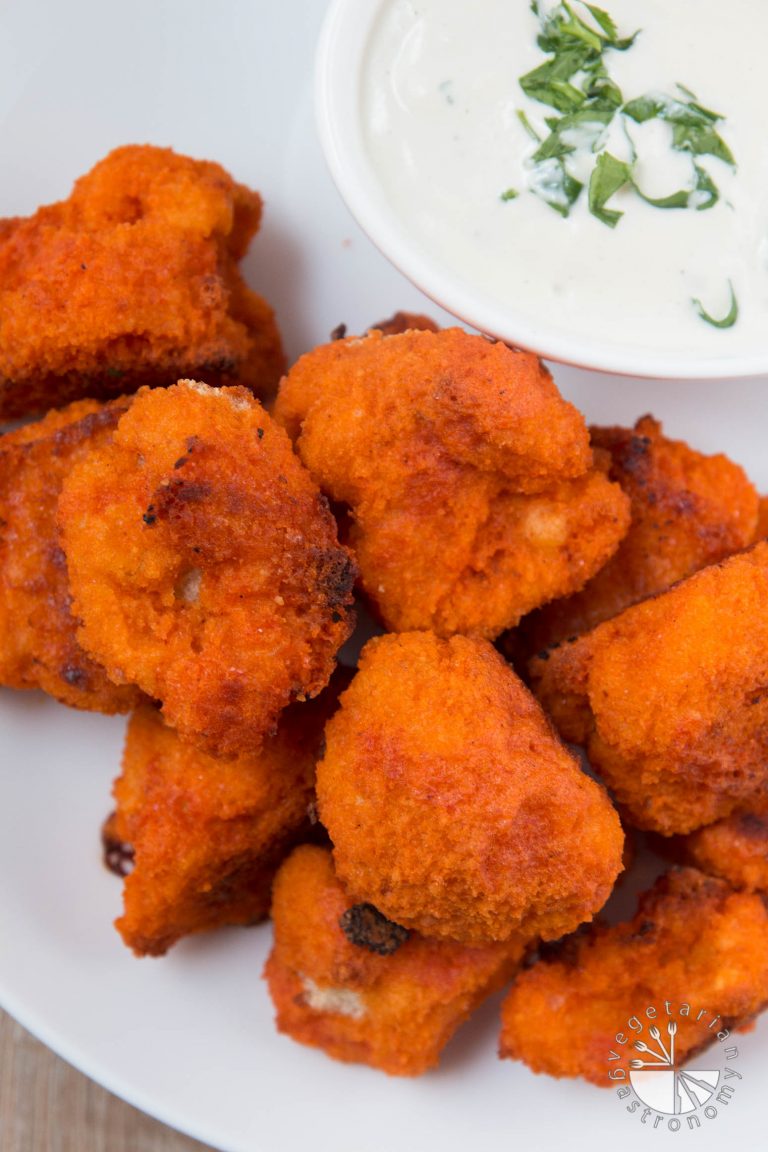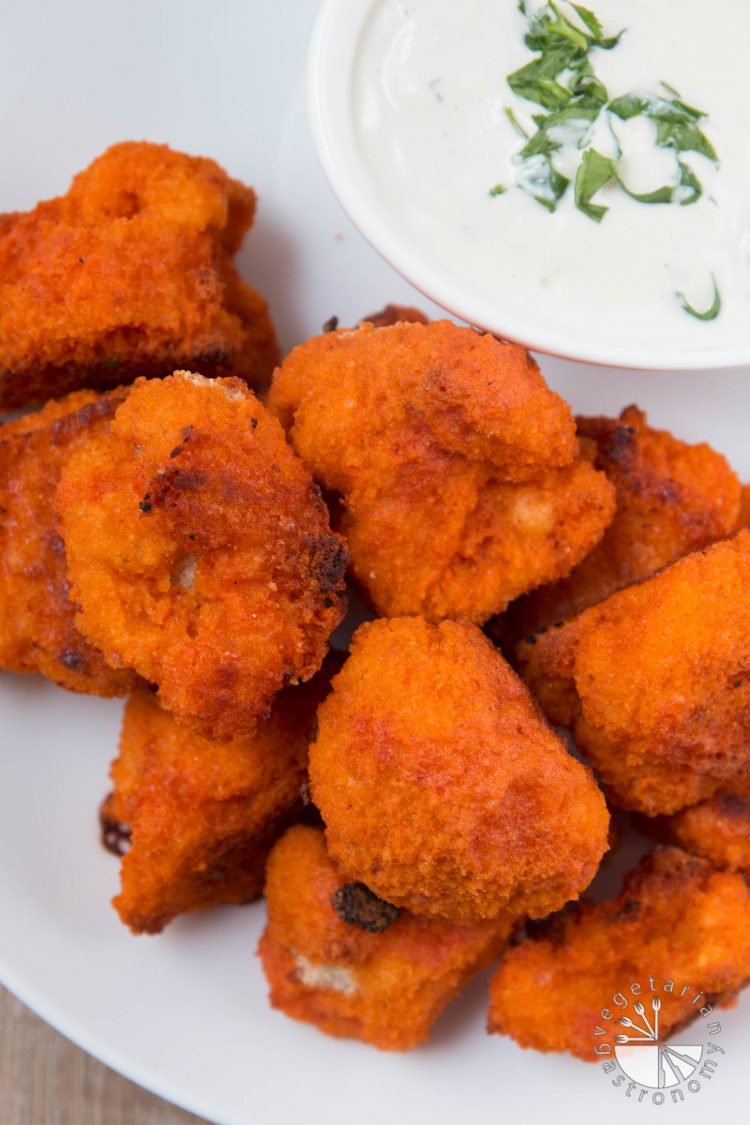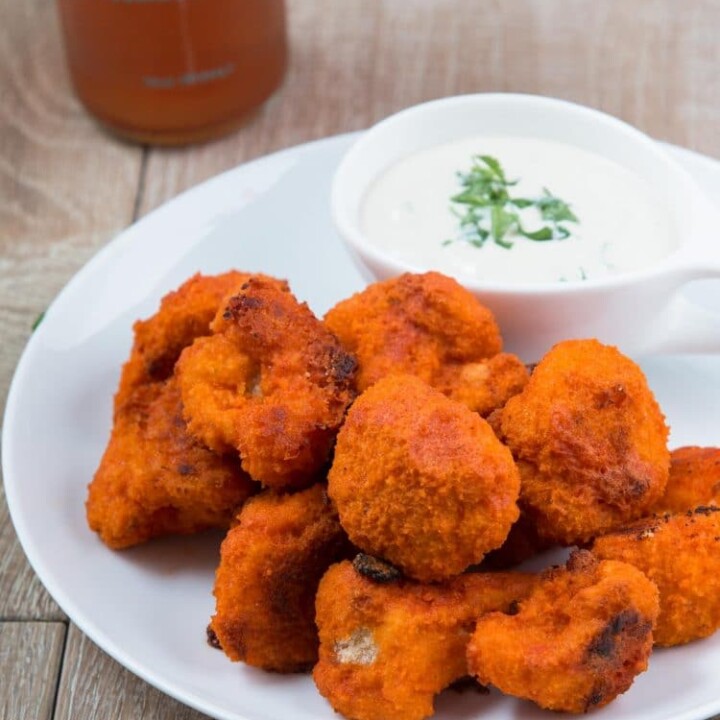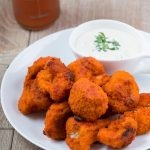 Print
Buffalo Cauliflower Bites With Vegan Cucumber Ranch
Crispy, chewy, and breaded with tartness and spiciness. Pair that with a creamy cool vegan cucumber ranch and I guarantee you won't be able to stop until the entire plate is gone.
INGREDIENTS
1/2

cauliflower

, large

1

cup

non-dairy milk

, such as soy milk or cashew milk

1

cup

all-purpose flour

, for gluten-free: use white rice flour

2

teasp

garlic powder

1.5

cups

breadcrumbs

, for gluten-free, use gluten-free breadcrumbs
INSTRUCTIONS
Preheat oven to 450 degrees. Line a

baking sheet

with parchment paper.

Cut the cauliflower into medium sized florets. Wash and set aside to drain out the water.

In a large bowl, combine non-dairy milk (soy milk), flour, and

2 teasp

garlic powder, and some freshly ground pepper. Whisk and set aside.

Take all the cauliflower florets and add them to the large bowl with the milk/flour mixture. Toss with a large spoon or hands until they're all coated.

In another smaller bowl, add a small amount of the breadcrumbs to start, replenishing as needed. This way, the breadcrumbs stay as dry as possible instead of clumping as you coat the cauliflower.

One at a time, take each individual cauliflower floret coated in the milk/flour mixture (allow any excess liquid to drip off in the large bowl), and place in the breadcrumb bowl. Roll the cauliflower in the breadcrumbs until completely coated on all sides. Place on the parchment lined baking sheet and repeat with the remaining cauliflower florets. Replenish the breadcrumb bowl as needed to minimize clumping of the dry breadcrumbs.

Once all the cauliflower florets are breaded, place in the oven and bake for 15-18 minutes until crispy and slightly golden brown on the outside.

In the meantime, make the sauce. Heat a sauce pan on low-medium heat. Whisk all the sauce ingredients above just until the butter is completely melted and the ingredients are combined. Turn the heat off and set aside.

Once the cauliflower is crispy and slightly golden, remove from the heat and toss a few at a time to completely coat in the sauce and place it back onto the same parchment paper.

If there is extra sauce remaining, drizzle it over the cauliflower with a spoon.

Place the cauliflower back in the oven for about 5-8 minutes.

Remove from the oven and serve with

Vegan Cucumber Ranch

! Store any leftovers in an airtight container in the fridge and re-heat at 375 degrees the following day!
NOTES
Sauce - I used and highly recommend using Cholula hot sauce when making the buffalo sauce because of its flavor profile. I have tested this recipe using Cholula. But if you use a different hot sauce, be sure it's one that's smooth and bold in flavor. You may need to adjust the flavor a little but should work fine with most (note: if you use a hot sauce like Tapatio, this sauce will not taste good). Kid-Friendly Version - Use your favorite marinara instead of buffalo sauce. Dip the crispy breaded cauliflower in your favorite marinara instead of buffalo sauce to avoid spice for the kids. For the gluten-free option, I used white rice flour. Non-Dairy Milk - I typically use soy milk for this recipe, which makes for a very thick coating. If you prefer a thinner coating or find the thick coating difficult to work with, either add a tiny bit more soy milk into the coating mixture or use another thinner non-dairy milk such as cashew milk.
NUTRITION
Calories:
94
kcal
|
Carbohydrates:
15
g
|
Protein:
2
g
|
Fat:
2
g
|
Sodium:
376
mg
|
Potassium:
62
mg
|
Vitamin A:
105
IU
|
Vitamin C:
9.7
mg
|
Calcium:
44
mg
|
Iron:
1
mg