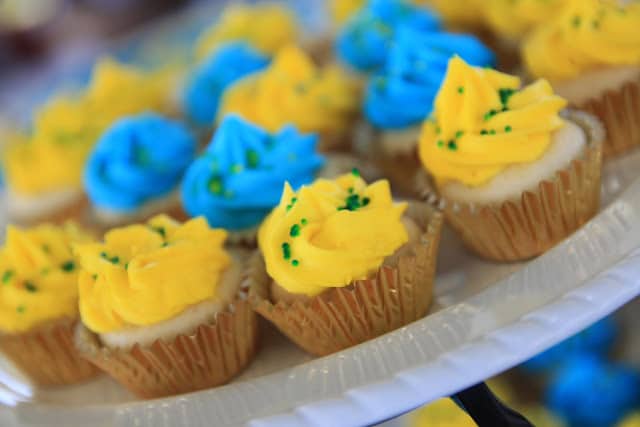 For those of you who dislike the creamy taste of butter in your buttercream frosting recipe, here's another version that uses a high ratio shortening called Sweetex. I recently took a cake decorating class and came across this recipe which is very easy to make, colors well, tastes great, and is easy to work with. The original recipe called for meringue powder which I left out because it contained eggs. You can make this recipe 1 week in advance and store it in the fridge for a few weeks. The picture above is from my son's 1st Birthday party where I made mini-cupcakes with this buttercream frosting for all the guests. I colored the frosting yellow and blue to go with his Mod Monkey theme! They turned out great!
You should be able to find Sweetex at your local baking store or online. From what i've found, the ingredients of Sweetex are vegan, but if anyone else finds otherwise, please let me know!
Below is another cookie-monster cake I made using this buttercream frosting. It holds up great!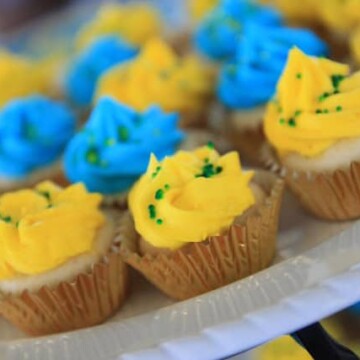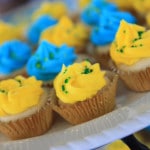 Print
Vegan Buttercream Frosting
Looking for the perfect wedding vegan buttercream frosting to use for birthday cakes and cupcakes? This recipe is perfect and ideal for decorations! It's room temperature stable, and very easy to make!

Servings: 6 cups

Calories: 1043kcal
INGREDIENTS
1.5 cup Sweetex high-ratio shortening
1/4 teasp salt
2 pounds sifted powdered sugar , sifted (the one in the bag is already sifted)
1/2 cup water
1 teasp vanilla extract , or almond extract
INSTRUCTIONS
Mix the sweetex and salt with electric mixer to blend (preferably a stand mixer).

Add water to the bowl and then add powdered sugar and blend by hand with a spatula until the sugar is absorbed into the liquid.

Put the bowl back on stand mixer and beat on med speed for 2-5 min until smooth and fluffy (2min for stand mixer).

Store at room temperature or in the fridge until use.
NOTES
Decorating Tips - To get your buttercream smooth and create a "fondant" effect on your buttercream iced cake, use "the paper towel method". For details, you can search the method online. If you cannot find the method, let me know! Storage - Since there is no dairy in this buttercream frosting, it's stable at room temperature for a week and in the fridge for up to a month.
NUTRITION
Calories: 1043kcal | Carbohydrates: 150g | Fat: 51g | Saturated Fat: 12g | Sodium: 6mg | Sugar: 147g | Iron: 0.1mg
[subscribe_box]