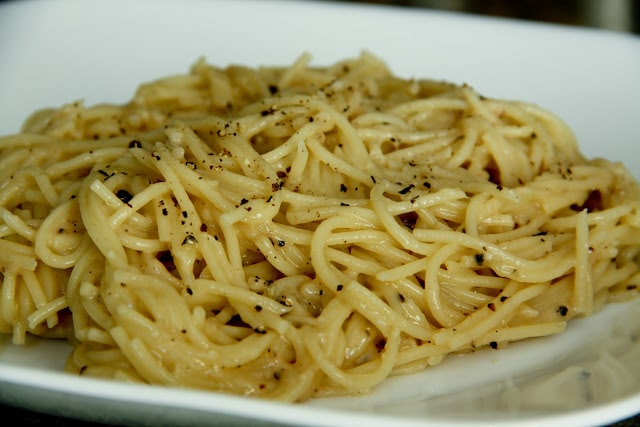 This classic Italian Pasta dish is literally composed of it's name: cheese and pepper pasta. The first time I tried this dish was a few weeks ago at a new restaurant that opened up near our house. I went out with a few girlfriends, and one of them raved about how amazing and simple this dish was. Normally, I'm not a big fan of spaghetti, but this dish is absolutely delicious. I knew I had to try and re-create it at home, especially since the ingredients seemed very simple.
I kept the ingredients pretty basic to the name and made a sauce composed of oil, pasta water, Parmesan cheese, and lots of freshly ground black pepper. I recommend you get blocks of cheese and freshly grate them before making the sauce. If you cannot find Pecorino or Grana Padano without animal rennet, you can easily substitute them both for Parmesan Cheese (the Parmesan cheese found at Trader Joe's does not contain animal rennet).
Gluten-free Option: Use gluten-free pasta or SPAGHETTI SQUASH! The restaurant where I first ate this dish also serves gluten-free pasta as an option for their pasta dishes. When my brother came down one weekend, he wanted to try this pasta dish with the gluten-free pasta option and he loved it! The restaurant had served it with gluten-free penne instead of spaghetti. I had tried the dish as well and it tasted exactly the same (maybe even better because the pasta had absorbed the sauce really well)! I've made this dish gluten-free by using quinoa pasta, brown rice pasta, and spaghetti squash and all three versions tasted absolutely delicious. I actually found myself preferring the gluten-free version at times!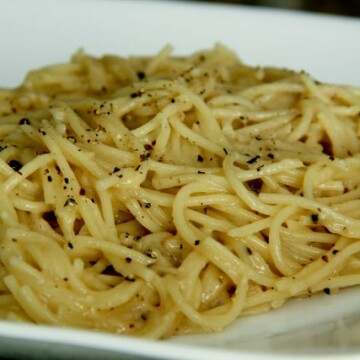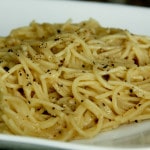 Print
Cacio e Pepe
A simple yet rich classic pasta dish composed of olive oil, freshly ground black pepper, and vegan parmesan!
INGREDIENTS
6

oz.

spaghetti pasta

, gluten-free option: use quinoa or brown rice pasta, or cooked spaghetti squash

3

tbsp

butter

1

teasp

freshly ground black pepper

3

tbsp

extra-virgin olive oil

2/3

cup

vegan parmesan

, I use Follow Your Heart

salt
INSTRUCTIONS
In a pot of boiling, salted water (slightly under sea water salty), cook the pasta al dente. Be sure to reserve the pasta water for cooking after draining the pasta.

While the pasta is cooking, start preparing the sauce. Heat a stainless steel pan to medium heat. Add the coarsely ground fresh black pepper and toast slightly for a minute.

Start the cooking process by adding about

1/2 cup

reserved pasta water and simmer for 1-2 minutes.

Add

2 tbsp

olive oil and

2 tbsp

butter and bring everything to a simmer.

Reduce the heat and add the pasta.

Add vegan parmesan. Toss the pasta until the cheese melts and the sauce coats the pasta. Feel free to add more of the reserved pasta water if the sauce feels too dry (I usually end up having to add more pasta water).

Serve immediately while hot!
NOTES
Gluten-free Option- use quinoa or brown rice pasta, or cooked spaghetti squash
NUTRITION
Calories:
523
kcal
|
Carbohydrates:
43
g
|
Protein:
15
g
|
Fat:
32
g
|
Saturated Fat:
13
g
|
Cholesterol:
46
mg
|
Sodium:
461
mg
|
Potassium:
147
mg
|
Fiber:
2
g
|
Sugar:
2
g
|
Vitamin A:
530
IU
|
Calcium:
278
mg
|
Iron:
1
mg
[subscribe_box]