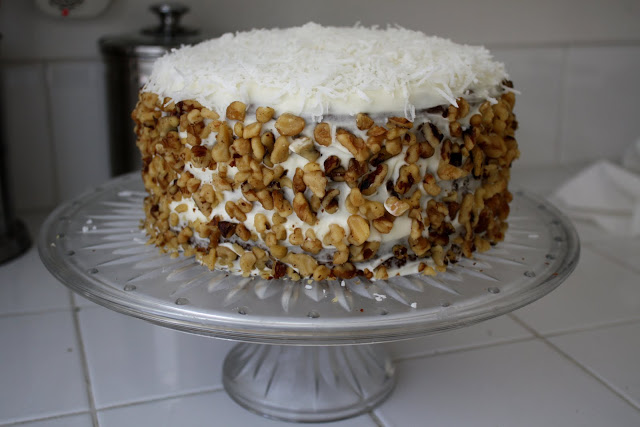 This delicious Carrot Cake was one of the first egg-less recipes I came across awhile back. My aunt, who was visiting us from Texas, made this cake during Christmas for everyone. I am a sucker for carrot cake, and this was hands down one of the best I had ever had. The combination of carrots, pineapples, nuts, and spices topped with Cream Cheese Frosting made for a dangerously satisfying moist cake!
I instantly asked her for the recipe and it hasn't failed me since! My parents are a huge fan of this cake and I try to make it every year for one of their birthdays. This recipe makes 3 cakes. You can either opt to make three separate cakes, or layer them and make one giant cake. I personally like to layer them on top of each other with frosting in between. I've also decorated the finished product with some fresh coconut and chopped walnuts.
I really hope you give this cake recipe a try…it's well worth the effort and you will not be disappointed!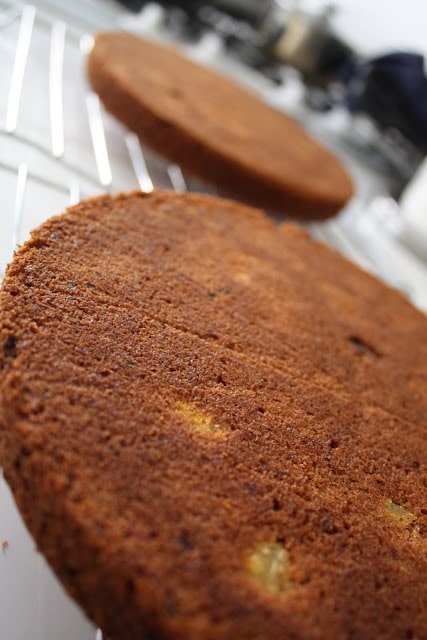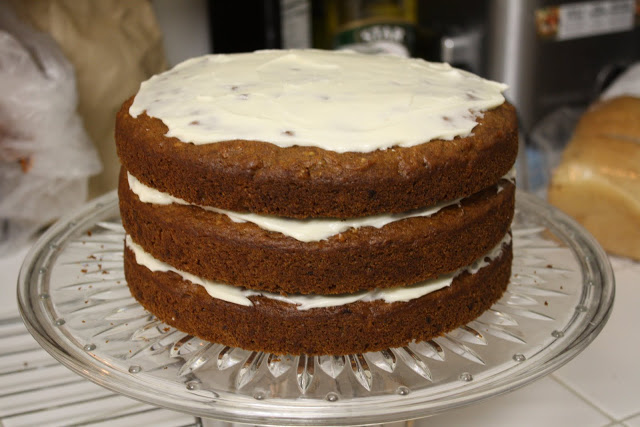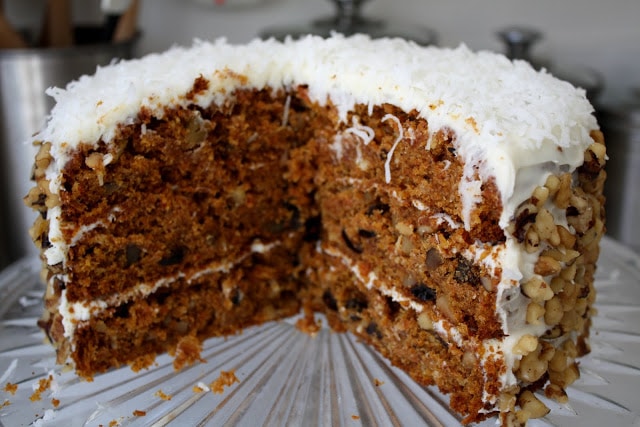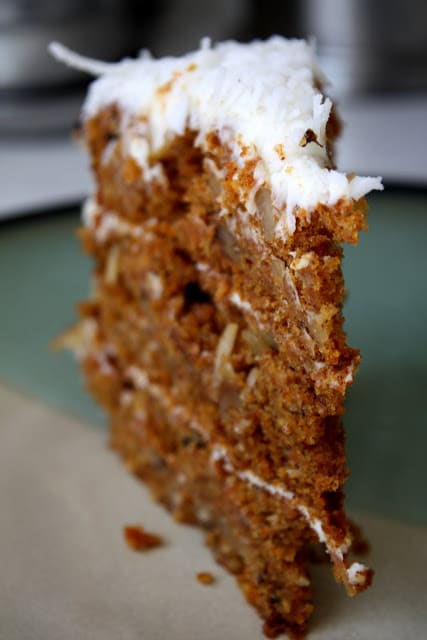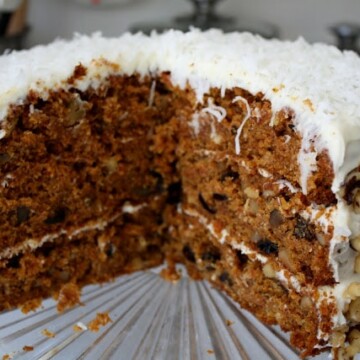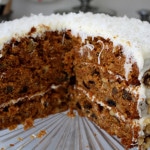 Print
Carrot Cake with Cream Cheese Frosting
The perfect moist delicious carrot cake recipe with your favorite cream cheese frosting!
Servings: 3 8" round cakes
Calories: 3029kcal
INGREDIENTS
3 cups flour
1 1/2 cup sugar
1 1/2 teasp baking soda
1/2 teasp baking powder
8 oz. can crushed pineapples , reserving the juice
1 1/2 cup oil
2 cups carrots , steamed and mashed
1 tbsp cinnamon
1 teasp nutmeg powder
1/2 teasp cloves powder
1 1/2 cups walnuts , chopped
1 cup sweetened coconut , shredded
3 tbsp vegan sour cream
raisins
little amt. of pineapple juice , if needed
For Cream Cheese Frosting:
INSTRUCTIONS
To Make the Cake:
Pre-heat oven to 350 degrees.

Mix all ingredients in a mixing bowl, except for the cream cheese frosting.

Line the bottom of three 8" pans with wax paper. Split batter evenly between all 3 pans and bake three separate cakes, each for 45-50 minutes or until a toothpick comes out clean.

Cool cake layers in pan on wire rack for 5 minutes.

Invert the cake and pan and hit the bottom of the pan until the cake pops out onto the cooking rack (note that this should happen pretty quickly. If it is stuck, take a butter knife and run it along the edge of the cake and try again).

Repeat with other layers and allow all layers to cool completely.
For Cream Cheese Frosting: (see notes below)
Mix all the ingredients with a stand mixer or hand mixer.

For a lemony flavor, add a little amount of fresh lemon juice.
Cake Assembly:
Place one layer, rounded side up, on cake plate, spread an even coat of frosting to within 1/4 inch of the edge.

Place second layer, rounded side down, on frosted layer. Spread an even coat of frosting to within 1/4 inch of the edge.

Place third layer, rounded side up, on frosted layer. Coat the sides of the cake with a layer of frosting. Swirl more frosting on the side, forming a 1/4-inch ridge above the top of the cake.

Spread remaining frosting over the top of the cake, just meeting the built-up ridge around side and frost the side of the cake. Leave the top smooth for decorations.
NOTES
Nutritional Information below - serving size is each 8" round cake. Cream Cheese Frosting - depending on how you serve this cake, you may need to double the cream cheese frosting recipe above. Frosting helps seal in a cake's moisture, and add another element of flavor and texture. The key to frosting a cake well is to make sure the layers are cool and free of crumbs before you apply the frosting. For decoration, sprinkle shredded coconut all over the cake sides and top. Alternatively, coat the side of the frosted cake with chopped walnuts. Orange food coloring can also be added to the frosting to decorate the top of the cake with frosting swirls and shapes.
NUTRITION
Calories: 3029kcal | Carbohydrates: 303g | Protein: 29g | Fat: 199g | Saturated Fat: 32g | Polyunsaturated Fat: 65g | Monounsaturated Fat: 83g | Trans Fat: 1g | Sodium: 1213mg | Potassium: 953mg | Fiber: 20g | Sugar: 180g | Vitamin A: 15205IU | Vitamin C: 13mg | Calcium: 227mg | Iron: 10mg
[subscribe_box]