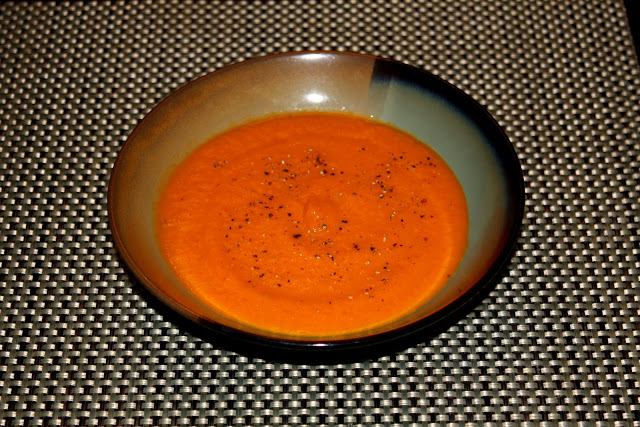 The cafeteria at my work always seems to have delicious vegetarian soups, but I always find myself shying away from them because they usually contain heavy cream as a base. Since I had a bunch of carrots in the fridge, I decided to make my own healthy version of carrot soup. I started off with a recipe from epicurious from which I made a few additions. The resulting soup was simple to make and very tasty!
For the vegetable broth, i always use Imagine Organic Vegetable Broth, which also happens to be gluten-free. I've tried other brands such as Swanson but did not like the taste.
CARROT SOUP W/GINGER & LEMON: (vegan, gluten-free)
(makes ~4 servings)
Ingredients:
2 T butter (vegan)
1 1/2 cup white onions, chopped
2 T fresh ginger, finely grated
3-4 cloves garlic, minced
3 cups carrots, peeled and chopped
1 red bell pepper, chopped
2 tomatoes, chopped (about 1 1/3 cups)
1 1/2 t grated lemon peel
4 cups vegetable broth
3 T fresh lemon juice (+ more to taste)
salt/pepper to taste
Directions:
Melt the butter in a large pot over medium-high heat.
Add onions, saute 4 min.
Add ginger & garlic, saute 2 min.
Add chopped carrots, red bell peppers, tomatoes, and lemon peel. Saute 1-2 min.
Add 4 cups of vegetable broth and stir. Bring the soup to a boil, and then reduce the heat. Cover partially and simmer until carrots are cooked and tender (approx. 25-30 min.)
Cool slightly & puree the soup using a hand blender.
Mix in the lemon juice (note: you may need to add more lemon juice in the end depending on your taste).
Season with salt and fresh pepper.
Bring the soup to a simmer and serve the soup hot! Top off with some freshly grated pepper (optional).
~ Anjali