Amber takes comfort food to the next level with her new Homestyle Vegan cookbook! This cheesy vegan spinach artichoke dip recipe from the cookbook is easy, healthy, and filled with flavor and texture. It makes you want to devour the entire tray in one sitting!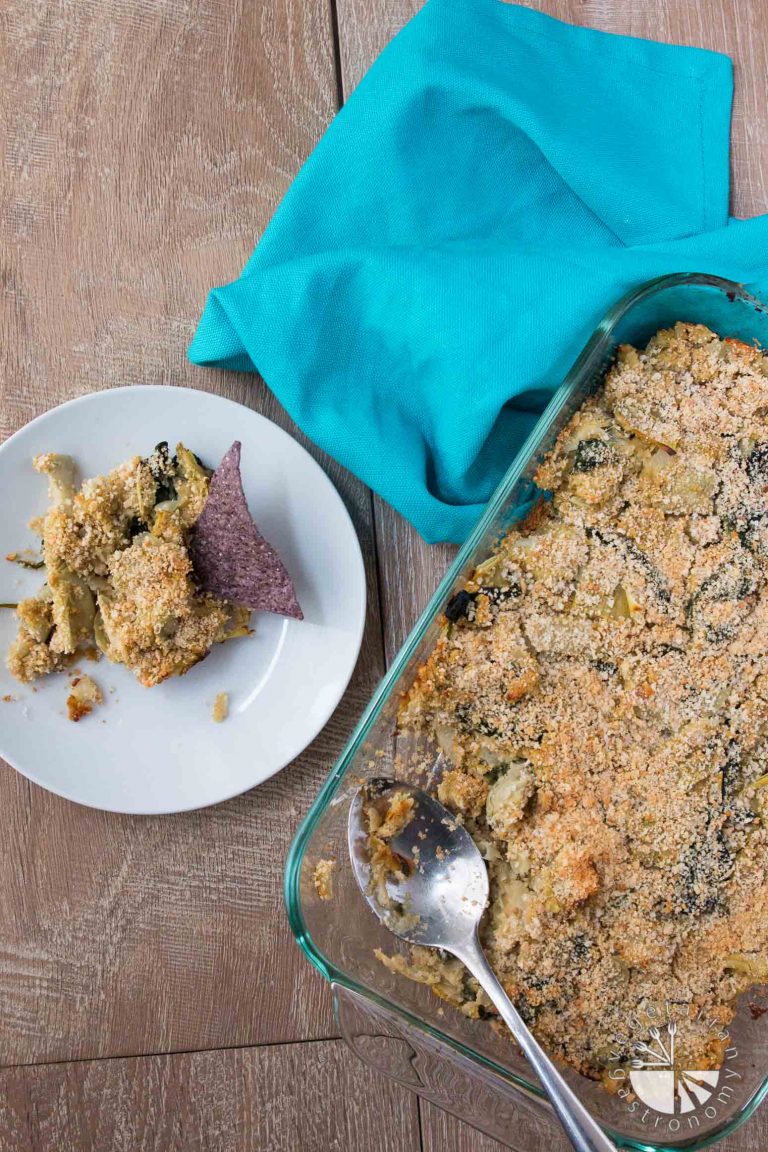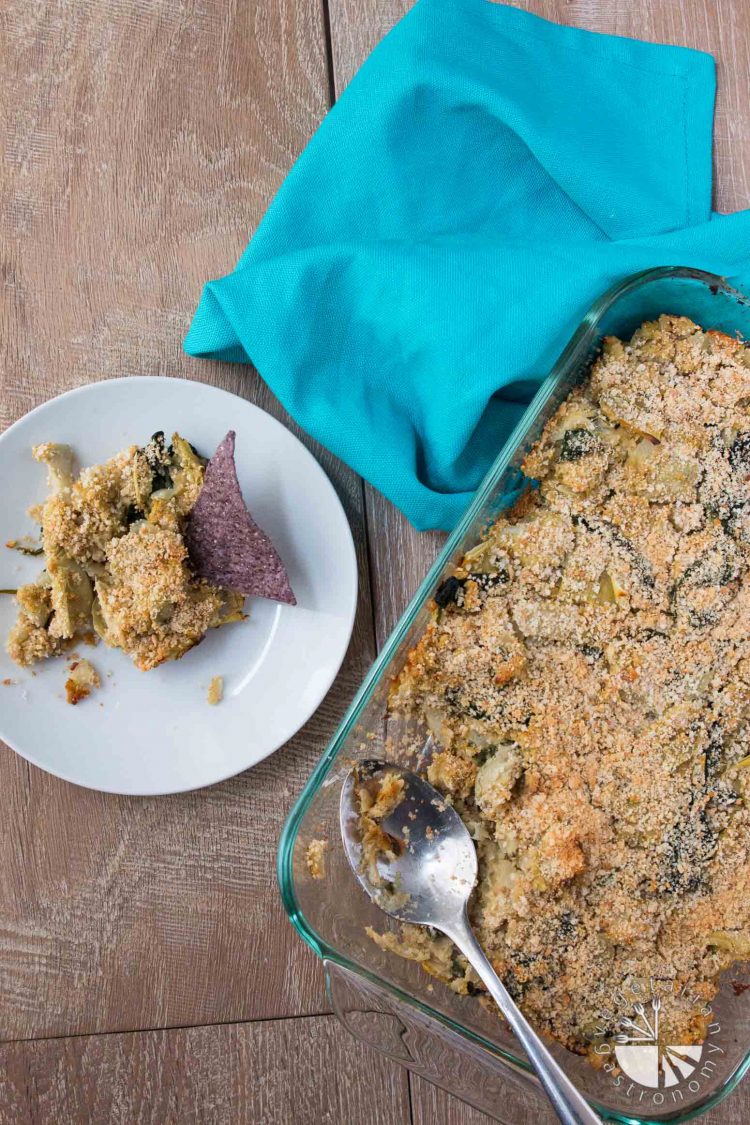 Today I'm thrilled to be sharing a recipe from one of my new favorite cookbooks, Homestyle Vegan, by Amber St. Peter from Fettle Vegan! I first met Amber at a SoCal food blogger meetup a few years ago and have since been following her. She is an amazing person with lots of positive energy, spunk, and creativity! If you don't believe me, just check out the Instastories she posts on a daily basis. When I first heard that she was coming out with a cookbook, I knew I had to get my hands on it. It screams COMFORT FOOD, and really, who doesn't like the idea of comfort food. Homestyle Vegan is filled with easy, everyday plant-based recipes. I'm excited to be sharing her recipe for Cheesy Spinach Artichoke Dip from the cookbook. I'm also GIVING AWAY a copy of the cookbook to one lucky reader, check for details after the recipe.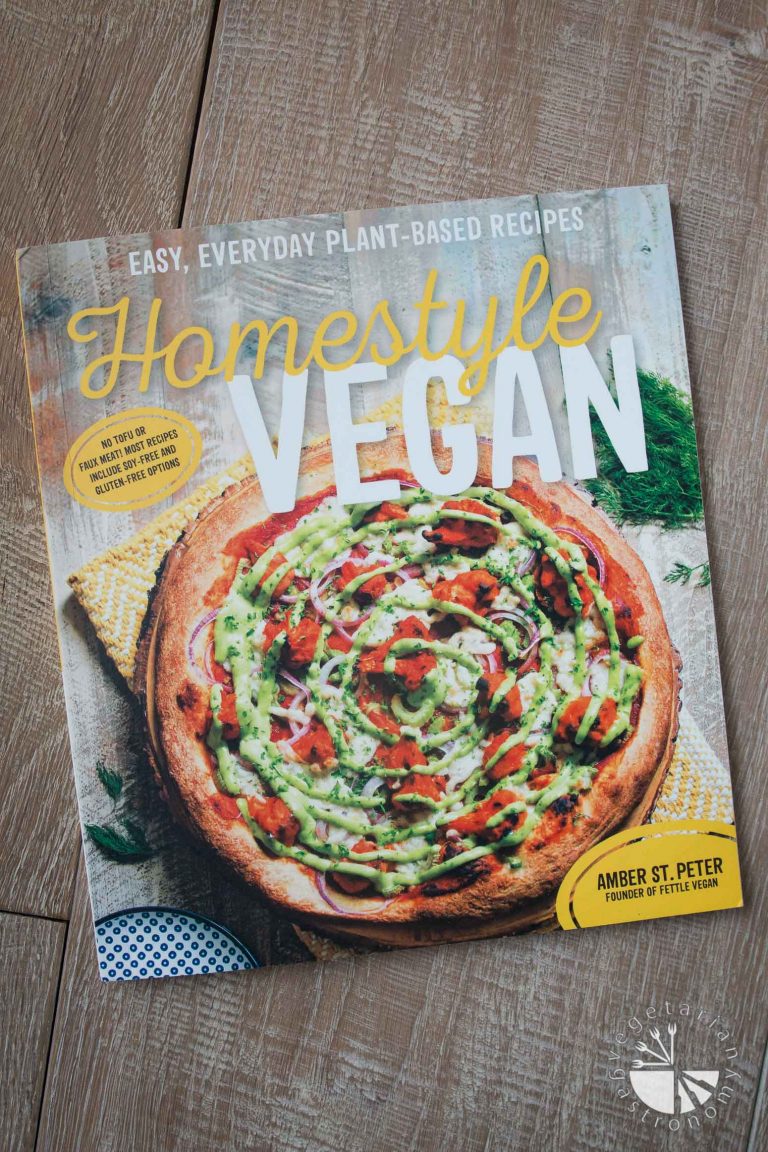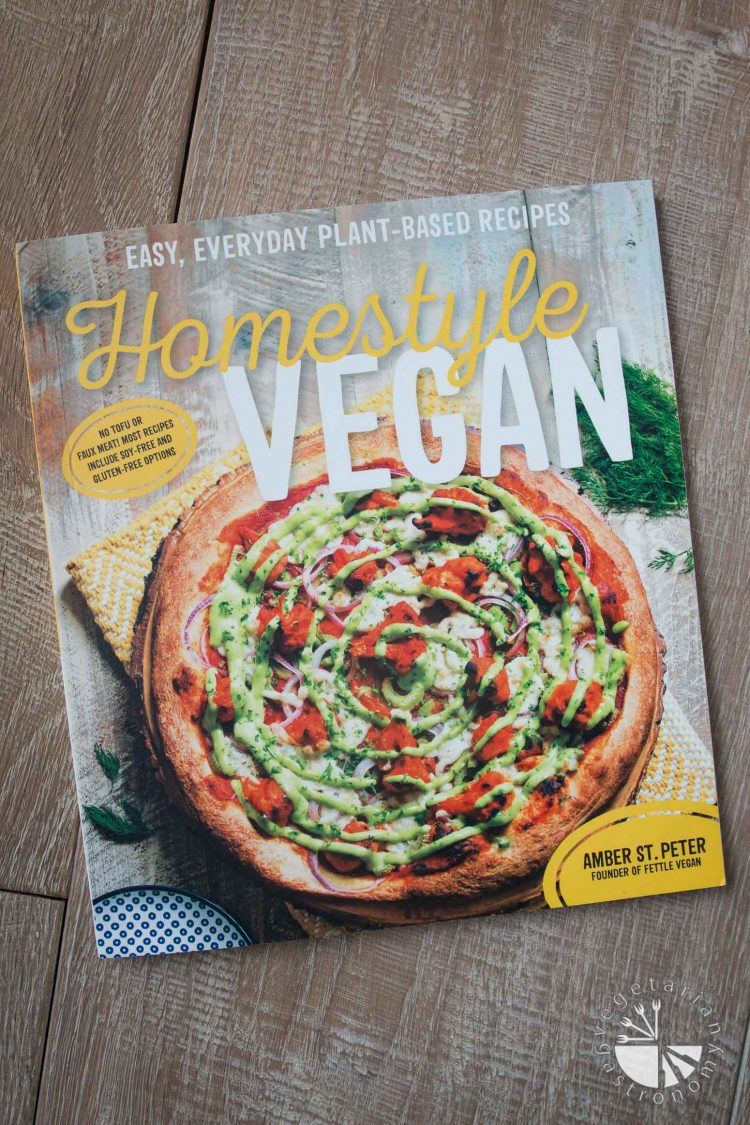 I love it when the title of a cookbook tells you exactly what type of recipes to expect inside. Homestyle Vegan covers it all with it's unique chapter titles. From Rise + Shine (Apple Cider Donuts, Baked Breakfast Gratin, Old-Fashion Cinnamon Rolls), Meals That Stick To Your Ribs (Chick'un + Dumplings, Bacon-less Baked Beans, Apple Fennel Stuffing with Caramelized Onions, Creamy Wild Mushroom Soup), Feed Your Friends (Quinoa Meatball Sub, Southern Comfort Bowl, Lobster Mushroom Bisque, Cauliflower Steaks), Crowd Pleasers (Jalapeno Cornbread, Buffalo Cauliflower Pizza, Southern Fried Zucchini Fritters), Cook Up Some Comfort Food (Baked Butternut Squash Mac n Cheese, biscuits with Mushroom Gravy, Creamy Corn Chowder), Bake Sale-Worthy Baked Goods (Oatmeal Cream Pies, Double Fudge Mint Brownies), to When Cookies Won't Cut It (Strawberry Basil Hand Pies, Lavender Shortcakes) and Have A Drink (Holiday Nog, Rosemary Coconut Hot Chocolate). She even finishes with a Stock Your Pantry section full of everyday basics such as the perfect Pizza Dough, or Easy Cashew Cheese.
Amber has successfully taken the traditional foods from the standard American diet and made it plant-based and easier than ever to make. As you scroll through the recipes, you can also tell that she's tried to keep the ingredients in her recipes simple and attainable from local grocery stores. Also, if you're thinking that her recipes will be full of faux meat because of the cuisine, you can guess again. None of her recipes contain tofu or faux meat, which I think is awesome since I've never particularly cared for any of the available fake meat products. There are also soy-free and gluten-free options for most of the recipes.
Choosing what to try first from a cookbook full of mouthwatering recipes is hard, but then I saw this Cheesy Spinach Artichoke Dip. It's one of my husband's favorite appetizers, and I had yet to make a plant-based version of it at home. I also loved Amber's version of the recipe because it was packed with healthy ingredients. Her clever sauce is made with white beans, fresh spinach, breadcrumbs, and her Easy Cashew Cheese (which I literally couldn't stop eating)!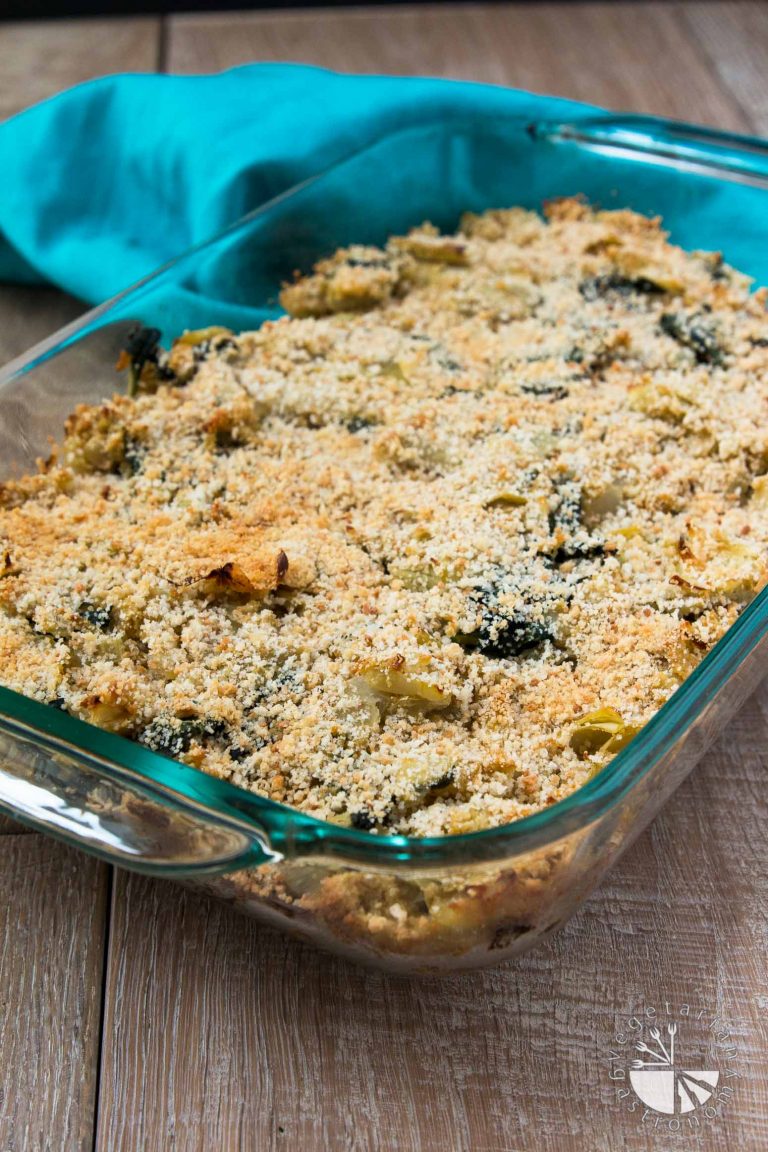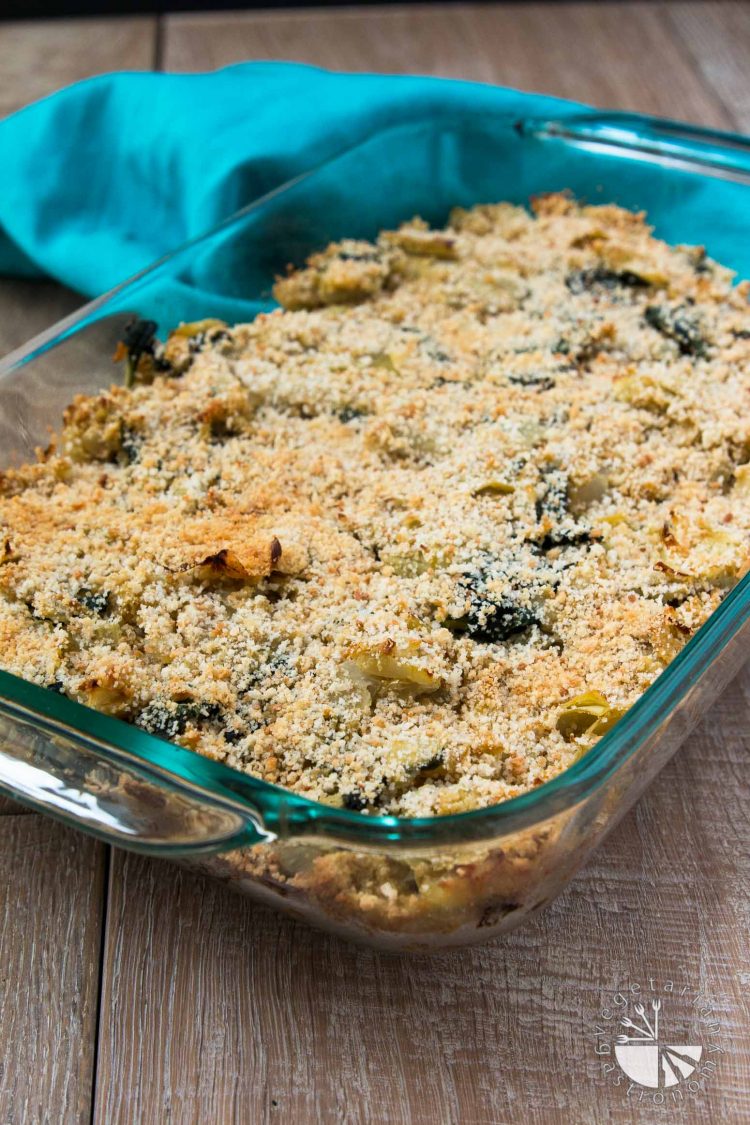 This dish came together very quickly and left me with a gorgeous hot appetizer (or even main dish since we couldn't stop eating it). My husband loved all the different textures and flavors. I ended up adding the spice at the end so my kids could try it, and they ate it up by the spoonful with a side of chips. It's definitely going to become a regular dish in our house.
Homestyle Vegan takes comfort food to a new level, and I can't wait to continue my way through it! Next on my list to try is the Green Bean Casserole with Crunchy Onions, Quinoa Meatball Sub, Cauliflower Rice Risotto, and French Onion Soup! You can purchase your copy of Homestyle Vegan here. Until then, try out this cheesy vegan spinach artichoke dip recipe from Amber's cookbook!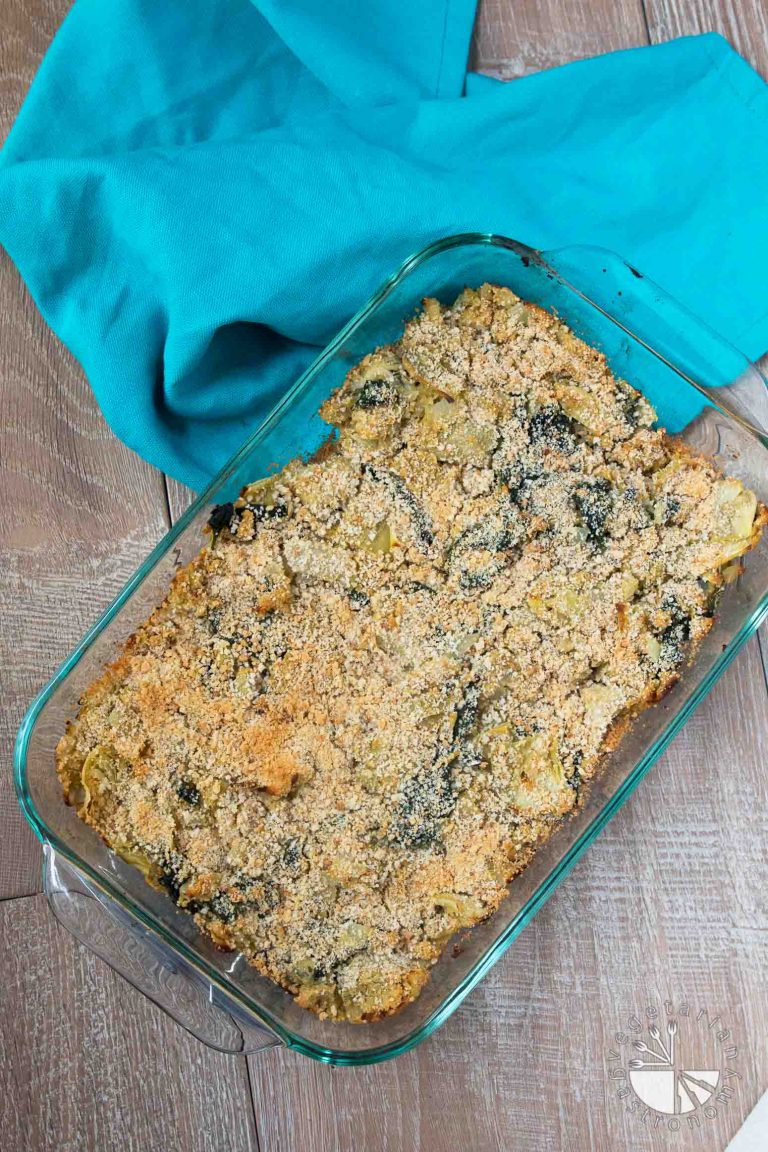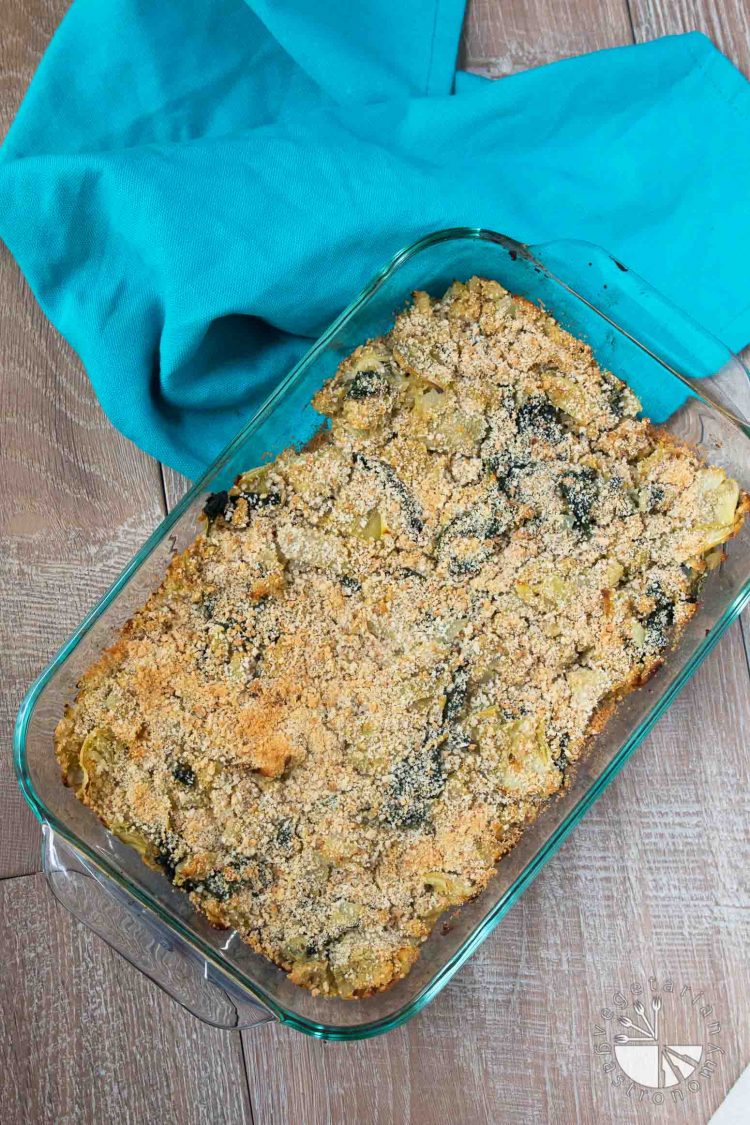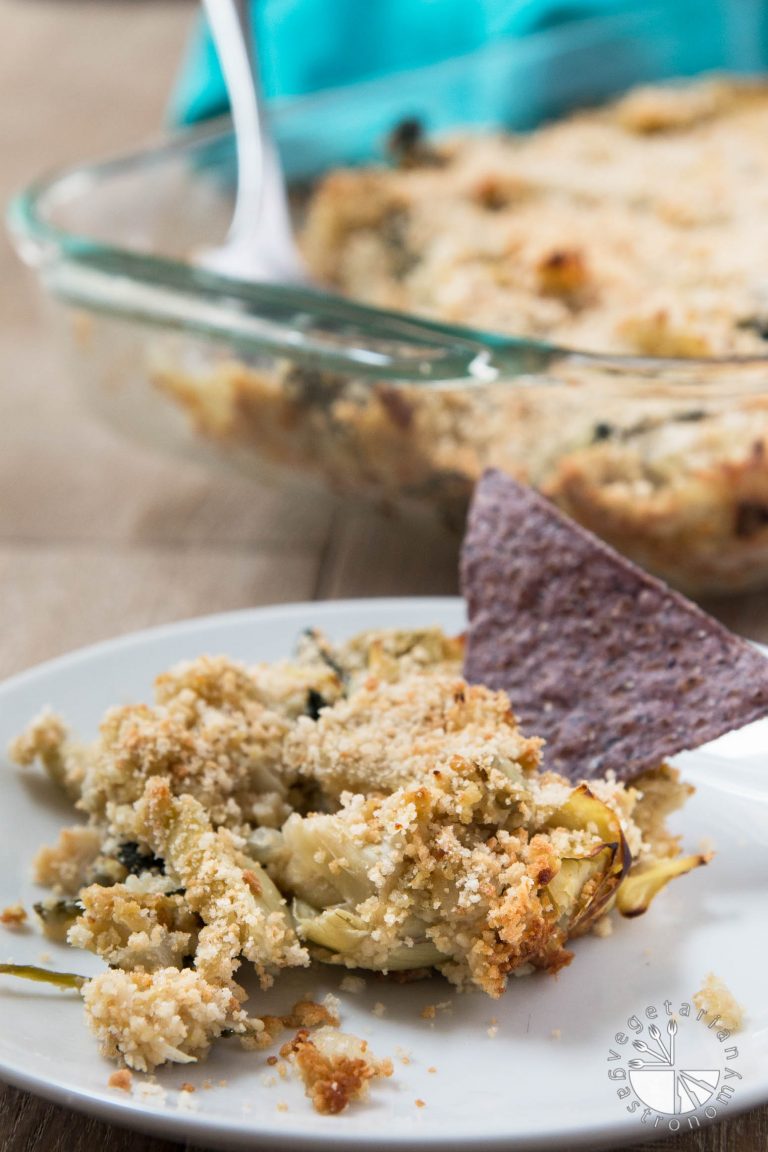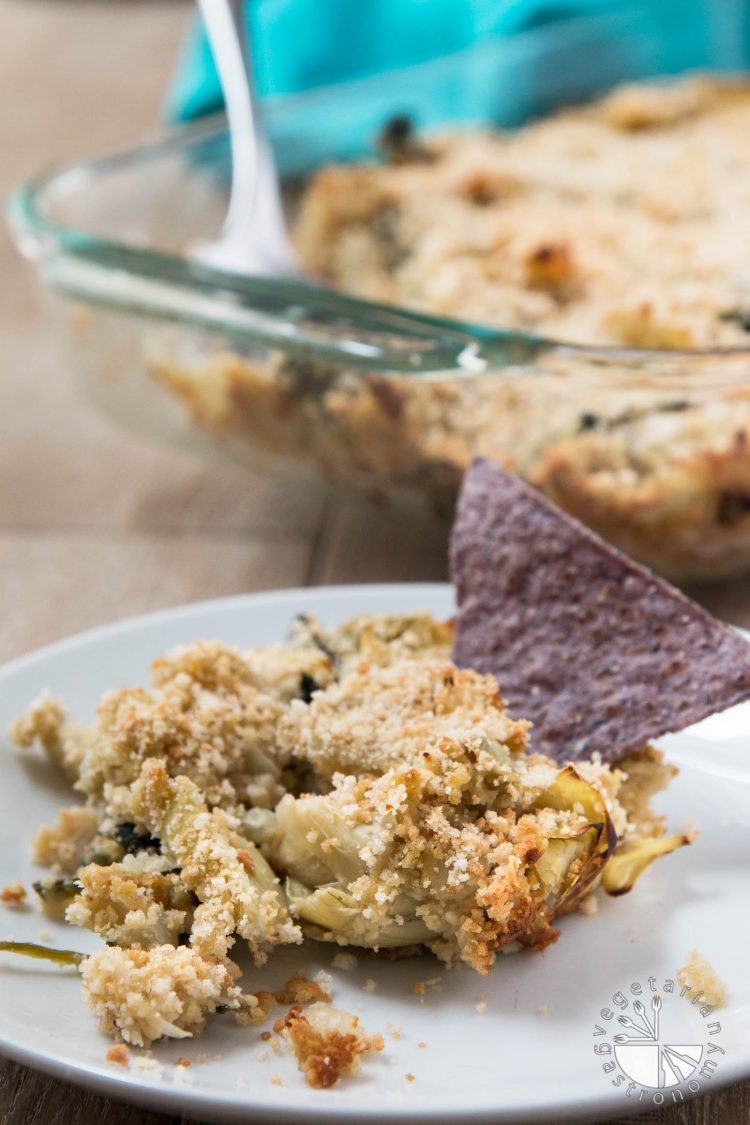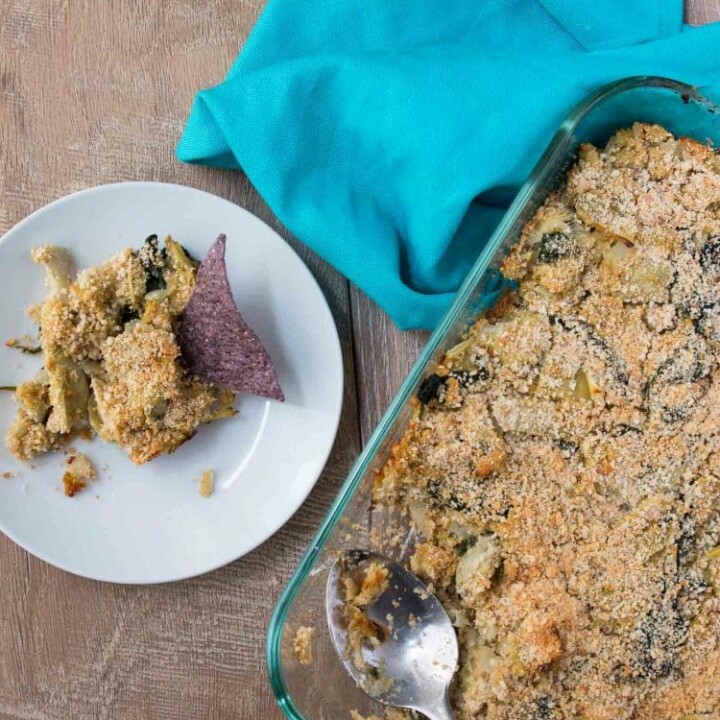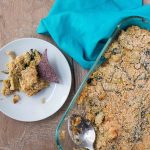 Print
Cheesy Spinach Artichoke Dip
I worked at a brew pub in high school that made the BEST spinach artichoke dip. Cheesy and rich, it was my favorite dish on the menu. These days, I prefer something dairy-free and way healthier—and this yummy appetizer does just the trick! It's just as cheesy, ooey-gooey and flavorful as the original, but totally guilt-free. Perfect for parties!
Reprinted from Homestyle Vegan by Amber St. Peter, Page Street Publishing Co. 2016.
INGREDIENTS
For the Easy Cashew Cheese:
1

cup

raw cashews

1

tbsp

lemon juice

1

clove

garlic

1/4

tsp

salt

1/4

tsp

pepper

2 – 4

tbsp

water
INSTRUCTIONS
To Make the Easy Cashew Cheese:
Pour the raw cashews into a small bowl and add enough hot water to just cover the nuts. Soak for 30 minutes or more.

Drain the water and place the soaked cashews into a food processor or high-speed blender.

Add the lemon juice, garlic clove, salt and pepper and begin to process them together.

Add the water,

1 tablespoon

at a time, until the desired consistency is reached.
To Make the Cheesy Spinach Artichoke Dip:
Preheat the oven to 400ºF (205ºC).

In a food processor, combine the white beans, nutritional yeast, water, fresh basil, salt and crushed red pepper until smooth. Scoop the mixture into a bowl and set aside.

In a medium cast-iron pan, heat the olive oil over medium heat. Sauté the garlic and onions together for 3 to 5 minutes, until softened.

Pour in the chopped artichokes and stir to combine.

Pour in the spinach, about a cup at a time, stirring to wilt.

When the spinach has wilted, shut off the heat and pour in the white bean mixture, vegan cheese and about three-fourths of the bread crumbs. Stir to combine completely.

Pour the remaining bread crumbs over the top of the mixture, then cover the pan with aluminum foil. Bake for 20 minutes.

Remove the foil and bake for another 10 to 15 minutes, until the mixture is bubbly and hot.

Let cool for 5 minutes, then serve with bread, chips or sliced vegetables!
NOTES
If after you've added the cheese and bread crumbs you'd like to scoop the mixture into a different oven-safe baking dish, go for it, but adjust the cooking time accordingly.
You can serve any extra

Easy Cashew Cheese

with fresh chives and crusty bread for an easy appetizer.
NUTRITION
Calories:
250
kcal
|
Carbohydrates:
27
g
|
Protein:
8
g
|
Fat:
12
g
|
Saturated Fat:
1
g
|
Sodium:
966
mg
|
Potassium:
379
mg
|
Fiber:
5
g
|
Sugar:
3
g
|
Vitamin A:
2635
IU
|
Vitamin C:
22.4
mg
|
Calcium:
86
mg
|
Iron:
3
mg