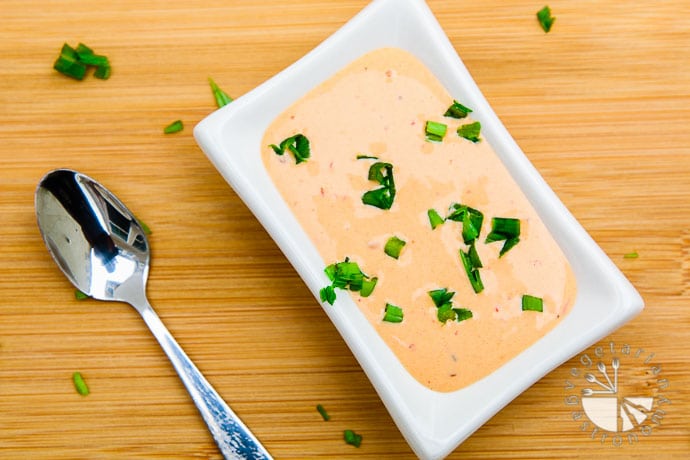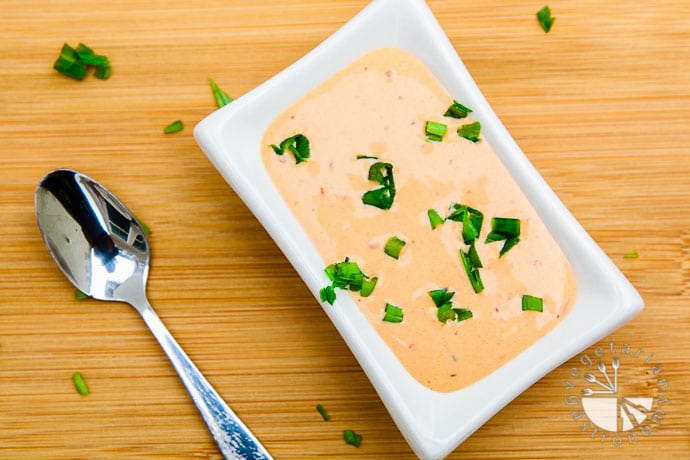 HAPPY NEW YEAR!!
I hope all of you had a fabulous safe New Year's Eve! To celebrate the start of 2015, I'm excited to share with you two of my favorite recipes over the next two weeks!
After I stopped eating eggs (which was sometime my sophomore year of college), there were a few items I had a difficult time staying away from or giving up. One of them being Aioli! I was never a huge pure mayo fan, so that wasn't the problem. But I did enjoy dishes which used aioli or were served with aioli on the side, such as sandwiches, wraps, burgers, fries, and many other appetizers and sides. Of course you could always ask for the dish without the aioli, which I often did, but I knew that it just wasn't quite the same. It would be lacking a bit of flavor, and ketchup, mustard, or other condiments just couldn't quite make up for the flavor and creaminess the aioli added to the dish. You may be thinking, "she is obsessed with aioli", but in all honesty, I'm not, and in-fact, I only come across it a few times a month, but it's just one of those things that I always find myself thinking, "(sigh) I wish I that aioli was eggless".
So it's about time I took matters into my own hands and created an eggless aioli recipe. There are many different types of aiolis I've been wanting to make: roasted garlic, onion, basil, roasted pepper, etc. But one particular flavor instantly came to mind… Chipotle. Especially because I was developing this Aioli for an amazing sandwich (recipe coming to you next week!), and I knew the flavor of a spicy chipotle aioli would pair perfectly with it. When deciding on a base for this spread, a few came to mind… vegan mayo, yogurt, and soft silken tofu. Since I've never been a huge fan of vegan mayo (or mayo in general), I decided to go with a combination of vegan mayo and some greek yogurt I had laying around in the fridge this time around. After experimenting and adding a few additional spices, flavors, and herbs, I ended up with a fantastic aioli! It was so tasty that it had me licking my Vitamix clean. My mom happened to be visiting at the time, and she is definitely very picky when it comes to food. If she likes my food, I know it's a winner. So of course I had her taste test, and she loved it.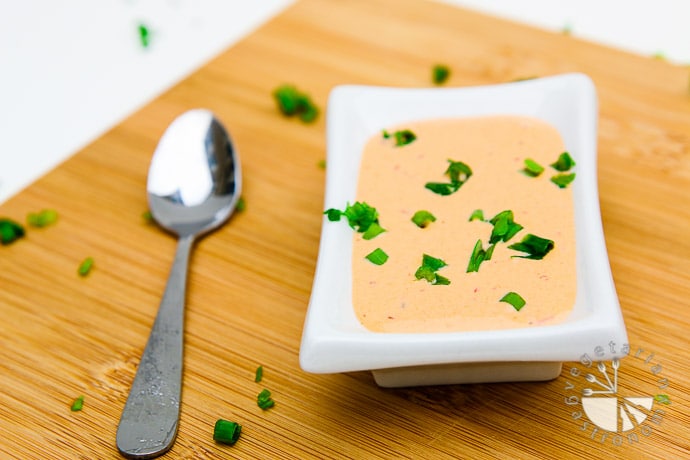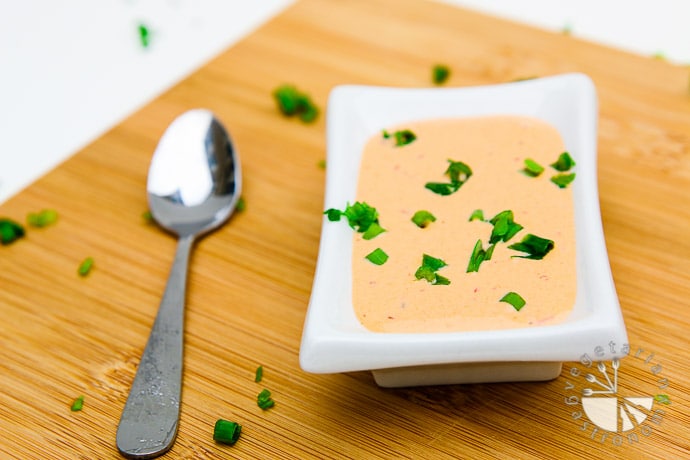 This Aioli tastes delicious and is great to have around for a variety of dishes. You can use it as a spread for a sandwich (just wait… I have the perfect sandwich to pair with this aioli coming to you next week!) or for a wrap, as a dip for some fries, baked onion rings (recipe coming soon!), my spaghetti squash patties, or even to top off a dish for that extra added flavor, creaminess, and spice. I'm definitely planning on developing other flavors of aioli and experimenting with different bases, such as silken tofu (UPDATE: I made this with silken soft tofu, and it was perfect! It really helped cut back the taste of vegan mayo while still keeping this aioli vegan. I used 1/4 cup of silken tofu instead of 1/2 so that the taste of tofu was not overwhelming. I've updated the recipe below!).
What is your favorite type of Aioli?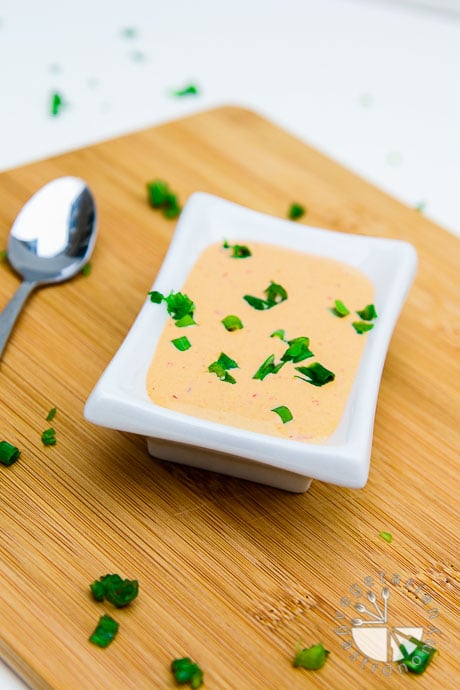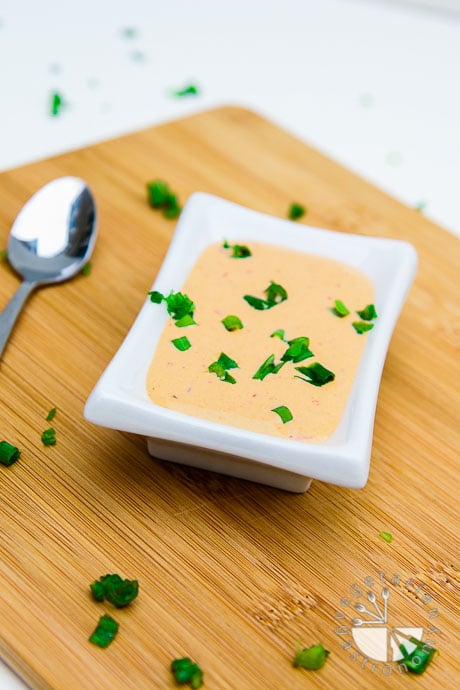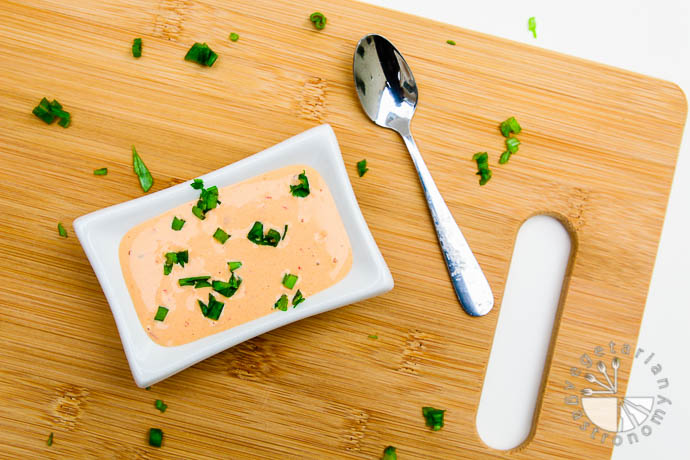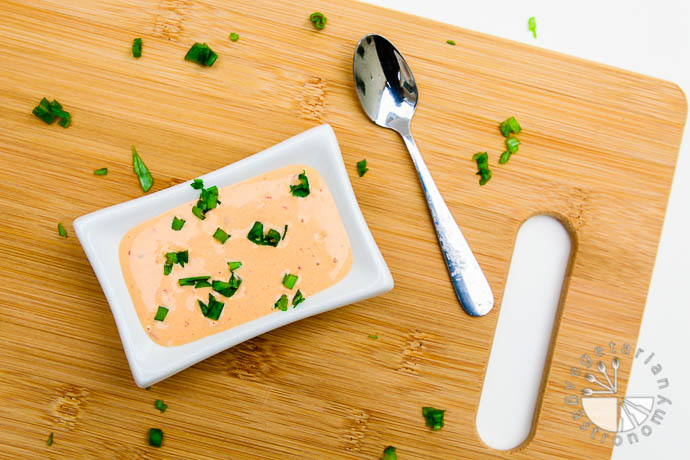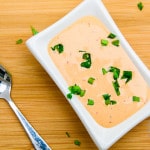 Print
Chipotle Green Onion Aioli (gluten-free, vegan option)
This veganized aioli is just as incredible as any other, but healthier and dairy-free! It's an easy 10 minute blender recipe that will leave you with the perfect spread, dip, or even dressing!
Servings:
3
servings (1 1/2 cup total)
INGREDIENTS
1.5

chipotle pepper in Adobo Sauce

, comes in a small can, see notes below

1

tbsp

adobo sauce

, taken from the above can

2

cloves

garlic

, minced

1

teasp

lemon juice

, to taste

1/2

cup

vegan mayo

, such as Nasoya

1/4

cup

Silken Soft Tofu

, Morinu brand (see notes below for other substitutions)

1

tbsp

chives

, or green onions, finely chopped
INSTRUCTIONS
Add all the ingredients, except for the chives, into any blender (such as a Vitamix).

Blend until completely pureed into a thick and creamy aioli.

Pour the aioli into a bowl. Add the finely chopped chives. Add some freshly ground black pepper to taste.

If needed adjust the seasoning with some salt or additional lemon juice.

Chill in the fridge and use as a spread for sandwiches or wraps, or as a dipping sauce!
NOTES
Chipotle Pepper in Adobo Sauce - You can buy small cans of Chipotle Peppers already in Adobo Sauce from the grocery store. The brand I typically used is linked above. For this recipe, I used one of the Chipotle Peppers in the sauce. I added any Adobo Sauce that came along with the pepper as I scooped it out with a spoon (hence the ~1 tbsp adobo sauce in the ingredient list above). The adobo sauce is necessary to add that additional flavor for this aioli.
Tofu - Instead of 1/4 cup silken firm tofu, you can use either more vegan mayo (1/2 cup) or a plain vegan yogurt (such as plain foregar project cashew-based yogurt). I personally like to use the silken tofu to cut the taste of mayo down.
NUTRITION
Calories:
263
kcal
|
Carbohydrates:
4
g
|
Fat:
25
g
|
Saturated Fat:
2
g
|
Sodium:
1251
mg
|
Potassium:
12
mg
|
Vitamin A:
45
IU
|
Vitamin C:
2.2
mg
|
Calcium:
11
mg
|
Iron:
0.2
mg
Nutritional Information Per Serving (see disclosure below): 30 Calories, 2.4g Fat (0.0g Saturated), 59.8mg Sodium, 0.7g Total Carbs, 0.0g Fiber, 0.4g Sugars, 1.0g Protein
Nutritional Information Disclosure: I am not a nutritionist or a dietary specialist. I manually calculate approximate nutritional information (at the request of followers) through a free service provided by this website: http://recipes.sparkpeople.com/recipe-calculator.asp where I enter in ingredients and serving size. I am unable to verify every ingredient, it's source, and it's nutritional information in their database, and therefore I DO NOT guarantee 100% accuracy of the nutritional information provided above.
[subscribe_box]