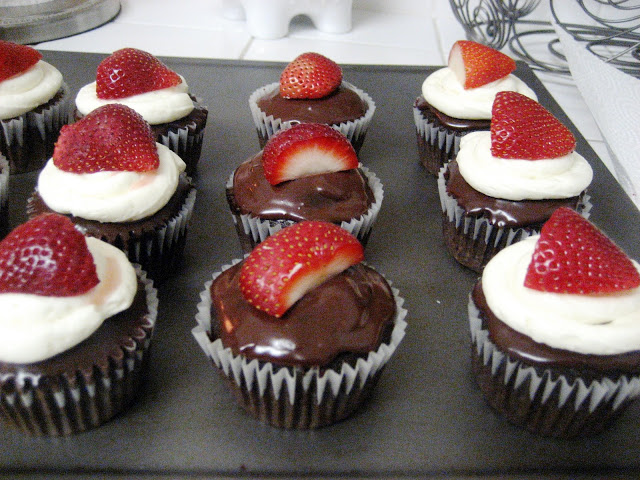 Cupcakes are great to make for any occasion – whether for a wedding, birthday, or just for fun! Although they're simple to make, the enjoyable part about baking cupcakes is that you can get as creative as you want with the flavor, filling, frosting, and decorations! After much delay, I finally decided to try making my first batch of eggless cupcakes. I went through a few iterations and ended up with a few great recipes which combined in many different ways to make cupcakes that tasted rich and divine!
Since I love chocolate, I decided to stay simple and made a chocolate cupcake recipe based on my Wacky Cake Recipe. As for the frosting, I made a dark chocolate ganache and used it many different ways: (1) as a filling in the cupcake, (2) as a glaze on top, and (3) as a whipped frosting. I also made a cream cheese frosting for my husband who's not as big a chocolate fan as I am.
The resulting cupcakes ended up tasting heavenly rich and satisfying, but not overwhelmingly sweet since I used dark chocolate. All of the cupcakes I made had the dark chocolate ganache filling & glaze. I frosted half with the dark chocolate ganache frosting and half with the cream cheese frosting. And what better way to top it off than with fresh strawberries. Get creative when assembling and decorating!
~ Anjali