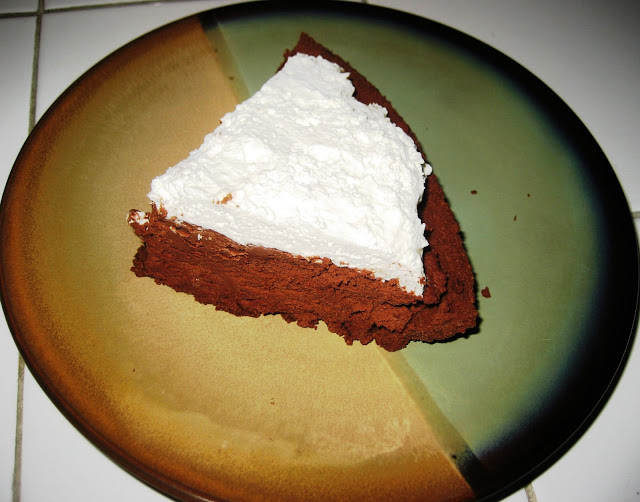 Sometimes you just want piece of chocolate pie. This is a simple chocolate mousse pie recipe really hit the spot for my husband and I last week. This recipe uses a simple technique I've used previously when experimenting with creamy pie textures. The technique involves melting the chocolate and folding it into some freshly made whipped cream. The mousse has a smooth, velvety texture, tastes rich, and is easy to make. For beset results, make this pie one day before you plan on serving it so that it has time to solidify in the fridge.
For a vegan version of this pie, simply make my Vegan Chocolate Mousse recipe and use it as the filling. To make the crust, you can use vegan butter and oreo cookies. And to make this recipe gluten-free, simply use Glutino Chocolate Vanilla Creme Cookies to make the crust!
If I can't find chocolate crumbs or don't have the time, I like to buy the pre-made crusts from the grocery store (they are usually located in the baking aisle). My favorite is the oreo crust, but if you can't find it, chocolate crust works as well. Also, I usually make this pie without strawberries, but if you have them, they always a great addition.
CHOCOLATE MOUSSE PIE: (vegan option, gluten-free option)
(makes 1 pie)
Ingredients:
Pie Crust
1 cup chocolate cookie crumbs (or oreo cookie crumbs)
3 T butter, melted (or vegan butter)
OR
1 Oreo-Pie Crust or Chocolate-Pie Crust (pre-made)
Filling (non-vegan option)
2 cups semi-sweet or dark chocolate chips
1/2 cup water
2 T light corn syrup
2 1/2 cup heavy whipping cream
1 T white sugar
strawberries, halved (optional)
Filling (vegan option) – simply follow directions to make this vegan mousse.
Directions:
For Pie Crust: Mix crumbs & butter thoroughly. Get a pie pan or disposable foil pie pan and press mixture evenly on the bottom of the pan. Set aside.
For the Filling: Put the chocolate chips in a mixing bowl. In a small saucepan, mix the water and corn syrup. Bring to a boil over medium heat and simmer for 1 minute. Immediately pour over the chocolate chips and blend (using hand blender if possible) until the chocolate mixture is smooth. Cool completely to room temperature.
While the chocolate cools, beat 1 1/2 cup of whipping cream to form stiff peaks. With a rubber spatula, fold cooled chocolate into whipped cream and mix thoroughly. Note: be sure to combine the two by FOLDING.
Cover and refrigerate for 4-24 hours.
A few hours before serving, beat remaining 1 cup cream to form soft peaks. Add sugar. Beat to form stiff peaks. Dollop the whipped cream on top of the pie and serve!
(note: the key to good filling consistency is to make sure you fold the whipped cream into the chocolate mixture properly)
Add Strawberries (optional):
Before adding chocolate filling to the pie crust, stand the strawberry halves around the outside edge of the pan, touching, side by side, pointed ends up, with the cut sides against the side of the pan. Then pour the chocolate filling in surrounding the strawberries (note: strawberries may still be sticking out)
Before serving, you can also add a few strawberry halves on top of the dolloped whipped cream.
~ Anjali