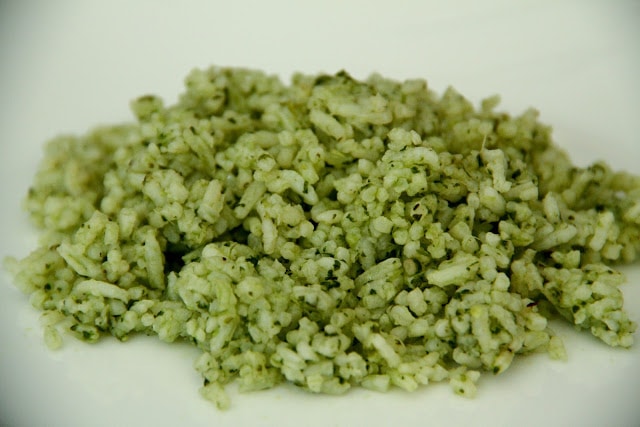 On a recent trip to Las Vegas, my husband and I ate at a restaurant called Taqueria Canonita at the Venetian hotel. We had the wild mushroom poblano cream enchiladas and they were amazing!! Of course I wanted to try recreating it at home. I looked online for ideas on the recipe and ended up making the enchiladas for some friends one night for dinner. I ended up combining and modifying a few different recipes to get the taste that I wanted for the sauce, so before I post the recipe for the enchiladas, I need to make them again to verify my methods and ingredients. UPDATE: I posted the enchiladas recipe…and they are delicious!!
In addition to the enchiladas, I thought some type of cilantro rice would go well with the dish. After looking online for some recipes, I recalled going to a friends house and having a simple yet tasty cilantro rice dish that left a memory. So I asked her for the recipe and here it is below! It was a perfect side to the enchiladas and would probably work as a side for many different dishes.
Cilantro Rice (vegan, gluten-free)
---
Ingredients:
1 cup rice, cooked
1/2 bunch cilantro, washed, large stems removed
1 garlic clove, minced
1/2 inch ginger, finely grated
olive oil (about 2 tbsp +)
salt/pepper
sugar (to taste)
fresh lemon juice (to taste)
Directions:
In a mini food processor, blend the cilantro, garlic clove, ginger, and olive oil so that it forms a paste. Add more than 2 tbsp olive oil if needed.
Heat a skillet to medium heat. Add some olive oil. Add the cilantro paste and cook for 1-2 minutes. Add the cooked rice and mix until the paste is fully incorporated into the rice. Be careful not to mash the rice by over mixing (add olive oil if necessary).
Add salt, pepper, sugar, and lemon juice to taste. Serve hot and enjoy!
7.8.1.2
249
https://vegetariangastronomy.com/cilantro-rice-vegan-gluten-free/
www.VegetarianGastronomy.com
[subscribe_box]