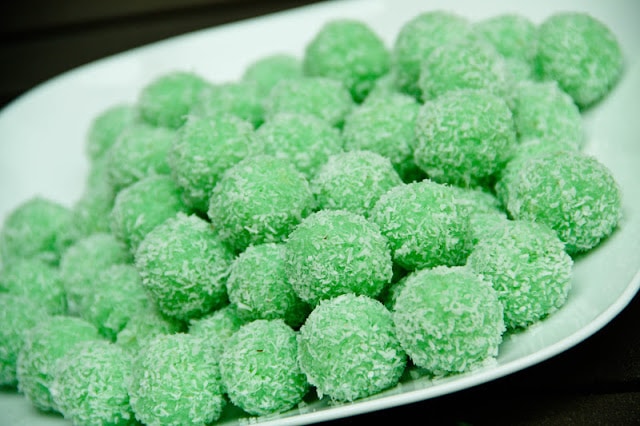 I'm not a huge fan of traditional Indian sweets. However, if there's one ingredient I can't stay away from, it's coconut. I love everything and anything containing coconut. I first enjoyed this coconut burfi (an Indian sweet confection made from sugar and milk) in a small town called Morbi located in India, where my husbands grandmother and grandfather live. Knowing I liked coconut, his grandmother had made some for me when we went to visit a few years ago. I had her show me how to make it, and to my surprise it was extremely easy! But since that trip to India, I have not made coconut burfi in my own home.
This dessert is perfect for toddlers. With Diwali (the Indian Festival of Lights) around the corner, I had offered to bring in a traditional Indian desert to my sons school for all the kids and teachers the day they were going to celebrate Diwali. When thinking of what to make, this coconut burfi immediately came to mind. I decided to make the burfi more festive and fun for the kids by making them into round shapes instead of square shapes, and by adding food coloring to make them colorful for the kids. I also kept some without any color for those kids allergic to food coloring. If you decide to use saffron, it gives the burfi a great Indian flavor and also makes it slightly yellow in color.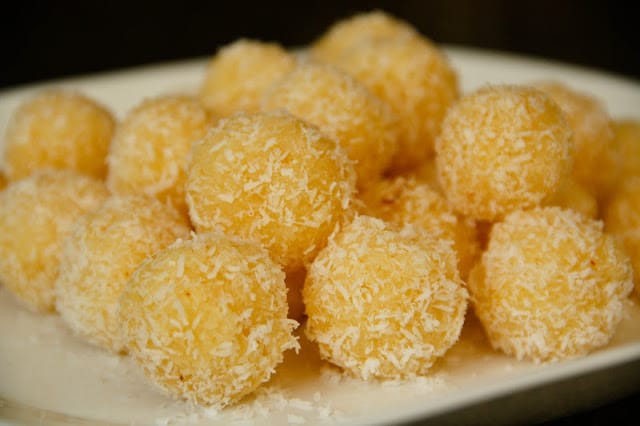 Sometime soon I'm going to try and make this dessert vegan by using soy or almond milk instead of regular milk. I imagine it should work the same, but the sugar syrup will probably have to boil for a longer period of time to get the right consistency. Once I get a chance to try it, I'll be sure to post an update.
COCONUT BURFI: (vegan, gluten-free)
(makes ~ 30 round burfi)
Ingredients:
2/3 cup sugar
1/2 cup milk
1 large spoon ghee (or unsalted butter)
2 cup coconut powder
(optional) pinch of saffron
(optional) food coloring (omit for toddlers if they have allergies to food coloring)
(optional) extra coconut powder for rolling the balls in
Directions:
In a medium pot, combine the sugar and milk. Heat until the mixture is at a low boil on low heat. Mix a few times to melt the sugar into the milk.
(optional) Add 1 or 2 drops of food coloring and a pinch of saffron. Mix to combine.
Continue to boil on low heat until the sugar syrup is slightly "sticky" (about 10-15 minutes). The best way to check this is to pinch the mixture in-between two fingers. Your fingers should slightly stick when pulled apart.
In the meantime, lightly fry the grated coconut in another medium size pot by first melting the ghee (or butter) and then adding the coconut. Continuously mix so that the coconut does not burn. Once the coconut turns slightly pink in color, it has been lightly fried. Turn off the heat and set aside.
Once the sugar syrup is done, add it to the coconut and mix well.
Spread and flatten the mixture in a greased flat surface. You can use the back of a flat measuring cup to lightly pound on the mixture and create a uniform surface. Be sure to keep the burfi at least an inch thick.
Allow the burfi to cool and cut into desired shapes. I personally like to make 1 inch round balls. To do this, take some of the burfi and roll it in the palm of your hands to make round balls. Then roll the balls in some coconut to coat the outside of each burfi shape and give it a nice look.
~ Anjali