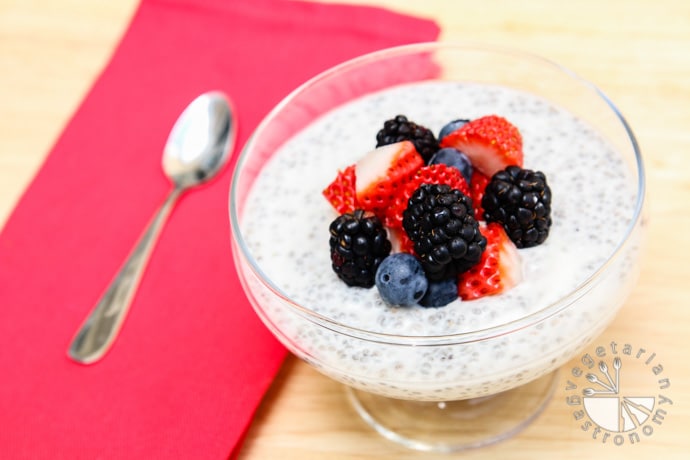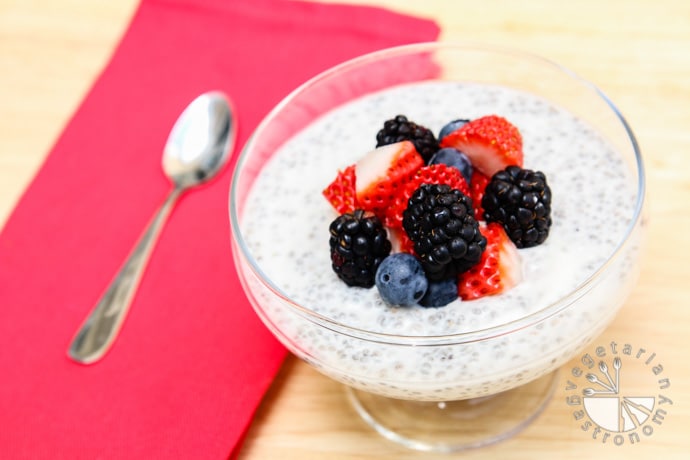 I was first introduced to Chia Seeds by my brother a few years ago. He brought them by the house and was trying to convince my parents to soak and eat a spoonful everyday for health benefits. My mom looked at them and initially thought they were Basil Seeds (otherwise known to us as Tukmaria). Growing up, my mom always made a popular Indian drink called Faluda when we had visitors, a drink made primarily by mixing rose syrup with vermicelli and basil seeds with either milk or water. Although I've never been a fan of this drink, I still enjoyed the texture and taste of the basil seeds. I'd usually spoon out the seeds and eat them alone, leaving the drink behind.
My mom first thought they were the same, which immediately got my attention. It turned out that the seeds were actually Chia Seeds! These two seeds are very similar in terms of their appearance, health benefits, texture, and taste. Also, both are from the Mint Family, kind of like 'cousins'.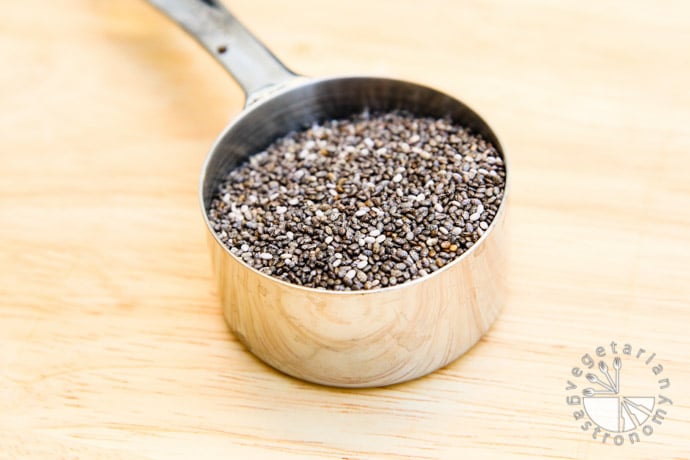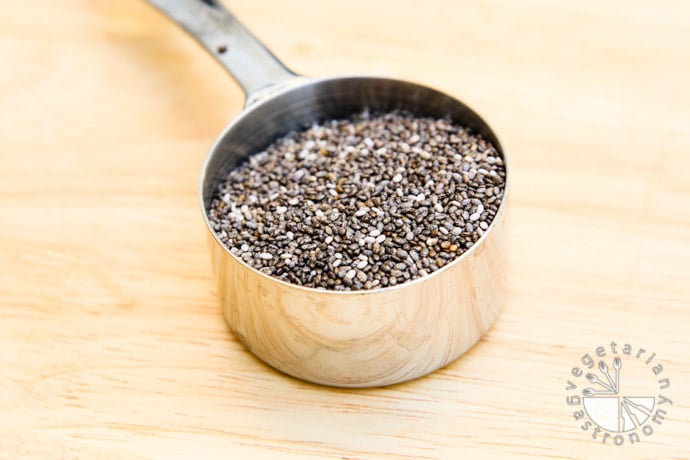 Chia Seeds are great in so many ways! Three tbsp of dry Chia Seeds contains only about 190 calories, 7 grams of protein, 13 grams of fiber, and 11 grams of healthy fats (including omega-3 fatty acids, which are great for vegetarians). They are also rich in antioxidants, and contain a generous dose of calcium, iron, minerals and vitamins. They are gluten-free and can be used and digested whole (whereas flax-seeds need to be ground in order to obtain their nutrients).
When chia seeds are soaked in water, they expand and become gelatinous and have a jelly-like membrane similar in consistency to tapioca. They have the ability to transform liquid into a thick, delicious pudding-like consistency.
After experimenting with making Coconut Whipped Cream a few weeks ago, I was trying to come up with creative ways to use all the whipped topping I had made, besides just eating it with a spoon (which is a delicious option). I decided to throw some Chia Seeds in the whipped coconut milk in hopes to create some type of pudding, and I ended up with a delicious dessert. However, the initial consistency of the pudding was very thick due to the whipped coconut milk. So I took a step back and developed this delicious Coconut Chia Seed Pudding by using coconut milk instead of whipped coconut milk.
The result…DELICIOUS and ADDICTIVE!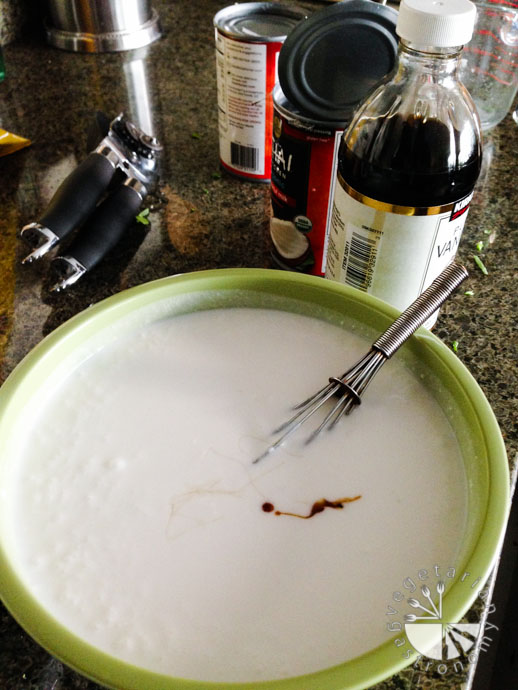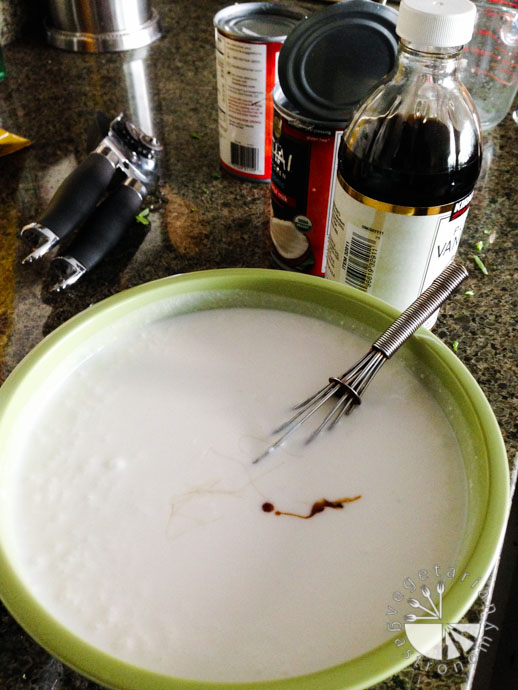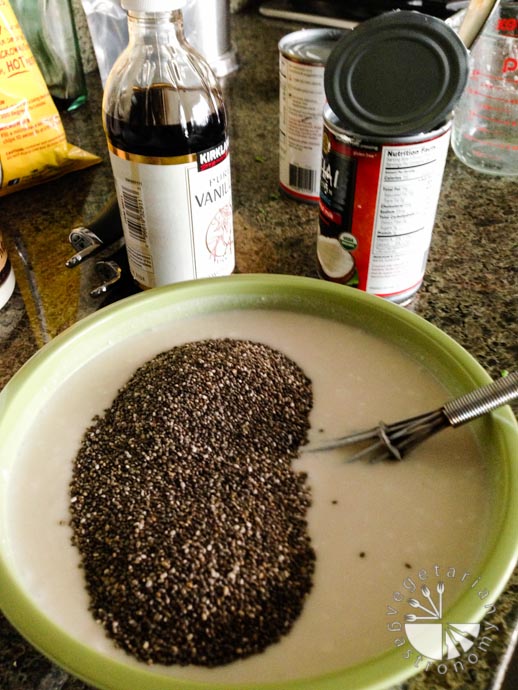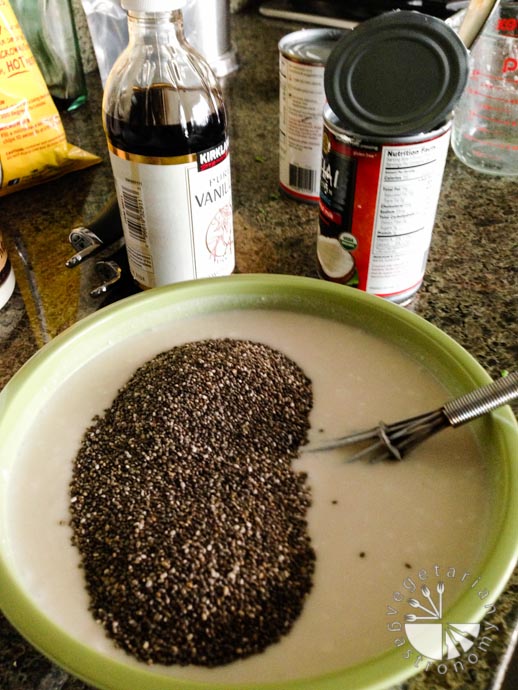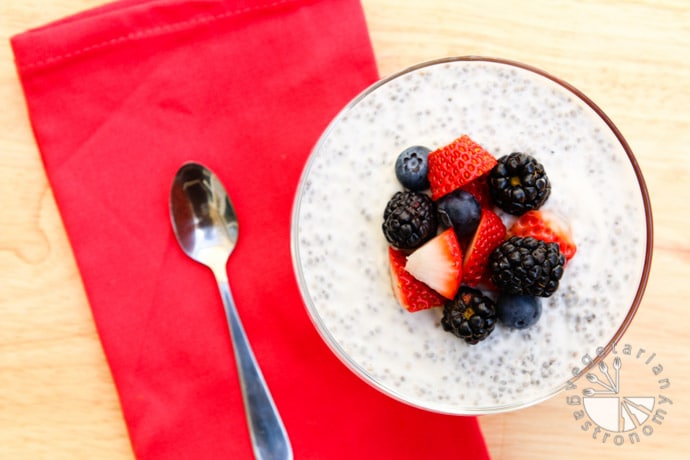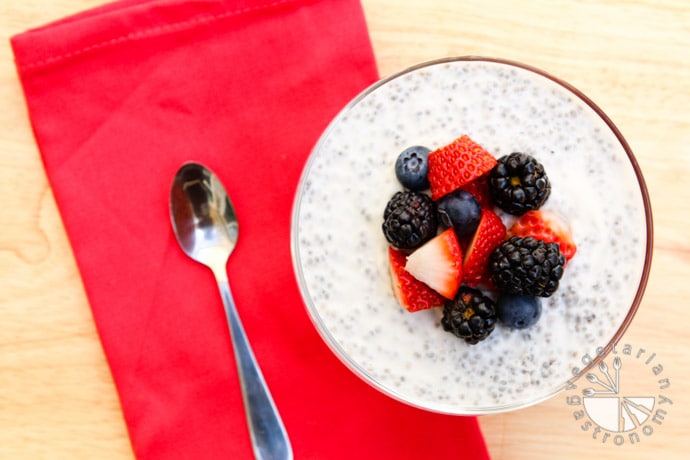 This pudding is made with coconut milk, a little sweetener, and a lot of chia seeds and topped off with fresh fruit. My kids gobbled it up… they loved the flavor and texture of this dessert. I made it again recently when we were entertaining friends for dinner and found them scraping every last bite out of the bowl. Even my husband, who is usually skeptical about healthier desserts, thought it was delicious. This recipe is quick, requires no baking, and is nutritious!
Be on the lookout for other variations of this dessert!
What's your favorite way to use Chia Seeds?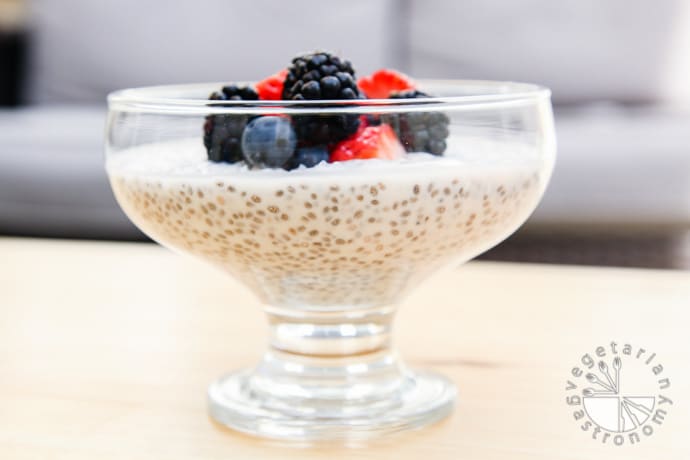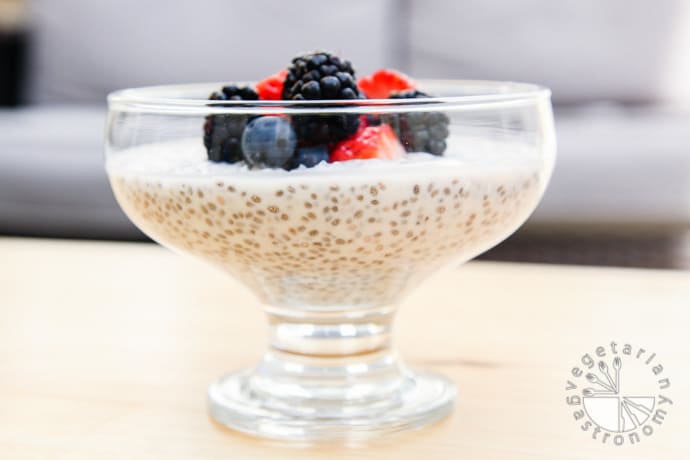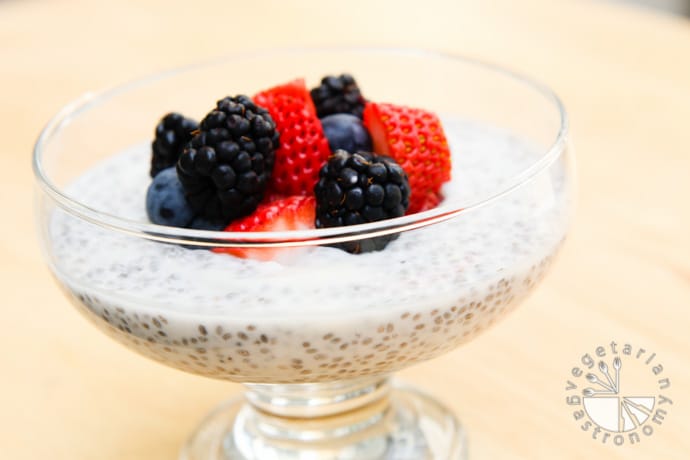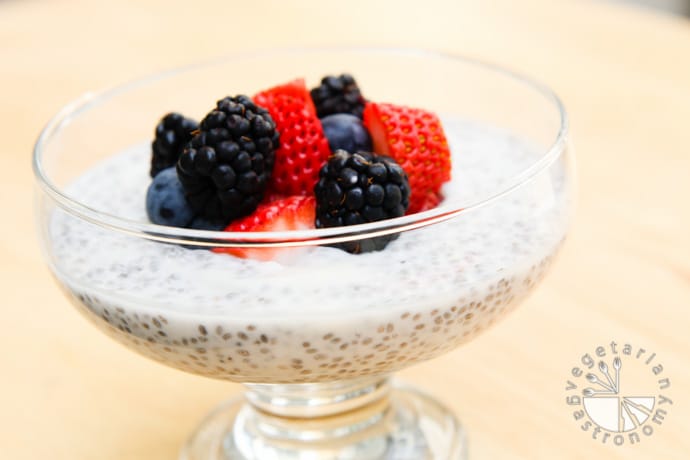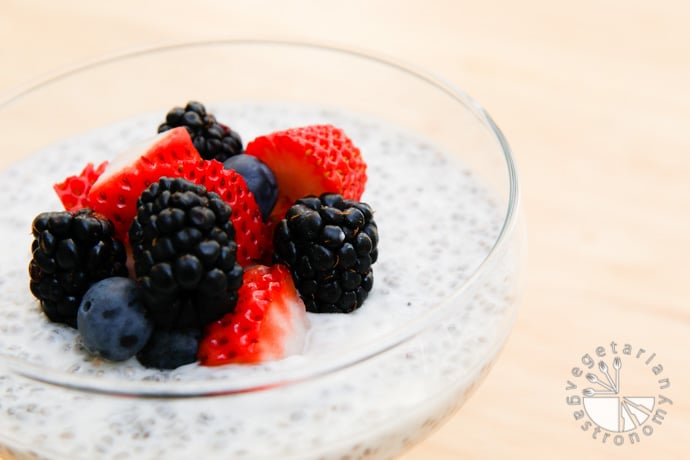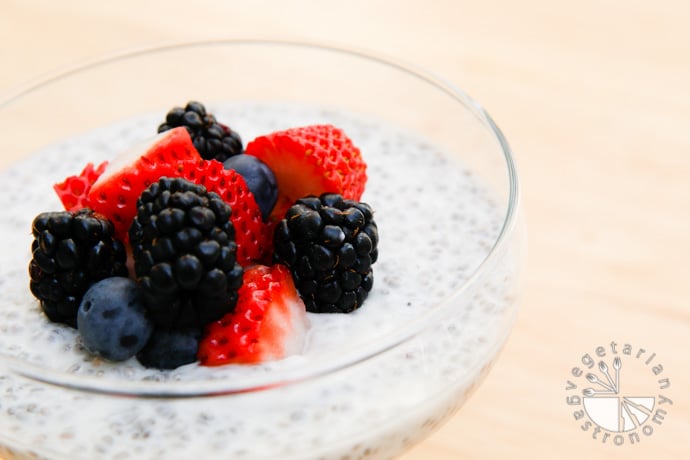 Three years ago: Summer Pasta Salad (vegan, gluten-free)
Two years ago: Cilantro Rice (vegan, gluten-free)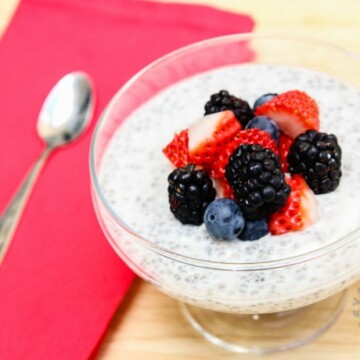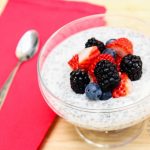 Print
Coconut Chia Pudding with Fresh Fruit
This coconut chia pudding is easy to make, topped with fresh fruit, and perfect for breakfast, snack, or dessert!
INSTRUCTIONS
In a large mixing bowl, gently whisk the coconut milk, maple syrup, and vanilla extract until well blended.

Whisk in the chia seeds.

Pour the mixture into 2 or 3 serving bowls or glasses (depending on the size). Let it sit for about 30 minutes at room temperature.

Cover and refrigerate for at least 3 hours (for best results, refrigerate overnight).

Remove the bowls from the fridge about 15 minutes prior to serving. Top with fresh fruit and serve!
NOTES
I prefer this pudding slightly cold, but if you prefer to eat it at room temperature, remove it earlier from the fridge.
NUTRITION
Calories:
216
kcal
|
Carbohydrates:
17
g
|
Protein:
3
g
|
Fat:
15
g
|
Saturated Fat:
11
g
|
Sodium:
10
mg
|
Potassium:
210
mg
|
Fiber:
4
g
|
Sugar:
10
g
|
Vitamin C:
0.6
mg
|
Calcium:
104
mg
|
Iron:
2.8
mg
[subscribe+box]