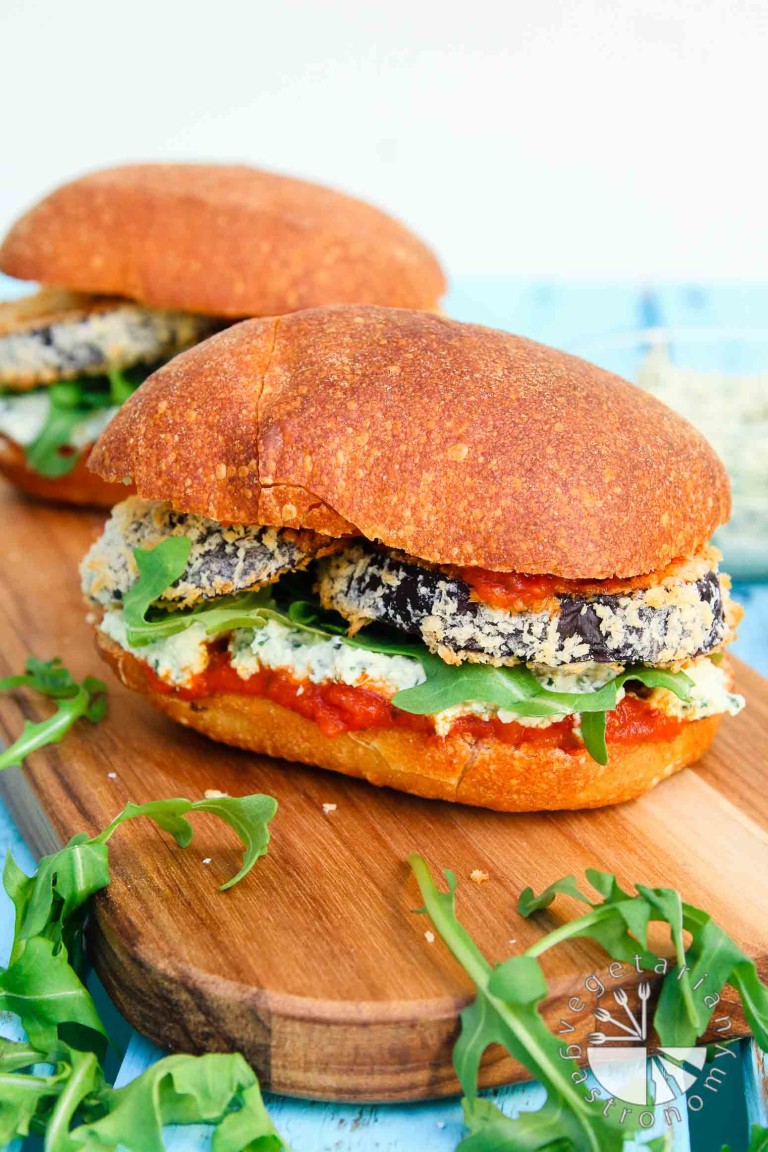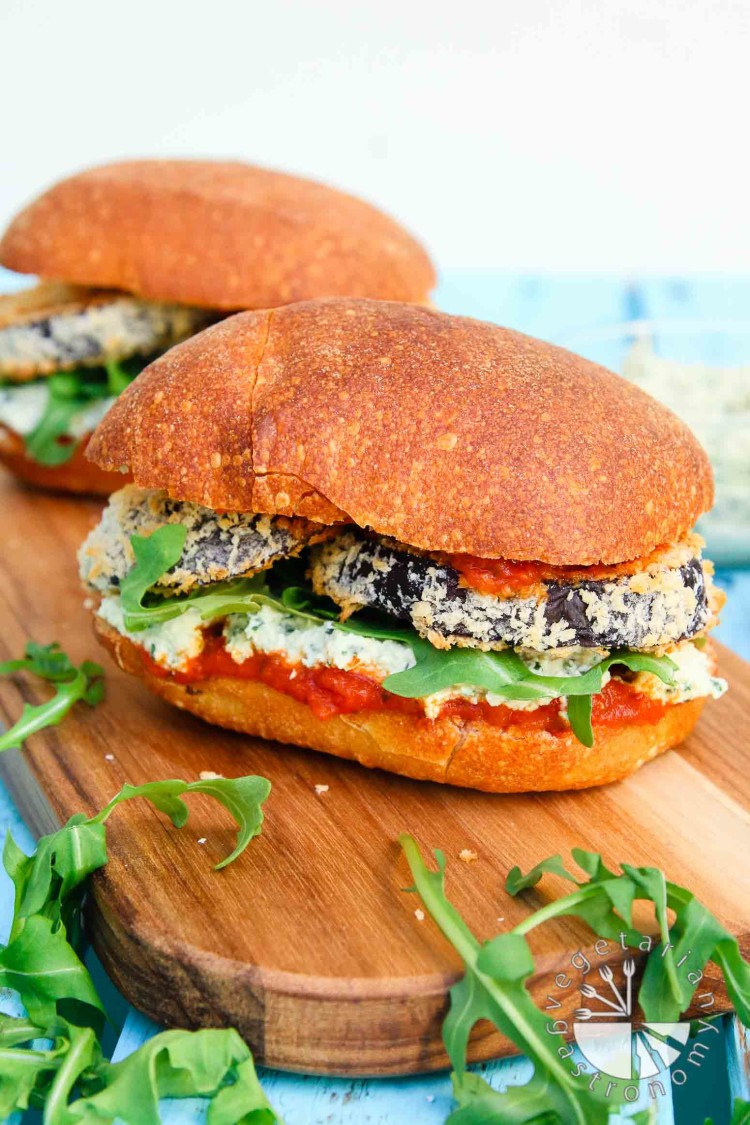 Two of my favorite things combined into one…what's not to love? Meet my new Vegan Crispy Eggplant Parmesan Sandwich! If it's done the right way, it can be the best of both worlds, and this recipe does just that.
I love eggplant Parmesan and I love sandwiches…yet I always hesitate before ordering it at a restaurant. The is mostly because of the eggplant texture and the way it's cooked. Yes, I'm picky with my food at times, but I wouldn't be a good food blogger if I wasn't, right? =) Going back to the eggplant, the perfect eggplant for this sandwich should be tender (but not mushy) on the inside, hold its shape, and remain crispy on the outside. After I shared my Baked Crispy Eggplant Rounds last week, I combined them with my new Garlic Basil Vegan Ricotta Cheese and created this delicious mouthwatering Vegan Crispy Eggplant Parmesan Sandwich. The combination was inevitable.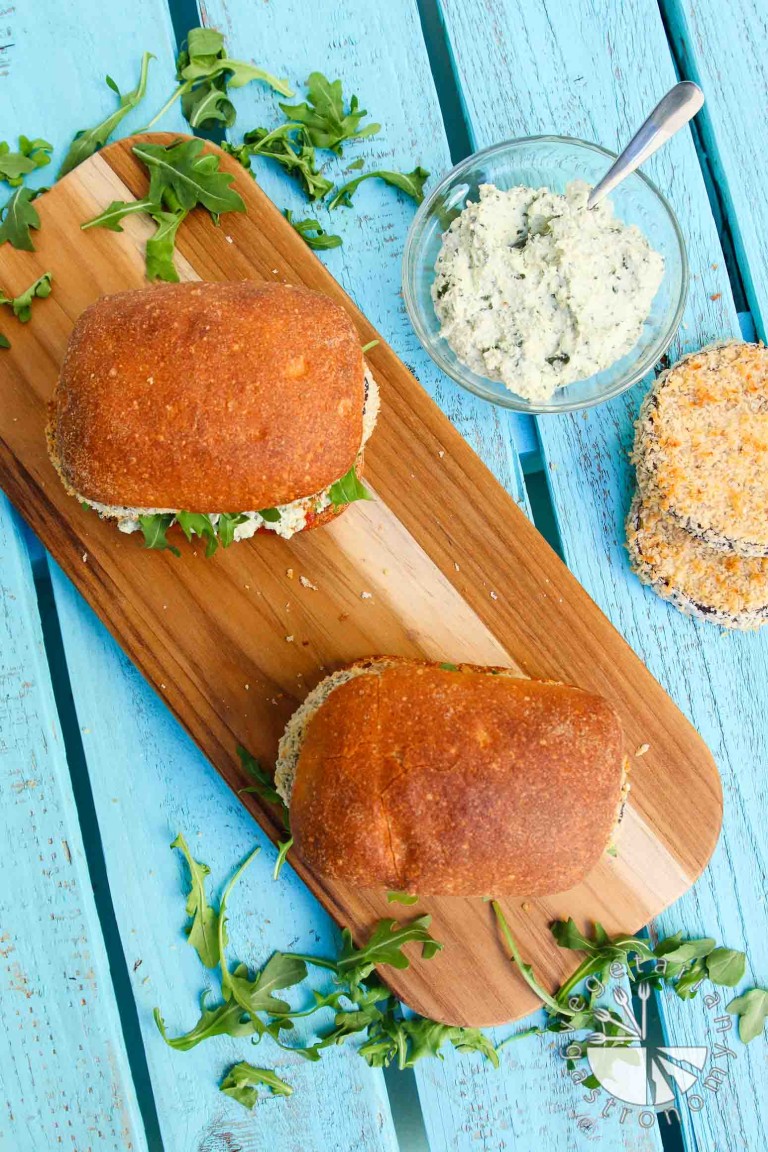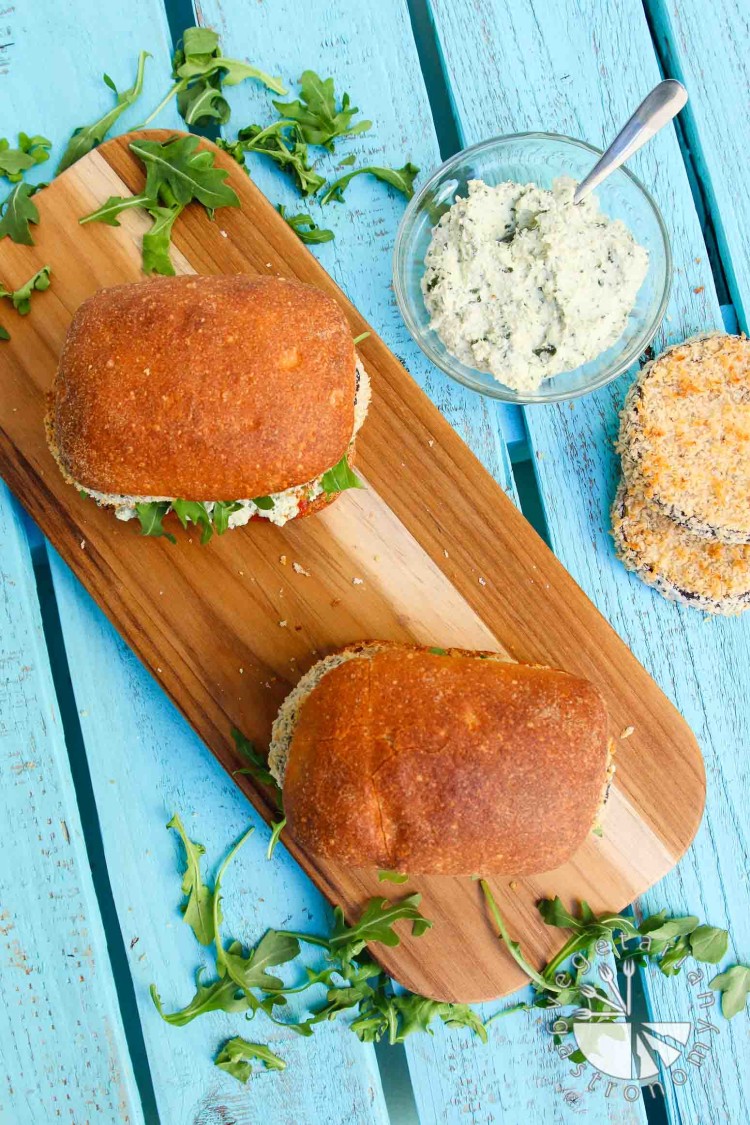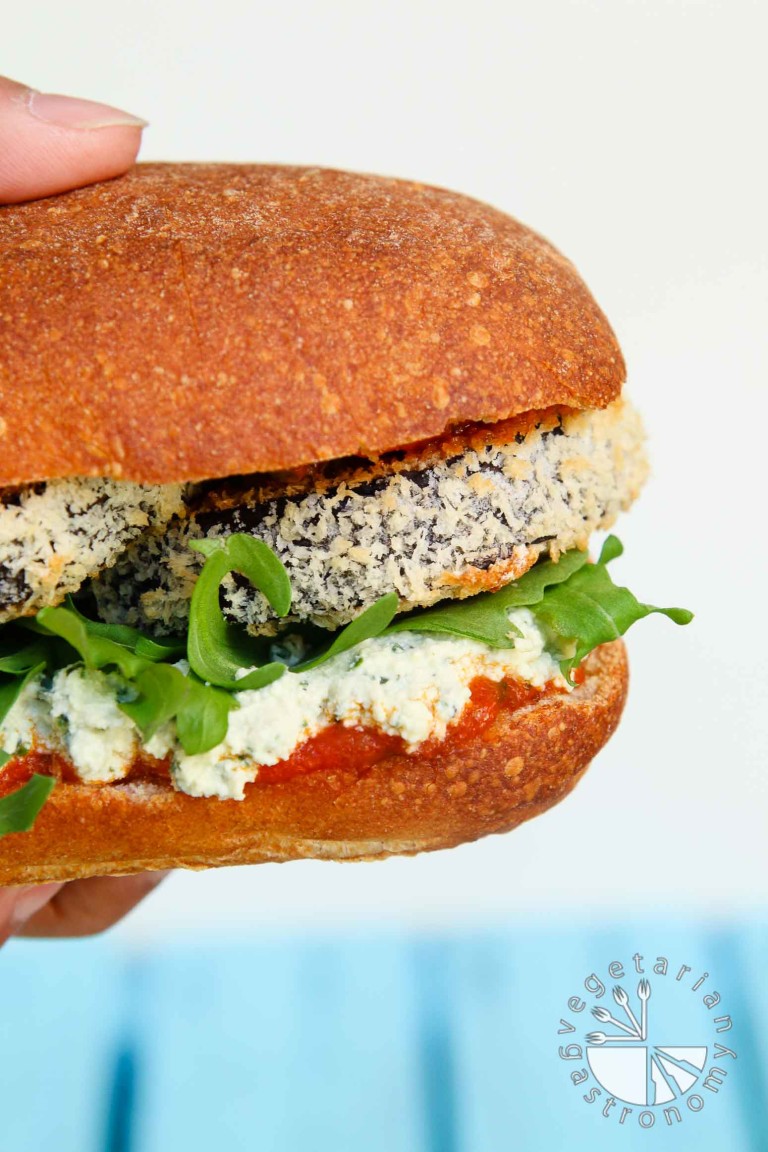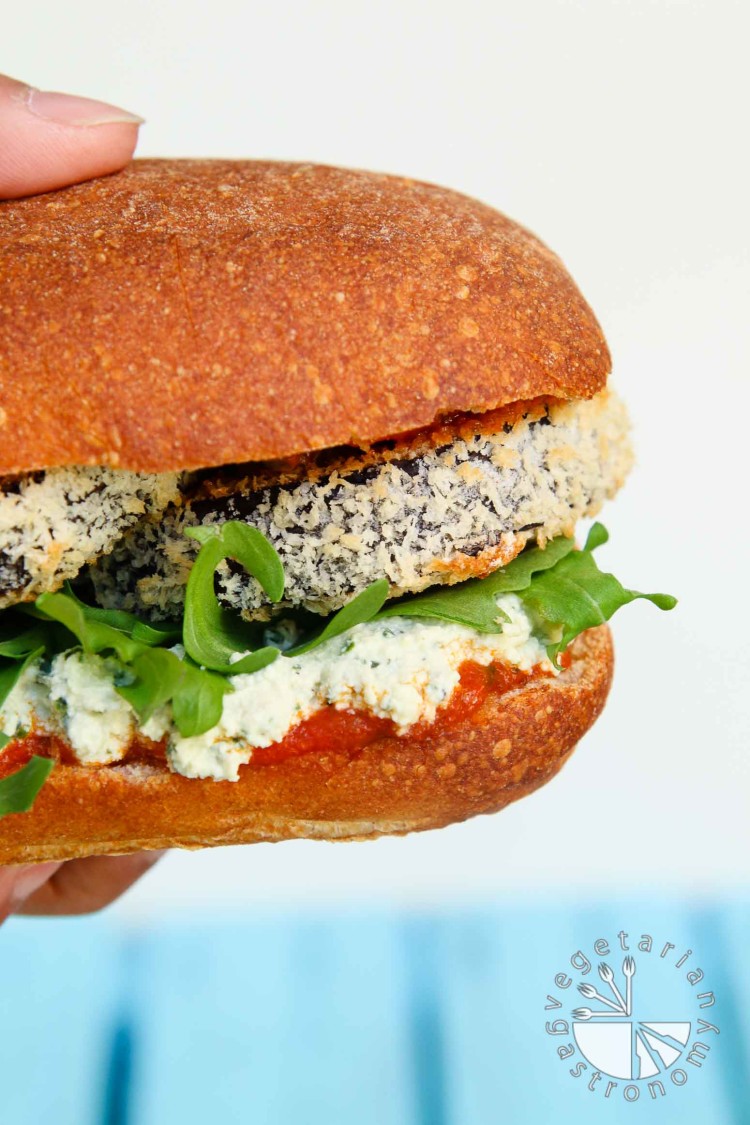 If you have been following my blog, you can guess what happened the first time I baked the Crispy Eggplant rounds. That's right, I devoured ALL of them hot right out of the oven with just some salt and pepper. So after I made a second batch, I created this perfect sandwich. It's easy to make and you can even prep the Vegan Ricotta the day before. The Crispy Eggplant rounds are of course best in this sandwich straight from the oven, but I've still thoroughly enjoyed leftover sandwiches made the next day. This sandwich also packs well for a school lunch or to take to work the next day.
I'd love to see your creations so be sure to tag me on Facebook or Instagram if you try out the recipe!
What's your favorite dish-turned-into-sandwich? Let me know in the comments below!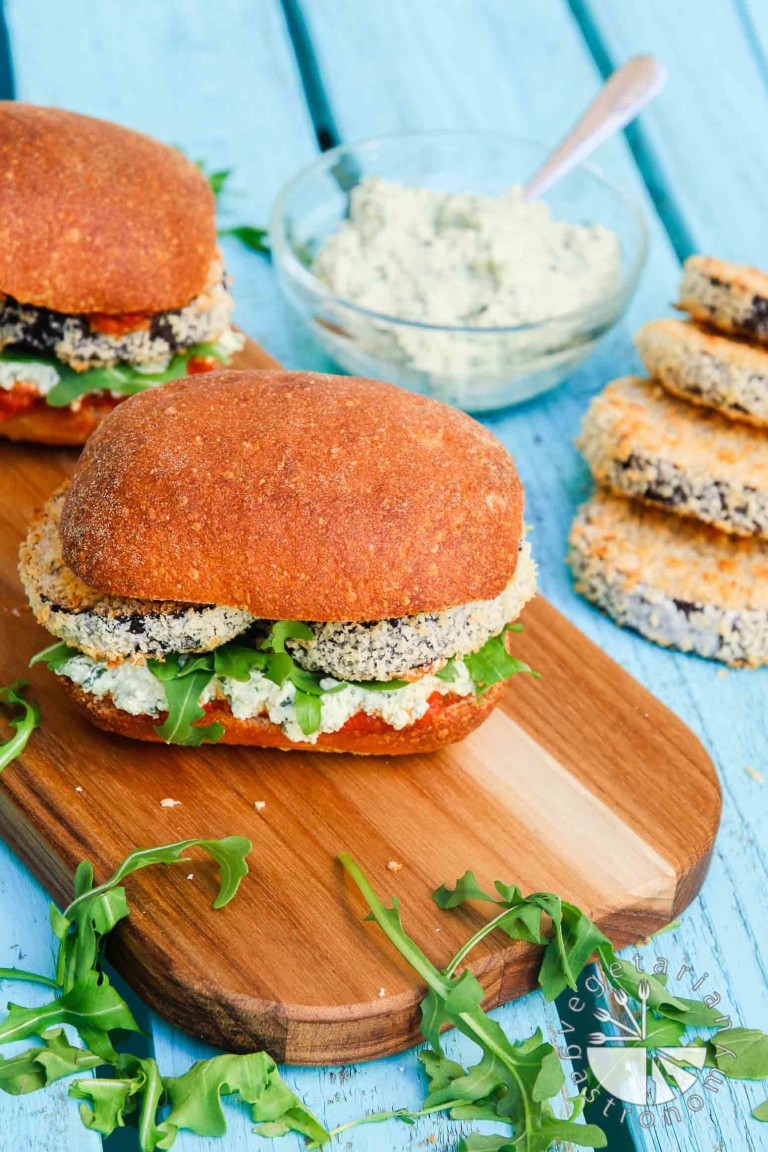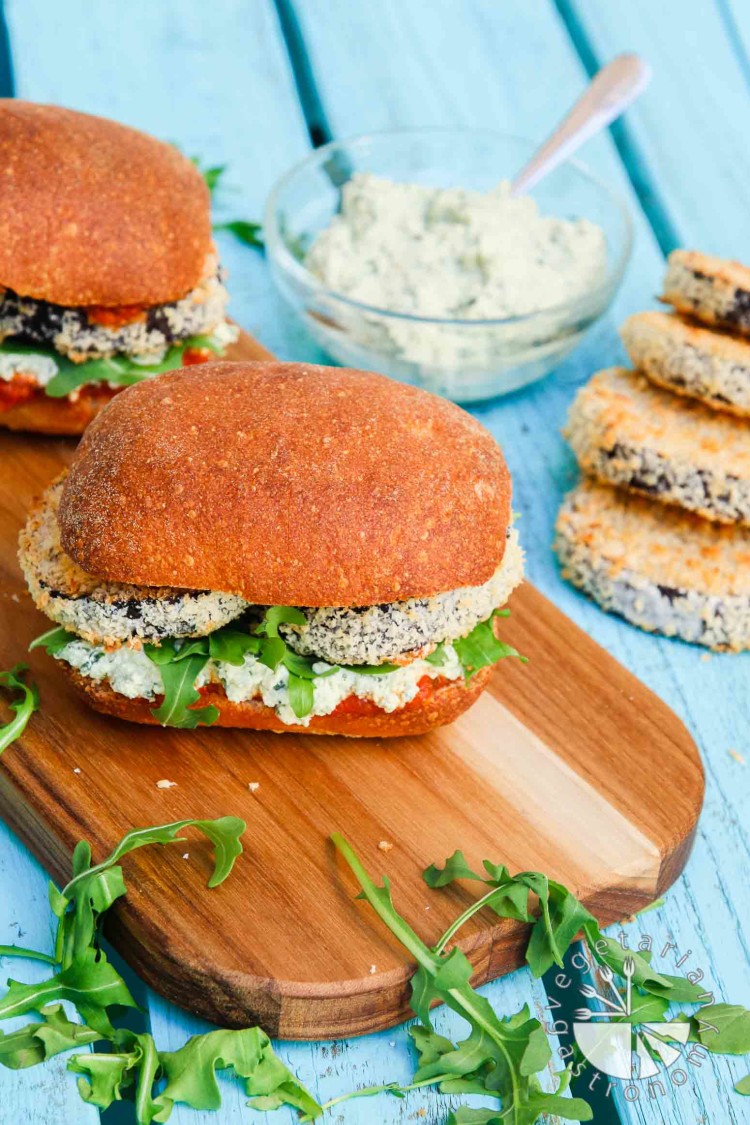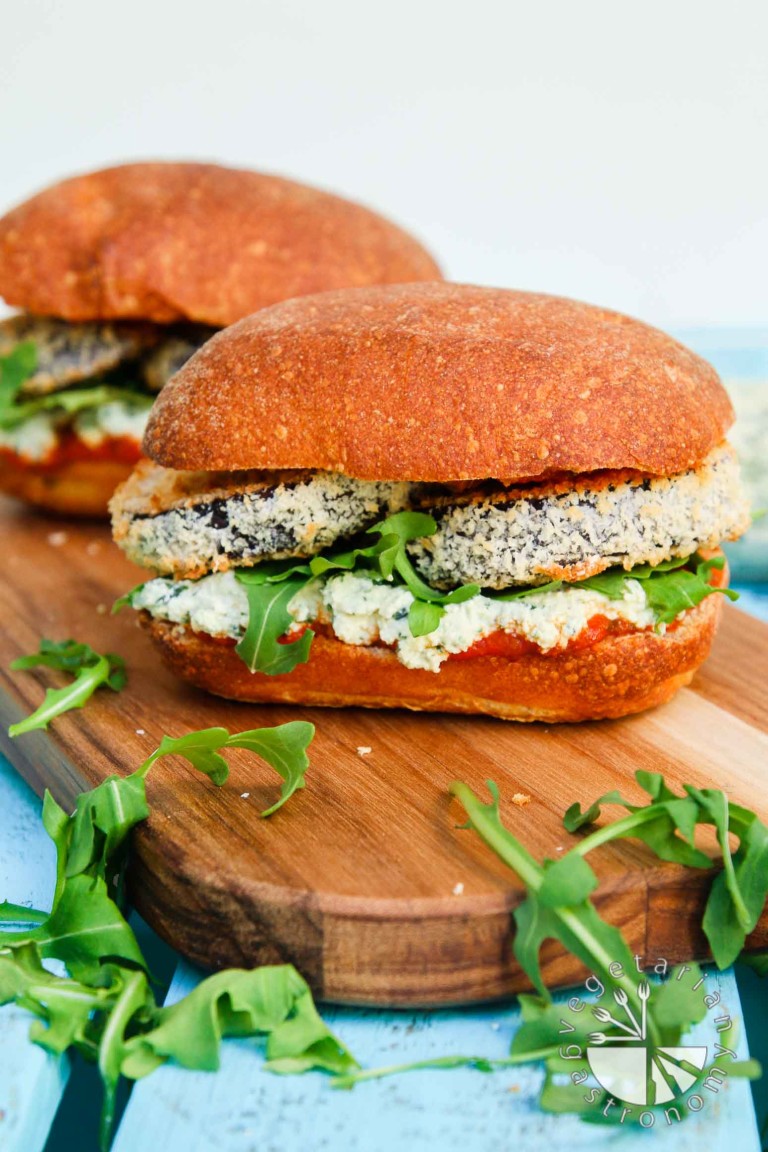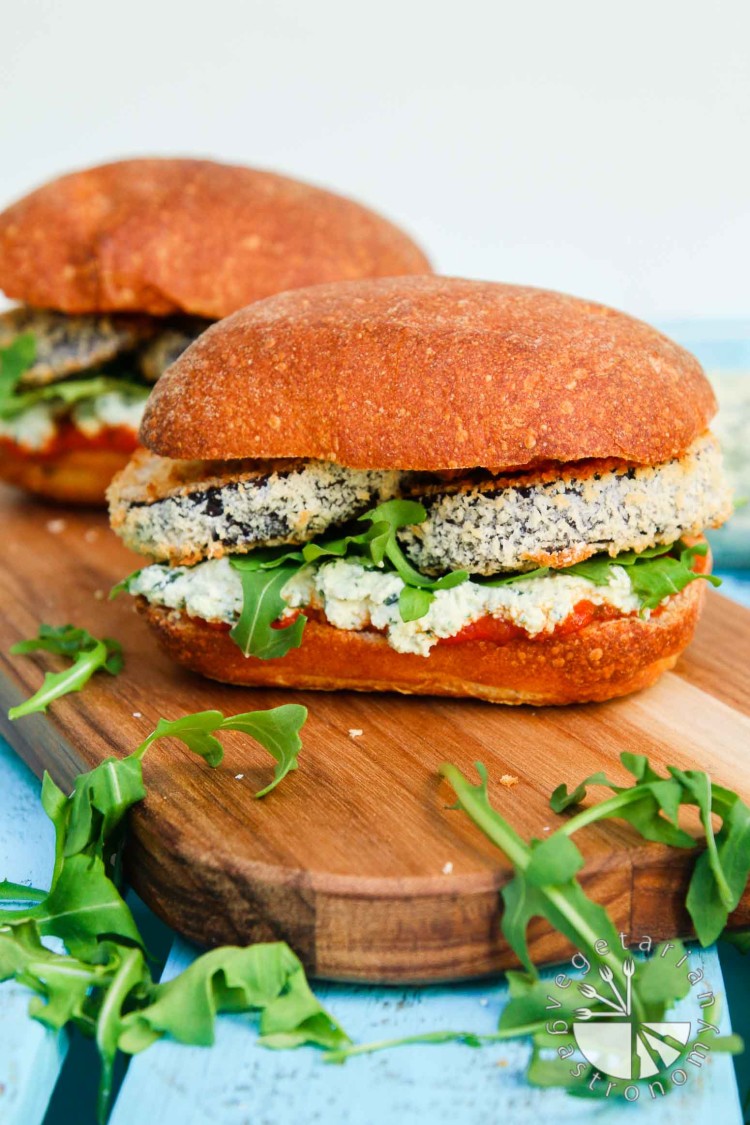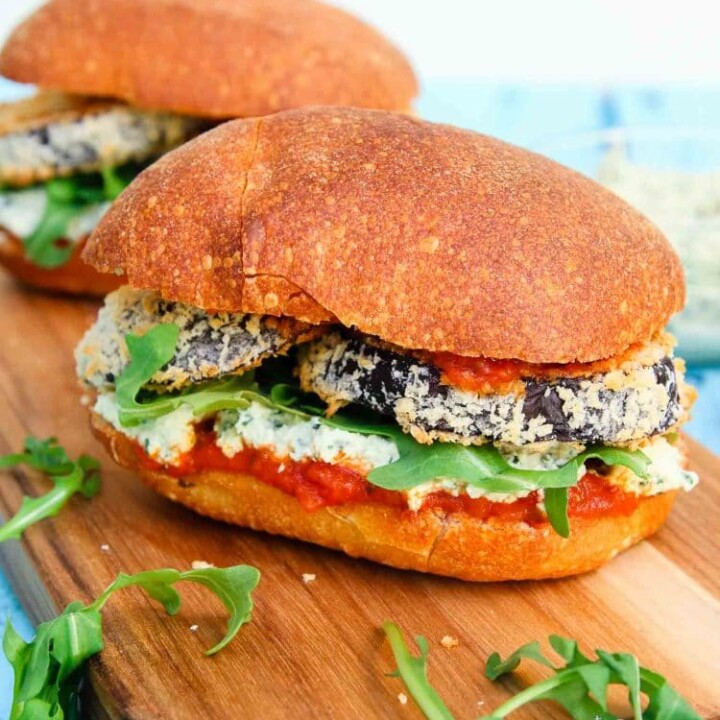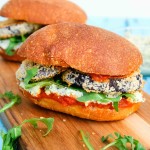 Print
Crispy Eggplant Parmesan Sandwich
Crispy baked eggplant is paired with a delicious tofu-based vegan ricotta for this delicious flavor-packed sandwich!
INGREDIENTS
4

Ciabatta bun

, or Rustic Italian Bread (see notes below)

baby arugula leaves

favorite marinara sauce

, home-made or store bought

red crushed pepper

, optional
INSTRUCTIONS
Preheat the oven to 350 degrees.

If using bread (see notes below), slice each roll or bun in half and place in the oven for 5-10 minutes until bread is slightly toasted on both sides (to taste).

Be sure that the crispy eggplant rounds and vegan ricotta is no cooler than room temperature (in case you made it ahead of time and stored it in the fridge, remove and let it sit at room temperature).

Line a baking tray with parchment paper.

Place the loaded halves on the lined baking tray and back in the oven for 5-10 minutes until nice and hot.

Remove from the oven.

Add a generous layer of marinara to each of the top halves of the bread, sprinkle on some red crushed pepper for added heat (if using), and close each sandwich. Enjoy!
NOTES
For

gluten-free - U

se your favorite gluten-free bread or simply enjoy this recipe without the bread as stacked layers of crispy eggplant rounds, vegan ricotta, marinara, baby arugula, etc.
Eggplant Rounds - The sandwich is best enjoyed with freshly Baked Crispy Eggplant Rounds, but you can easily make the eggplant and vegan ricotta ahead of time and assemble when ready to serve. If you're using small ciabatta rolls (similar to the pictures in the recipe), you'll need about 2 eggplant rounds per sandwich.
Pack It To-Go - This sandwich packs great for a school lunch or to take to work. Simply allow the sandwich to cool completely at room temperature, wrap once in parchment paper, cut in half, and wrap once more in parchment paper. Store in the fridge until ready to take or eat.
NUTRITION
Calories:
230
kcal
|
Carbohydrates:
41
g
|
Protein:
12
g
|
Fat:
2
g
|
Sodium:
944
mg
|
Potassium:
805
mg
|
Fiber:
5
g
|
Sugar:
10
g
|
Vitamin A:
555
IU
|
Vitamin C:
11.1
mg
|
Calcium:
49
mg
|
Iron:
2.3
mg