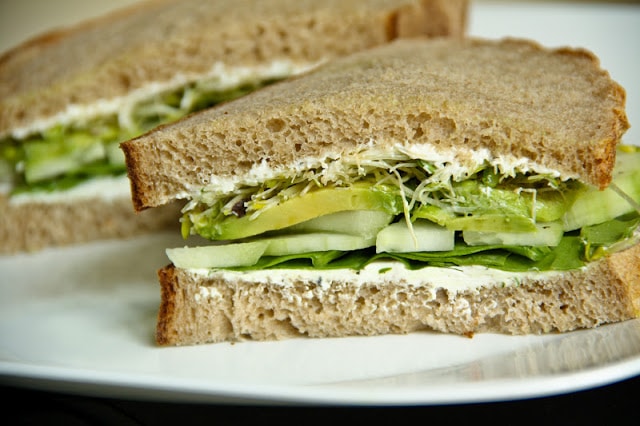 Here is a simple recipe for an afternoon tea sandwich or regular sandwich for lunch. A long time ago I remember having a tasty sandwich with cream cheese as the spread. So when I saw this recipe, I decided to make it for myself for lunch, especially since I had some leftover whipped cream cheese in my fridge. The original recipe calls for white bread. But I've made this sandwich twice now – the first time I used my favorite 7-grain bread and the second time I bought some peasant bread from a local bakery. It tasted great on both, and next time, I may try toasting the bread before assembling it.
This tea sandwich is a great alternative and nice change to the traditional sandwich I usually make myself for lunch, which contains cheddar cheese, avocado, bell peppers, tomatoes, cucumbers, spinach, balsamic vinegar, and salt/pepper.
For the recipe, head on over to Tea Time Magazine website – Cucumber-Avocado Tea Sandwich. To make this sandwich vegan, I used Treeline Vegan Nut-Based Cheese, Chive-Herb flavor.
[subscribe_box]