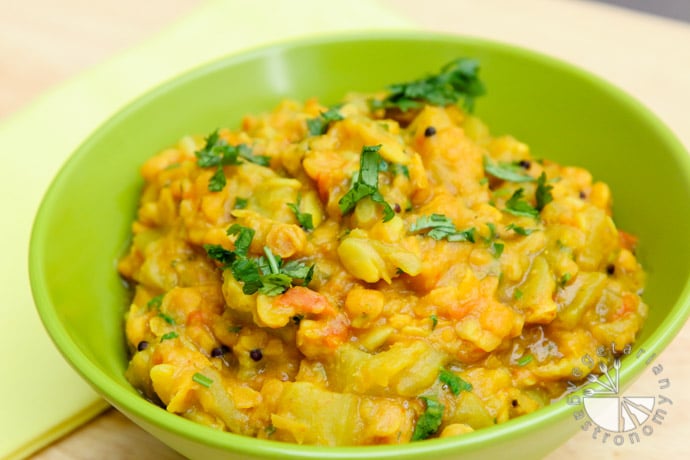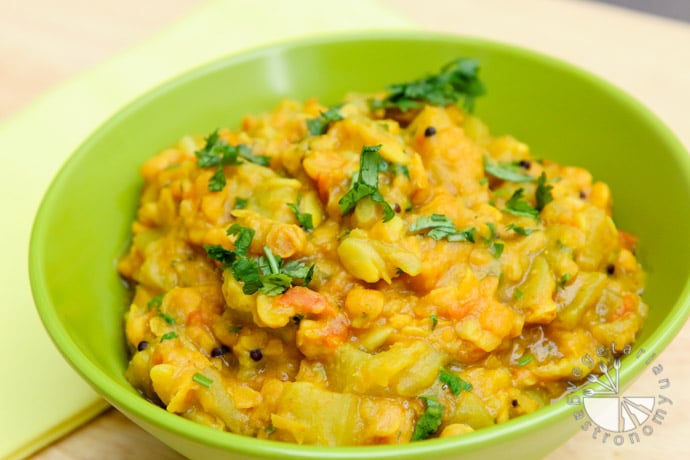 My absolute FAVORITE way to use opo squash is in this traditional curried Indian dish (you may have heard me mention it before)! It's healthy, very tasty, and sort of a one-pot recipe since it's all cooked in my pressure cooker! You can probably call this dish one of my go-to quick meals to make for my entire family. My mom used to make this dish almost every week growing up, so it's been with me for as long as I can remember.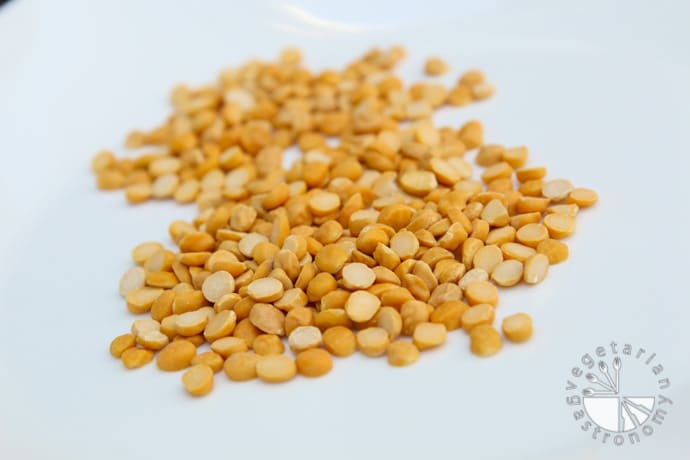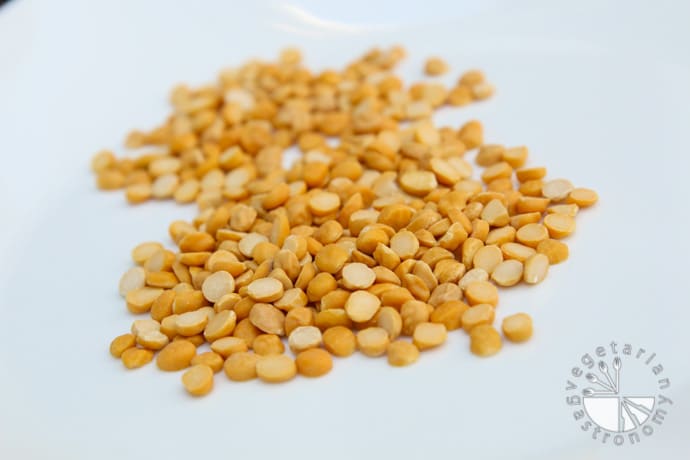 Along with opo squash, this recipe contains one of my favorite lentils, Chana Dal, otherwise known as Split Bengal Gram. They are low in saturated fat, packed with nutritious carbohydrates, and have a really low glycemic index. If you've never used them before, they look just like yellow split peas, but are very different in taste and how they cook. Chana Dal is younger, smaller, and sweeter. Yellow split peas cook down to mush pretty quickly, whereas Chana Dal retains it's shape pretty well, especially after being cooked in a pressure cooker. You can find them at just about any local Indian supermarket. You should also be able to find them in bags at places such as whole foods. But in case you don't have them at hand, or can't find them, this recipe will still taste great without them!
This recipe makes use of my pressure cooker, which I love using because it is so darn fast when it comes to cooking food (but don't worry, if you don't have a pressure cooker, you can easily make this dish using a pot)! The best part is that the food still retains the vitamins and minerals that can be lost when cooking food using other methods. I have used a few different types of pressure cookers, so check out the notes below in the recipe on pressure cooker cooking. If you've never used one before, I highly recommend purchasing one! But be sure to read the manual to know how to operate it safely. If you don't own a pressure cooker, you can still make this dish stove-top.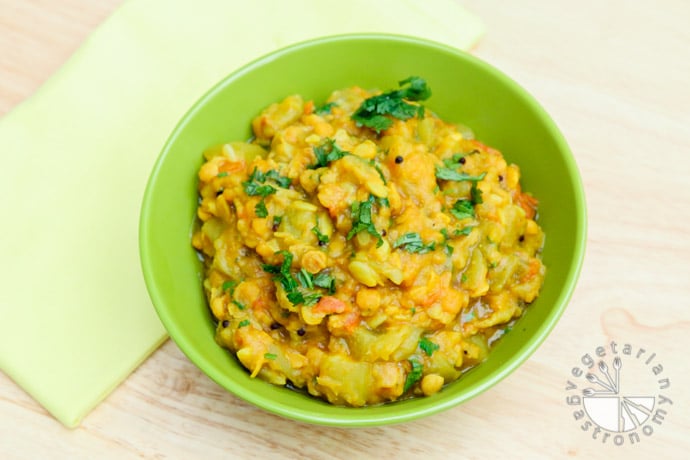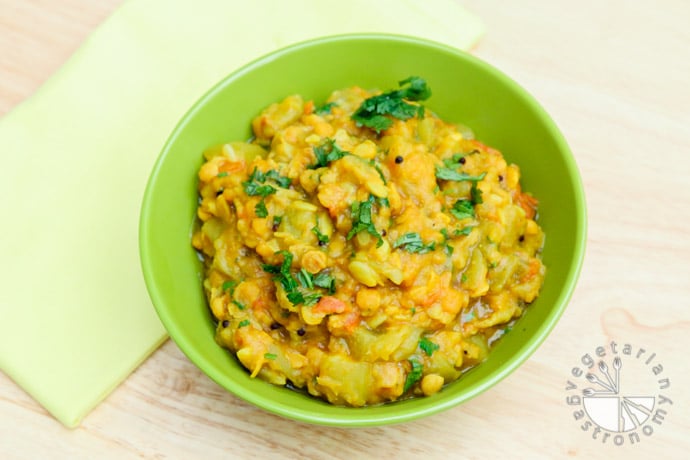 So if you come across some opo squash, buy it and give this recipe a try! You can always peel, dice, and freeze it until you are ready to make this dish. I've bought a few opo squashes at one time and done this in the past! It cuts down my prep time and it's perfect because you only have to slightly thaw it out before placing it in the pressure cooker! My family and I typically enjoy this curried dish with a side of yogurt and fresh roti's, frozen Naan from Trader Joe's, Pulau, or some plain rice. You can easily puree this curry for your little ones if they still have trouble chewing pieces of vegetables or lentils. I make this dish for my entire family at least 2-3x a month. I've always wanted to share the recipe with all of you, but kept forgetting to write it down while cooking in the past. Finally, here it is…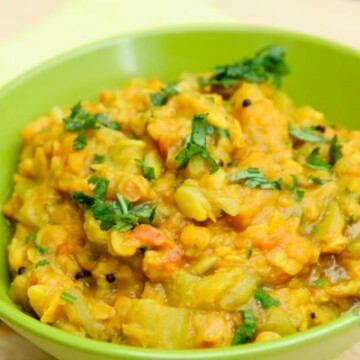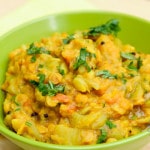 Print
Curried Opo Squash
This easy dish combines lentils and vegetables with some simple spices to create the perfect weeknight dinner for the entire family!
INSTRUCTIONS
Drain the water out of the Chana Dal and set aside, discarding the water.

In a medium sized pressure cooker, heat the vegetable oil on medium heat (if you do not wish to use a pressure cooker, see the notes below).

Add the black mustard seeds and asafetida and fry for a few seconds until fragrant.

Immediately add the diced opo squash, Chana Dal, turmeric, ground cumin-coriander powder, jaggery (or dark brown sugar), salt, chili powder (if using), chopped tomatoes, and water. Combine thoroughly.

Lock the lid in place for the pressure cooker and turn the heat to medium-high. Once the steam begins to hiss out of the whistle, lower the heat to medium until you hear 2 to 3 more whistles (note that depending on your pressure cooker this may vary slightly). If your pressure cooker does not whistle, then when the steam begins to hiss out of the cooker, reduce the heat to low-medium just enough to maintain a very weak whistle. Cook for an additional 2-3 minutes.

Remove the pressure cooker from the heat and let it sit for about 15 minutes (the curry will continue to cook inside the pressure cooker).

Carefully release the steam and open the lid of the pressure cooker.

Place the pressure cooker (lid open) on medium heat once again and carefully mix the curry.

Add salt to taste (if you need more sweetness, add more jaggery) and burn off any extra liquid if necessary (note that the curry should be pretty thick and not runny).

Turn off the heat, add freshly chopped cilantro, and serve hot with a side of your favorite tortilla (Naan, Roti, etc.) or rice!
NOTES
If you do not wish to use a

pressure cooker

, use a large non-stick pot stove-top to cook and steam the vegetables and daal. Cook covered until the opo squash is tender and cooked through, mixing frequently (this may take up to 20-30 minutes). Feel free to add additional water if the mixture starts to dry out.
Chana Dal

- Chana Dal is also known as Split Bengal Gram. Be sure not to confuse Yellow split peas and Chana Dal, as they are not the same. You can find this Dal at any local Indian market in bulk for cheap. You can also find it at places like Whole Foods (if you are lucky, they may have it in their bulk bins).
Jaggery

- Jaggery is a traditional unrefined sugar made from sugarcane juice or palm tree sap. It is not as sweet as granulated sugar. You can find Jaggery at any local Indian supermarket. If you need a replacement, dark brown sugar is your best choice for this recipe.
NUTRITION
Calories:
131
kcal
|
Carbohydrates:
25
g
|
Protein:
6
g
|
Fat:
2
g
|
Saturated Fat:
1
g
|
Polyunsaturated Fat:
1
g
|
Monounsaturated Fat:
1
g
|
Sodium:
124
mg
|
Potassium:
620
mg
|
Fiber:
7
g
|
Sugar:
11
g
|
Vitamin A:
544
IU
|
Vitamin C:
38
mg
|
Calcium:
80
mg
|
Iron:
3
mg
[subscribe_box]