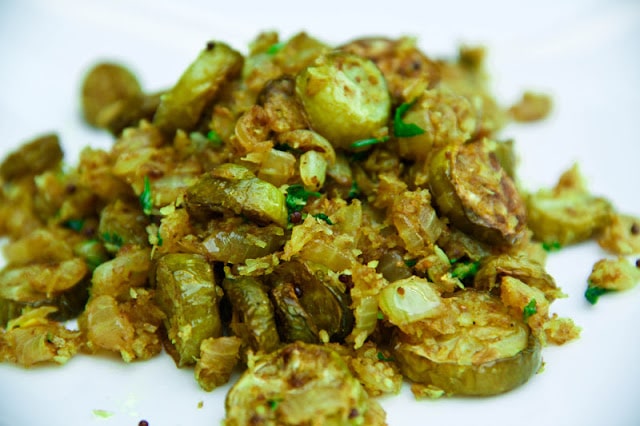 On a recent trip to San Diego, my parents brought me some fresh Tindora (otherwise known as baby watermelon) from their backyard. I typically make a standard Curried Tindora dish using curry leaves, turmeric, coriander, onions, and cumin, but this time I decided to try something a little different and more flavorful. My mom suggested adding some garlic, ginger, and coconut, a version she had recently had at a restaurant. All those additions sounded wonderful and suddenly I found myself quite excited to give this new version a try!
I had a new found love for Tindora with this recipe. It was delicious! Plus, I love anything with coconut in it so it was easy to place this dish among one of my favorites for Indian food. I'm not always a fan of garam masala in dishes, but if you have some laying around, a tiny amount does enhance the overall flavor. But feel free to omit if you don't have any. Enjoy with a side of rice, naan, or fresh roti!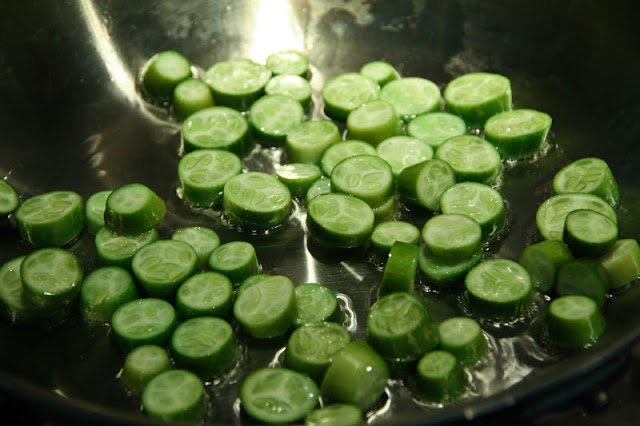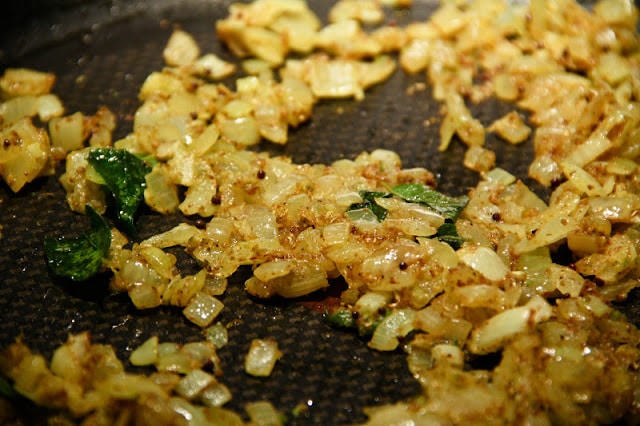 CURRIED TINDORA w/COCONUT & ONIONS: (gluten-free, vegan)
(makes ~ 2-3 servings)
Ingredients:
20 Tindora (Ivy Gourds or baby watermelon)
1 white onion, cut in half and finely sliced
1/2 teasp ginger, finely minced
4 cloves garlic, minced
fresh jalapenos, minced (amt. depends on your level of spice)
1/2 teasp. mustard seeds
1/2 teasp. cumin seeds
10 curry leaves (dried or fresh)
1/4 teasp. ground turmeric
1/4 teasp ground coriander
pinch of garam masala powder (optional)
1/3 cup grated coconut
2 T vegetable oil
salt
Directions:
Wash the Tindora. Cut off a tiny piece of the top and bottom ends. Slice the Tindora into rounds and set aside.
Heat about one T of oil in a non-stick frying pan. Add the Tindora slices and saute on medium heat for about 3-5 minutes until tender. Sprinkle a dash of salt and mix.
Reduce the heat to low, cover the pan, and saute for about 15 minutes until tender and cooked. Keep checking and mixing in-between to make sure the Tindora does not burn and stick to the pan.
While the Tindora is cooking, heat 1 Tbsp of oil in another non-stick pan on medium heat. Add the mustard seeds, cumin seeds, and curry leaves. Fry for a few seconds until fragrant (~30 sec.)
Immediately add the minced garlic, ginger, jalapeno, and sliced onion. Combine and saute until fragrant (4-5 min). Add turmeric powder and some salt and mix together.
Saute on low-medium for a few minutes. Be sure to mix frequently so that the onions do not burn. If you find this happening, feel free to lower the heat or add more oil.
Once the tindora is cooked, add the garlic/ginger/onion mixture and combine. Add the ground coriander and garam masala. Add the grated coconut and combine.
Cook on low-medium heat for another 15 minutes without the lid until cooked. Lastly, season to taste with salt.
Enjoy hot with some rice, naan, or roti!
~ Anjali
[subscribe_box]