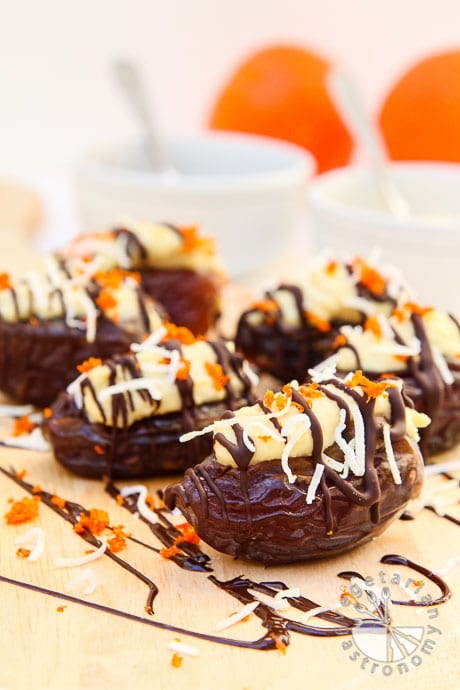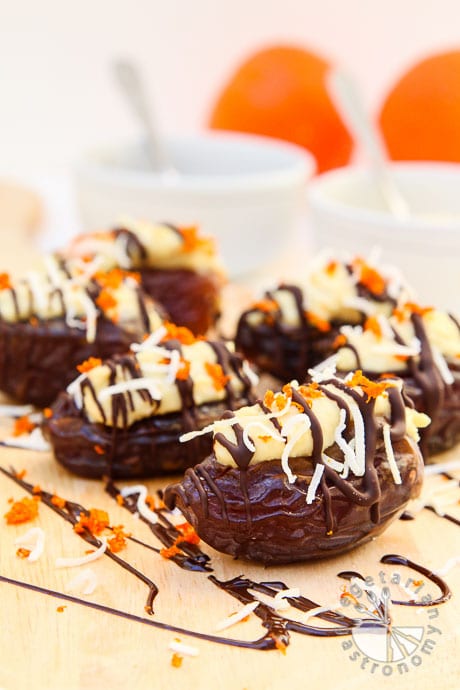 I'm always trying to think of creative and fun new ways to use all the dates I have laying around in my fridge. When a friend of mine, one of the outstanding Chefs at Eat Omnivore, realized how many dates we get every year from my in-laws, he suggested stuffing and baking them with a mixture mainly composed of mascarpone cheese. At the time, that combination sounded amazing and I've had it on my list of things to make since then. Well…four years passed by, and I have yet to make them. Of course by now, as you all know, I am Vegan, so I set out to make my own delicious version. I came up with this wonderful combination of flavors – Dark Chocolate Covered Dates Stuffed w/Orange Cream, made two different ways!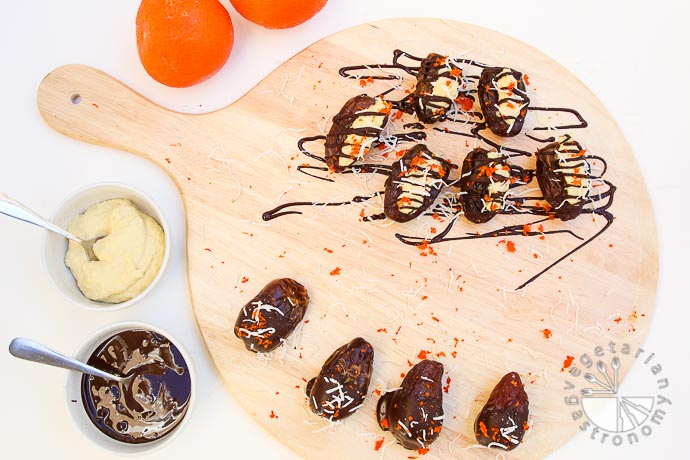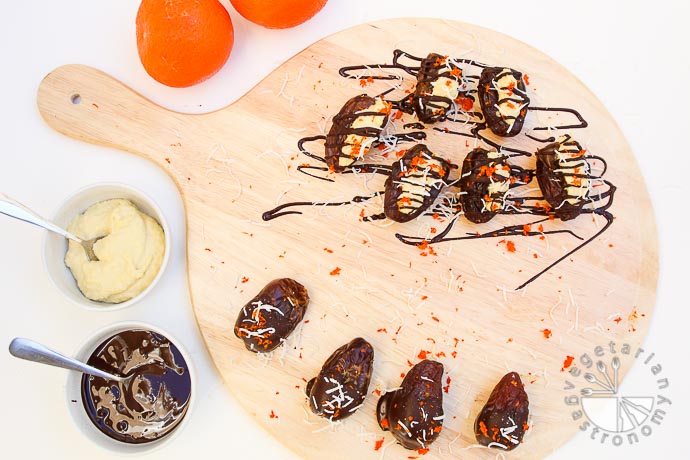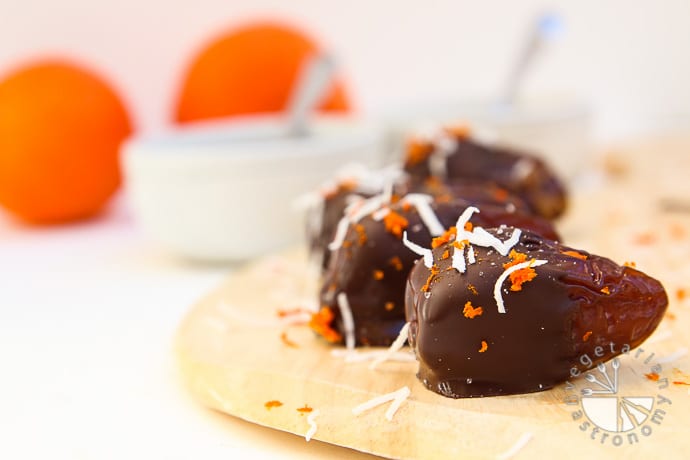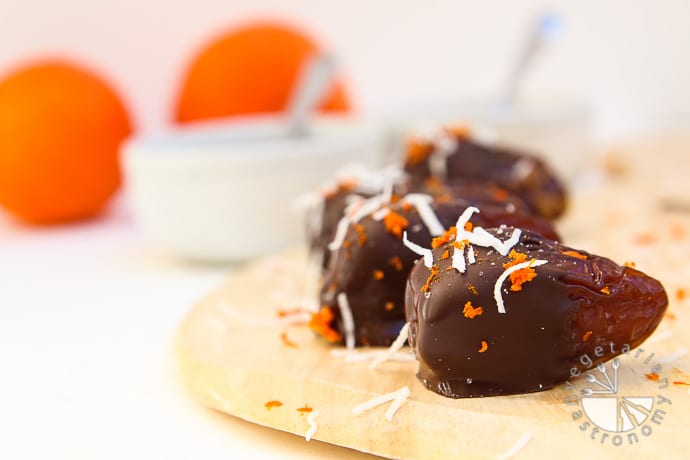 Someone had once mentioned how delicious dark chocolate covered pieces of dates were. So going along with this idea, I decided to turn these stuffed dates into dessert instead of the savory baked ones I initially intended on creating. This was also around the same time when we had large home-grown navel oranges pouring into our kitchen from both my parents' and my in-laws' backyards. Remember a few months back, when I posted a series of orange-inspired recipes (Orange Julius Popsicles, Orange Pepper Tofu, Orange Blueberry Vanilla Overnight Oats)? Yep…these stuffed dates were created around the same time, after all, as good as it is, there's only so much fresh orange juice you can drink.
Let me just tell you now…this Orange Cream is delicious! I was licking my bowl clean, and the kids and I even enjoyed the leftover orange cream by itself or drizzled with a tiny amount of dark chocolate as dessert with a spoon! It was the perfect blend of freshly squeezed orange juice, shredded coconut, and soaked cashews. I didn't want it to be too sweet since the mixture was being stuffed into dates.
Make this easy orange cream, stuff it into some dates, dip the ends into melted dark chocolate, and sprinkle the tops with a tiny amount of orange zest, sea salt, and/or shredded coconut. All you need is ONE of these heavenly treats and you're set to go for the day, and not to mention that aside from the dark chocolate chips, it's all naturally sweetened. I delivered some to a few friends and my son's teachers, and they loved them. And just look at them!! Not only do they taste divine, they also look beautiful and would make the perfect sweet treat to take to a friend's house or dinner party. That is, if you can keep yourself from devouring all of them before sharing! =)
If you make these stuffed dates, be sure to let me know in the comments below, or Tag me on Facebook or Instagram @vegetariangastronomy , #vegetariangastronomy, so I don't miss it!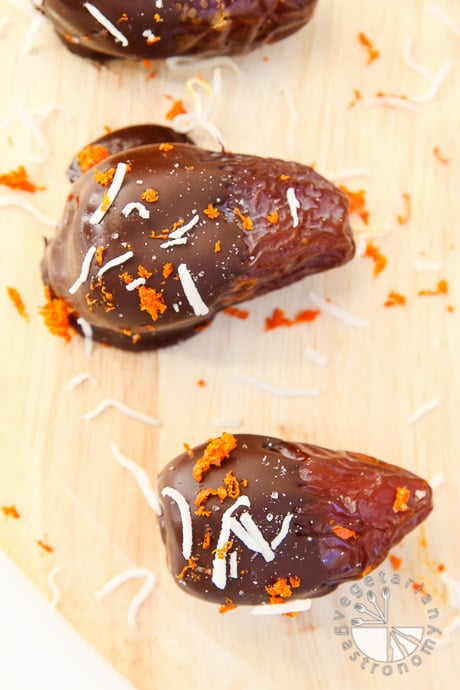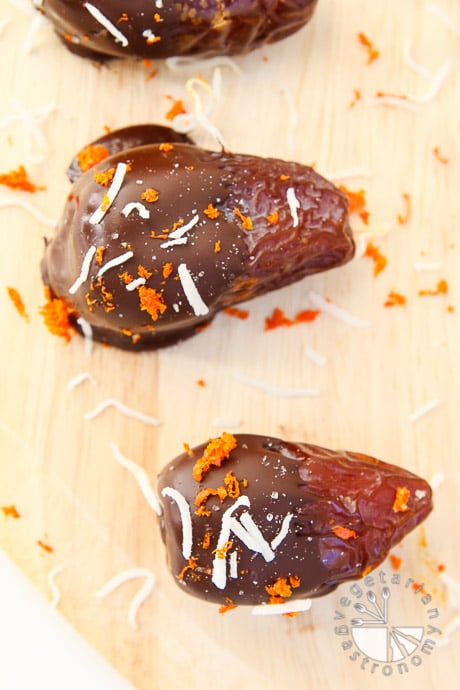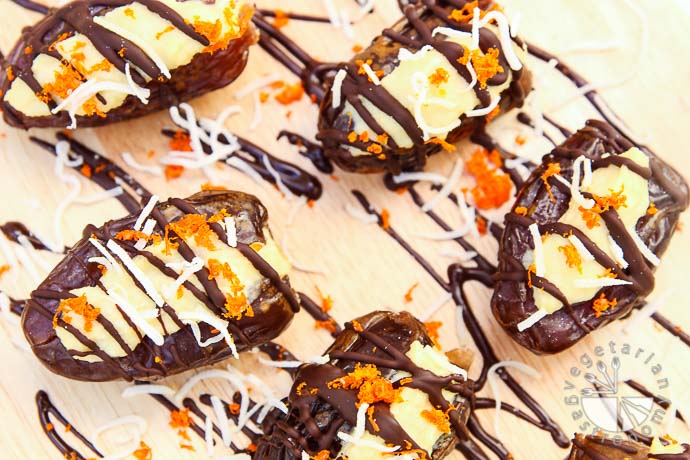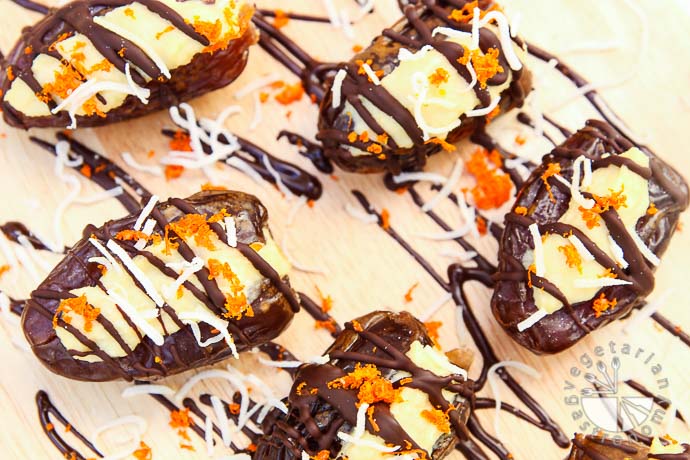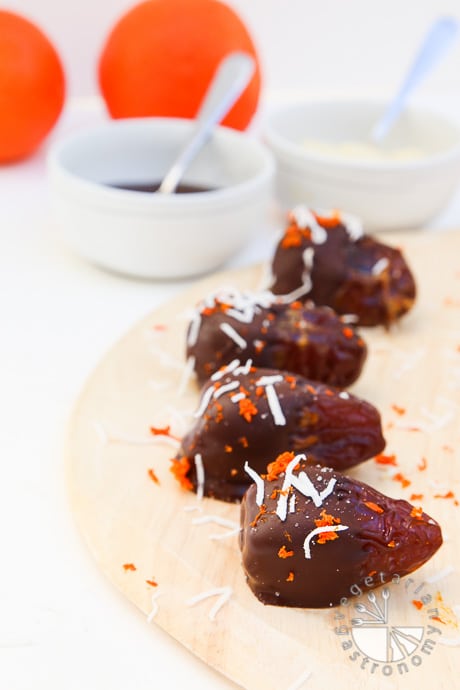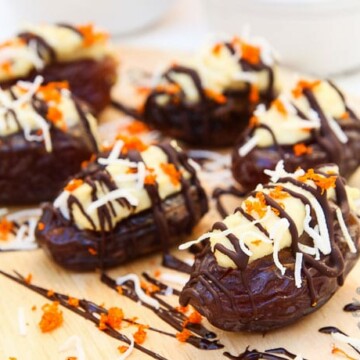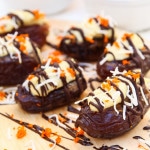 Print
Dark Chocolate Covered Dates Stuffed with Orange Coconut Cream
These indulgent bites are the perfect healthy dessert, treat, snack, or gift! They're gorgeous, made with clean ingredients, tasty, and really rich!
Servings:
24
stuffed dates
INSTRUCTIONS
To Make the Orange Cream:
Add the soaked and drained cashews, unsweetened shredded coconut, orange juice, and vanilla extract into a blender (such as a

Vitamix

).

Blend completely until thick, creamy, and slightly chunky (I used my tamper for this process). This should not take too long. Stop once you feel like all of the cashews are completely blended in. Do not blend too long otherwise you will start to make cashew butter.

Depending on the sweetness of the orange juice and your preference, you may or may-not need a little maple syrup blended into the cream for some added sweetness. Note that this cream should not be overly sweet since it's being stuffed into dates (see notes below). Set the orange cream aside.
To Prepare the Dates:
You have one of two options: (1) Cut a thin section across the wide end of the date to cut the end. Using clean sharp tweezers, going in from the cut end, pull out the pit to create a port to stuff. OR (2) Using a knife, make an incision across the length of the date and carefully remove the pit, creating a 'boat' to stuff. (see notes below)
To Stuff the Dates:
If using option (1) above, using a

condiment dispenser

,

piping bag

, or syringe, completely fill the hole created inside the date with the prepared orange cream. If using option (2) above, use a small spoon or knife to stuff the dates where you made the incision. With this option, you will stuff more of the orange cream and it will be visible on top. (see pictures above)

Once you've stuffed the dates with orange cream, melt the dark chocolate chips over a double broiler or in small increments in the microwave.

Line a baking sheet or plate with wax paper. If using option (1) above, simply dip the dates half way up covering the open side of the date. If using option (2) above, simply drizzle the melted chocolate across the dates on top of the stuffed orange cream.

Place on the prepared plate/baking sheet, sprinkle the top of the dates with a tiny amount of orange zest, unsweetened shredded coconut, and/or sea salt, and place in the fridge until the chocolate is completely solidified.

Store in the fridge in an airtight container until ready to enjoy!
NOTES
Maple Syrup - If your orange juice is sweet, you will not need to add any maple syrup in the cream. When I developed this recipe, I made freshly squeezed orange juice from home-grown sweet navel oranges and did not need to use any maple syrup.
Both methods of stuffing the dates taste and look great. I personally prefer Option 2 for stuffing the dates mainly because I love the flavor and texture of the orange cream and you can stuff more into each date with Option 2.
With this recipe, you may be left with some additional orange cream. You can either make more stuffed dates, or simply drizzle some dark chocolate on top or the orange cream and enjoy the bowl with a spoon!
NUTRITION
Calories:
162
kcal
|
Carbohydrates:
25
g
|
Protein:
2
g
|
Fat:
7
g
|
Saturated Fat:
4
g
|
Sodium:
2
mg
|
Potassium:
233
mg
|
Fiber:
2
g
|
Sugar:
20
g
|
Vitamin A:
45
IU
|
Vitamin C:
2.6
mg
|
Calcium:
29
mg
|
Iron:
1.3
mg
[subscribe_box]