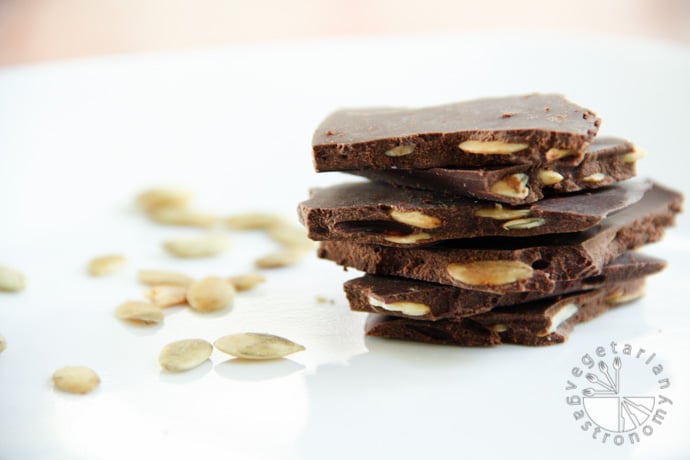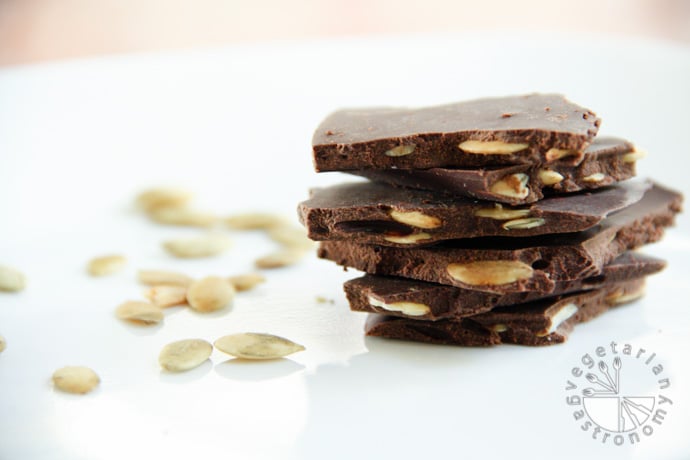 Are you tired of eating all those roasted pumpkin seeds after Halloween? If you need something else to do with them, try making this quick Dark Chocolate Roasted Pumpkin Seed Bark! I unexpectedly made them for some friends and they were a huge hit!
Why "unexpectedly" you may ask?
Well…we were invited to a friends house for dinner and I was planning on taking some baked cookies for dessert. But I had one problem…as I was pulling out all the ingredients, I realized I had ran out of FLOUR in my pantry after making all those Pumpkin Cookies last week! At this point, we had to leave in under an hour, and I was scrambling around trying to think of something else to make. Normally I would bake my staple, some of my husbands favorite eggless brownies, but for some reason I really wasn't in the mood to take brownies. Then I thought about making a fruit crumble, but I didn't have any fresh fruit in the freezer. As I was skimming through my pantry, my eyes stopped at some roasted pumpkin seeds! They were sitting right next to the 60% Cocoa Ghirardelli Chocolate Chips. I saw the two together and decided to make some bark, similar to how I had made the Oreo Cookie Bark. Of course, as you can imagine the recipe was very simple and fairly quick to make.
Within 45 minutes (15 minutes of prep time + 30 minutes of fridge time), I had my self some mouth watering Dark Chocolate Roasted Pumpkin Seed Bark. While the bark was solidifying in the fridge, I went ahead and made some coconut burfi as well. These two desserts were perfect small after-dinner sweet bites and everyone loved them! I remember thinking to myself that Roasted Pumpkin Seeds have never tasted better!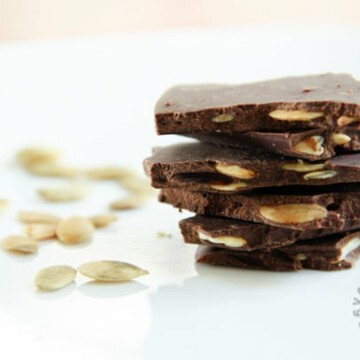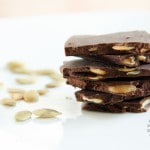 Print
Dark Chocolate Roasted Pumpkin Seed Bark
Pumpkin seeds and dark chocolate pair so well together. Only 10-minutes and you'll have a 2-ingredient chocolate treat!
INSTRUCTIONS
Cover a cookie tray with wax paper.

Using a double broiler, melt the dark chocolate chips until completely smooth (see notes below).

Fold in the roasted pumpkin seeds.

Poor the mixture out onto the wax paper.

Gently tap the tray on the countertop to even out the thickness of the mixture.

Refrigerate for about an hour until completely firm. Peel from the wax paper and break apart into pieces. Store in a cool, dry place.
NOTES
To Setup A Double Broiler:
Find one medium-size pot and a metal bowl. The size of these two items should be such that when the metal bowl is placed on top of the pot, the two are nested together.
Add about 2 inches of water to a saucepan and simmer on low-medium heat.
Add the chocolate chips to another metal bowl.
Set the bowl on top of the pot with the simmering water so that the two pieces nest together. Note that the bottom of the metal bowl should not be touching the simmering water when nested together. If this happens, remove some of the water.
The steam from the simmering water is being used to heat up the chocolate chips
Stir frequently until the chocolate chips are completely melted.
NUTRITION
Calories:
163
kcal
|
Carbohydrates:
14
g
|
Protein:
4
g
|
Fat:
11
g
|
Saturated Fat:
7
g
|
Polyunsaturated Fat:
1
g
|
Monounsaturated Fat:
1
g
|
Trans Fat:
1
g
|
Cholesterol:
1
mg
|
Sodium:
42
mg
|
Potassium:
199
mg
|
Fiber:
1
g
|
Sugar:
8
g
|
Vitamin A:
3
IU
|
Vitamin C:
1
mg
|
Calcium:
72
mg
|
Iron:
1
mg