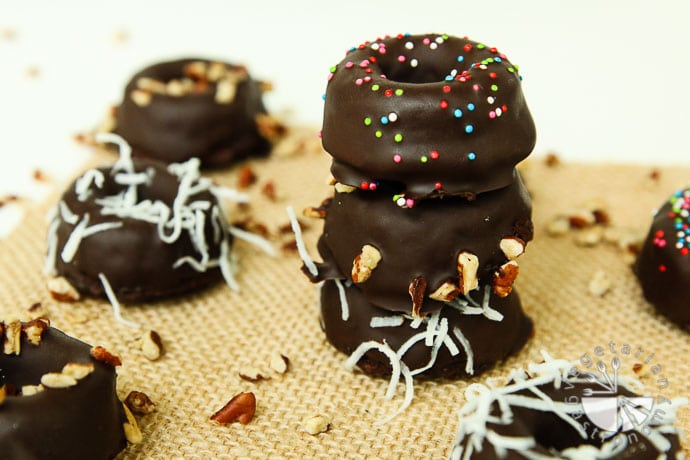 When I think of donuts, I think of my childhood… those special occasional weekends when my parents decided to surprise us with store-bought donuts for breakfast. My favorite two donuts were powdered cake and chocolate cake with chocolate glaze and shredded coconut. Unfortunately, knowing what I know now, I can't help but think of how unhealthy they were… fried and filled with a lot of refined sugar. They have now become more of a dessert in my mind, and I just simply can't enjoy the store-bought ones for breakfast. Of course, I still go by my motto of 'everything is ok in moderation', especially when on vacation, and I just can't pass up the occasional vegan donut find (I'm referring to the amazing vegan donuts they have over at Blue Star Donuts in Portland); but why not take 'occasional' out of the picture and be able to enjoy donuts on more of a regular basis. Not to mention, vegan donuts aren't easy to find where I live. Hence the desire to come up with a healthier vegan recipe to enjoy at home.
And with that, I present to you today's recipe…Double Chocolate Chia Cake Donuts! These mini donuts are vegan, gluten-free, healthier, and dangerously addicting! They are inspired by a recipe I came across from In My Bowl, original recipe found here! I loved the idea and use of chia seeds combined with coconut milk (instead of almond milk) to make up most of the liquid base. So I decided to start from there play around with a few different ingredients I originally planned on using for these donuts.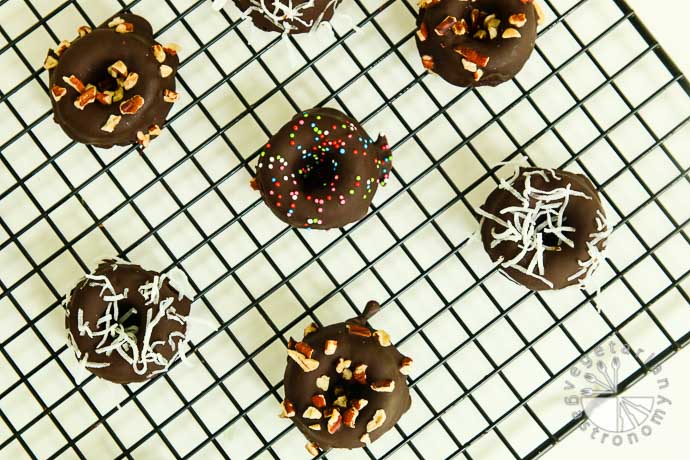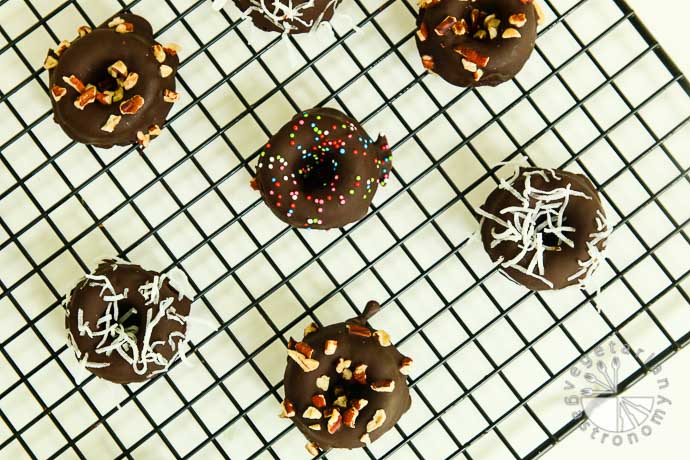 I love using oat flour if I can as the base for baked goods, especially after using it for my Blueberry Banana Breakfast Cookies, which were a huge hit! Oat flour is not only healthier than other traditional flours, but it also goes along with 'donuts for breakfast' since my kid's typical breakfast consists of oatmeal containing almond meal and sweetened with fruit. Which comes to my next ingredient…almond meal. My daughter loves raw nuts, but my son on the other hand, doesn't care for them in the raw form. So I'm always trying to sneak them in whenever I can. The use of ground oats and some almond meal as the base, also makes them gluten-free (which was perfect since my brother was visiting that coming weekend).
The donuts themselves are free of refined sugar and get their sweetness from the use of bananas and some pure maple syrup with a hint of vanilla, which as you may know, are currently two of my favorite sweeteners of choice. I knew I wanted to coat these donuts with a simple chocolate sauce, so I minimized the sweetness of the actual donuts themselves. In other words, these donuts are meant to be enjoyed with the chocolate sauce coating. I encourage you to try them without it, but you may find them to be a bit under-sweetened.
It took me four tries to perfect the ratios of ingredients (although my kids enjoyed each trial). Since these donuts are baked, instead of fried, they are naturally more cake-like in texture…hence the name 'cake' donuts. The chia seeds added an element of texture, which we loved, especially since we are huge fans of chia pudding. I created a pretty basic chocolate sauce made with vegan dark chocolate chips and some coconut oil to coat the donuts in after they cooled. The kids loved sprinkling different toppings on the donuts. They chose shredded coconut, pecans, and sprinkles. We placed them in the fridge for a short time to solidify the outer chocolate coating.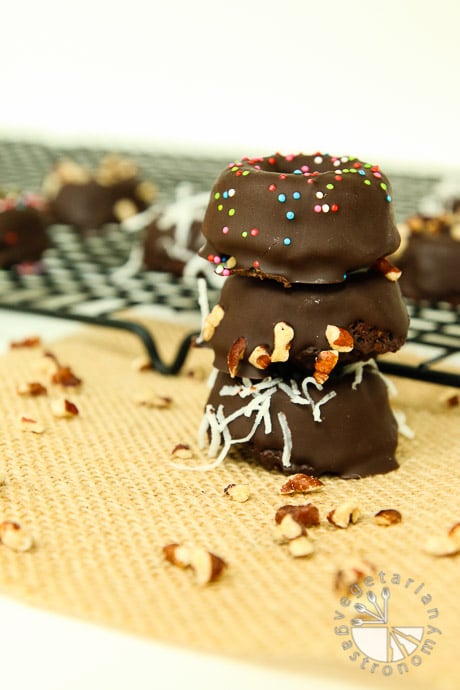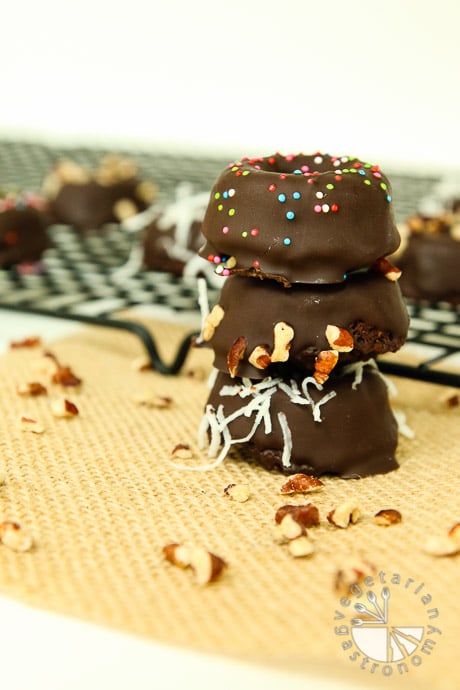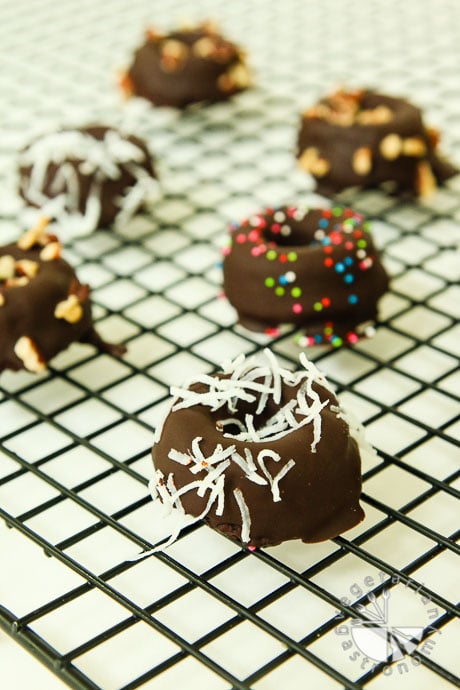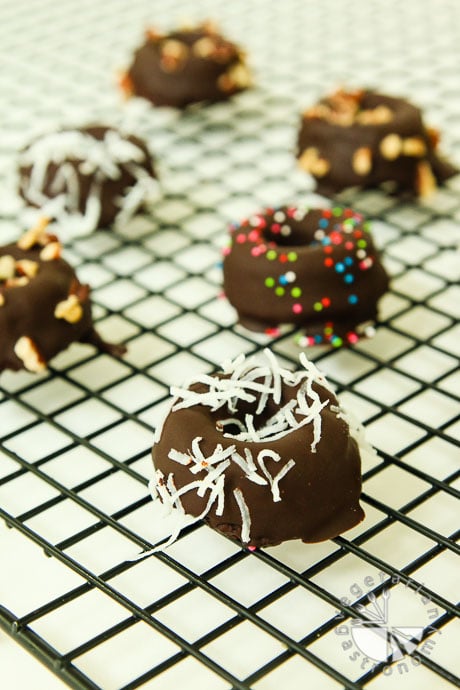 These donuts can be enjoyed for breakfast, snack, and/or dessert. The kids loved them, as I knew they would. The real test was my husband. Honestly speaking, he did say that they didn't quite taste similar to the store-bought donuts, mainly because they were different in texture (more cake-like since they were baked instead of fried); but he said he still loved them. At first I thought he was being nice, but when I saw him grabbing for them in the fridge for breakfast the next morning and dessert after dinner the following few days, asking how many he needed to save for the kids, I knew that he really did love them. =)
I'm hoping to create a few different flavors and types of donuts in the near future, so stay tuned! In the meantime, try out this recipe and let me know what you think in the comments below!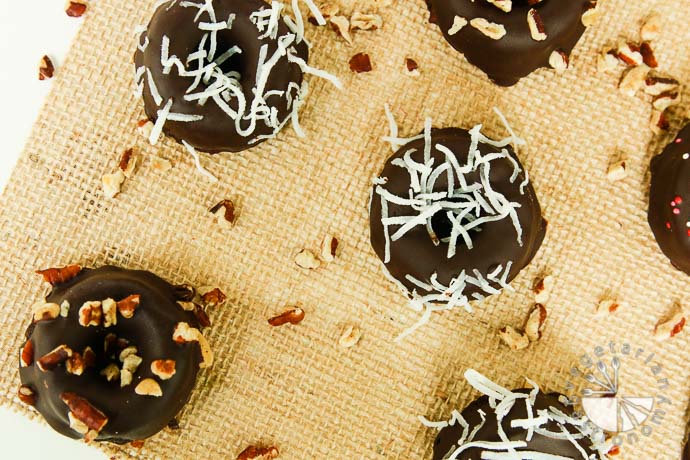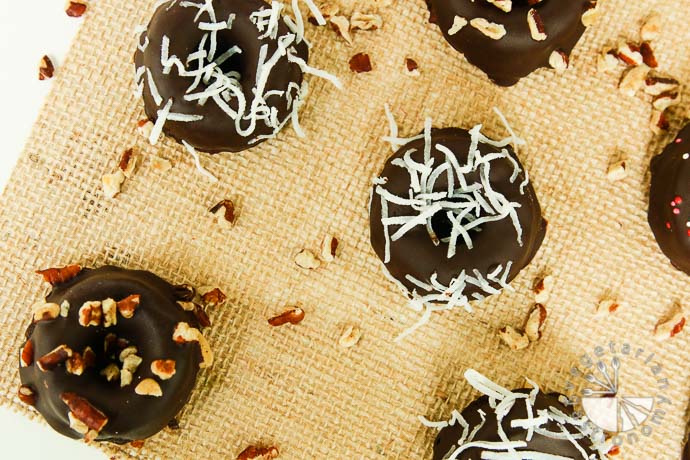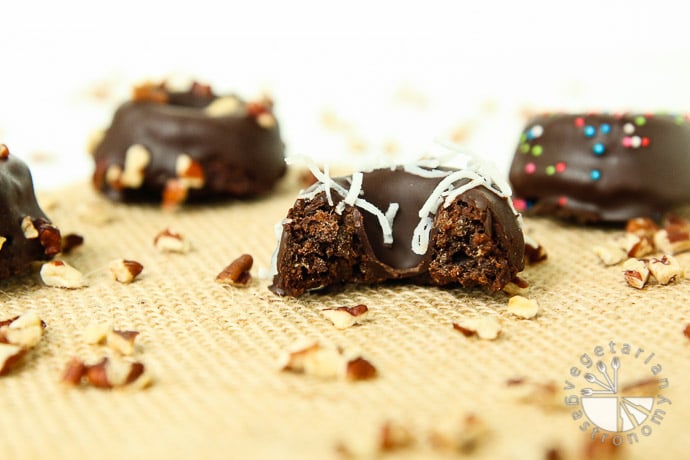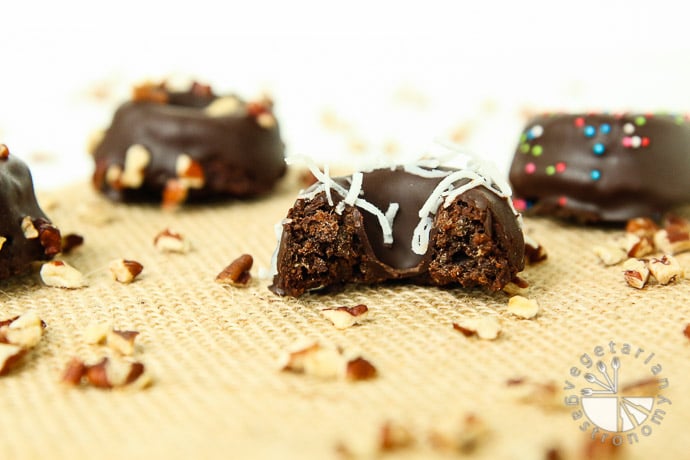 If you haven't noticed already, starting with this post, I will now be leaving the 'vegan' and 'gluten-free' tags out of the Post Title and Recipe Name. I am now VEGAN as of a few months ago (read more about it here on my ABOUT page), hence all the recipes have been vegan on my site since my change in diet. The 'Gluten-Free' designation will now be stated in the NOTES section of the actual recipe below.
It's always wonderful to hear from my readers and followers in the comment section below. So if you make this recipe or even simply like the idea of the recipe, I'd love to hear from you. It's also a great way for me to get feedback so that I know how you like the recipes, whether you are eating or making them. You can give any feedback below, or you can also tag me on Instagram if you make one of the recipes @vegetariangastronomy , #vegetariangastronomy, so I don't miss it.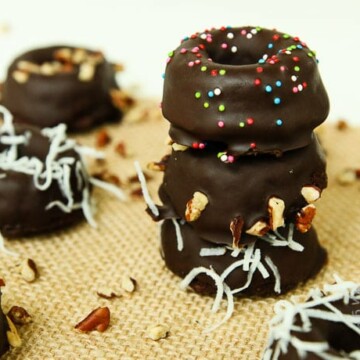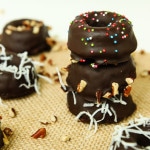 Print
Double Chocolate Chia Cake Donuts
Indulge in these delicious mini chocolate cake donuts! They're vegan, healthy, gluten-free, refined sugar free, and the perfect breakfast, snack, or dessert!
INGREDIENTS
For the Chocolate Coating:
INSTRUCTIONS
To Make the Donuts:
Heat oven to 350 degrees.

In a small bowl, combine the coconut milk, chia seeds, and apple cider vinegar. Whisk and set aside.

Combine the ground oats, almond meal, cocoa powder, baking powder, baking soda, cinnamon, and salt.

Add the mashed bananas, coconut oil, maple syrup, vanilla extract, and the chia/coconut milk/apple cider vinegar mixture. Carefully combine everything together with a spoon or spatula. Do not over mix.

Lightly grease a mini donut pan with coconut oil spray.

Using a small spoon, carefully scoop the donut batter and fill into each mini donut section.

Bake in the oven for ~25 minutes. Remove and allow them to cool completely in the pan (note: they will continue to cook while cooling in the pan).

Once the donuts are completely cooled, turn the pan upside down and lightly tap on the counter to release the baked donuts.
To Coat the Donuts:
Line a baking sheet with parchment paper

Prepare a double broiler to melt the chocolate.

Add 1/2 cup dark chocolate chips and coconut oil. Mix with a spoon until all the chocolate chips are completely melted. Remove the top bowl from the heat, add in the remaining 1/4 cup chocolate chips and keep mixing with a spoon until all the chocolate chips are completely melted (they should all melt on their own, but if needed, feel free to place back on the heat for a short time to melt).

Holding the bottom flatter side of the donut, dip the top of the donut all the way down into the melted chocolate and then place on the baking sheet lined with parchment paper (chocolate coating side up). Repeat this for all the donuts so that each is coated with melted chocolate. Try to work quickly while coating the donuts.

If using, sprinkle the top of the donuts with toppings of choice.

Place in the fridge until the outer chocolate coating has solidified.

Store in the fridge. Enjoy cold!
NOTES
Ground Oats - To make ground oats, add rolled oats to a food processor and process for 3-4 minutes until very fine.
Make-Ahead Tip - I typically make ground oats in large batches and store in the fridge for use when needed.
NUTRITION
Calories:
83
kcal
|
Carbohydrates:
9
g
|
Protein:
1
g
|
Fat:
5
g
|
Saturated Fat:
3
g
|
Sodium:
13
mg
|
Potassium:
89
mg
|
Fiber:
1
g
|
Sugar:
4
g
|
Vitamin A:
5
IU
|
Vitamin C:
0.6
mg
|
Calcium:
39
mg
|
Iron:
0.8
mg
[subscribe_box]