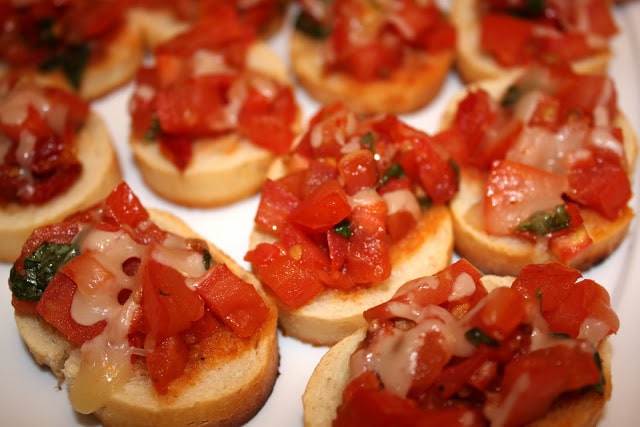 In coming up with this years holiday party menu, I wanted to include some type of Brushetta. Having never made fresh Brushetta before, I wanted to stick to something traditional, but with a slight twist in flavor. A friend had passed along this recipe from the All Recipes site, and it seemed perfect: fresh tomatoes, sun-dried tomatoes, balsamic, garlic, basil, and olive oil! What's not to like in this ingredient list!?
The only change I made to the original recipe was to cut back considerably on the amount of olive oil. Otherwise, this recipe was absolutely delicious! I would highly recommend making this Brushetta mixture a few hours earlier or even the day before and storing it in the fridge. Allowing everything to marinate together for a few hours really enhances the flavors even more. For the holiday party, I actually melted some mozzarella cheese on top in the oven. But since then, I typically omit the cheese and serve the Brushetta dip on the side of some toasted french baguette slices or chips.
For the RECIPE, head on over to AllRecipes website – DOUBLE TOMATO BRUSHETTA (vegan, gluten-free). The only changes I made was the significantly reduce the amount of olive oil to 2 tbsp, and added one extra garlic clove. After having made the exact recipe once, I prefer to omit the mozzarella cheese from the recipe, making it vegan.
For the gluten-free option, use toasted gluten-free bread, gluten-free crackers, or some tortilla chips.
[subscribe_box]