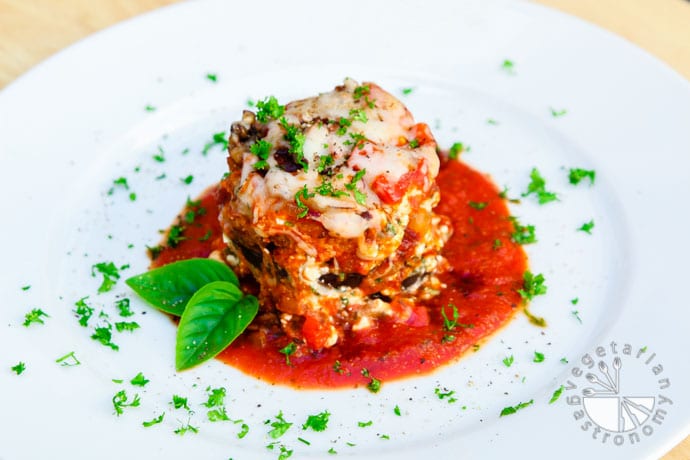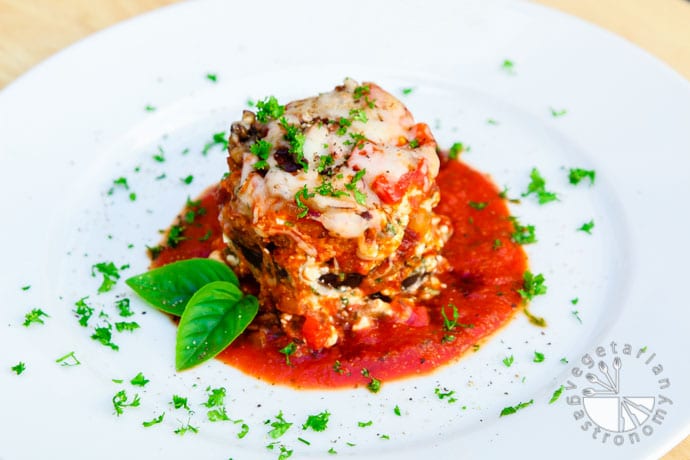 My family enjoys Italian Food. From various pastas, pizzas, desserts, and sandwiches, we love all of it. There's one Italian dish that I've been making for years that I have yet to share – my recipe for Eggplant Parmesan. I used to order Eggplant Parmesan at restaurants growing up. I loved that crispy outer texture of the breaded eggplant slices. Sometime around college when I gave up eating eggs, I quickly realized that most restaurants use eggs in the breading batter. Not that I don't eat fried food, but the eggs combined with deep fried breaded eggplant slices soon put an end to ordering this dish.
This dish has been in my family for more than 20 years. I actually intended on sharing the recipe with all of you a few years ago, but never pinned the recipe down because of the tiny changes and improvements I made when I would create this dish. I finally perfected my Eggplant Parmesan recipe. I have been consistently making it the same way, so I figured it's about time to share it. This recipe was adapted from my mom's recipe for Eggplant Parmesan from 20 years ago, but I've tweaked it and added many more components.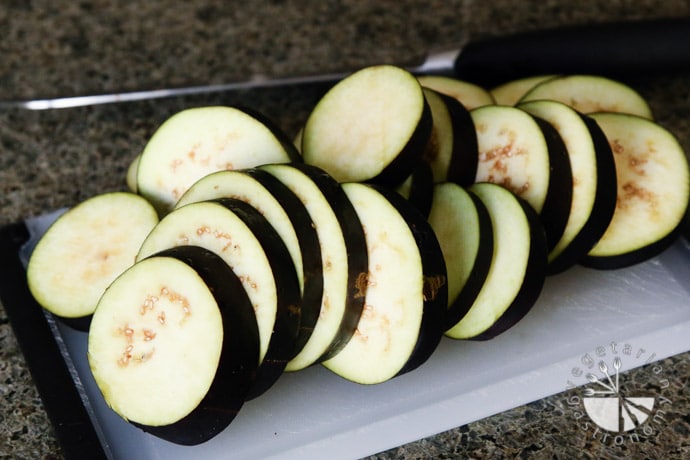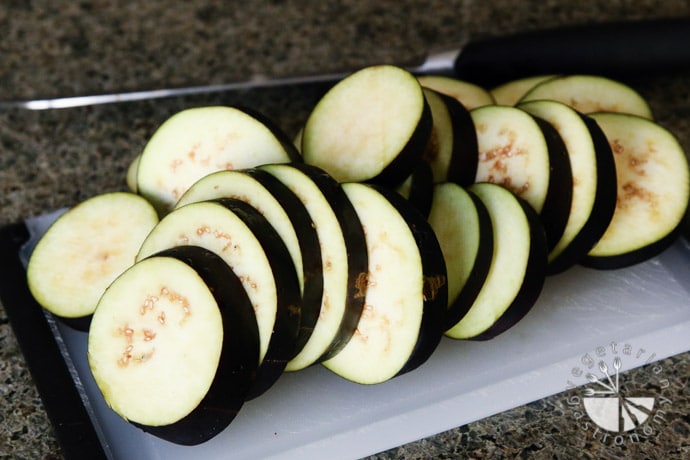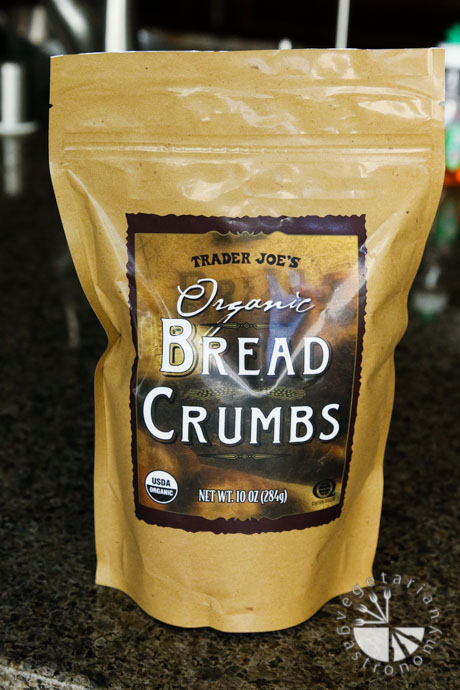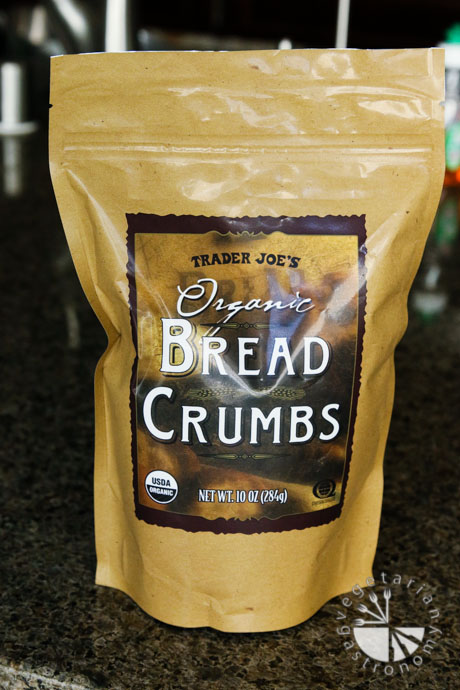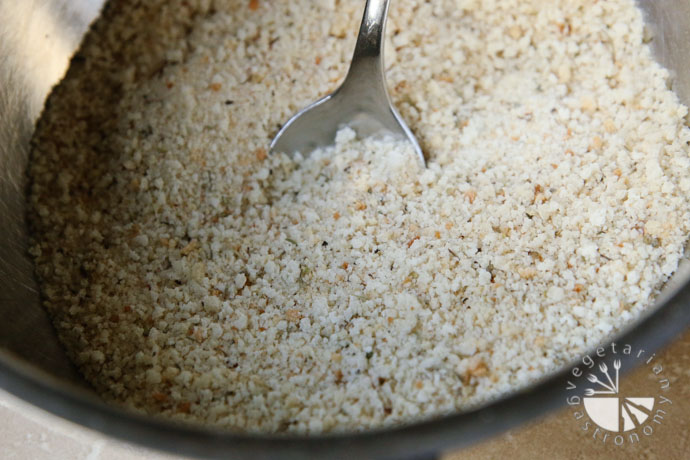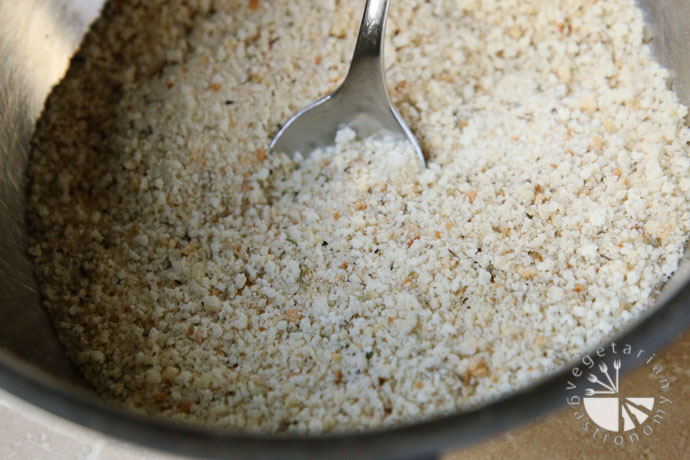 This recipe uses a combination of water and flour as a batter to dip the eggplant slices prior to breading them. I also pan fry the slices using a little oil. I have moved from store-bought seasoned breadcrumbs (many preservatives) to my own seasoning. For the cheese layer, I use cottage cheese instead of ricotta, which is healthier and has more protein. Being someone who was never a big fan of cottage cheese, I can't tell the difference in the dish and in fact, love the flavor.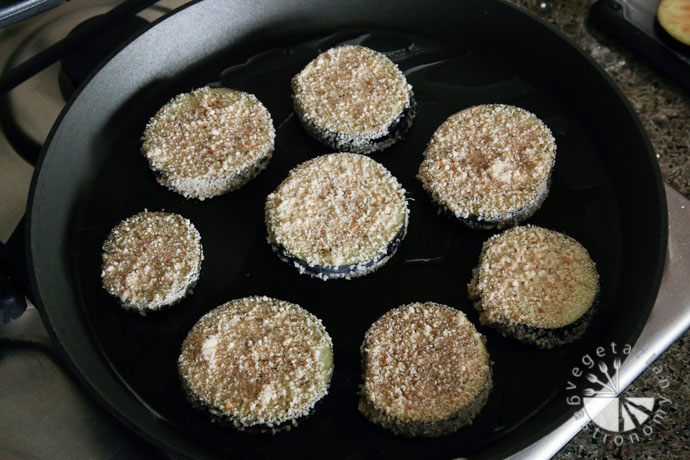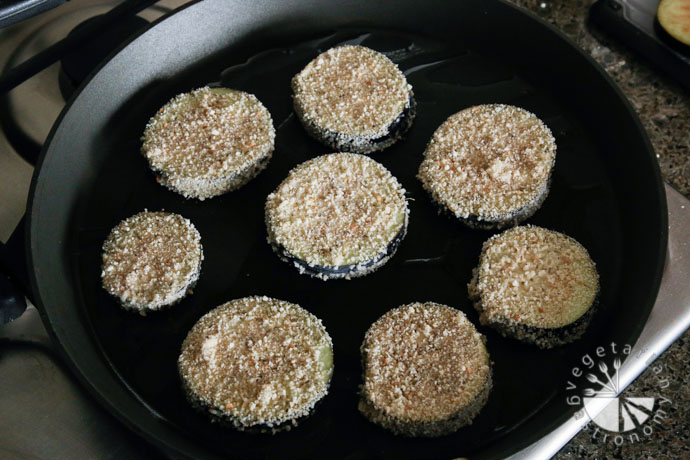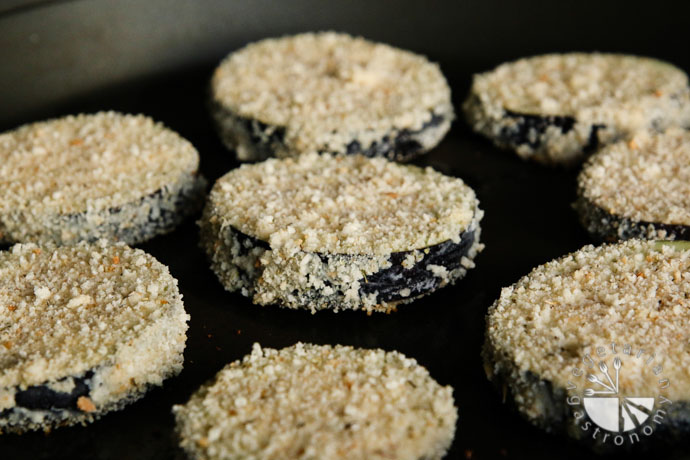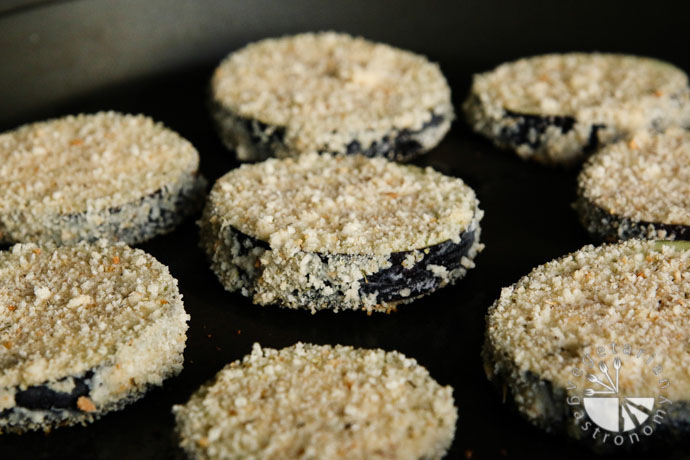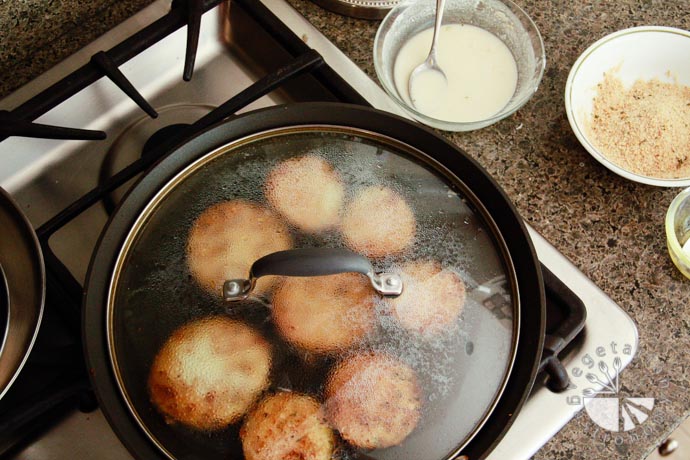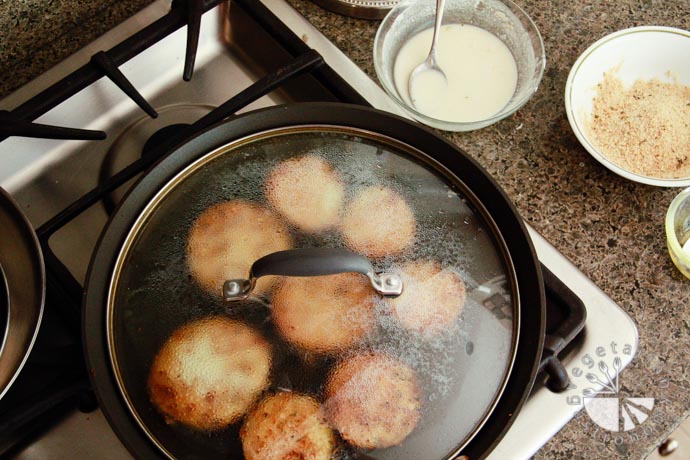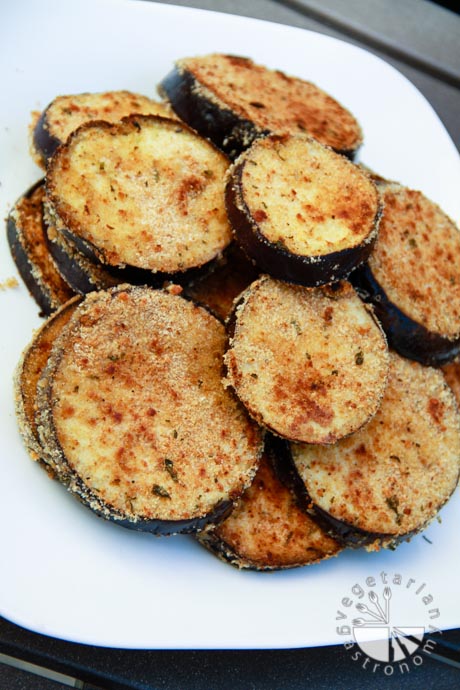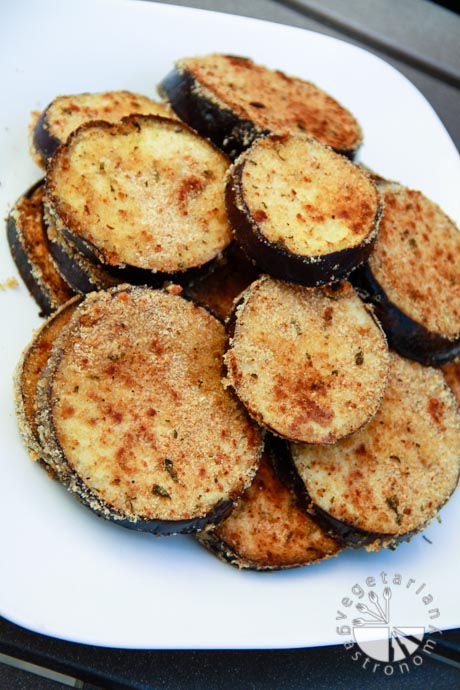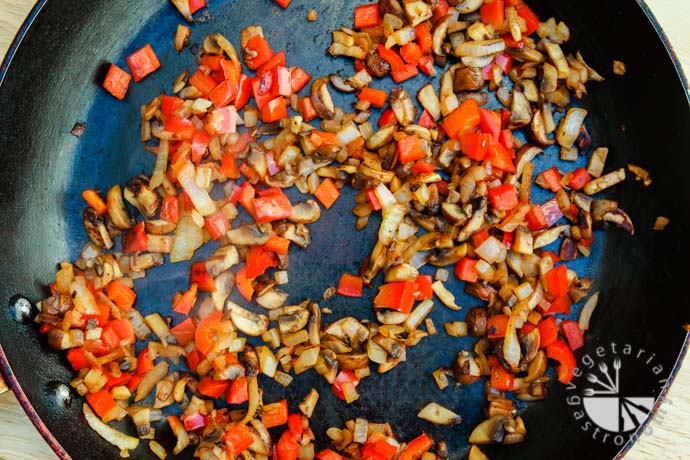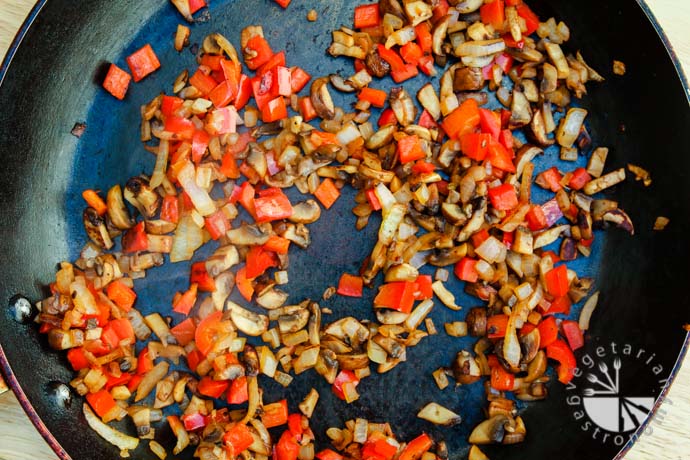 Pan-fried breaded eggplant slices and a cottage cheese mixture, combined with mushrooms, bell peppers, onions, spinach, spices, herbs, and marinara, all stacked and topped with mozzarella cheese, fresh herbs, and a drizzle of balsamic vinegar. This version of Eggplant Parmesan is not only healthier, but is also packed full of flavor. I've made it many times for family and friends and have heard nothing but compliments, not to mention my kids love it!
Also, in case you missed my last post, be sure to enter my Giveaway of $110 gift basket worth of gluten-free, eggless Glutino Food products! For details on how to enter, go straight to this post or click here to enter through Facebook. The giveaway ends Sunday July 27th, 2014 at midnight. Good luck!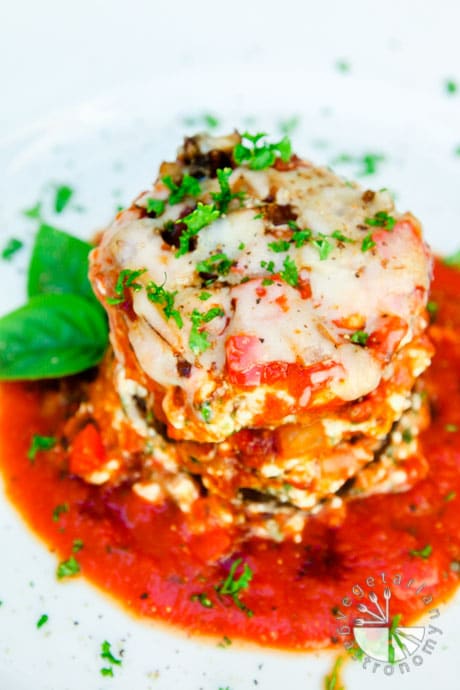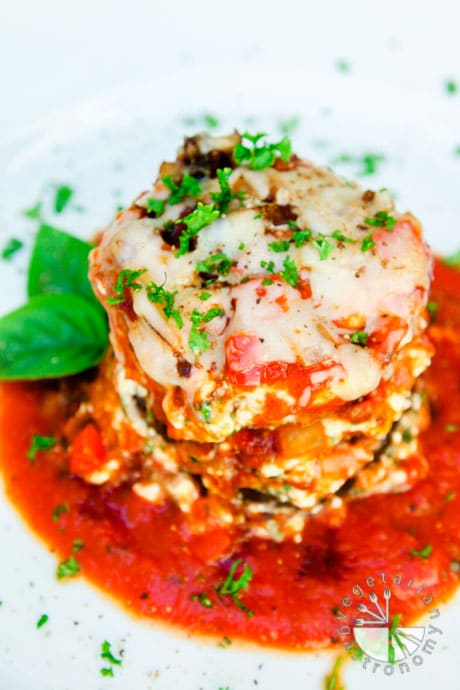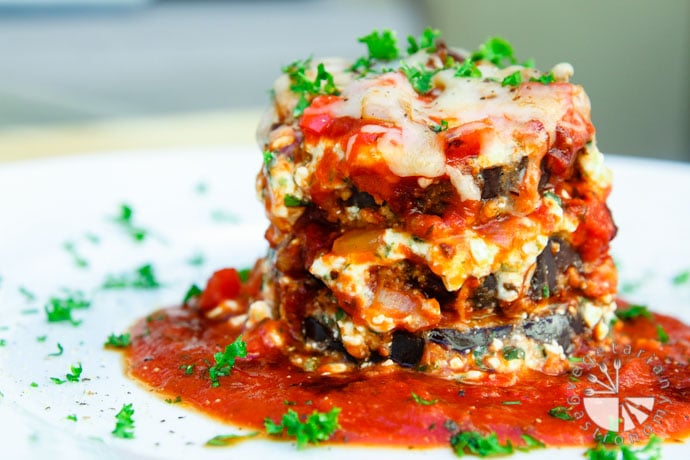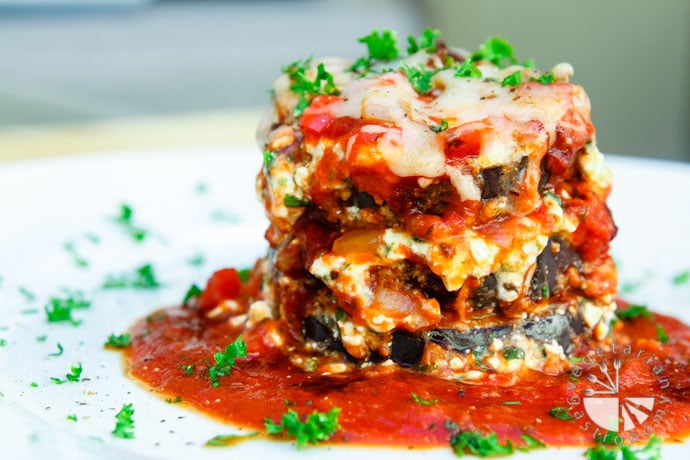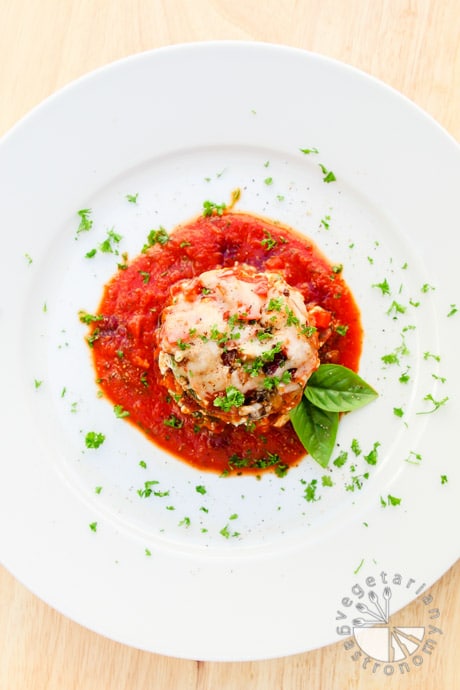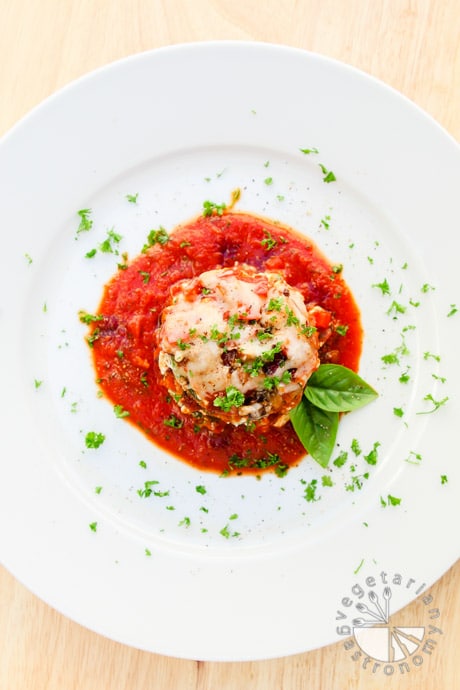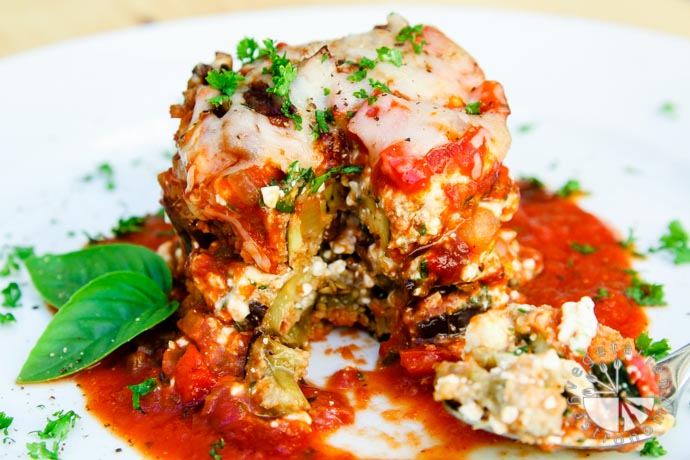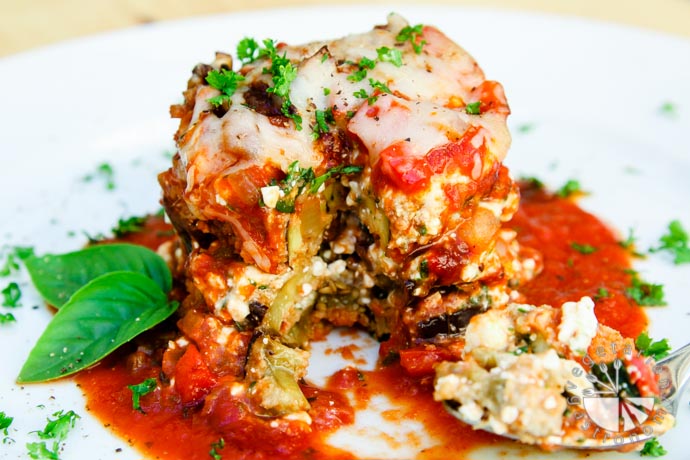 Three years ago: Chocolate Cake Pops
Two years ago: Greek-Style Eggplant Sandwich
One year ago: Poblano Cream Sauce Enchiladas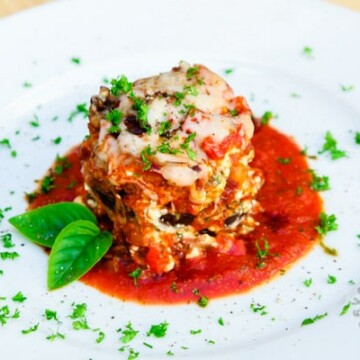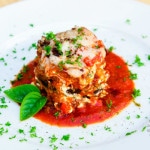 Print
Eggplant Parmesan Stacks
Stacks of roasted eggplant, vegan ricotta, tangy marinara, sauteed veggies, and vegan mozzarella!
INGREDIENTS
For the Vegetable Layer:
½

medium

white onion

, diced

½

large

red bell pepper

, diced

7-8

mushrooms

, white button or cremini, stems removed and diced

1

cup

spinach

, chopped
INSTRUCTIONS
To Prepare the Vegetable Layer:
Add the chopped onions, bell peppers, spinach, and mushrooms and saute on medium-high heat, mixing frequently until they are grilled and just start to brown up. Season with some salt and set aside.
To Prepare the Layers: (see notes below)
Spread a thin layer of marinara sauce on the bottom of a large 9x13 glass baking dish.

Sprinkle some of the sauteed veggies on top of the vegan ricotta layer.

Repeat the previous steps creating another layer of sauce, baked crispy eggplant, vegan ricotta cheese, and sauteed veggies until all the eggplants have been used, ending with sauce at the very top.

Sprinkle vegan mozzarella (if using) on top of the final sauce layer. Top with any remaining veggies (if there are some left).

Bake in the oven at 375 degrees until the mozzarella cheese on top is completely melted and the sauce/eggplants are heated through (15-20 minutes).

Drizzle some balsamic vinegar over the dish, red crushed peppers, garnish with some freshly chopped parsley and/or basil, and freshly ground black pepper. Serve hot with a side of salad or home-made garlic bread!
NOTES
Eggplant - Instead of preparing the Baked Crispy Eggplant Rounds, you can skip the breading step and simply bake plain eggplant rounds in the oven until cooked through.
Toddler/Kid Version - Depending on the age of your toddler and where they are with chewing and texture, you can peel the eggplant slices prior to breading or baking, and cook the veggies slowly until they are very tender.
Vegan Ricotta Cheese - I prefer my tofu vegan ricotta recipe which only takes 10 minutes to make, but you can also get store-bought Kite Hill Almond-based vegan ricotta cheese.
Vegan Mozzarella - If you're using vegan cheese, I prefer Miyoko fresh mozzarella or shredded Follow Your Heart Mozzarella block.
NUTRITION
Calories:
173
kcal
|
Carbohydrates:
18
g
|
Protein:
8
g
|
Fat:
8
g
|
Saturated Fat:
1
g
|
Sodium:
439
mg
|
Potassium:
777
mg
|
Fiber:
6
g
|
Sugar:
10
g
|
Vitamin A:
1175
IU
|
Vitamin C:
27.4
mg
|
Calcium:
54
mg
|
Iron:
2.1
mg