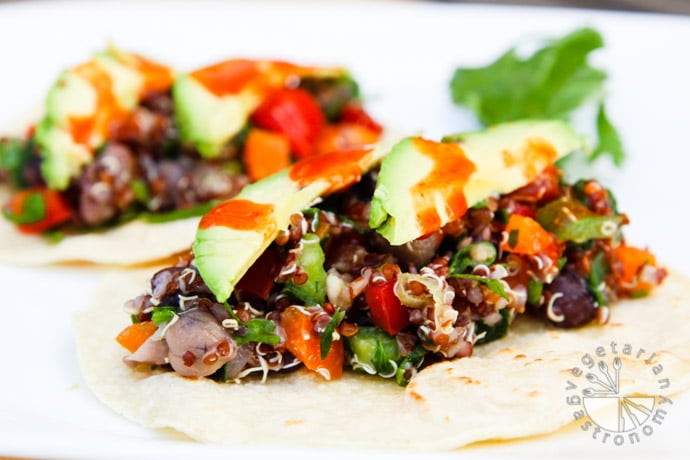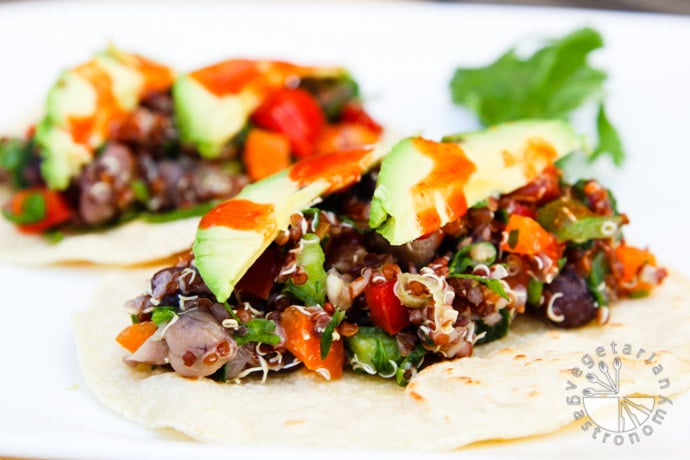 When you have a physician husband, on occasion you have to take care of the kids all day and night by yourself. When I know he's on call, I don't expect him to be home and therefore, I try to make sure dinner is ready and the kitchen is clean early on, so I can get the kids showered and get them to go to bed relatively easy (I emphasize the word 'relatively'). This is, of course, to preserve my sanity by the end of the night! =)
However, there are a few occasions where my husband plans to be home on time, but his case goes longer than expected, keeping him at the hospital as late as 9pm, and sometimes even past 11pm! On those days, things tend to be hectic, and the one thing not prepared is my own dinner. I'm usually so focused on playing with the kids, cleaning the kitchen before I'm too exhausted, and trying to feed, shower and get the kids to bed on time, that I don't get a chance to eat a bite until much after 8pm. On those days, I'm usually fumbling around my fridge trying to figure out what to eat at the end of the night. But two weeks ago, that 'fumbling around' led to this amazing creation I'm posting today – Four Bean, Quinoa, & Veggie Tacos!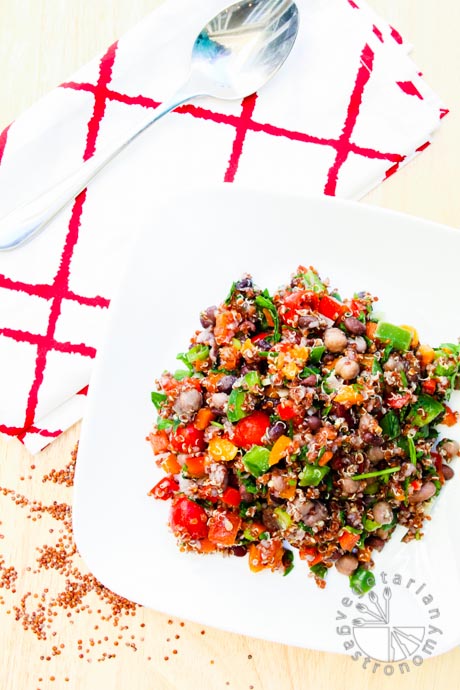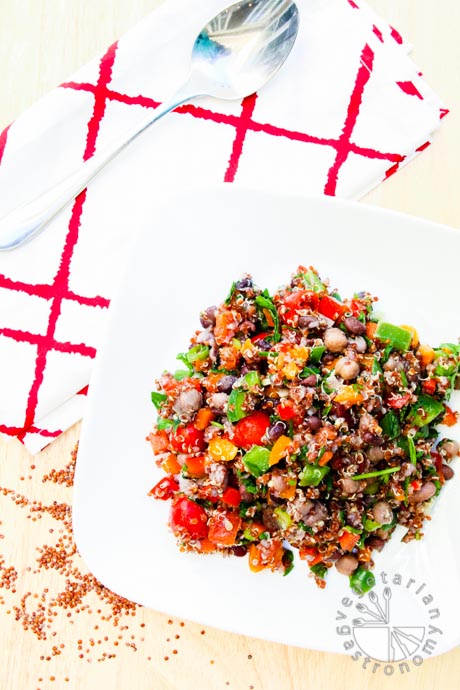 That evening, before dinner, the kids and I stopped over at our neighbors house on our walk. My neighbor is very sweet and always tries to send me home with some food. This time, she insisted that I take some plain fresh mixed beans she had just cooked. After the kids went to bed, I pulled out the cooked beans and decided to make a healthy quick salad using what I had in my fridge: leftover white quinoa, fresh bell peppers, herbs, and onions. I also threw in some chopped spinach as greens. I kept the seasoning pretty simple with salt, pepper, and fresh lemon juice using lemons from our yard. I topped it off with avocado and a few drops of my favorite hot sauce, Cholula! I'm usually one for warm meals in the evening, but this salad was delicious, not to mention gorgeous with all the bright vibrant colors! And I couldn't believe how quickly I threw it together! My husband ended up coming home at 11:30pm that night, starving, and I left a note for him telling him I made a salad in case he's hungry. Let's just say there were no leftovers the next day =)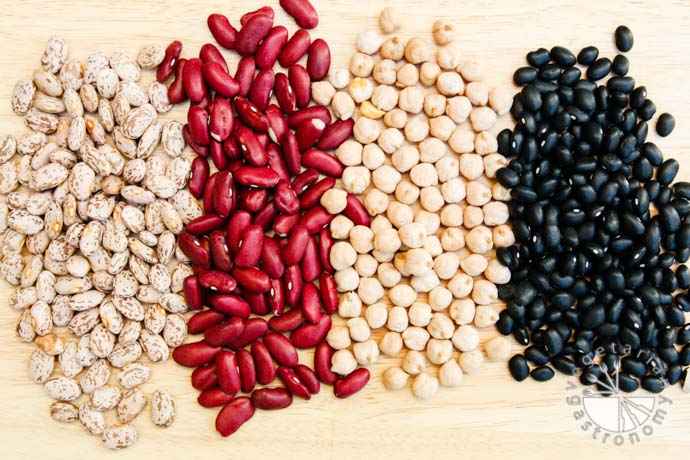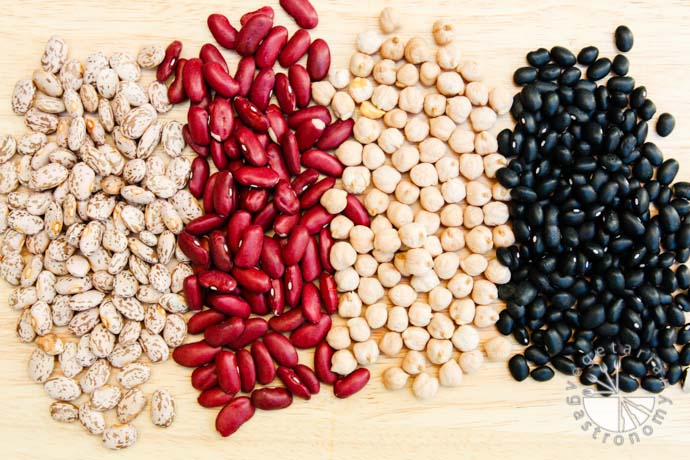 Not having had enough the night before, I had a craving to make more. In the past, I used canned beans for most of my cooking, but my mom has been telling me for months now how easy it is to cook dried beans, especially in a pressure cooker. I went out to Sprouts and bought four different dried beans (kidney, garbanzo, black, & pinto). After soaking them overnight and a few minutes in the pressure cooker, I had myself some freshly cooked mixed beans for my salad! My mom was right (of course)… it was extremely easy and I highly recommend it to anyone who has a pressure cooker or slow cooker!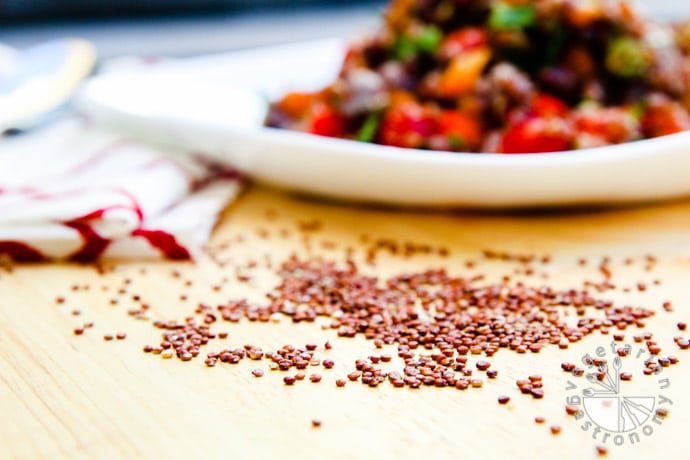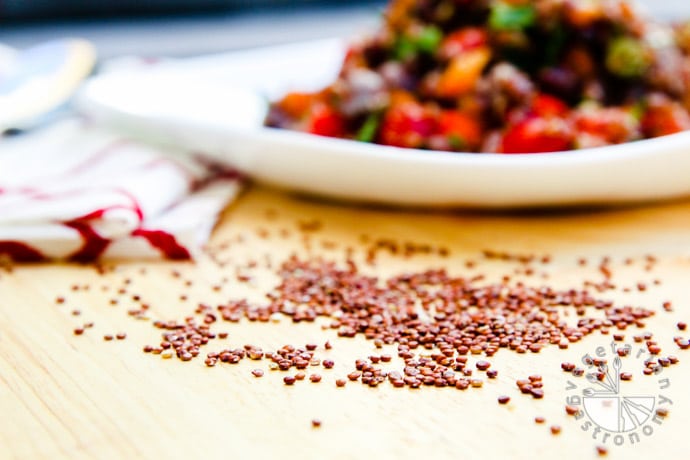 This time, I used red instead of white quinoa, and with all the beans, veggies, avocado, and hot sauce, the salad had sort of a Mexican taste to it. So, I decided to grill some corn tortilla and make some tacos, using the salad as a filling, topped with avocado and hot sauce. It was delicious! This dish has quickly become one of my favorites – not only very healthy, but also fresh, filling and full of flavor! Aside from cooking the beans and quinoa, this dish is fairly quick to make! I made a wrap using Canasta Uncooked Flour Tortillas (which are absolutely delicious; you can get them at your local Ralphs, Sprouts, on their website, or on amazon) with this filling for my 3 1/2 year old son, without the hot sauce, and he loved it. My husband, who would usually add cheese to a dish like this, didn't even miss it.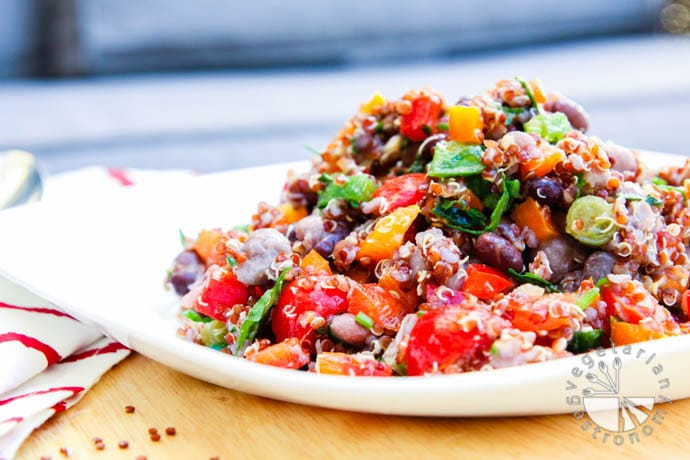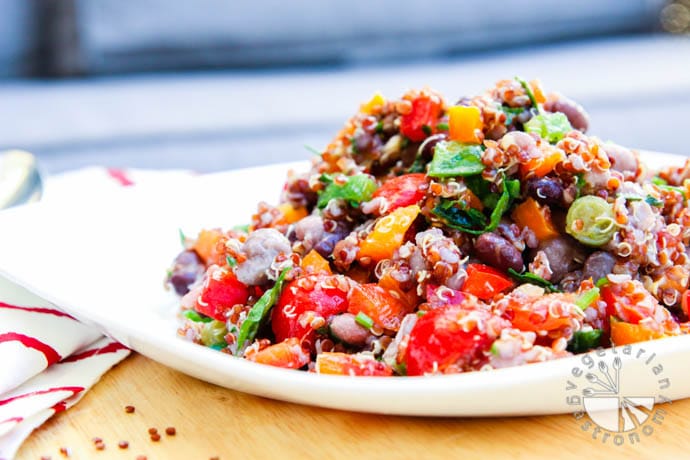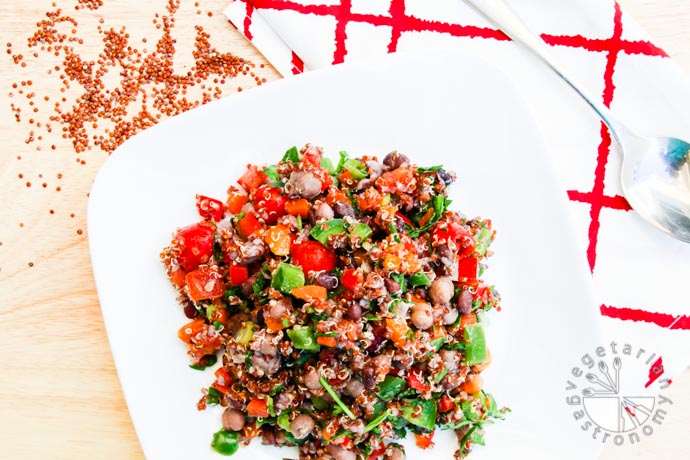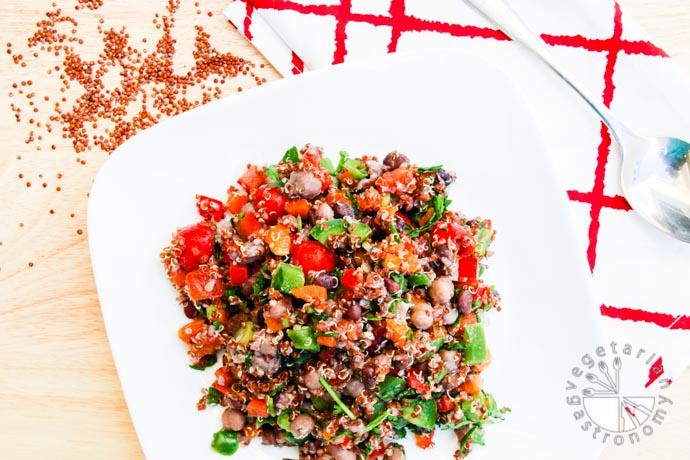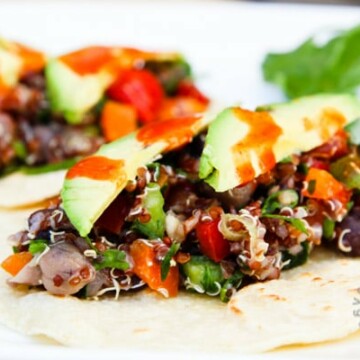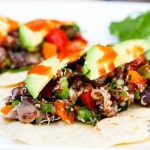 Print
Four Bean, Quinoa, & Veggie Tacos
These tacos are all about fresh flavors! Minimal cooking, tons of veggies, and the perfect healthy tacos or salad to take for a potluck, picnic, BBQ, or weeknight dinner!
INGREDIENTS
2

cups

cooked beans

, equal amounts of garbanzo beans, kidney beans, pinto beans, & black beans - see notes below

2

cups

cooked quinoa

, red or white

3/4

cup

red bell pepper

, finely diced

1/2

cup

green bell pepper

, finely diced

1/2

cup

orange bell pepper

, finely diced

3/4

cup

cherry tomatoes

, quartered (or halved depending on the size)

1/2

cup

green onions

, chopped

1/4

cup

cilantro

, finely chopped

3/4

cup

baby spinach leaves

, finely chopped

1 1/2

tbsp.

lemon juice

, fresh

1/4 - 1/2

teasp

salt

2

avocados

, thinly sliced lengthwise

hot sauce

, my favorite is Cholula

14

corn tortillas

, or flour tortillas if you prefer, omit for salad option
INSTRUCTIONS
In a large mixing bowl, combine the cooked mixed beans, cooked quinoa, red bell peppers, green bell peppers, orange bell peppers, cherry tomatoes, onions, cilantro, and spinach.

Toss with fresh lemon juice and salt. Add freshly ground black pepper to taste.

You can serve this dish as a salad or prepare tacos. Follow directions accordingly.
To Prepare Salad:
Top with some sliced avocado and your favorite hot sauce!
To Prepare Tacos:
Lightly grill both sides of the corn tortilla on a pan using your favorite vegan butter (such as earth balance).

Spoon the prepared mixture along the center of the tortilla. Top with sliced avocado and your favorite hot sauce (such as Cholula)!
NOTES
If you don't prefer to cook your own beans, you can easily use canned cooked beans, just be sure to wash them prior to using.
To Cook the Beans:
Soak the dry beans (black, pinto, garbanzo, & kidney) in a large mixing bowl with water overnight. The beans will soak up some of the water, so be sure to add plenty.
Drain the beans, discard the soak water, and rinse with fresh, cool water.
Cover the beans with fresh water (just enough to cover them) once more and cook in a pressure cooker.When the steam begins to hiss out of the cooker, reduce the heat to low-medium just enough to maintain a very weak whistle. Cook for an additional 2-3 minutes.Turn off the heat and let the pressure cooker sit until it is safe to open.
NUTRITION
Calories:
163
kcal
|
Carbohydrates:
25
g
|
Protein:
4
g
|
Fat:
5
g
|
Sodium:
83
mg
|
Potassium:
372
mg
|
Fiber:
6
g
|
Sugar:
2
g
|
Vitamin A:
725
IU
|
Vitamin C:
28
mg
|
Calcium:
41
mg
|
Iron:
1.4
mg
[subscribe_box]