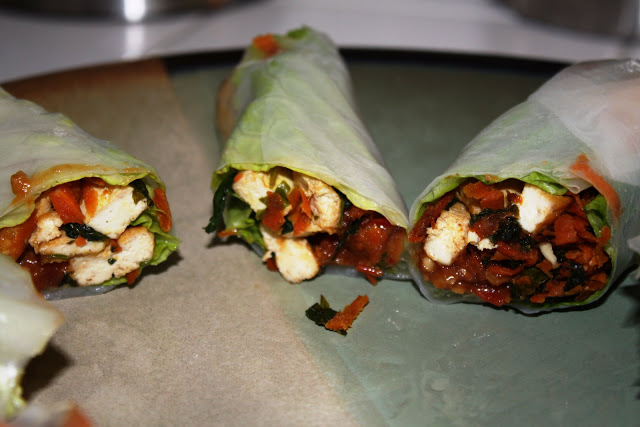 This recipe is just one version of fresh spring rolls. Traditionally in the past I've made them with rice noodles, basil or mint, shredded cucumber, shredded carrots, and raw tofu. This particular recipe is from my mom. She made a simple cooked filling consisting of carrots, tofu, and cilantro wrapped in rice paper with lettuce.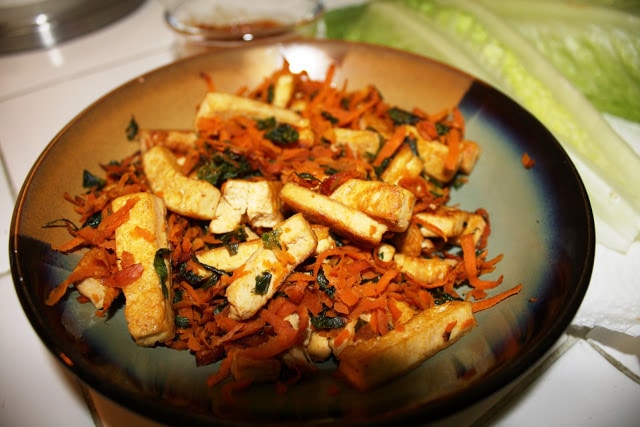 They taste great and go well with the peanut sauce recipe I posted earlier. I can eat them anytime for appetizers or even for lunch.
Gluten-free note: Most soy sauces are NOT gluten-free. I prefer to use San-J gluten-free Tamari.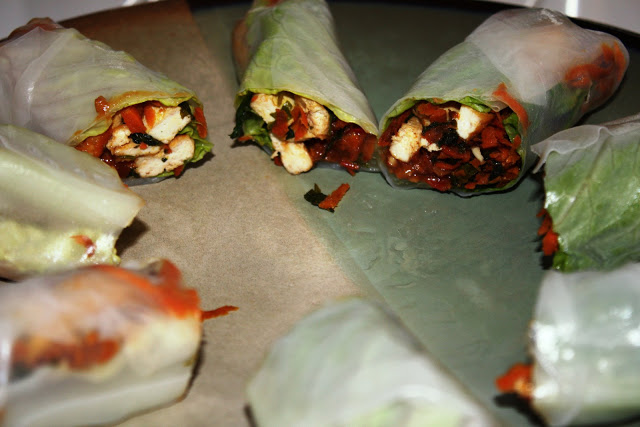 FRESH SPRING ROLLS: (gluten-free, vegan)
(makes ~10 rolls)
Ingredients:
peanut sauce
3-4 large leafs romaine lettuce, washed and torn into pieces
10 rice paper wraps (get these at any Asian grocery store)
chilli sauce (optional)
Filling:
1 package firm tofu (18 oz.)
1 carrot, shredded
1/2 cup cilantro, chopped
soy sauce (to taste)
4 t vegetable oil
Directions:
To Make Filling: Cut tofu block in half. Place each half in a clean paper towel one at a time and squeeze to remove excess storage liquid (without breaking up the tofu).
Cut the tofu into 2″ long, 1/2″ thick strips.
Heat up the vegetable oil in a wok or frying pan. Add the tofu and pan fry all the strips until the tofu is golden brown and pan fried. Keep stiring while pan frying otherwise the tofu may stick to the pan.
Once the tofu is pan fried, add shredded carrots + chopped cilantro + soy sauce (to taste) and saute filling until the carrots are cooked.
Ingredients to Assemble Fresh Spring Rolls: Tofu/carrot filling, pieces of romaine lettuce, peanut sauce, rice paper wrap.
To Assemble Rolls: Soften the rice wrappers by doing one of the following methods: (a) Run hot water under the sink. Rotate the rice paper wrap under the hot water on both sides. Keep rotating until the wrap starts to soften and cook under the hot water (6-8 times), or (b) Fill a shallow pan with warm water. Place the rice paper sheet into the watert water and let it soak for ~30 sec until the wrap starts to soften. If the rice wraps are too soft, they will tear.
Lay the rice wrap sheet flat on a plate or other clean working surface. Place 1 piece of romaine lettuce near the bottom 1/3 surface. Layer the lettuce with peanut sauce. Spoon filling across the peanut sauce and lettuce.
Roll the bottom edge of the wrap over the filling. Tuck both sides in the middle, then continue to roll it up tightly (be careful not to tear the roll).
Cut the wrap in half and serve with additional peanut sauce and/or chili sauce (optional).
[subscribe_box]